How easy is it to get an invite into a local family's home; or find that street food stall hidden away at the back of a clothes shop? One of our experts discovered a new breed of all-inclusive hotels in Mauritius, encouraging you to step outside of the hotel walls and live like a local.

Have you ever been to a country but felt like you didn't really get to know it? Sometimes I've come away from a destination and I'm totally relaxed. I've made the most of the beach and the pool. I've worked my way through sizzling dishes in the restaurants. I've had time to slow down and finish those two books that have been waiting patiently on my bedside table. But sitting on the plane home, taking the long flight back to the UK, did I miss something?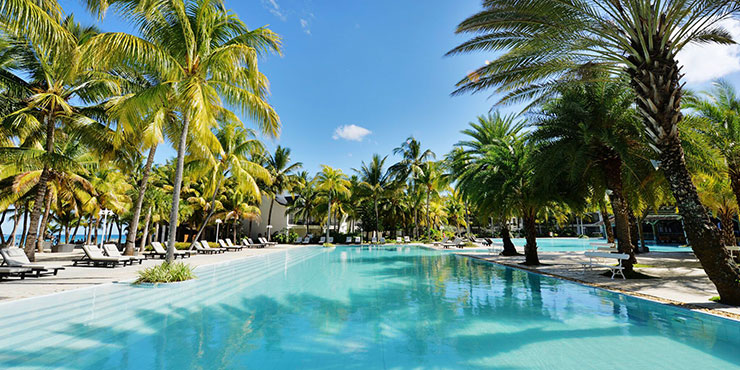 It's not always easy to cross the traveller-local divide on holiday, so how can you get a deeper understanding of the culture and people around you without feeling like an intruder? A while ago, I found myself back on the island of Mauritius, fully immersed in the local lifestyle. And it was surprisingly easy.
The street food of Port Louis
The capital of Port Louis has been voted one of the world's greatest cities for street food by the Telegraph and, after a few days spent around the pool, I'm ready to taste my way around town. I make my way through an archway to a pretty pedestrianised street on the Caudan Waterfront. I look up and watch the sunlight filter through brightly coloured umbrellas strung across the street above me as I open the Otentik Discovery app on my phone and select the Port Louis Street Food Tour. The app is created by the staff at Attitude Hotels who want to make guests feel like an islander, helping you discover hidden treasures off the beaten track that only locals would know about. There are 11 tours to choose from, helping you find tiny watchmakers' workshops in Flacq; to the Mauritian equivalent of Copacabana Beach.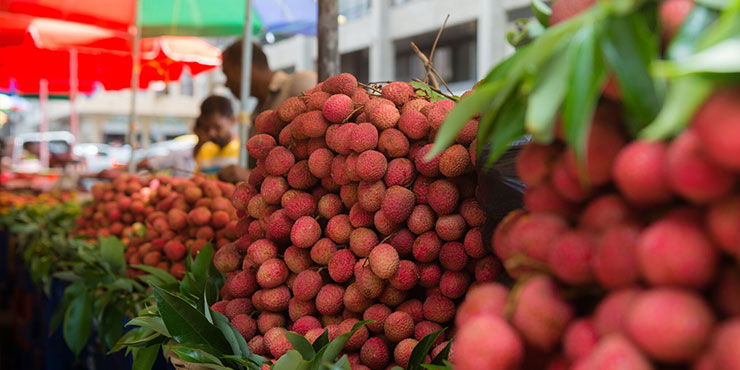 The easy-to-follow directions take me to the loud and chaotic Central Market and my first stop, Pillay's Alouda. I watch as locals hold out their hand for a glass of the milky drink, made with tukmaria, also known as basil seeds. A woman beside me tells me it's a cooling drink – which seems apt in the madness of the lunchtime rush. Its sweet and delicious vanilla flavour makes this, hands down, the best milkshake I've ever tasted.
I follow the directions to another stall, where two men expertly dish out dholl puri wrapped in paper to a waiting crowd. This Indian pancake is filled with curry and chutney and I taste its soft, floury goodness while standing against a wall and watching the stallholders arrange piles of colourful fruit and vegetables, shouting the latest prices of juicy lychees and aubergines.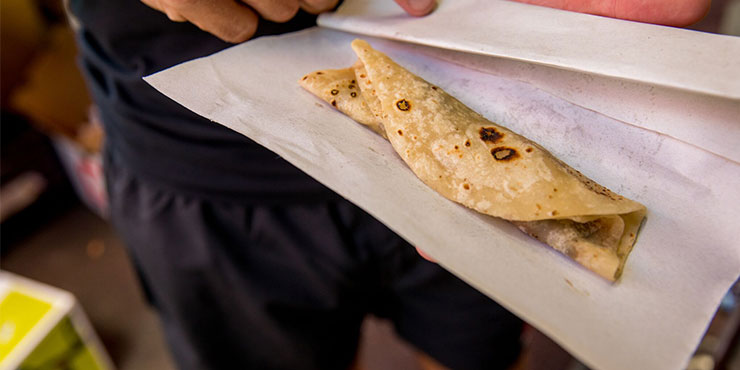 I pass towering street art, colourful doorways where locals sit on stacked boxes to watch the world go by, and ornate architecture in lively bursts of red and yellow paint. The app takes me to a café with steaming dim sum; through a clothes shop to a hidden Indian pancake stall; and down narrow side streets to sweet and biscuit shops offering Indian and Chinese treats. It is an amazing two-hour walking tour, taking me well off the tourist trail to meet some fascinating people and try some incredible food.
Back at The Ravenala Attitude, I seek out the resort's own street food van to see if they serve alouda (they do) and settle down on a sunbed on the beach to watch the sunset. Fairy lights spark into action between the palm trees and a band starts to warm up, drumming out a rhythm on a large tambourine-style ravanne. All of the bands who play here are local and you can ask to have a lesson to discover some of the more traditional instruments. This is just one of the Otentik (authentic) experiences on offer at Attitude Hotels. I sign up to the cooking class and rustle up a Mauritian curry with the chefs; and I book an Otentik Dinner in a local family's home. This turns out to be a real highlight.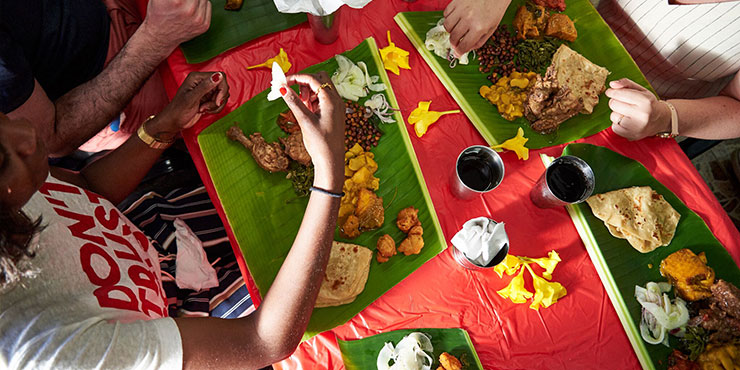 Mauritius is sometimes referred to as 'a world in one island'. Mauritians are descendants of immigrants from countries such as China, India, Africa and France, a joyous multi-cultural mishmash that gives the island a unique and harmonious vibe. When booking the dinner, you don't know what cuisine, culture or personalities you'll encounter – but that's all part of the excitement of being invited into someone's home.
Family time
We visit Rani and her family who welcome us with a Hindu blessing ceremony of fire and fresh petals. She takes some orange powder and marks a line in my hair's parting, a sindoor, to show I am married. Her teenage nephews offer us freshly-made samosas; and Rani's husband shows us around their home and into the kitchen area, piled high with cooking utensils and plastic bowls, where Rani is waiting to show us the art of making a roti – expertly pounding the dough while looking glamorous in her red and gold sari. We sit up at the long table with a few other guests from the hotel for a sociable dinner, the delicious curries spooned directly onto a banana leaf in front of us – our plate for this evening. We scoop up each curry with our piping hot roti and chat to Rani's eight-year-old son, Ryan, who dines with us at the head of the table.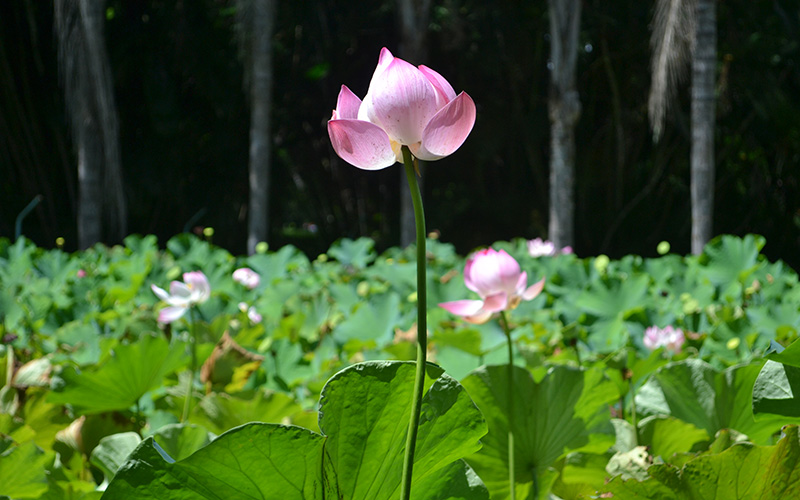 After dinner, the family join together with a guitar, drums and improvised instruments to sing and play for us. We clap, sing along to some well-known classics and the women in our party disappear one-by-one into the back rooms with Rani and her daughter, appearing in all colours of shimmering saris. We learn some dance moves from Rani and the whole evening is a special whirl of laughter and good food.
On the flight home, I look back on the last week. I got time to relax on the beach and around the pool. I tried out many of the resort's 10 restaurants and read my book while listening to the waves. But, this time round, I had a whole new dimension to my stay thanks to the Otentik experiences and the people I met along the way.
This feature was edited 16 July 2020. The information within this feature is correct to the best of our knowledge at the time of print.