Fashion Designer Dato Professor Jimmy Choo, OBE, talks travel with Kuoni's Laura Daniel, revealing the best places to shop, stay and dine in Malaysia.
What was it like growing up in Malaysia and how did this affect your career?
I grew up in Penang, an island off the north west coast of peninsular Malaysia. I have very fond memories of my childhood there. With the absence of our dependency on technology, the days were filled with physical activities with friends and family. Being surrounded by the sea is a big bonus; I loved walking down the beaches, admiring the beauty of Mother Nature and feeling the warm breeze on my skin. My friends and I used to have frequent picnic sessions by the sea and I loved swimming in the sea; especially when the weather was hot.
Tell us about Malaysia's wildlife and landscapes…
We are lucky to be the home to hundreds of wildlife species. We have some of the world's most exotic creatures here – the orang-utan is definitely one of them; native to East Malaysia. We have several sanctuaries dedicated to ensuring this amazing creature's survival for our future generations. The list of wildlife residing here goes on and on. Malaysia is also the home to some of the largest and rarest flowers in the world. Raffelsia – be sure to pen it in your dairy when travelling to East Malaysia.
In Malaysia, we have lush and green tropical rainforest as well as beautiful sand beaches; furthermore, it's summer almost all year long..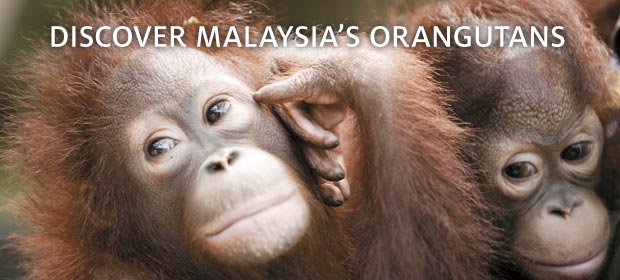 How does travel inspire your designs?
Travelling to different places opens your eyes and mind to the world. It teaches you to be sensitive to others and you will learn to appreciate your roots. Going to different places gives me the opportunity to learn more about the world and the values other cultures hold. Everything you see can be a source of inspiration – the people, culture, architecture, values, aesthetic perspective, practically anything. For instance, the Malaysian Batik is a beautiful masterpiece; the elements used can be incorporated into various designs. The more you see, the more you learn.
What local dishes or drinks would you recommend?
It's really hard for me to pin point a particular dish because Malaysia has an abundance of mouth-watering cuisine! You can find good food at almost every corner of the country! If I really had to choose, I would say it's the tarik, our local milk tea – mind you, it does not taste like your regular milk tea; nasi lemak and beef rending from the Malay cuisine; Mee Goreng Mamak – fried noodles from the Indian Muslim cuisine; roti canai, which is flat bread; and satay – grilled meat of your choice, chicken, beef or mutton.
There's also laksa – rice noodles as a result from the Peranakan cuisine – a fusion of Malay and Chinese elements; and char kuey teow, fried flat rice noodles cooked chinese style is always at the top of my list! Just try them once and I can almost guarantee you will be craving for more.
What's your favourite restaurant in Malaysia?
There are so many places filled with good food but, if I really had to choose, my selection would include Shook in Starhill Gallery – there is an exciting selection of fusion cuisine to suit your taste from the east to the west.
Shangri–La's Lemongrass serves affordable buffet, a luxury, yet value for money. Another option would be Lot 10 Hutong Food Court, easily accessible within the golden triangle with dozens of different varieties under one roof at reasonable prices.
My personal favourite dish would have to be 'steamboat', various delicacies in soup. Hakka restaurant along Jalan Imbi, opposite the Pavilion shopping mall, serves appetising steamboat, soup with a selection of meat and vegetables. I normally bring my family and friends here at the weekends.
Where do you love to stay?
I definitely love to stay in my home town, Penang. It brings back many fond memories of the past and there is lots of good food there, too. There are several comfortable and affordable hotels such as Shangri-La's Rasa Sayang Resort & Spa. Now I normally reside in Kuala Lumpur at the Ritz-Carlton Residence. It's convenient and within walking distance from the shopping haven, with easy access to food and transportation around the city centre.
"A must see is definitely the KLCC Petronas Towers and KL Tower in the heart of Kuala Lumpur – a beautiful sight."
Jimmy Choo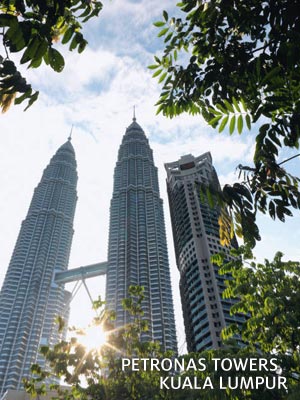 What sights would you recommend to a first-timer in Malaysia?
A must see is definitely the KLCC Petronas Towers and KL Tower in the heart of Kuala Lumpur – a beautiful sight. Putrajaya, the federal administrative centre, is an amazing sight at night – filled with lovely colourful lights brightening up the night. I'd also recommend my hometown, Penang. The capital of Penang, Georgetown, is listed as one of UNESCO's World Heritage Sites. This multicultural conurbation has everything packed into one city – from a relaxing stroll by the beach to urban nightlife.
If you are interested in history, Malacca town may be the place for you. This is another place in Malaysia which was named as one of UNESCO's World Heritage Sites and is also famous for the Peranakan Culture – the Straits Chinese immigration which adopts the Malay culture.
You can also visit the islands around the coast – there are so many to choose from. To name a few – Langkawi, Pangkor Laut, Tioman; the list goes on. For those who are keen to explore nature, we have a selection of parks and gardens, trails, caves and explorations.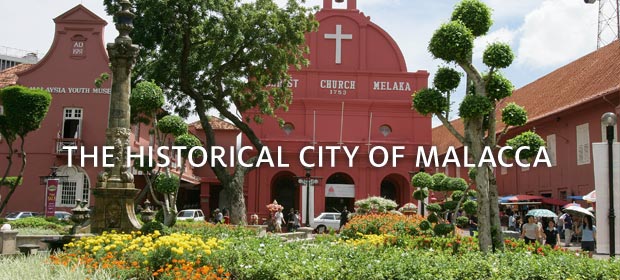 Have you got any insider tips for seeing the best of Malaysia?
My suggestion is to do ample research based on your personal preferences before visiting. There is a lot to see so you may want to prioritise and plan out your schedule. I believe there is an abundance of information available on the Tourism Promotion Board's website (www.tourism.gov.my) and other travel sites as well.
Where's the best place for retail therapy and why?
I would have to say that Kuala Lumpur is what you are looking for when it comes to retail therapy as there are a number of malls and shopping areas. Suria KLCC offers a huge selection of items from fashion to food where you can find various international brands all under one roof.
For the upmarket, we have Starhill Gallery and Pavilion. Another choice would be Bangsar Shopping Village – my personal tailor, Lord's Tailor, makes quality and contemporary apparels – and there is a wide selection of eateries in the area. At Central Market and Chinatown, you can get a wide selection of souvenirs, accessories and trinkets.
Tell us about a perfect moment on holiday in Malaysia…
It was spending Christmas with my family at Pangkor Laut Resort surrounded by the sound of the waves lapping across the shore and the green of nature. We had lunch at the beach and relaxed in a spa in the afternoon.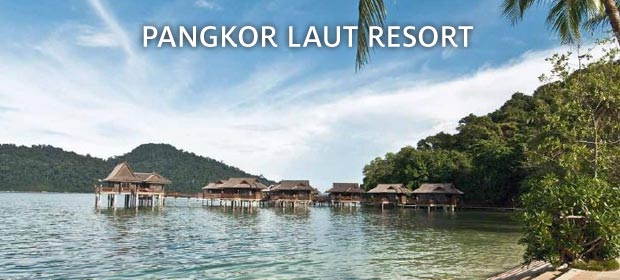 Inspired?
---
Remarkable wildlife, untouched natural beauty and unique adventures.