International Tiger Day, also known as Global Tiger Day, is an annual celebration to raise awareness for Tiger conservation, held annually on 29 July.
With this in mind, we speak to Sharad Vats, Director & Tiger Expert of Chitvan Jungle Lodge, Kanha in India, to get his top tips for spotting Tigers in India's vast National Parks...
Where can Tigers be found in India and why is this?
Tigers are found practically all over India, except the northern most tip and western most state of India, i.e. Himachal, Punjab and Gujarat.
What are the best National Parks to spot Tigers?
Ranthambore, Bandhavgarh, Tadoba, Kanha and Pench are good parks for Tiger sightings.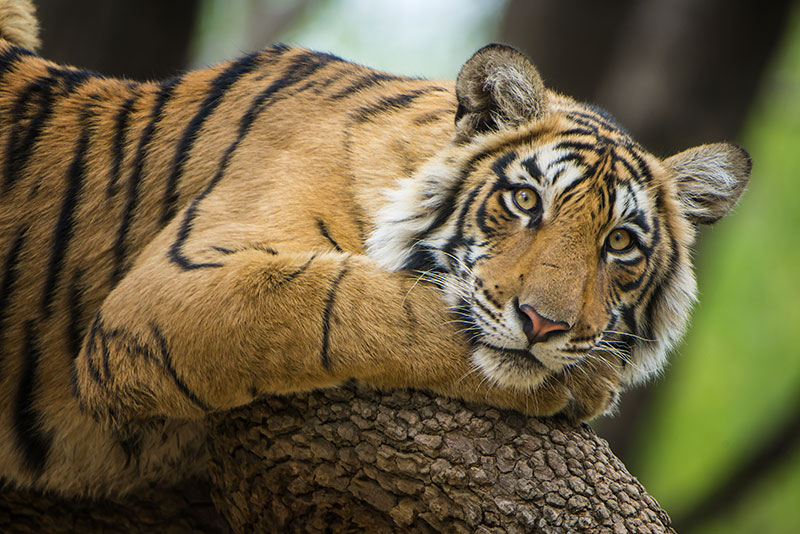 How do Tigers mark their territory? Are they territorial creatures?
Tigers are highly territorial creatures. They mark their territories by scratching on the trees, urine spray, scratching the ground and bush by their legs, and at times rubbing their body on the ground.
Why are Tigers so revered in India?
Not only Tigers; all animals, trees, insects, mountains - everything is revered in India. It's part of the Indian culture to do so, we worship nature in its entirety.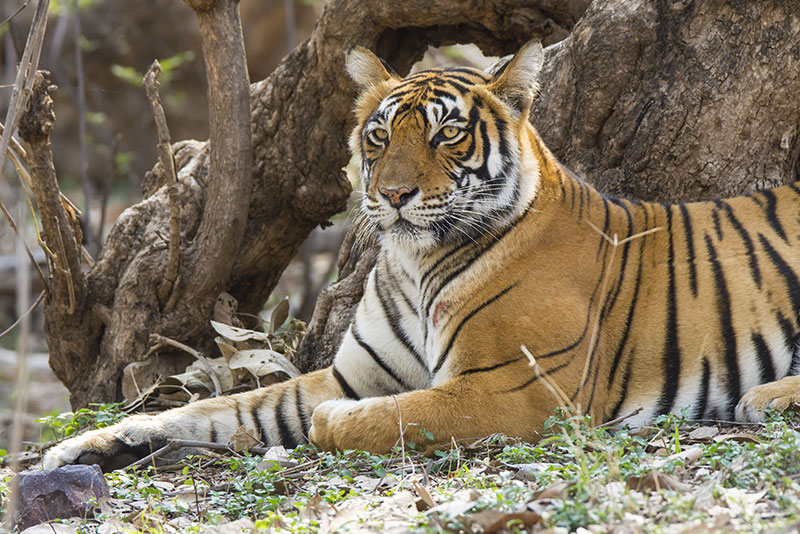 What are your favourite Tiger traits?
I honestly love everything Tigers, but their alertness, activeness, dominance, yet very private nature are my favourite personal traits.
Do your guides have a 'favourite' Tiger or one you see most often?
Yes, all parks, all guides and everyone who visits a National Park has a favourite Tiger, just like everyone has a favorite Hollywood star, or a movie, so it is with Tigers as well.
According to latest figures, it seems like Tiger populations are increasing in India - do you know roughly how many there are?
In India, we only have Bengal Tigers. As per the last census, we're aware that there are over 2200 Tigers in the wild in India.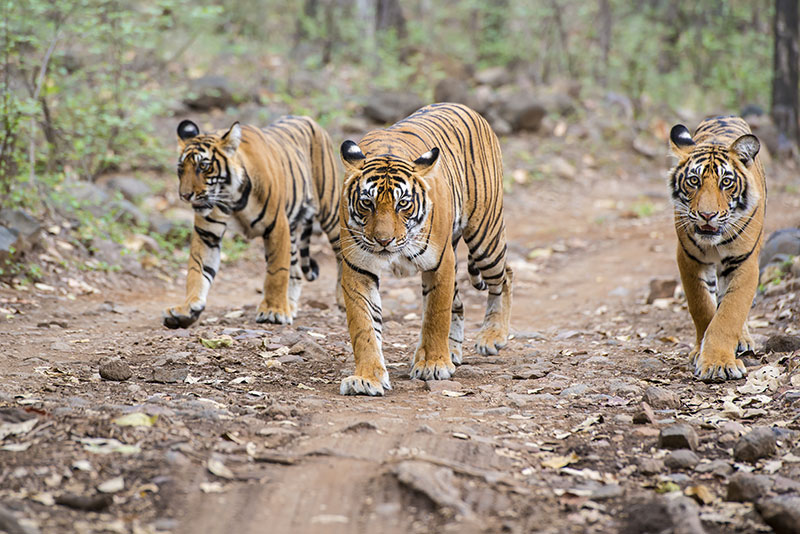 Why are Tigers endangered?
As they are territorial animals and require lot of space, and due to development happening all over India, they are losing their habitat. They are also being poached sometimes due to demand from some countries for Tiger parts. Sadly, this is the case with all charismatic species worldwide; Lions, Cheetahs, Elephants, Snow Leopards - everyone is losing ground and habitat due to burgeoning human behaviour.
What can tourists do to help Tigers in India?
By visiting the Tiger National Parks, they contribute to the local economy which does benefit the locals. Also, by spreading the word about Tiger conservation - tourists can help in a big way. By supporting some renowned Non-Governmental Organisations or any local effort in any National Park, visitors can surely assist in Tiger conservation.
If you're keen to find out more, take a look at Project Tiger, set up by the National Tiger Conservation Authority, or consider donating to Born Free's Tiger Conservation work.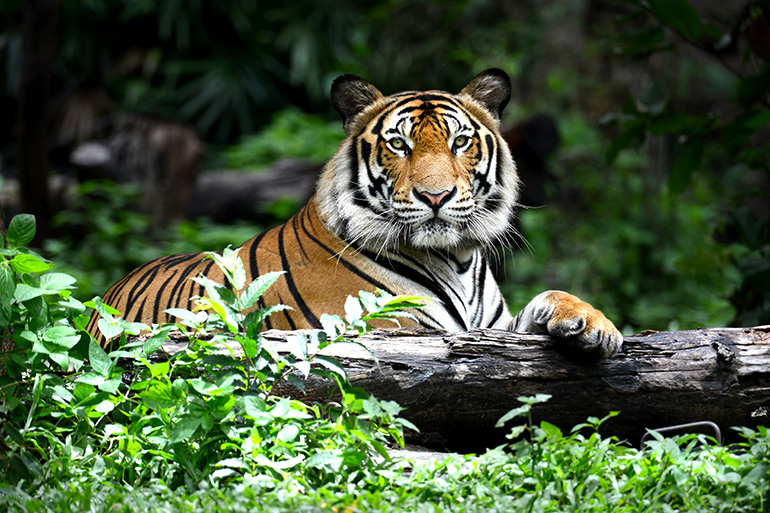 Why Are Tigers in India?
This is a tough one to answer, it is like asking why are Lions in Africa and not in the UK or USA? Why are Pumas in South America or Jaguars in Panatal? We do know that the Tiger's closest living relatives were thought to be the lion, leopard and jaguar though, all of which are classified under the genus Panthera. Genetic analysis indicates that the Tiger diverged from the other Panthera species about 2.88 million years ago.
What are your top 5 tips for spotting Tigers in the wild?
1. Be patient while doing safaris, sometimes it takes a little while to find the Tigers in such a vast area.
2. Tigers are an elusive animal and very few are left in the wild - as such, do not expect to see a Tiger on every safari.
3. Organise your safaris with people who know their work. Choose the right resorts, naturalists and drivers - this does matter. Do not just be brand or cost sensitive.
4. Choose the right National Parks as outlined above.
5. Give yourself enough time in every park, at least 3-4 nights stay in one National Park is a must.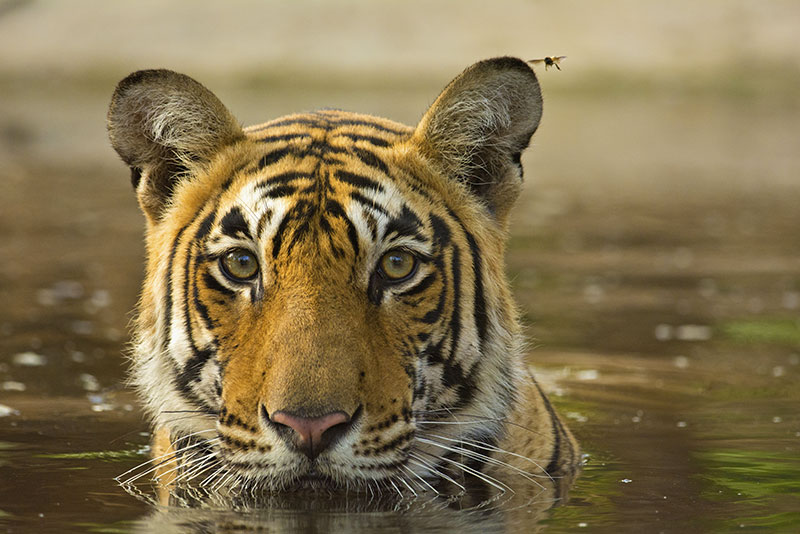 Do you have any interesting Tiger tales from your guides?
Yes, many but to pick my best would be when I personally saw a Tiger stalking Elephants with the intent to bring down an Elephant calf. The mother of the calf and his aunt managed to save the calf after a long battle. I witnessed it for roughly 30 minutes during one of my safaris.
Inspired?
---
If you're keen to spot these regal creatures in their natural habitat, then you'll definitely want to take a look at our India Wildlife Park Holidays