From thousands of years of influences from Chinese, Indian and even British visitors, Malaysia has become a veritable melting-pot of contrasting cultures. The food and architecture of this striking country are as unique as its wildlife and landscape; all of which need to be discovered to be believed.
The journey to this Southeast Asian gem should be an experience worthy of the destination itself and we are a proud partner of Singapore Airlines, a multi-award winning and innovative carrier with a rich heritage. Their new Premium Economy class is an exceptionally comfortable way to travel to Malaysia and its various diverse areas.
Here we take a look at just a few of Malaysia's stunning highlights that are just waiting to be discovered: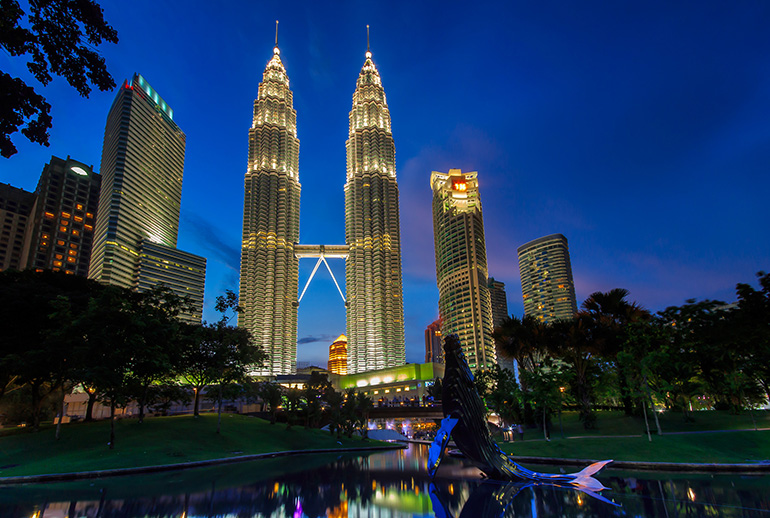 The iconic view of the 1,5oo ft tall Petronas towers is an astonishing sight that sets the tone for this bustling, vibrant city. It's a multi-cultural metropolis that effortlessly merges Asian street food, colonial architecture and world class shopping malls to create a city ripe for exploration. No visit is complete without seeing Batu Caves, a truly astonishing ancient structure hidden deep in the limestone hills just outside the city. Regarded as a sacred shrine by Hindus, this monumental natural wonder deserves your attention.
The rolling green hills and eucalyptus tinged breezes of The Cameron Highlands are a dramatic contrast to Kuala Lumpur's pulsating energy; they are no less invigorating though! This countryside escape was developed into a hill station in the 1920s and the colonial buildings of that era dwell amongst a sensory mix of tea plantations, forest-covered waterfalls and strawberry fields. Whether you trek through the woods or amble through the flower gardens, this is the perfect spot for venturing out and seeing an altogether different side to Malaysia.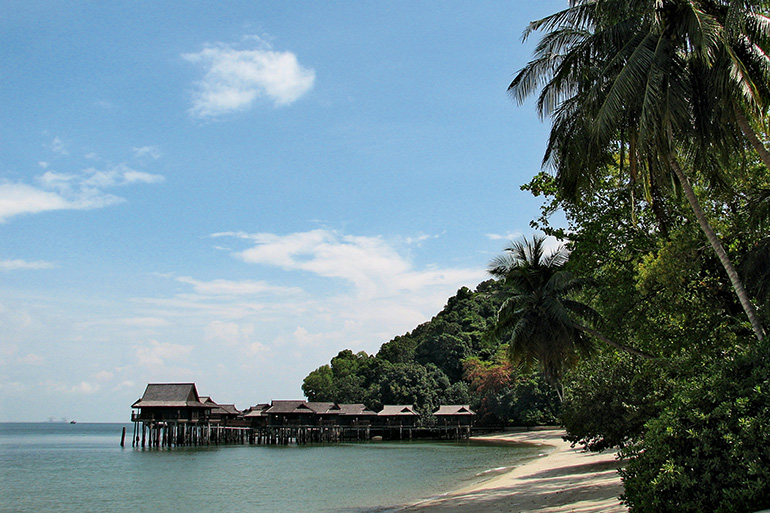 An idyllic tropical island lined with pristine beaches, Pangkor Laut is one of Malaysia's finest retreats. However, as you walk inland from the beautiful sandy bays, you are treated to the sights and sounds of an ancient rainforest that makes up 80% of the island. Pangkor Laut is known for the incredible wildlife that live among the lush green interior and no visit would be complete without a guided tour through the jungle. Visit the island's spa village for a luxury treatment that uses local sustainable ingredients to refresh body and soul.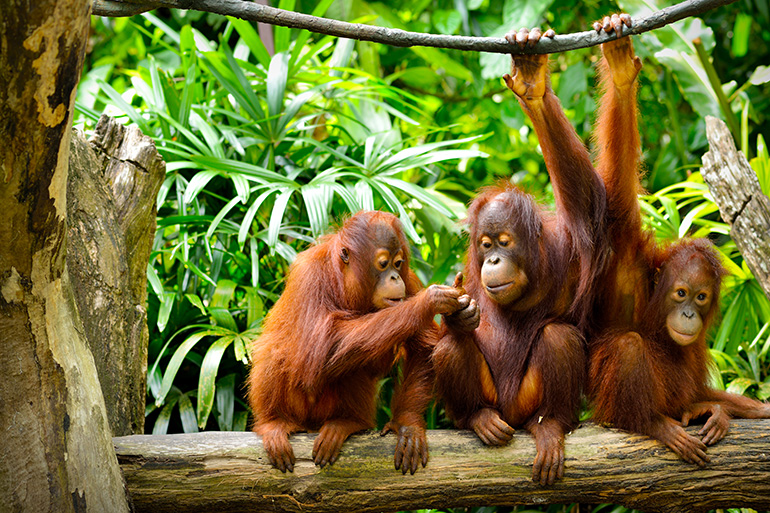 Known to house perhaps some of the planet's most distinctive wildlife, Borneo is top of the wish-list of many nature lovers. Malaysia shares this South China Sea island with Indonesia and Brunei but it's the Malaysian areas of Sarawak and Sabah where its biodiversity shines and visitors are wowed by Sea turtles, Elephants, Rhinos, Proboscis monkeys and of course, maybe its most famous inhabitant, the Orang-utan. Seeing these great apes in their natural environment is a magical experience to remember.
To discover these wonders of Malaysia and so much more, you should fly with an airline that will make the journey seem all part of the experience. Innovative since its inception in 1972, Singapore Airlines has always been known for being ahead of the curve. From being the first airline to offer a complimentary drinks service in its economy cabin in the seventies until last year when it unveiled its stylish new Premium economy service.
The spacious leather seats offer both extra comfort and legroom with a generous recline, allowing you to relax whilst you take in the plethora of entertainment on offer on your personal 13.3" HD screen, the largest in its class. Luxurious little touches like an extended wine choice (including champagne) and the celebrated 'book the cook' service where you can peruse specially curated menus and pre order your meals before you fly add to the magic.
Also, when flying with Singapore Airlines, you'll get to visit Changi Airport, recently the winner of the Airport of The Year Award* for the fourth year running. If you are transferring to Malaysia or any other part of the world, Singapore Airlines customers will receive a complimentary $40 (Approx. £20) Airport transfer voucher to spend at the airport making your transit a more special experience.
Inspired?
---
Does one of these cultural wonders sound like your perfect journey of discovery?
Or do you just fancy enjoying South East Asia's tropical beaches?
Singapore Airlines will fly you there in style whatever your amazing is.