The Seychelles is a picture-perfect collection of islands that are home to some of the most beautiful beaches and exclusive hotels in the world. The Hilton Seychelles Labriz Resort & Spa, located on jungle-cloaked Silhouette island, is one of our favourites. We caught up with Sam, Kuoni customer and founder of travel blog SOS Travel, to tell us all about her Seychelles escape.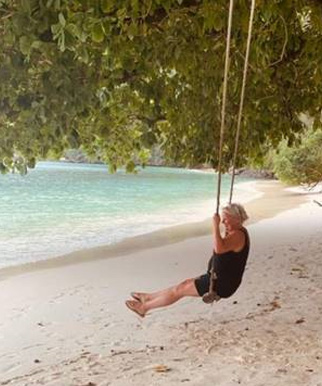 I've been globetrotting from an early age, and one of my first passport stamps was earned from a visit to the Seychelles with my mum when I was two years old. I have always looked fondly at a photo of us, posing in front of a tiny Air Seychelles plane, bucket and spade expectantly in my hand. We'd often talked about returning one day on a kind of a nostalgic mother-daughter pilgrimage, so when we spotted an amazing offer to the Hilton Labriz Resort & Spa with Kuoni we decided to go for it.
The offer included a direct flight from Heathrow with British Airways which was a real bonus for us. We treated ourselves to an upgrade to World Traveller Plus (premium economy) and it was a delight to be welcomed onboard with a glass of fizz and ushered to our spacious, comfy seats. After a haze of snoozing and back-to-back movies, we landed into Mahé in the early hours of the morning.
I travel frequently for work and sometimes find the airport arrival experience overwhelming, so it was a pleasant surprise to walk out into the tropical heat and find our Kuoni rep, Olivia, holding a sign with our names on. We felt like VIP's as we were whisked away to catch our boat to Silhouette island. After a refreshing welcome drink in the lounge and a short ferry crossing (around 45 minutes), we caught sight of Silhouette. It looked like a lost Jurassic island with a backdrop of mountain spires towering above a tangle of rainforest. Although Silhouette is the third-largest in the Seychelles, it's also one of the most secluded, and 93% of the island is a natural nature reserve. And as the Hilton Labriz is the only resort on the island, you feel as though you are on a private island hideaway.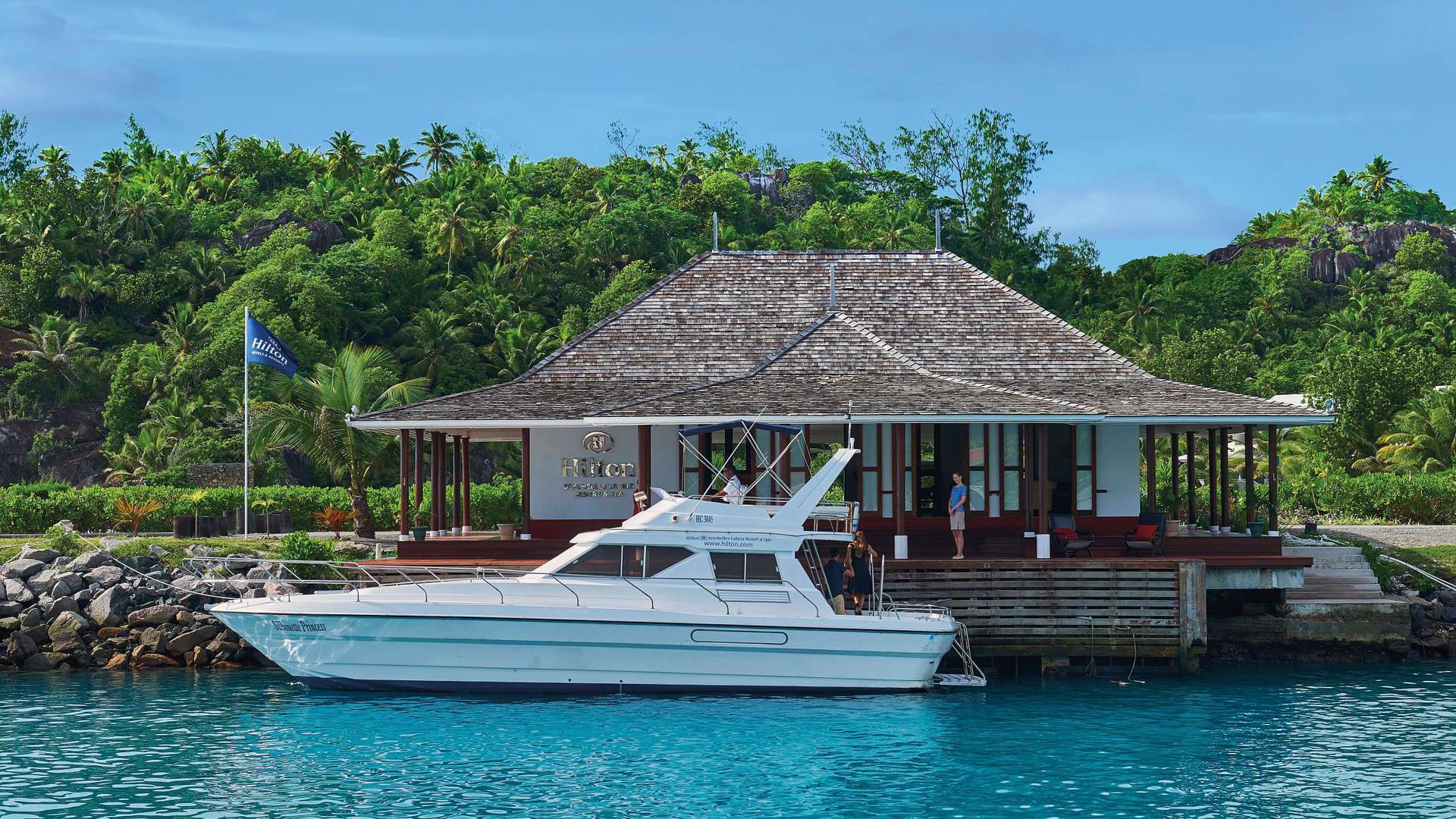 We booked a Garden Villa for our stay, although you could opt for a villa with your own private pool or ocean views. Inside, the décor was modern and simplistic and outside we had a private terrace with sunbeds to lounge on. The indoor/outdoor bathroom with al fresco shower was a novelty and a true nod to being in the Indian Ocean. We were also gifted with a woven beach bag, aloe vera gel and two stainless steel water bottles that you could fill up throughout the island at designated refill stations. It was good to learn that Silhouette is a plastic-free zone; even the drinking straws are artfully made from pasta.
As we headed out to explore the resort, we spotted a glimpse of aquamarine through the trees and were delighted to find our villa was just a few metres from the beach. Stepping onto the soft, white sand and seeing a fringe of the iconic granite boulders that the Seychelles is famous for felt surreal. We sat for a while, taking in the mesmerising views and reminiscing on how much had changed since we were last on Seychelles sand together.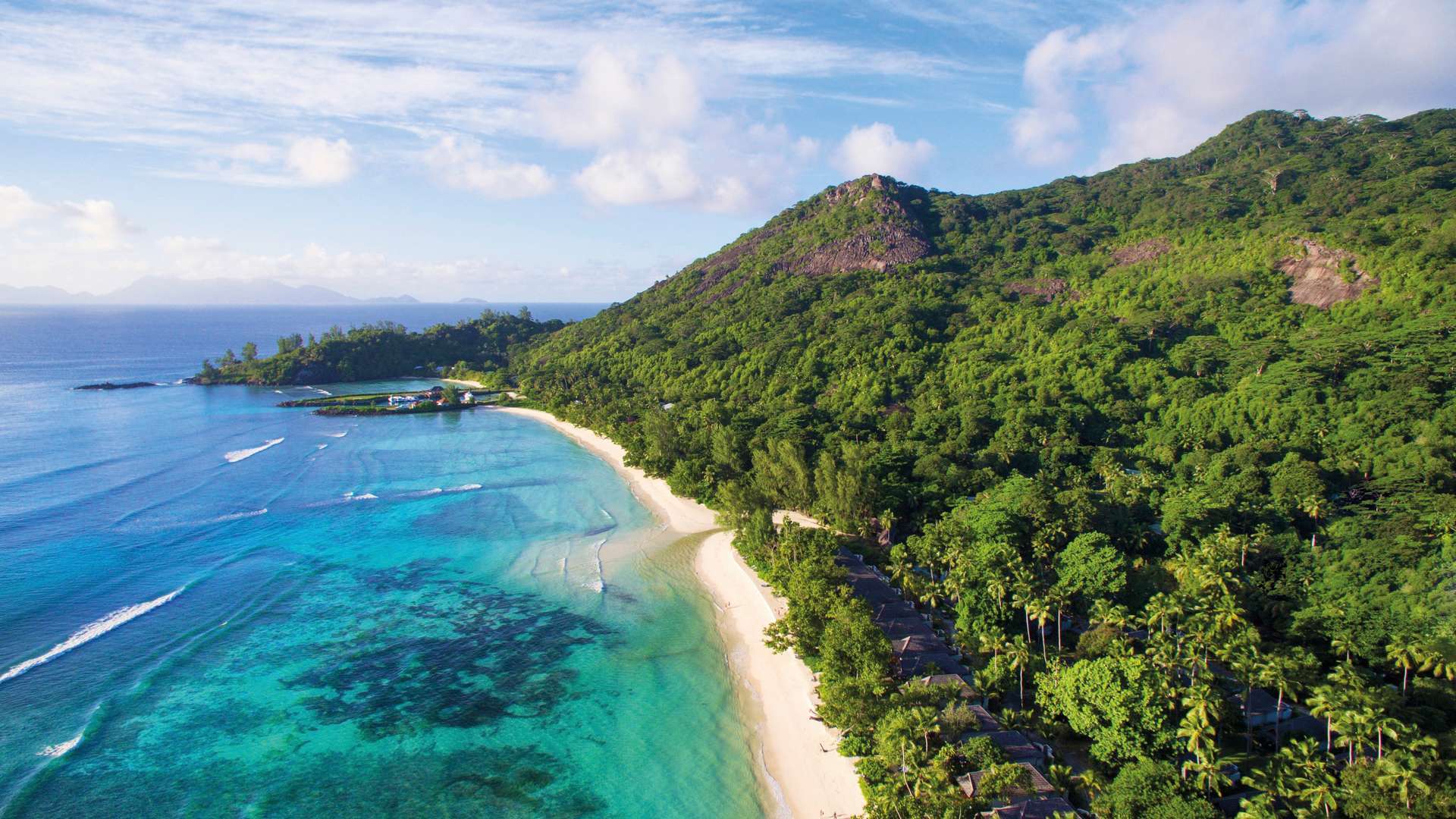 Over the next few days, we explored the resort and discovered that there's plenty to do. Children skipped off to the kids' club to make pizzas, yoga lovers retreated to the spa and couples sporting hiking boots headed for the jungle. We, however, opted for a more laid-back approach to island life. We read our books on the wooden sundeck by the pool, snorkelled in the deliciously warm ocean and went for gentle strolls on the beach, listening to the resident myna birds chirping in the lofty palm trees above.
The attention to detail in resort was impressive. We loved the daily towel creations on our bed decorated with foliage and flowers, and during the nightly turndown service, we would find a handwritten note (such as 'sleep well') which was a lovely personal touch. A newsletter is delivered to your room every day, packed with insightful tips such as what activities are on the next day, weather forecast, offers (cocktail specials or half-price spa treatments) and even 'eat like a Seychellois' recipes from the chef.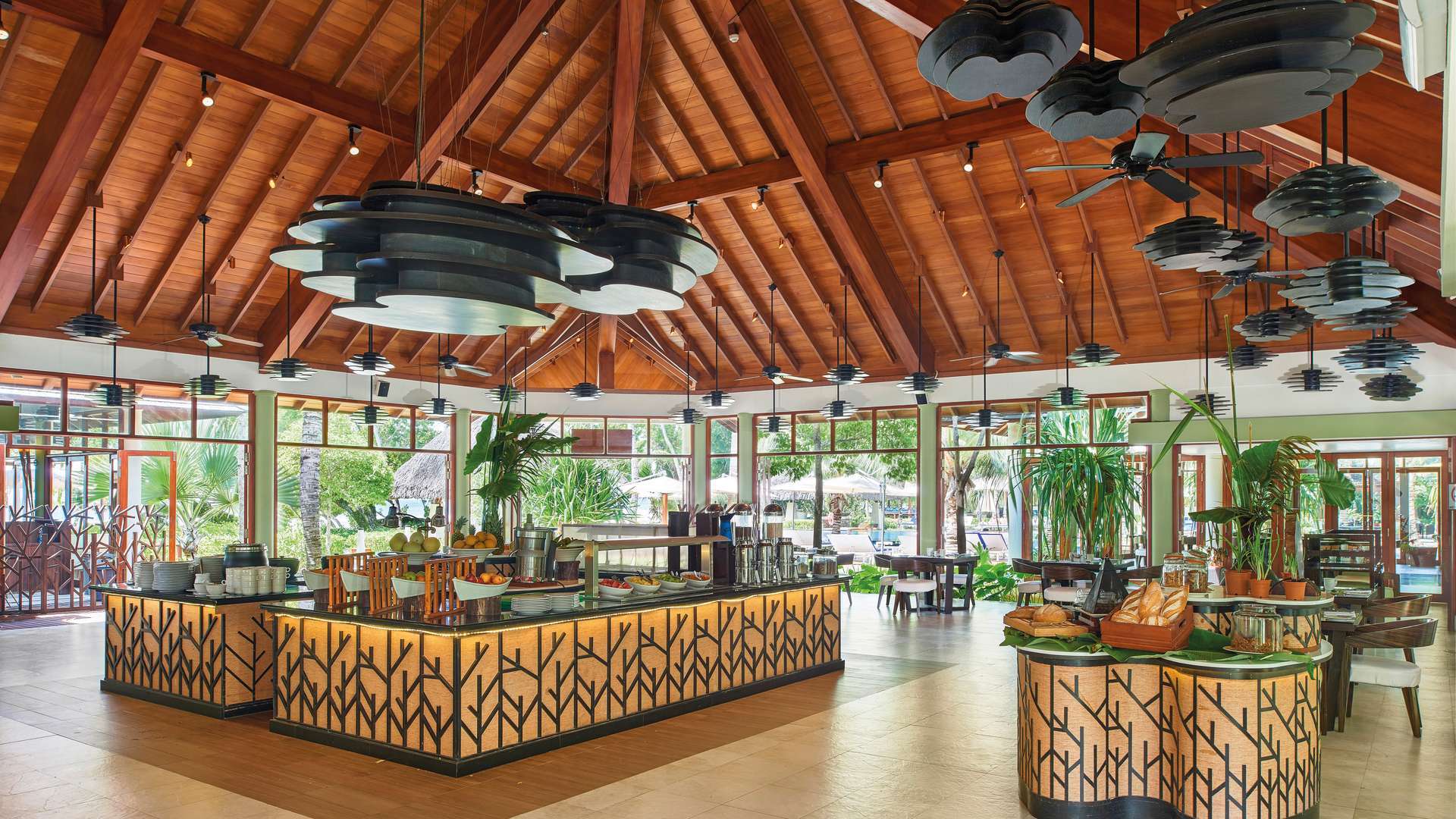 Food was a real highlight of our stay. There is a choice of seven restaurants and we made sure to try them all. Half board dining was included in our offer which I would say was more than enough for us. Breakfast in the main restaurant, Café Dauban, was a great way to start the day, with a huge range of healthy options such as cooked to order omelettes and fresh smoothies – or mimosas and pastries if you wanted to be more indulgent. At dinner, Teppanyaki restaurant is a fun foodie experience and the views over the mountains and lagoons magnify the seductive setting. Although this restaurant is not included in the half board package, it's well worth a visit (or two) to indulge. Our favourite restaurant was the Creole restaurant, Gran Kazz, set in a 150-year-old creole house which is also home to fascinating museum where you can delve into the history of the estate. The food was divine; I highly recommend trying the chocolate chilli tart for dessert.
Evenings in the resort are low key; you can expect live music in the bar and the occasional quirky event. One night there was a street food fiesta around the pool. Our favourite spot was 4th Degree, a barbecue restaurant and bar on the beach, where you can watch the most epic sunsets while sipping margaritas and snacking on a local favourite – salted banana chips.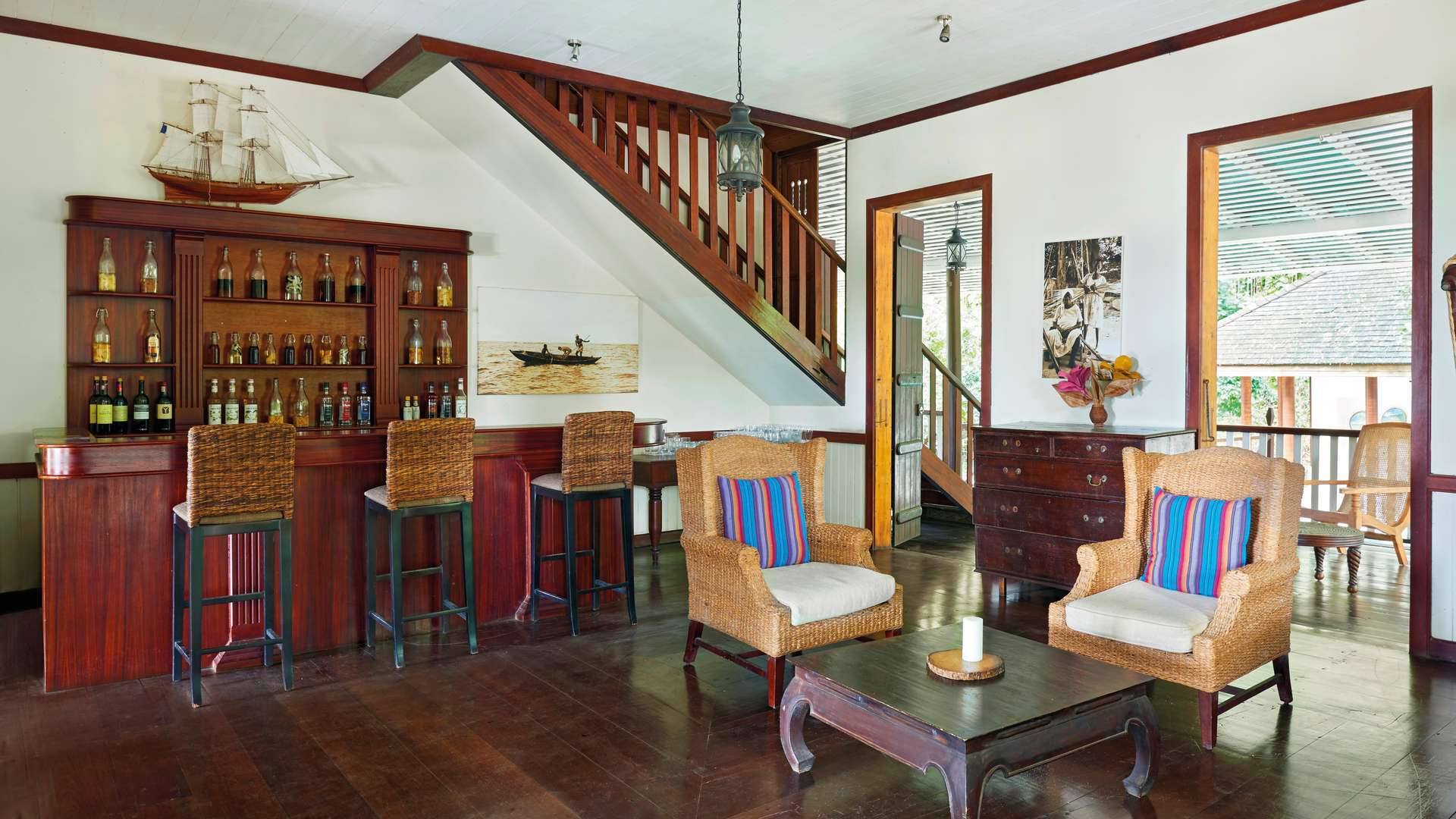 Even though it was hard to pull ourselves away from our island paradise, we ventured out to explore Mahé on a trip that was organised by our Kuoni rep. It was amazing to see more of the Seychelles and learn about local life on the island. Our first stop was a visit to Victoria, the unhurried and rather charming capital city. We admired the historic architecture and wandered through the buzzing market, marvelling at the colourful parade of exotic fruit and the smell of cinnamon and vanilla lingering in the air. Our driver took us out to explore the island and it was fascinating to see the Seychelles through his eyes. He took us to hidden beaches and stunning viewpoints, and we even got to meet the islands most notable residents – the giant tortoises.
My stay at the Hilton Seychelles Labriz was everything we hoped for – a tropical hideaway where we could escape everyday life and cherish time together. We loved it so much that we've booked with Kuoni again to go back next year, and we can't wait to return. I'd say it's the perfect resort for the latest travel trends – private villas and a remote setting away from the crowds. You certainly don't get more secluded than a private island!