Butternut squash is one of South Africa's most popular veggies. Oliver Cattermole, head chef at Leeu House and Leeu Estates, serves up this classic dish at The Dining Room at Leeu Estates in Franschhoek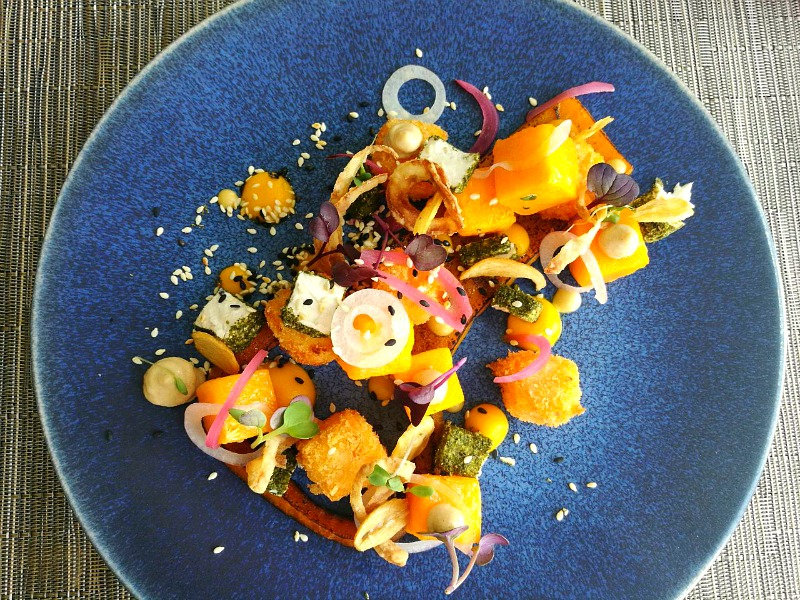 Ingredients
2 Butternut Squash
200g Unsalted Butter
100g Panko Crumbs
100g Parmesan Cheese
2 Medium Eggs
100g Plain Flour
Oil for frying
50g Tahini Paste
30g Toasted Sesame Seeds
150g Feta cheese
1 Red Onion
50g Granulated Sugar
100ml White Wine Vinegar
100g Roasted Cashew Nuts
200ml Semi-Skimmed Milk for poaching
Olive oil for drizzle
Method
1. Peel both butternut squash, cube one and thinly slice the other. Take half the cubed butternut and poach in milk, drizzle the other half with olive oil and roast in the oven at 180° for 10 minutes.
2. Once the butternut is soft, remove from the milk and keep the milk for later. Grate the parmesan and mix with the panko bread crumbs. Crack the eggs for egg wash. Place the flour in a bowl.
3. Place the butternut in the bowl of flour first, then in the egg wash, then cover in the parmesan panko and shape using your fingers.
4. Roast the thinly sliced squash in the oven, drizzled with a little olive oil at 220° for 10 minutes; you want this to be nicely roasted.
5. For the pickled onion: boil the sugar and the vinegar until dissolved and then add the thinly sliced onion and allow to marinade and pickle.
6. For the tahini dressing: blend sesame seeds to a paste, thinned down with a little leftover cooking milk, finished with a squeeze of lemon.
Inspired?
---
Try some of Oliver's extraordinary dishes at one of our favourite Winelands guesthouses.