What do Liverpool FC's stadium, the conservation of the southern white rhino, and a battle witnessed by Churchill and Gandhi have in common? They're all linked to South Africa's KwaZulu-Natal province.
Beyond Cape Town, far from the Garden Route and Eastern Cape game reserves, KwaZulu-Natal is a favourite with South Africans for a reason. Rich in nature and history, with poignant battlefields, dramatic mountains, game reserves and golden beaches, it sure packs a lot into its 95,000km² – but this remarkable region is often overlooked. Welcome to a very different side of South Africa.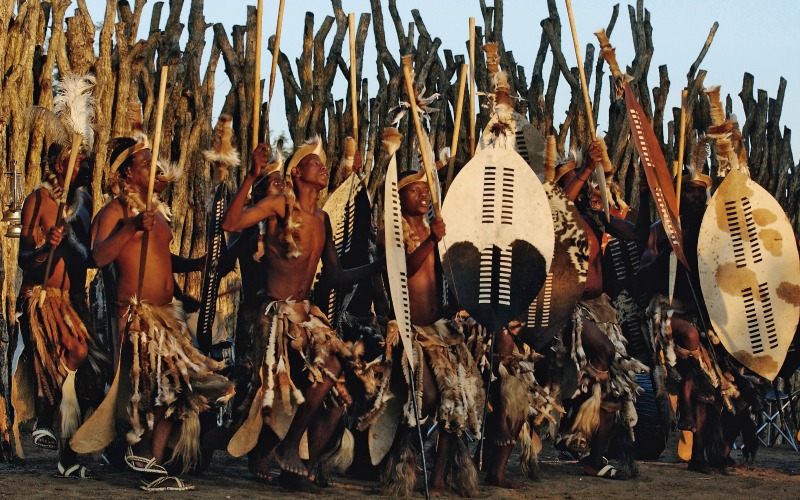 Battlefields: Anglo, Boer and Zulu war sites
Step back in time to when heroic British soldiers stood against mighty Zulu warriors. Even if you're not a military buff, KwaZulu-Natal's Battlefields will have you captivated. It's the storytelling. Tours here are around four hours' long and while you might not remember every detail, you will remember how it made you feel – standing on a vast, empty battlefield where memories lie deep beneath the earth, as your guide transports you back to those fateful events and where even the birds seem to be stunned into silent respect.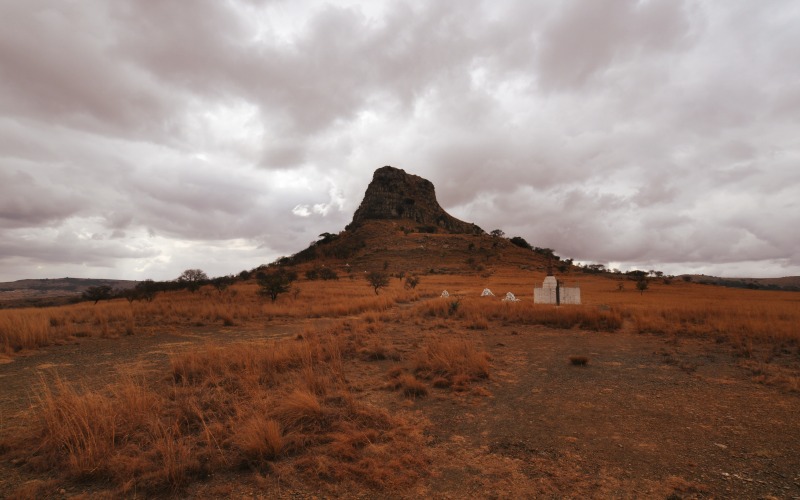 But if you are a keen historian, you could spend days discovering the rich and turbulent history of this diverse landscape which sits under seemingly endless blue skies. Isandlwana and Rorke's Drift played host to the most famous of the battles during the Anglo-Zulu War (the subject of the 1964 film, Zulu, starring Michael Caine). During the Battle of Rorke's Drift, 150 British and colonial troops fought thousands of Zulus through the night to defend a mission station at the (then) border between the British colony of Natal and the Zulu Kingdom. Today, the buildings have been rebuilt exactly as they stood on that legendary night.
A few miles away, Spioenkop ('Spy Hill') has a different warring past. This was the site of the second Anglo-Boer War (1899-1902) – Britain's last imperial war where war correspondents Winston Churchill and Rudyard Kipling were present alongside field surgeon Arthur Conan Doyle and a young stretcher-bearer then known as Mohandas Gandhi; the future Mahatma Gandhi. In 1903, in homage to the number of Lancaster and Liverpool-born soldiers that died during the Anglo-Boer War, the newly-built stand at the home supporters' end of Anfield Stadium was named 'The Kop' after the Spioenkop battle.
Many of the lodges in the region offer excellent tours of the Battlefields. This area is known for its small, owner-run lodges where the focus is on the local community – through the sustainable employment of local Zulu staff, fundraising for community projects and immersing guests in the local environment. The eco-friendly Three Tree Hill Lodge nestles in the sheltered side of Spioenkop overlooking a secluded valley, with the dramatic backdrop of the Drakensberg Mountains. It has a real home-from-home vibe, where you can tuck into farm-style country fare and sip sundowners as you take in views, relaxing beneath a blanket of stars. As well as historic tours, at Three Tree you can also go on nature walks and head out on mountain biking adventures. Fugitives' Drift Lodge is another of our favourite boutique lodges here, sitting amid the 5000-acre Fugitives' Drift Game Reserve – a Natural Heritage Site that overlooks both Isandlwana and Rorke's Drift.
Bush: Southern white rhino and wild swimming elephants
Zululand might not sound like a wildlife-rich region but venture inland and you'll discover steep ridges, bushlands and open savannah where wildlife roams, including in South Africa's oldest reserve: Hluhluwe-Imfolozi. Formerly the Royal Hunting Grounds of King Shaka Zulu, Hluhluwe-Imfolozi was declared a reserve when a population of southern white rhino – a once-prolific species thought to be extinct – was discovered here in 1894. Thanks to their protected status, by the 1960s numbers had increased to 600, allowing for a huge conservation effort to take place to return the southern white rhino to habitats all across Africa. KwaZulu-Natal is credited as saving the species from extinction and today offers opportunities to see these incredible creatures alongside the other members of the Big Five, African wild dogs and more than 300 species of bird.
Ghost Mountain Inn is a lovely family-run hotel that's well placed to explore Hluhluwe-Imfolozi. At the foot of the mysterious Ghost Mountain, it's also close to Lake Jozini – one of the only lakes in South Africa where wild elephants swim. Like the small lodges of the Battlefields, you'll be encouraged to fully discover the local area. A visit to a Zulu village or homestead is a must, to see the traditional beehive huts and experience real Zulu hospitality.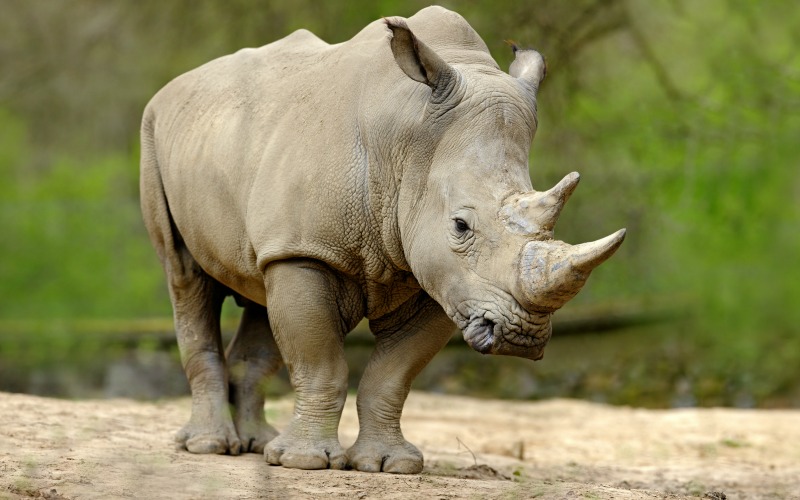 Beach: The Dolphin Coast and upscale beach towns
North of Durban, KwaZulu-Natal's Dolphin Coast is named after the large pods of bottlenose dolphins that can often be seen offshore. This is a sun-kissed region where rolling sugar plantations give way to small coastal towns and wild stretches of golden sands are met by crashing waves.
Closer to Durban, Umhlanga Rocks is an upmarket beach town with a buzzing atmosphere. Once part of a large sugar estate, a track was built from the estate to the beach where local farmers began to lease small plots and build holiday cottages. The first cottage, the Oyster Box lodge, was built on the grounds in 1863 and originally used as a navigational beacon. Today it stands as the Oyster Box Hotel, where the iconic red-and-white-striped lighthouse in front of the pool is reflected in the design of the candy-cane sun loungers. It's the perfect balance of colonial nostalgia and modern comfort and a superb base for a few days of relaxation. You might even spot dolphins as you sample fresh oysters and sip sundowners on the terrace.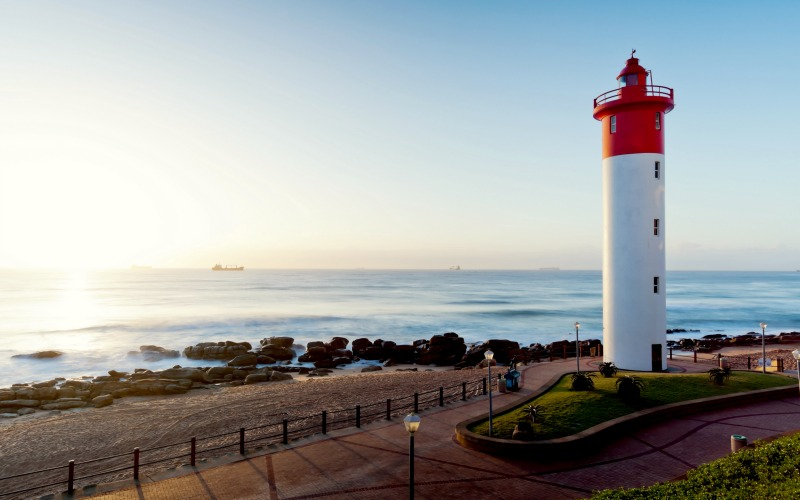 How to see it with Kuoni
Thanks to the surrounding Indian Ocean waters, KwaZulu-Natal also holds the crown as South Africa's sunniest region, where winters (May to September) are mild, the sea is warm and temperatures range from 23-32 degrees year-round. The area can be incorporated into a longer itinerary across South Africa, but we think it deserves more than just a short visit. Our KwaZulu-Natal Bush, Beach & Battlefields suggested self-drive itinerary dedicates nine days to showcasing the region in all its glory. South Africans drive on the left and the open roads are easy to navigate, so this is an excellent off-the-beaten-track-style itinerary without going too far out of your comfort zone. Not every South Africa holiday has to begin in Cape Town.
Inspired?
---
Whether you're a regular South Africa visitor or an adventurous first-timer, the KwaZulu-Natal province may be what you're looking for.