Experiencing British Columbia is diving into indigo blues and emerald greens. It's scrambling through moss-swathed forests and kayaking over turquoise lakes. It's dashing through the snow in Whistler and teetering in the treetops of Vancouver. I've rolled up to hip breweries in the city, snatched sightings of grizzly bears in the wild and caught waves on Vancouver Island. I've dipped into hot springs in The Rockies, seen orcas tail slapping close to the shore and watched elks move stealthily through the woods. Canada's westernmost province is almost four times as large as Great Britain. It's coastal, it's cosmopolitan and it's wildlife-rich. It's the country's supernova.
Escape to open space in Vancouver
When you're in a city surrounded by snow-capped mountains and blue fjords it's impossible not to feel like the cat that got the cream. Urban cool comes in many forms; in Vancouver it's wide open spaces, green streets and air that's 'just after a thunderstorm' fresh. Breeze into this city with lycra, trainers and a Fitbit tracker because you're going to nail far more steps than you do back home. For me, the sleekest sanctuary is the Rosewood Vancouver with its decadent '20s vibes and alfresco terrace that's made for all those holiday feels. Live jazz and prohibition-style cocktails seal the deal.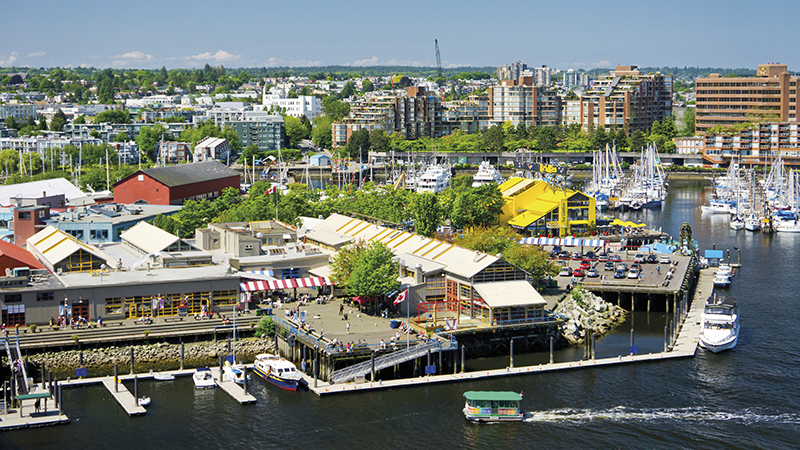 In Vancouver you can point yourself in any direction for a new adventure in a new landscape. My Vancouver is five star mountain views with my morning coffee and cycling Stanley Park Seawall with forest on one side and ocean on the other. If you've got maniacal tendencies to do it all in one day, you can cycle, hike, ski and kayak all before midnight. Fittingly, I've launched a paddleboard into False Creek's moonlit waters for a serene and memorable end to the day. Fancy something more intense? Do the half-day hike to the top of St Mark's and snag spectacular views of Howe Sound. Prefer sand between your toes? Kits Beach is a blissful combo of Pacific Ocean swimming and a backdrop of mountains and city views. If you enjoy your thrills a whole lot sky high, Capilano Suspension Bridge Park is your gateway to breathtaking but very jiggly treetops walks over leafy bowers and coastal rainforest.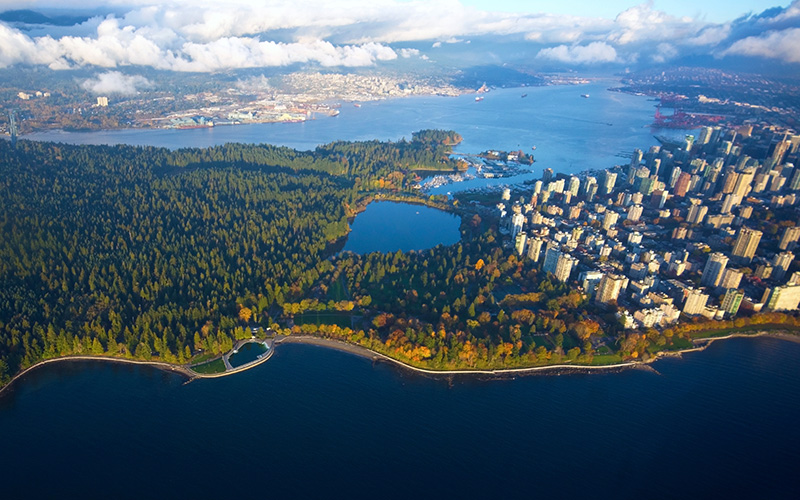 I get my culinary kicks in the more artsy neighbourhoods of Vancouver. Shuck-ingly good oysters in Yaletown and French toast and Cosmos in Gastown. It's here that cobblestoned streets give way to the hippest of shops where you're just as likely to pick up a vintage camera as you are a shot of whiskey. For artisan flavour hunters, Granville Island is the local foodie favourite. Reach it by mini tug boat ferry and pick up everything from cheeses and charcuterie to signature candied salmon.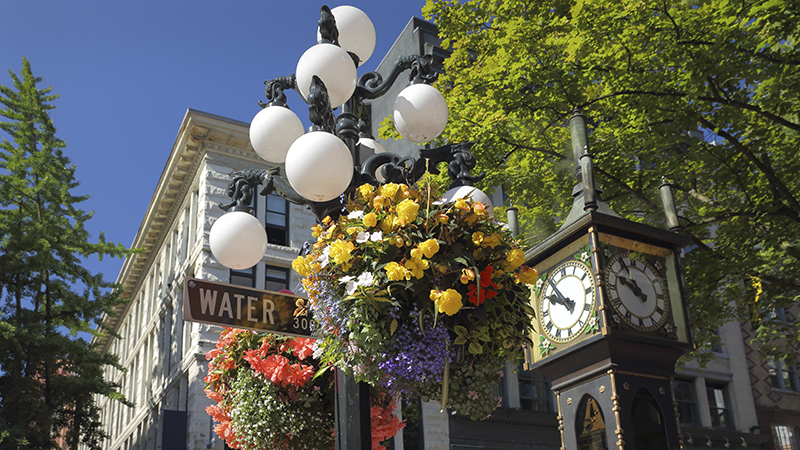 Big waves and orcas on Vancouver Island
Turn your focus laser and you might just see a black bear swimming from the mainland in hunt for salmon or humpback whales frolicking in the waters. Vancouver Island is petite perfection on the wild west coast. I've visited in winter and summer and each season brings its own delights. There's the earthy smell of thunderstorms rising, the moody vistas and big waves on untamed beaches and the festive thrills of capital Victoria with its twinkling lights, hot toddies and horse drawn carriage rides. In summer, adventure revolves around forest hiking and salty, sandy footprints. Marine life makes chartbusting appearances on a daily basis; whales, otters, seals and puffins. Staying at Long Beach Lodge Resort in Tofino, I suited up and paddled out with their onsite surf camp gang, took apres surf on an Adirondack chair overlooking the beach at Cox Bay and achieved the ultimate hot tub goals under a canopy of rainforest.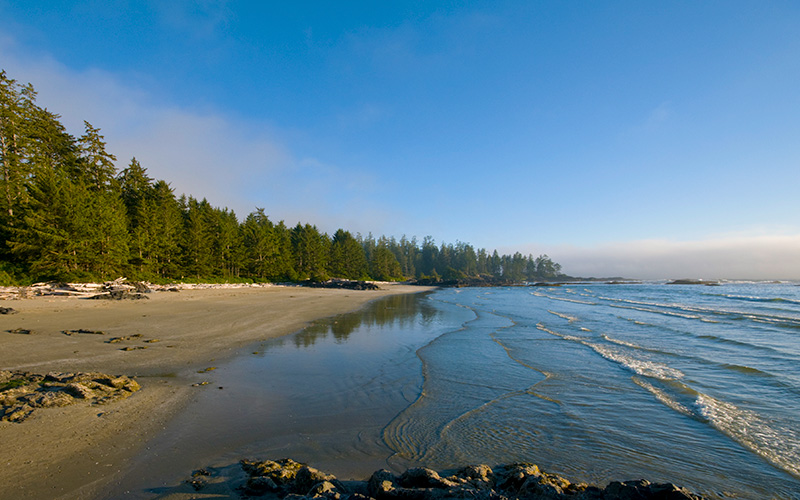 Rockies by name, ravishing by nature
The Canadian Rockies is a place of roaming elks, of jagged peaks and enchanting mountain towns. An irresistible blueprint for wild adventure. Sun-streaked landscapes of alpine lakes and glaciers. I came expecting the monumental and magical and I left as satisfied as a resident 800 pound grizzly bear feasting on a flying appetiser. The Canadian Rockies span British Columbia and Alberta. On the BC side, you're privy to Yoho and Kootenay National Parks. These, I learned, are places to keep my boots on. And if my boots weren't on I was kayaking over mirror-like Emerald Lake and white water rafting in Kick Horse River. In Yoho National Park I weaved like a gold spinner over turquoise blue waters and took the short and sweet hike to one of Canada's tallest single drop waterfalls. I trampled through woods to ethereal views at Sherbrooke Lake and got the camera ready for the impressive rush of double cascades at Twin Falls.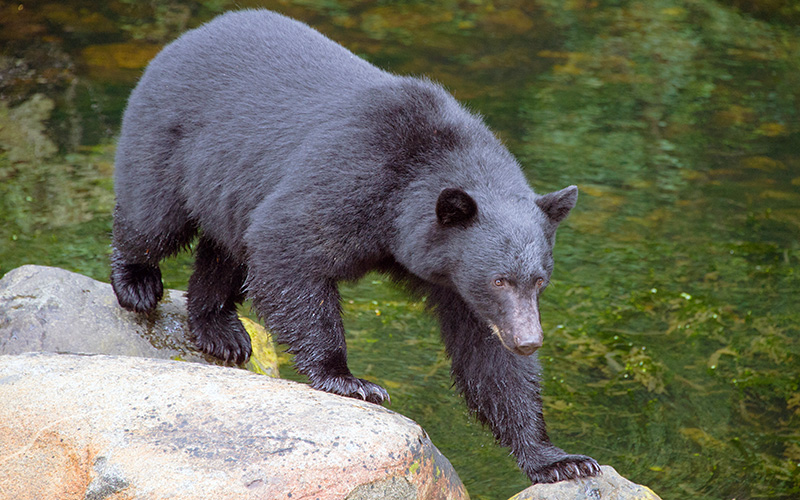 Kootenay beckoned with hiking trails and the thigh-burning relief of its utterly delicious Radium Hot Springs. One of the best routes I took was bathed in the beauty of wild rose flowers along the Marble Canyon Trail. My traipse was tinged with all shades of blue darting from wet stone to wet stone and proffering up a refreshing mist. On the Stanley Glacier hike I scrambled through burnt forest and alpine meadows that glimmered like nuggets of peridot. All of it so profoundly removed from city life. These are the kind of places you'll spend days and nights watching the landscape shift and wondering if you've entered a captivating portal into another world.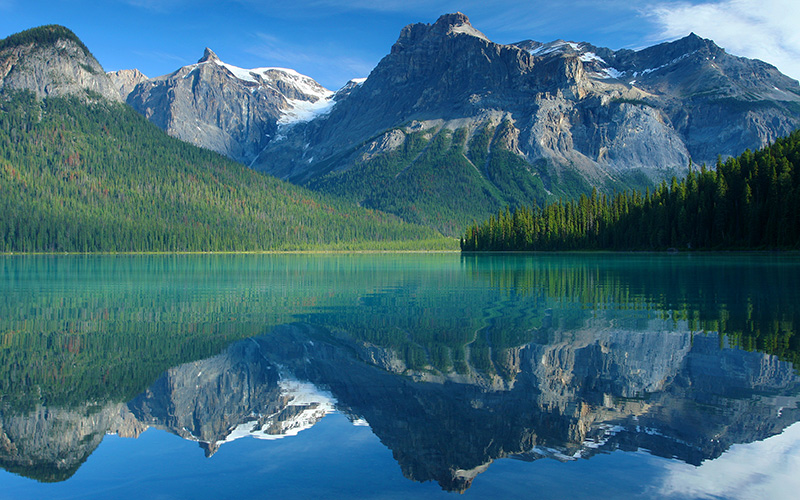 breeze by Kuoni
---
See all of British Columbia's horizons with breeze by Kuoni. Our handpicked inspiration and easy breezy online booking mean more time for you to focus on the fun.