The South Pacific is breathtakingly beautiful, with white sands and jungle-clad volcanic peaks that rise out of the bluest lagoons you've ever seen. In this exclusive part of the world, hotels up the luxury levels with luxurious overwater bungalows and private island retreats that have front-row views of paradise. We've been to the South Pacific and have hand-picked our favourite wow-factor rooms to help you plan the ultimate island escape.
The Brando, Tetiaroa
The Brando is one of the most exclusive hideaways on Earth. Tetiaroa is the ultimate castaway island – a flat atoll with spotless white sand, palm trees, a crystal lagoon and coral reef. Marlon Brando fell in love with its natural beauty while filming Mutiny on the Bounty here and later bought it as his own private retreat.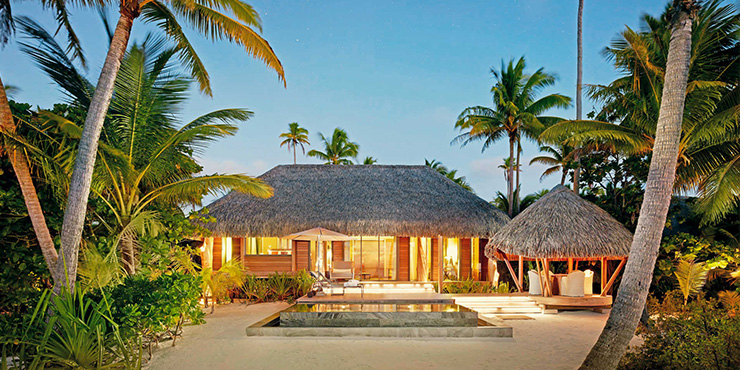 His hotel was recently featured on the BBC's Amazing Hotels series; it's a boutique eco-resort designed to preserve Polynesian culture and marine life, using only renewable energy. Instead of overwater bungalows, The Brando has 35 ultra-luxe beachfront villas only accessible by private plane from Tahiti, so you can enjoy VIP treatment and arrive in style at your One Bedroom Villa. You'll have music and movies in your own media room, a walk-through dressing area and bedroom plus a bathroom with an outdoor tub behind a wooden screen. The chic living area opens onto a spacious terrace; here there's a thatched gazebo, an outdoor shower and a private plunge pool, with views over the lagoon just steps away.
Four Seasons Resort Bora Bora
Four Seasons Resort Bora Bora is one of the finest hotels in French Polynesia, facing inwards towards Mount Otemanu and the encircling turquoise lagoon. There's a first-class dive centre on site and all rooms come with complimentary snorkelling gear, making it a brilliant destination for spotting marine life including manta rays, whale sharks and sea turtles.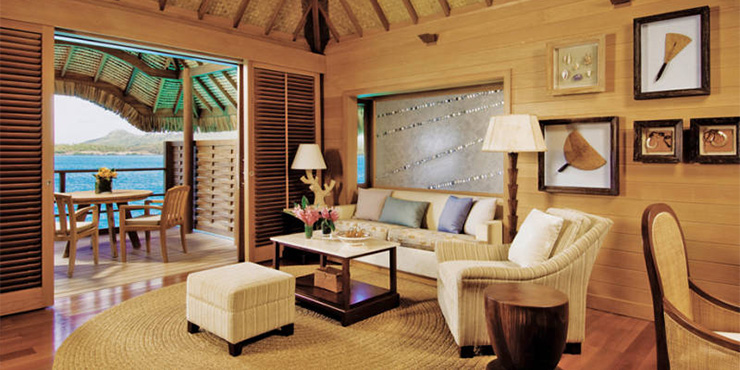 Cosy poolside cabanas and spa treatments including Tahitian-black-pearl powder massages set the tone for your luxurious retreat, and we recommend upgrading to a spacious Overwater Bungalow Suite with Plunge Pool. They're furnished in sleek teak, with woven rugs and beautiful local artefacts and seashells framed on the walls. Feel the cool ocean breeze and take in fantastic lagoon views from the comfort of your private thatched terrace; when you feel like taking a dip, hop down the ladder from your deck into the crystal waters below.
Bora Bora Pearl Beach Resort & Spa
Bora Bora Pearl Beach Resort & Spa is a tranquil retreat with just 80 Polynesian-style bungalows, and the only hotel on the islet of Motu Tevairoa. This tiny island is a stone's throw from Bora Bora's blue lagoon and is home to a unique nursery coral with over 70 species of marine life. Gaze out over the shimmering water as you approach the resort on your boat transfer – it's particularly special in the evening when the sun sets and lanterns flicker.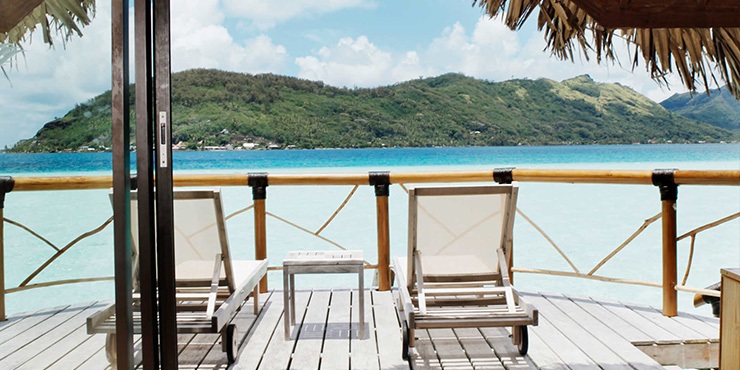 We love the Lagoon Premium Overwater Suites here; these thatched bungalows have a rustic wooden interior and are closer to the end of the pontoon, with sweeping views over the beach and crystal water in the distance. You'll have a spacious bedroom area and en-suite bathroom with separate shower and bathtub, plus direct access to the beautiful lagoon from the sun deck.
Manava Beach Resort & Spa, Moorea
Moorea is larger than Bora Bora but still has a friendly, small island-feel, and this laid-back hotel is at the tip of the north coast close to the village of Maharepa, not far from the spectacular hilly terrain of Cook's Bay. Manava Beach Resort & Spa has one of the island's largest infinity pools and is on a lovely stretch of white-sand beach bordering the turquoise waters. It's also famous for its world-class Manea Spa, serves superb French-Polynesian cuisine and has two chic bars.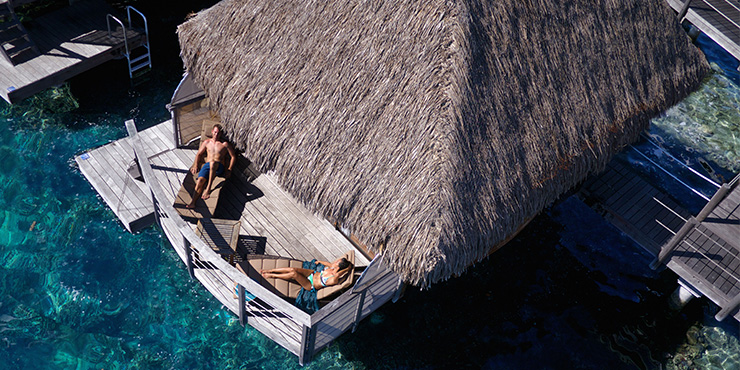 Choose a Premium Overwater Bungalow for an added slice of luxury. Glossy wooden floors and high beamed ceilings give these spacious rooms a sophisticated feel, and their beautiful tiled bathrooms come with an elegant bathtub or a walk-in shower. The room's trump card is out the back – step through sliding doors from the stylish living space onto a secluded sun deck, the perfect spot to lie back and lap up the ocean views from your sun lounger and dip your feet into clear blue water.
InterContinental Tahiti Resort & Spa
While Tahiti is a convenient stopover before a trip to Bora Bora, it's also a fantastic destination in its own right, with stunning beach scenery and an unspoilt interior of valleys and waterfalls. The lively capital, Papeete, is just a 10-minute drive away from InterContinental Tahiti Resort & Spa; here you can unwind in two wonderful infinity pools and feed over 200 species of sea life in the open-air Lagoonarium, with incredible views over Moorea in the distance.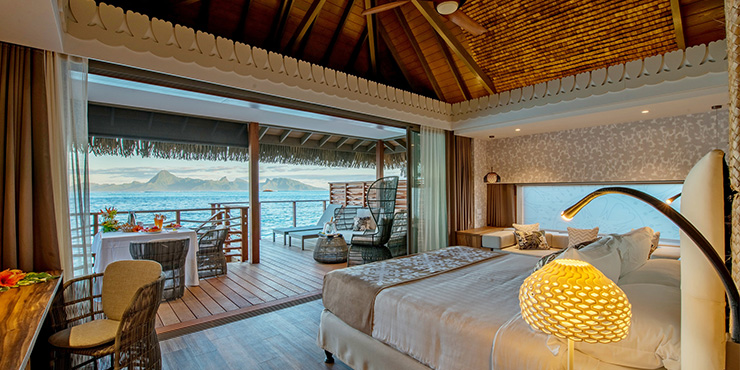 The hotel's Overwater Motu Villa Suite is in a secluded spot directly over the lagoon; it's a haven for up to four people with thatched walls, wide floor-to-ceiling windows and warm cream walls decorated with wooden-framed artefacts. After a day of exploring, unwind with a drink on your spacious sun deck and enjoy soothing views over the endless blue sea and volcanic peaks.
InterContinental Bora Bora Resort & Thalasso Spa
This five-star resort is famous for its emphasis on sustainable living and indulgent 'Deep Ocean' Thalasso Spa, the first in the Southern Hemisphere. It's nestled within the Motu Piti Aau, a strip of coral island with palm trees, fringed by a beautiful lagoon and reef. Low bridges arc round to horseshoe-shaped groups of overwater bungalows facing the ocean and now-extinct volcano, Mount Otemanu, but it's the new Brando Suites which really steal the show.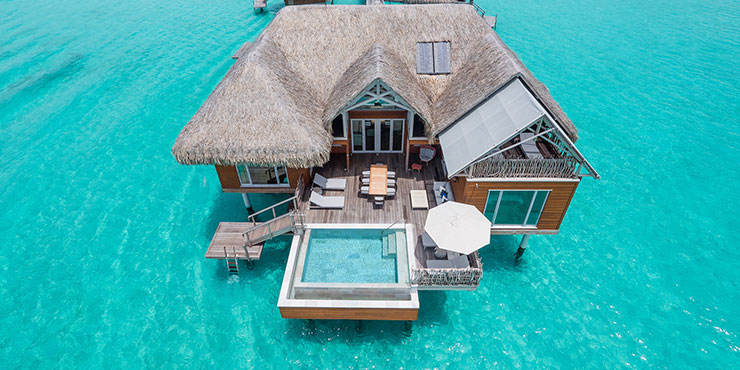 Each one or two-bedroom suite at InterContinental Bora Bora Resort & Thalasso Spa is pure luxury – think chic wooden interiors, swanky white sofas, high ceilings with beams and sparkling bathrooms at the water's edge. Step through glass doors from the spacious open-plan living and dining area onto a private outdoor terrace with large plunge pool. If that's not enough, head upstairs to your solarium and kick back on a sun lounger – an amazing sheltered spot to soak up the mountain views.
This feature was published on 26 July 2018. The information within this feature is correct to the best of our knowledge at the time of print. Feature by David Assender.