With breath-taking views of the Piton mountains, stunning infinity pool sanctuaries and 24-hour butler service, you'll never have been anywhere quite like Jade Mountain.
Eat
Surrounded by spectacular views of the Piton Mountains and encircled by a dazzling infinity pool, reflecting a kaleidoscope of vibrant colours that match the Caribbean sunset, dining at Jade Mountain Club is an experience you'll never forget.
With Chef Allen Susser's aptly-named "Jade Cuisine" created from both cultural influences and unique techniques, you're bound to enjoy an authentic Caribbean feast. Each mouthful erupts with flavour, as Chef Allen carefully manipulates tropical flavours to the best of their ability. Both delicious and with an element of Saint Lucian fusion, you'll never have tasted anything quite like this before in the Caribbean. What's more, no matter when you visit, there's always a different flavour to reflect the season you're visiting in.
Exclusive to guests only, Jade Mountain Club is open for breakfast, lunch or dinner, although, we recommend attending in the evening for live entertainment, including jazz musicians and classical acoustic guitarists.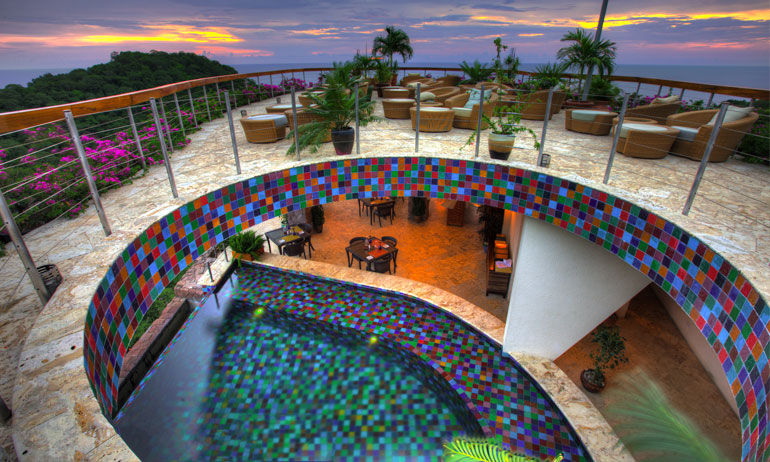 Relax
Not content with offering a carefully selected array of spa treatments either in the privacy of your own infinity pool sanctuary or in Jade Mountain's boutique spa, Kai en Ciel, this resort also has their Kai Mer spa cottage.
Kai en Ciel offers a varied menu of classic and beauty treatments, as well as holistic products and ayurvedic services to relieve you of any daily stresses. During your stay at Jade Mountain, you're also free to attend complimentary yoga classes.
But if Jade Mountain shines anywhere, it's with its honeymooner's Alchemy of Two romance ritual. If you're celebrating your special time away, then sink into a hot tub containing Body Bliss Elixir Male and Elixir Female Oils and indulge in a number of delicious treats. Follow this up with an asynchronous massage side by side and you're set for a romantic afternoon.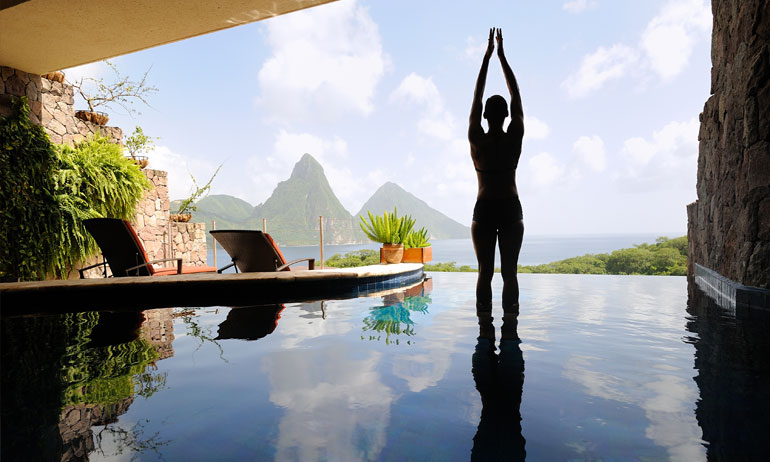 Stay
Each infinity pool sanctuary at Jade Mountain is a work of art, carefully designed so that each has an unparalleled view of the Pitons as well as the Caribbean Sea. Each sanctuary has been built with 15-foot high ceilings and a completely open forth wall to allow for amazing views yet absolute privacy. We highly recommend booking a corner sanctuary as you'll get an extra panoramic quality or if you'd like to treat yourself, there are always the Galaxy Infinity Pool Sanctuaries to opt for.
All sanctuaries are furnished with handmade pieces made from varying tropical wood alongside hand-picked ornate items, so each one feels unique and authentic. These materials have been sourced from the Rainforest of Guyana, and specifically chosen by technicians at Jade Mountain.
In addition to the immersive decor, you'll also receive a "firefly" communication device that means you can contact the service team at any moment of your stay if there are any problems.
Play
Whilst Jade Mountain is ideal if you want to take it easy and relax a little, it's also great if you're looking for a fun-filled holiday, with added excursions. With plenty of breathtaking coral reefs and two exquisite sand beaches, you'll never be short of something to do.
Some of the facilities available to you during your stay include offshore snorkelling and scuba diving, including Saint Lucia's five-star PADI resort centre with a full diving program. If you'd rather stay on dry land and discover some of the jungle expanse around the resort, then jungle biking or an escorted hike is a must, just don't forget to take your camera for snapping the local wildlife. After a bike, dive or walk, you can always relax with a sunset sail on the Jazzy Sunset Cruise aboard 60-foot resort catamaran, Lucky T.
If you'd rather take a day out and embark on an exciting excursion, then feel free to use the expertise of the resort's concierge and guest services staff at your will – they'll happily find an experience that is right for you. This could be the Botanical Gardens, Sulphur Springs, drive-in volcano or a tour of the Gros Piton mountains.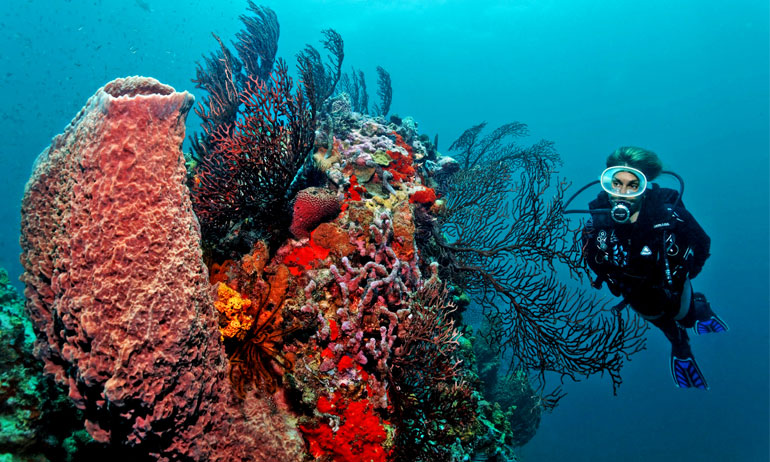 5 fast facts
Jade Mountain is Saint Lucia's only property with spectacular views of both the Gros and Piti Piton mountains rising up from the Caribbean Sea.
Within the private estate of Anse Chastanet, Jade Mountain is surrounded by 600 lush tropical acres and borders two sandy beaches each with their own pristine coral reefs just off shore.
On the estate, you'll also find the historical plantations of Anse Mamin and Emerald Estate where the resort's own organic produce is grown.
Designed by its architect owner, Nick Troubetzkoy, Jade Mountain expands on his philosophy of building in harmony with nature, each mesmerising infinity pool sanctuary is positioned so you can gaze upon the Caribbean landscape.
The resort is twinned with its sister resort, Anse Chastanet, meaning you can use its facilities too. These include an art gallery, scuba lessons, unique boutiques and its own fitness studio.
Inspired?
---
Want to read more about luxurious Jade Mountain, including when to go, what's included in your stay and offers? Look no further…