A New Zealand campervan adventure is an incredible way to experience the North and South Islands and hiring a campervan and having the freedom to explore is easier than you might think. Caroline Hogg, New Zealand Expert at Kuoni at Peter Jones, Chelsea tells us about discovering both islands in a Maui motorhome and what to see along the way.


As a huge fan of The Lord of the Rings, New Zealand has been top of my wishlist and I decide the best way to experience as much of the country as possible is to hire a campervan and make our own way round this incredible country.
We fly to Auckland, via Los Angeles, and have booked a few nights in the city to get used to the 13-hour time difference and explore before we start our road trip. On the day we get our campervan, things are very simple. The guys at Maui Motorhomes show us around the van, explaining its features and how everything works. All the linen and kitchen essentials are included as standard, plus picnic tables and chairs, and Wi-Fi data for the TomTom GPS tablet if you opt for the inclusive pack, which I'd recommend. On the road, it's a doddle with automatic transmission and, once out of Auckland, it's all single-lane carriageways and next to no traffic. With no fixed plans, we leave Auckland with our guidebook and maps from Maui and head north.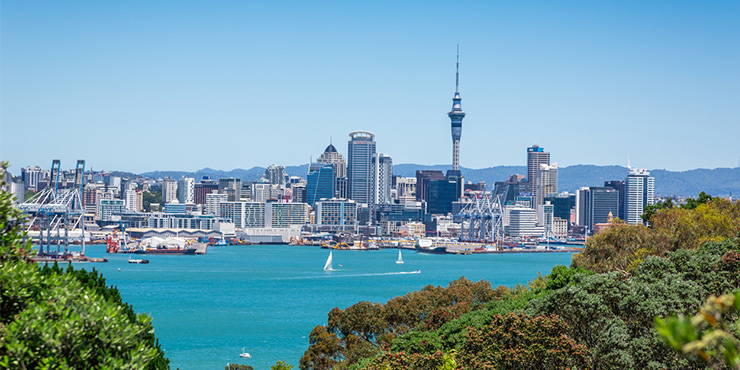 Driving is so easy in New Zealand: you drive on the same side of the road as the UK, the roads are clear and there is the most incredible scenery. It's a pleasure to drive around. We make our way up towards Cape Reinga, stopping along the way at campsites we've booked in advance. You can call ahead or use the app on the tablet that comes with the campervan, which is really simple. We have our photo taken at Cape Reinga signpost, which tells us how far away we are from destinations such as London and the South Pole. The area is also a sacred Maori site believed to be where Maori spirits depart land for their final journey back to the ancestral homeland.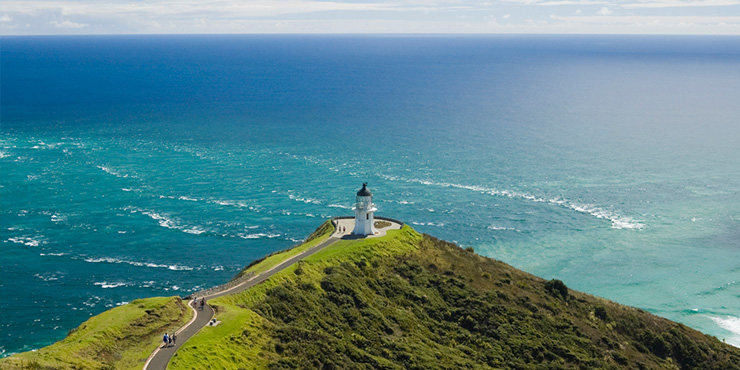 From here, it is back down south, passing through beautiful bays and stunning forests towards 'Middle-earth', the Hobbiton film set. This is the only film set in New Zealand that's still in existence from The Hobbit trilogy. As the location for Hobbiton is on private farmland, the set didn't have to be taken down. It is so surreal to see the little hobbit holes with sheep wandering around and curled up inside them. It's a great memory for me and a must-do for any fan of the films.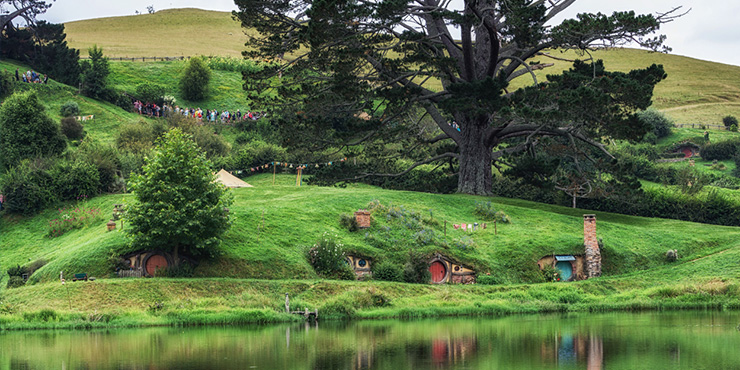 Criss-crossing our way down the North Island, we make our way to Rotorua which is known for its bubbling mud pools and natural hot springs, as well as being an area rich in Maori culture – and a rather eggy smell! After a lazy day spent soaking in the mud baths at Hells Gate, we have an evening at a local Maori Village where we are greeted with a traditional haka and relax with some delicious food and traditional singing and dancing.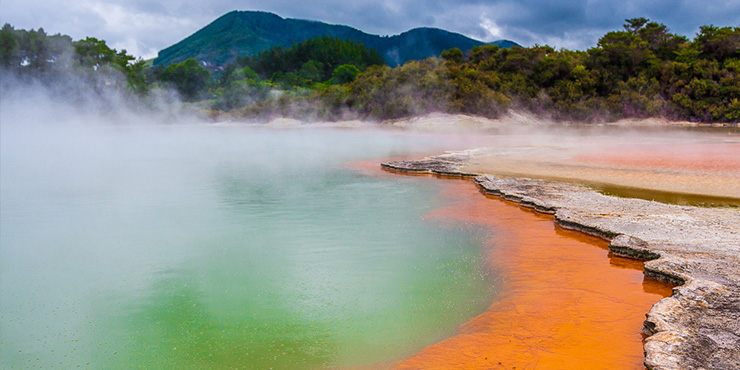 For adrenaline junkies, Rotorua is where you can jet boat, go blackwater rafting, mountain bike and, if you really fancy, which we do, put yourselves into a big plastic ball and get pushed down a hill – an activity known as zorbing. Our adventurous streak continues in Lake Taupo with a skydive! It is a terrifying, yet thrilling, experience that I will always remember.
Wellington is our next stop and it is one of the most beautiful capital cities I have ever seen. The stunning waterfront is home to outstanding museums, beautiful bays and little beaches, and we catch the famous cable car to the Botanic Gardens and Mount Victoria, which has a lookout point with amazing 360-degree views over the city. Wellington is also said to have more bars and restaurants per capita than New York, so we aren't short of places to eat and drink here.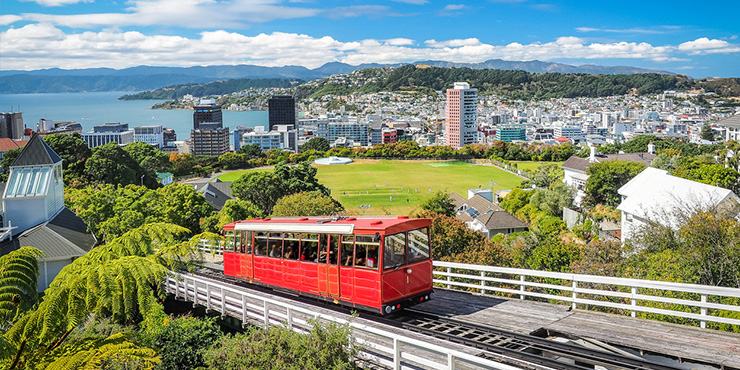 We catch our pre-booked ferry crossing to the South Island and make our way over the Cook Strait in our campervan to the stunning Marlborough Sounds. Think of the Norweigan fjords and you'll be on the right track when conjuring up the scenery in front of us. A must-see is the Abel Tasman National Park, just to the west of Picton, where we find a car-free coastal paradise. We spend a day here kayaking through the beautiful landscape and have lunch on a beach that wouldn't look out of place in the Caribbean.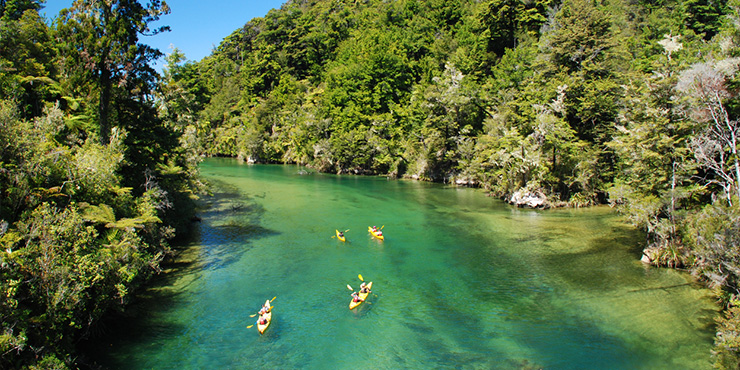 As we make our way further south, the landscape starts to change dramatically and beaches and tropical areas start giving way to glaciers, mountains and the most incredible blue lakes I have ever seen. Cities start to dissolve into small towns and hamlets – this is farming country and we find ourselves stuck in a traffic jam of sheep more than once on our travels. Here we visit old mining communities like Arrowtown, the Otago wine region, national parks and the highest peak in New Zealand – Aoraki, better known as Mount Cook. Situated in a national park, this is a mountaineers' paradise with 23 peaks over 3000 metres high, terrain for all walking and hiking abilities and the most incredible scenery.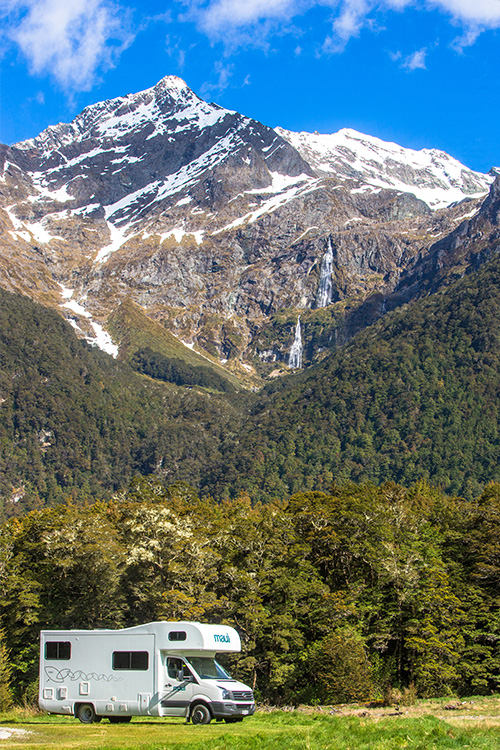 After skydiving, we are ready for Queenstown, the 'adventure capital of the world'. Queenstown is home to the world's first bungee jump and also the highest in the Southern Hemisphere, which involves taking a cable car out to the bungee pod and flinging yourself 134 metres down towards to the ground. It's not for the fainthearted! In winter, from May to October, Queenstown is a skiing paradise; and summer months lure travellers with mountain biking, horse trekking, river rafting and much more. The town sits on the shores of Lake Wakatipu and offers great fishing opportunities. We catch the vintage steamship to get the full intake of the breathtaking landscape around us and visit Milford Sound to take a cruise around this spectacular region, with its waterfalls, mountains, seals and dolphins. It's a must do!
Our last few stops on the South Island include Invercargill, where we stay on a local farm and take advantage of the free eggs and produce that the homeowner gives to us in the morning. We venture down to Bluff, where we have our picture taken at the southern point signpost before driving up to the town of Dunedin with its Scottish roots. We then visit Akaroa, where I experience one of the best moments of my journey – swimming with wild and endangered hector's dolphins. To see these incredible creatures up close on their own terms is just incredible and an experience I will never forget. We find that the dolphins are attracted to the clicking sound of my husband's watch as he turns the dial, so we have lots of time to spend with them as they splash and play around us in the open sea. After a while, they decide they have other things to do and swim off in their pod into the distance.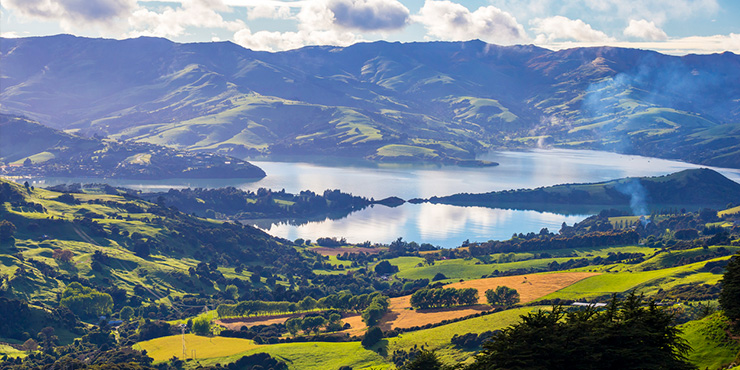 Finally, we reach Christchurch. After a couple of days, and with very heavy hearts and several very full memory cards of photos, we hand back our campervan and leave this incredible country. On our journey, we've stayed at large camp sites with modern facilities, small sites that are hidden away, private farms with the most welcoming owners, as well as parking up on the side of the road. It has been so easy and stress-free and, in my opinion, the only way to explore this magnificent country. New Zealand has everything that you could possibly wish for. It's my favourite destination in the world and I can't wait for my next adventure!
This feature was published on 19 September 2018. The information within this feature is correct to the best of our knowledge at the time of print.