Luxury fly-in safaris don't come much better than this. Steve Yates from Kuoni at John Lewis Oxford Street heads off to Tanzania with his camera to see what a sky safari is all about.
I climb up the steps of the nine-seater Cessna Grand Caravan and take a seat in one of the luxurious leather chairs. This is a real 'pinch me' moment. I'm setting off on Kuoni's Elewana Sky Safari, a private fly-in safari staying in some of Tanzania's most exclusive accommodation.
I'll travel between the country's wildlife hotspots in this VIP light aircraft, which I'm sharing with a few like-minded travellers setting off on their own tailor-made Africa adventure. Travelling by aircraft ensures I can cover great distances easily, reaching Tanzania's iconic parks quicker than by road. This means the schedule is more relaxed and the start times are later than most safari holidays I've been on before. I peer out of the windows and, as we soar through fluffy clouds, I look down on Maasai villages in the middle of nowhere; identify tiny dots as herds of cattle on the plain; and am struck by how green the landscape is below.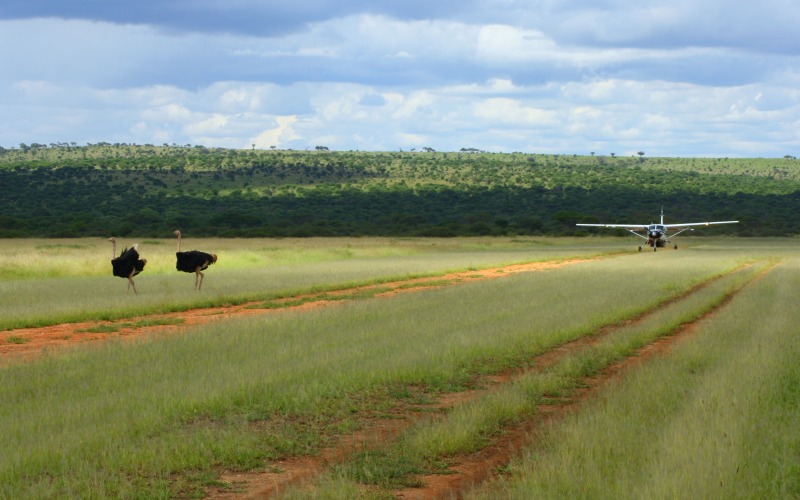 It takes only 20 minutes to reach Tarangire National Park and, as we land, I spot elephants and a group of ostriches at the side of the runway. We hop out of the plane and into a 4x4 and our guide, Elly, is hugely knowledgeable about Tanzania's local wildlife. We pass herd after herd of elephants, many right at the side of the track, where I get close enough to see that their skin is tinted with bright red ochre from the area's volcanic soils.
Parts of Tarangire are covered in dense trees and we peer through the branches to make our sightings. Elly tells us it is the wet season, which means the animals disperse rather than gathering around the waterholes, as they do in the dry season. We are lucky and spot at least 70 elephants and 30 giraffes.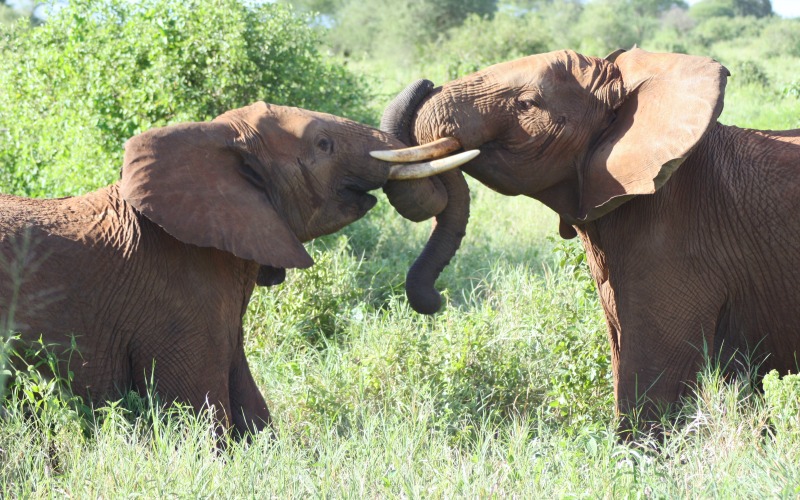 Tarangire Treetops
Our stopover tonight is Tarangire Treetops, a collection of 20 elevated tented rooms with the wow factor. The main lodge is built around a 1000-year-old baobab tree and you can see the thick trunk protruding through the reception, complete with a cavity full of bats.
We walk past the pool, which has views into the distance through the trees, and I'm shown to my room, which is also built around a baobab tree. I climb the wooden spiral staircase leading to the entrance and am told to call the Maasai escort if I want to reach the dining area, as there are no fences keeping the wildlife out here. I open the tented sides so I can make full use of the massive veranda and love the little local touches, such as an ostrich egg shampoo dispenser.
As the late afternoon sun filters across the landscape, we head for the most incredible sundowner viewpoint. On the top of a hill with views over the plains, tables and chairs have been set out for us. In the delicate sunset light, everything seems 10 times more beautiful, and I sip on a gin and tonic. In this moment, I'm mesmerised by the panorama in front of me and the giant African sky.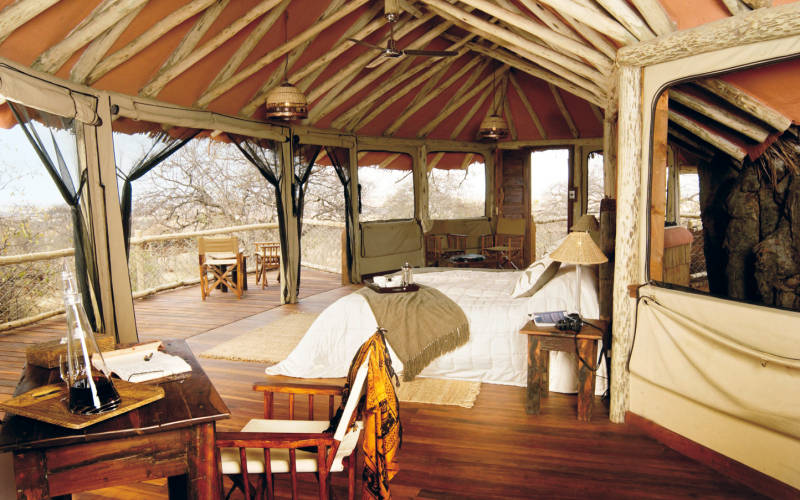 The Manor of Ngorongoro
The following day, we fly over Manyara Lake, spotting thousands of flamingos in the shallows. There is a beautiful green plateau, which gives you a sense of the scale of the Great Rift Valley. I think how hard it will be to better Tarangire Treetops, but we arrive at The Manor at Ngorongoro, an elegant stately home on a coffee estate where suites feature a claw-foot bath, open fireplace and massive wraparound terrace. It's totally different and feels like we have a small house to ourselves.
Activities are endless – from horse riding, game drives and a coffee tour to a pre-dinner massage, which I opt for with enthusiasm. Dinner is amazing. Five courses of fine-dining dishes are served by my own butler and the service is impeccable.
On a morning game drive here, I head out to the famous Ngorongoro Crater, reaching a truly spectacular look-out point over the flat crater, edged by a green mountain range and topped off with a bright blue sky. The caldera is alive with colour as we descend into it, covered in a blanket of yellow and purple flowers that are unique to this time of year. We catch sight of huge herds of zebra and wildebeest on the open plain, plus antelope, black rhinos and the mighty dark cape buffalos.
In the background, pink flamingos dip down towards the water's surface. Wildlife rich is an understatement as I count 20 lions on our morning drive and, at one point, four male lions lay down against our 4x4 to watch the big herds of buffalo. After lunch by a lake known for its hippos, we head back to The Manor and I'm welcomed by my butler who has run me a bath, complete with petals!
I wake early for a game drive in Lake Manyara National Park. We see elephants and giraffes – but the real draw here is the birdlife. Hornbills, storks and kingfishers make an up-close appearance for my camera lens, as does the lake's flamingos, which I'm told are usually further out into the water.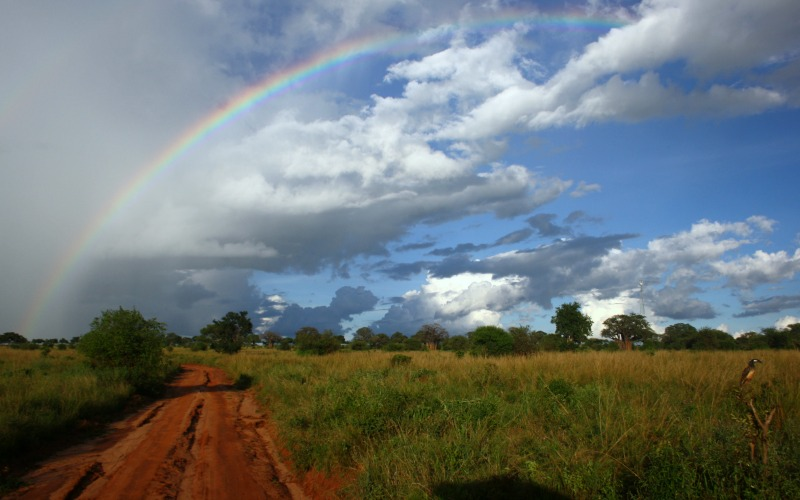 Serengeti Pioneer Camp
After lunch, it's time to depart The Manor and I'm genuinely very sad to leave this special place. I board our aircraft for a 40-minute flight to the Serengeti, passing right over the Crater en-route. My new home is Serengeti Pioneer Camp, which has an amazing location on a hillside with sweeping views over the Serengeti.
My tent looks basic from the outside but I step in to find a luxurious interior, decorated with big old-fashioned trunks by the bed and even an antique explorer's helmet and walking stick. The view keeps drawing my attention as we have dinner and I'm escorted back to my tent by the Maasai. I sit inside and listen to the wildlife show happening outside, from the gentle chirp of crickets to the chilling cackle of hyenas.
Today in the Serengeti I long to see a leopard or a cheetah and, after a long drive, we see a lone leopard dangling in an acacia tree, feasting on the remains of a baby wildebeest it has dragged up into the branches. We press deep into the park in search of the Great Migration and find hundreds of wildebeest and zebra walking in long lines towards the distant horizon. Lingering in the middle of this natural wonder and listening to their grunts is a special moment, and I take time to observe the young foals and calves.
On my last day, I rise early to watch the sunrise over the Serengeti. I feel so grateful to have experienced one of nature's most amazing landscapes and wildlife. The luxurious lodges, service and the ease of travelling by air have made every step of my journey truly amazing. This really is one of the best holidays I've ever been on.
Inspired?
---
Our eight-night Elewana Sky Safari includes flights, selected meals and drinks and game drives. You can also choose to stay longer in the Serengeti or add on a beach stay.