Striking a balance between culture and modernity, Doha's relaxed charm offers a more authentic encounter with Arabia.
The skyline of Qatar's capital, Doha, is formed of one unique skyscraper beside another, rising up against desertscapes on one side and the warm waters of the Arabian Gulf on the other. Yet the culture and religion that remains at the heart of this country is still very much apparent; it's as if Doha has unlocked the key to embracing the future while remaining true to its Arabian heritage.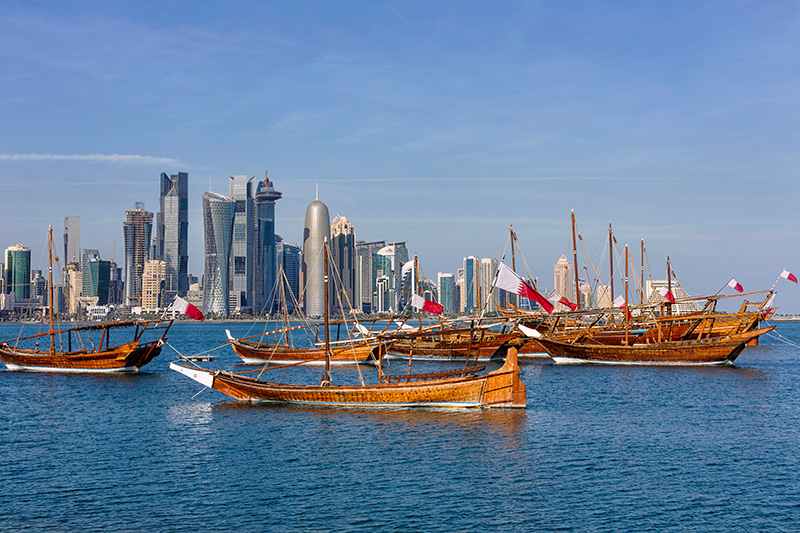 From the desert to the waterfront
From Doha's airport it's just a 20-minute drive to the centre, where the city skyline of futuristic towers and columns seems to rise from the desert, culminating at West Bay where you'll find two of Doha's largest shopping destinations – City Center Mall and Gate Mall. For the best views of Doha's impressive waterfront, walk along The Corniche, the waterfront promenade where locals like to jog and take in the incredible views of their city, or head out on a traditional Qatari dhow boat for the best panoramic photo opportunities. If you want to see how the other half live, take a metered taxi to The Pearl-Qatar. Built on an old pearl diving site, a trade prevalent in Qatar before the discovery of oil, this man-made island is home to around 12000 residents, with luxury apartments, designer boutiques and marinas filled with private yachts.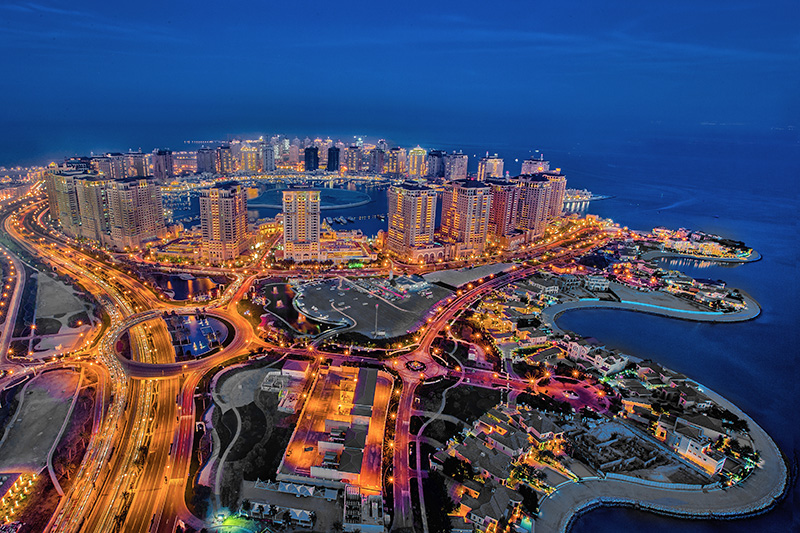 Culture and tradition
Far from allowing the efforts of modernisation to encroach on their culture and traditions, Qataris are endeavouring to preserve and exhibit their history in the most glorious way possible – like at the Museum of Islamic Art. This museum has gained international fame for housing over 1400 years of Islamic art, from rare Qur'an manuscripts to the intricate interiors of a 13th-Century Mongol tent, thought to be the oldest surviving tent in existence. And in true Qatari style, the building is as famous as the contents within. The Pritzker prize-winning architect, I. M. Pei, whose past work includes the Louvre, came out of retirement especially to design this marvel and the result is a harmonious yet striking geometric-style structure.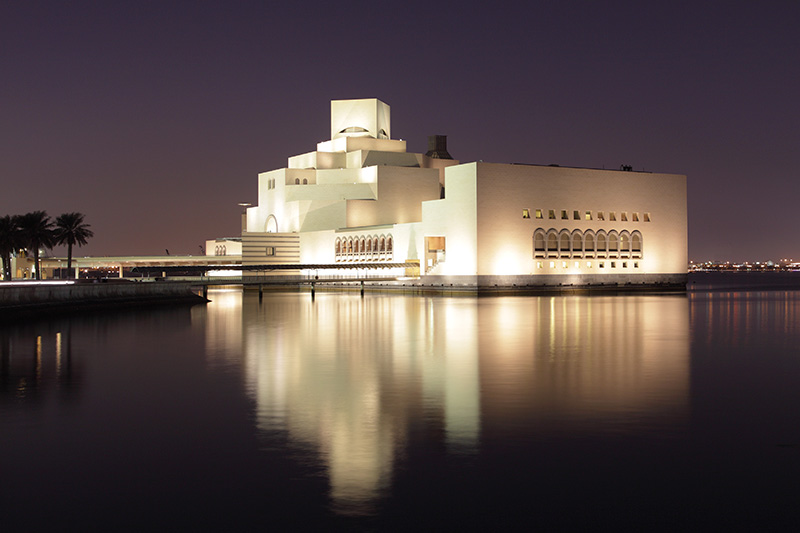 After you've uncovered Qatar's past, there's only one place to re-immerse yourself into the present day. Any stay in Doha, however fleeting, isn't complete without a trip to Souq Waqif. Restored to its former glory, you can come here to watch locals socialising over Arabian coffee, and join the travellers that delightfully wander around the narrow alleyways, browsing the various stalls for everything from heady spices to gold treasures.
Amid the buzz of the market is undoubtedly the best place to try Qatar's cuisine too. Adopting flavours and cooking methods from other cuisines, you'll find plenty of traditional local dishes that have been welcomed here, like the beloved Umm Ali (a bread pudding-like dessert from Egypt) and the national dish, machboos (a recipe of meat, vegetables and rice cooked in rich spices such as cinnamon, cardamom and cloves), variations of which are eaten all across the Middle East. And though you can just as easily order a Coca-Cola, it'd be a shame to leave without trying karak, a Qatari twist on the Indian masala chai (spiced black tea) that is deliciously sweetened with condensed milk.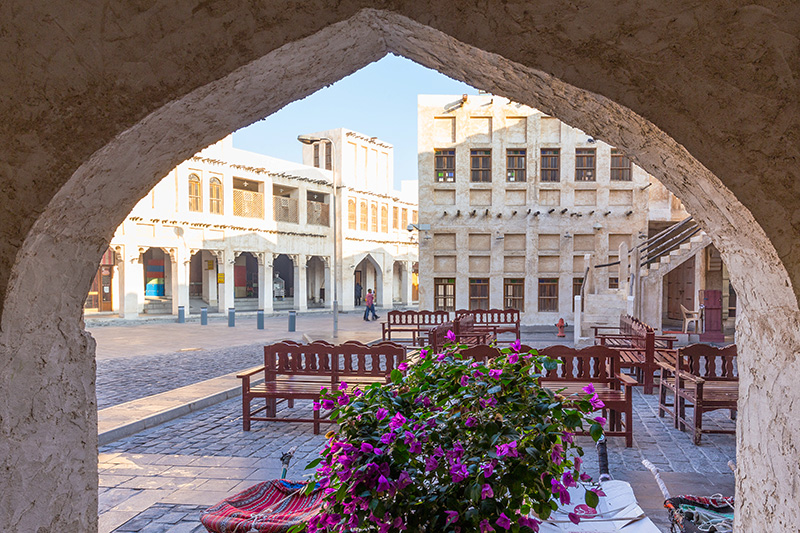 The billion-dollar airport
The ultra-modern, multi-billion-dollar Hamad International Airport has to be one of the world's most enjoyable airport experiences. The concourses are decorated with art, there are coffee shops where drinks are ordered and handed to you over hammered gold counters because, well, why not, and if you fancy treating yourself to a new Rolex watch or BVLGARI sunglasses, you can stop by one of the airport's designer stores before heading to your hotel.
Desert adventures
If you're spending more than a day in Doha, we recommended a trip further afield to more natural landscapes where Qatar's arid climate can be experienced in its purest state. With a Gulf Adventures desert excursion, just under an hour by road takes you away from civilisations to undulating sand dunes that stretch as far as the eye can see, and a must-do here is 'dune bashing', where you strap in for an exhilarating ride as a skilled 4x4 driver accelerates up and down the ever-sloping terrain. The best part of Qatar's desert however, is a rare natural phenomenon that you'll want to blink at a second time before believing it. The Khor Al Adaid, also known as the Inland Sea, is as close as you might get to a real-life oasis. Flowing in from the Arabian Gulf, this pool of sparkling saltwater is almost entirely encircled by sand – and leaping from the sand into the water has to be the ultimate Qatar experience.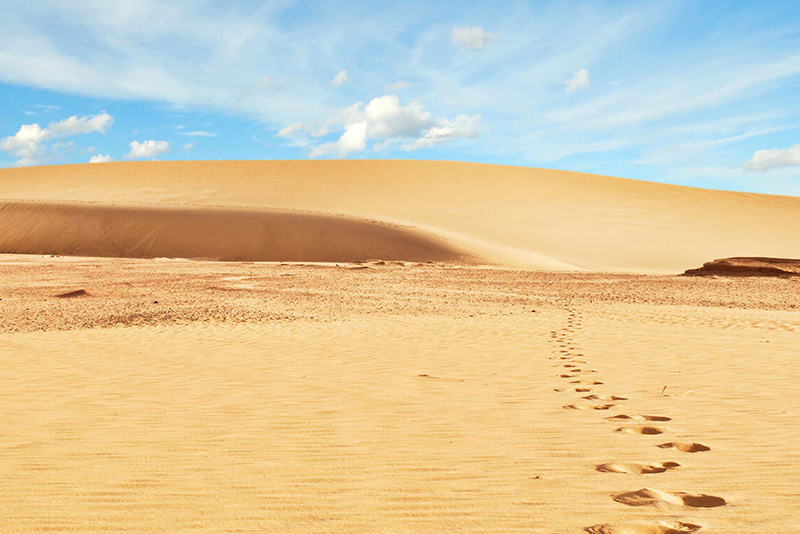 Luxury stopovers
There are some excellent places to stay in Doha, with top international hotels such as Shangri-La and Ritz-Carlton featuring stunning Middle Eastern décor and world-class spas. It's even easier to incorporate Qatar into your holiday before continuing on to destinations like the Maldives, the Seychelles, Sri Lanka and Bali. As from August 2017, Qatar introduced visa-free entry for British citizens. Operated by the award-winning Qatar Airways, there are also daily flights between Doha and London Heathrow, Manchester, Birmingham, Edinburgh and Dublin.
Best time to visit
Qatar's desert climate creates humid, hot summers with temperatures running as high as 50⁰C. Although there are excellent air-conditioning facilities throughout the city, if you are particularly unaccustomed to extreme heat travel between October and May is recommended for a more comfortable stay. It's still dry and warm at an average of 25⁰C in November and the coldest nights only reach lows of around 15⁰C in January.
This feature was published on 23 August 2017. The information within this feature is correct to the best of our knowledge at the time of print. Feature by Chanel Diep.