For generations, this once dingy track presided over the iconic cityscapes of New York, forgotten and disregarded. Now, it's one of the city's most popular and well-loved escapes.
Meandering just metres above the hectic commuters and honking horns, a stroll along this transformed urban space is like wandering along a stretch of secret garden. Old tracks have been integrated into the modern design and habitats have been carefully constructed to encourage wildlife back into New York.
As with everything in the city, the development of the High Line attracted the attention of the many talented local artists and you'll find public art installations scattering the length of the walk, featuring everything from sculptures and murals to pop-up performances. An art installation in its own right, it epitomises the modern New York art scene at its finest; trendy, ad hoc and occasionally a little odd.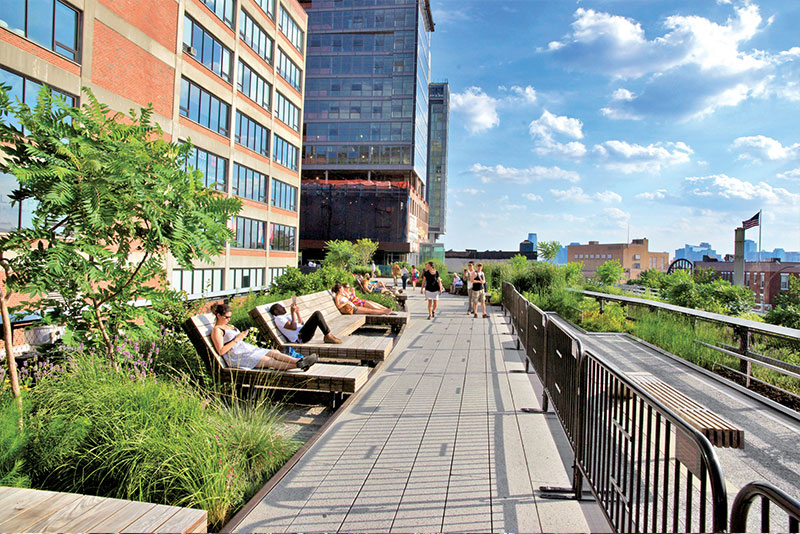 Passing through stylish Chelsea and the increasingly popular Meatpacking District on Manhattan's West Side, the High Line started its life as part of an elevated freight rail line that connected the city's waterfront factories and warehouses. As the trucking industry boomed, the need for the train declined, with the last one running along the tracks in 1980. It lay forgotten, with just a handful of activists fighting against developers to prevent demolition. Thankfully, the activists won, and in 2002, the Friends of the High Line started to design the park. Very much a labour of love, reflected in every inch of this unique space, the High Line was completed in its entirety just last year.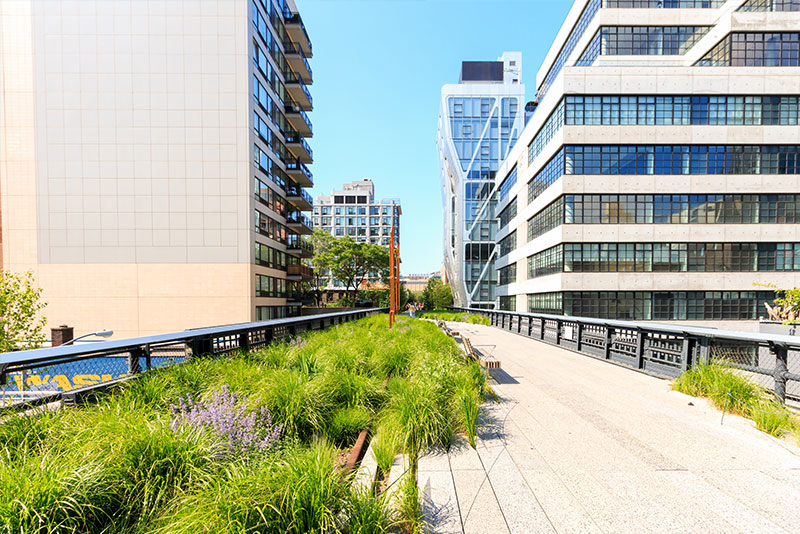 Since opening, this enchanting urban garden has fascinated millions of visitors, charmed by its beautiful plant life, compelling views and the sense of peace that it evokes in a world of chaos. As the seasons change, so does the High Line. While winter coats the line with spindles of frost and blankets the rails in white, spring sees the blooms burst into life. As summer nears, things here really kick up a gear.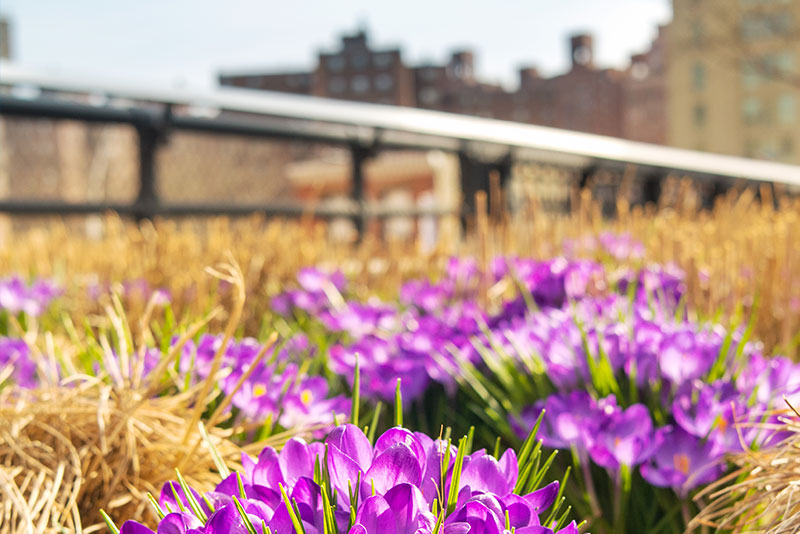 From June through to September, it's not just the High Line's foliage that puts on a dazzling display. There's a huge range of things that you can try – most of them for free. Gaze at the heavens with the help of the Amateur Astronomers Association and their high-powered telescopes, learn to mambo at a Latin dance party and find your centre with morning Tai Chi. There's also a number of tours, including Elevated Design, High Line as Habitat and the Wanderlust art tour.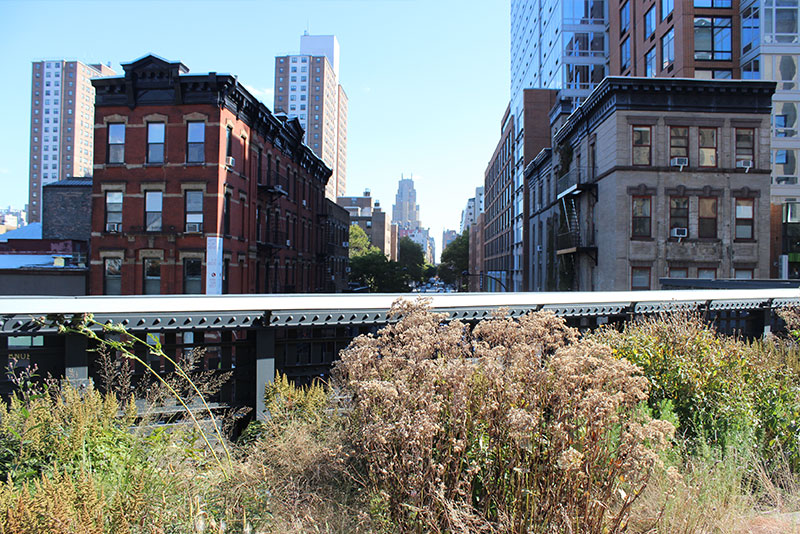 Get your timing right and you'll be in a for free show. Out of Line sees the stars of downtown New York's nightlife bring their genre-bending performances to the tracks. Ranging from Heartbeat Opera to Renegade Cabaret and The Illustrious Blacks to Carmelita Tropicana, there's never a dull moment.
If you're travelling with a family, there's plenty to keep the kids entertained. Make it Splashy is a firm family favourite, with a splash of water at every turn. Throughout the summer, there are a number of fun activities designed to educate the younger generation about wildlife in the city, with the opportunity to learn about bees and how honey is made, and for them to get their hands dirty as they learn all about plants and how different species grow.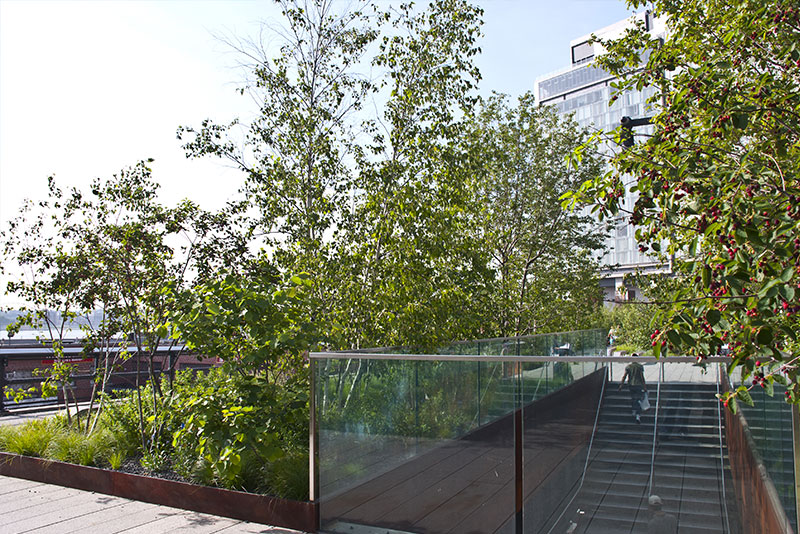 Offering an insight into New York City that you won't find anywhere else, the High Line is a great spot to sit, relax and soak it all in. Bleachers look out in cinematic style through glass panes over the iconic city streets and you can fully appreciate spectating on the hustle and bustle below from a peaceful sanctuary. Embracing arm chairs and swathes of lawn are perfect for a spot of sunbathing, while tasty food and drink vendors ensure that you're never without refreshment.
As autumn draws in, it's colour that dazzles here as the leaves change from green to red, floating to the floor and crunching underfoot. With holes appearing in the foliage as bare branches shed their golden trinkets, it becomes easier to spot the city's famous landmarks. If you're walking from north to south, as you near the end of the walkway, you can make out the Statue of Liberty standing proud in the distance – a great way to end your elevated walk above this superb city.