Antigua's gorgeous white sand beaches get the headlines but there is so much more to the island. It oozes colourful creativity and boasts a proud culture built on food, music, art, craftmanship and an optimist outlook. There is also a wild and rugged beauty that is begging to be explored. Charlie and Jess from The Travel Project go off the beaten track and find Antigua's hidden gems.
In our opinion, plan making is one of the most underrated parts of the travel experience. We arrived at Kuoni at Peter Jones in Chelsea undecided on exactly where we would like our next adventure to be. We knew we wanted sun and adventure but, if I'm honest, beyond that we were a bit short on ideas. Enter Steve Yates, our Kuoni expert, who wasted no time in pouring us a glass of Champagne and showing us the store's incredible rooftop view of London.
We sat down and he listened carefully to our wants and wishes before suggesting a shortlist of three destinations. Our attention was piqued by Antigua. Steve had been several times and sang its praises as a truly surprising Caribbean destination. Like us, he is an adventurous and active traveller and told us Antigua had far more to offer than just picture postcard beaches. He shared his insights and insider tips and we booked our next adventure. On his advice, we hired a car when we arrived to give us the freedom to explore and discover its hidden gems. Here are some of our favourite experiences from the trip as we ventured to the island's hidden corners and ultimately returned home with much more than just a suntan.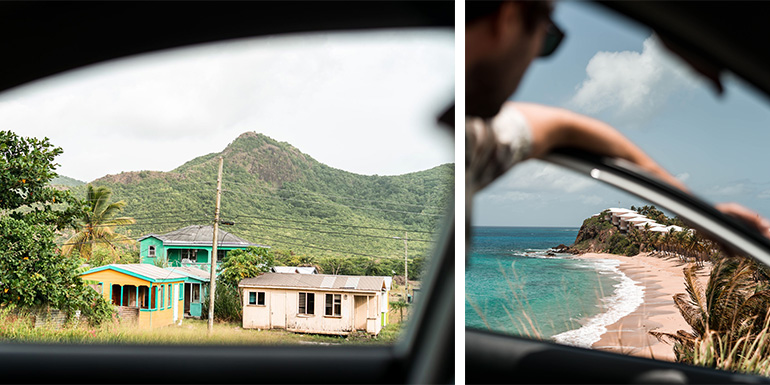 1 - Stretch your legs and hike Antigua's rugged terrain
Antigua is a surprising island and home to a vast array of different landscapes from the pristine white sand beaches through to far more rugged, untamed and wild terrains. And it is these landscapes that make for some great adventurous hiking. The hike to Carpenters Rock, for example, feels like you are exploring a distant Jurassic land as you wade through tropical waters, over wild headland and across colourful natural gardens before ending up at the vast and dramatic Carpenters Rock with the sea crashing in all around you. Or the hike to Rendezvous Bay that will leave you feeling like an explorer as you wind your way around the coast in search of this famously isolated beach. Antigua has a wealth of different natural gems, you just have to dig a little deeper to discover some of them.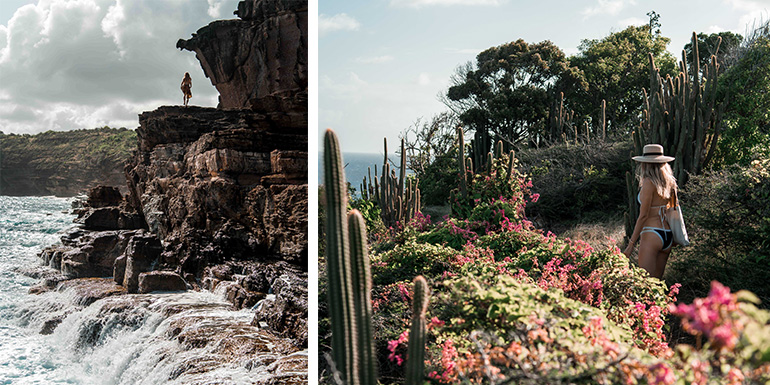 2 - Learn to cook with a local
Located in the north of the island is Nicole's Kitchen, a small cooking school run from the home of local chef Nicole Dennis. We spent a morning with Nicole learning all about local ingredients, Antiguan food culture and, most importantly, how to create a Jerk chicken feast fit for a hungry king!
After a few hours of learning the local techniques, chatting to Nicole about island life and sipping fresh rum punch, it was time to eat. The table was filled with our new culinary creations – fresh coconut crisps, yogurt and garlic dip, mango salsa and spicy jerk chicken thighs, all washed down with a local rum punch. It is safe to say that it was absolutely delicious, Nicole is an excellent teacher! So delicious in fact that we have replicated the feast several times since returning home using Nicole's easy-to-follow recipes. For us, picking up new skills when we're away is one of the greatest joys of traveling, it allows you to take a little slice of the culture home and enjoy it far beyond the end of your trip.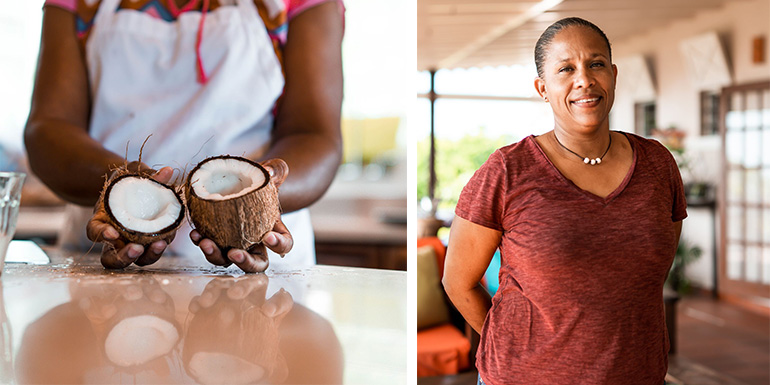 3 - Meet a creative local talent
The island is a hub of creativity. From its loud colours, local art and music, to its rum makers and craftsmen, Antigua is brimming with local creative characters that are more than happy to chat to you and share their slice of island culture.
We met local legend and king of Antigua's Carnival, Calvin Southwell, at his home on the east of the island. Calvin is a multi-award-winning designer, Antiguan born and bred. His stunning designs can be seen on catwalks across the world, as well as on the streets of Antigua each year as he designs costumes for the island's annual carnival.
Sitting down with Calvin we learnt about his creative process, saw him in costume-making action and learnt about the island through his eyes. As a key figure in carnival culture, he shared fascinating insights into the island's creative culture and how it has evolved and adapted over the years. Talking to someone with as much passion and knowledge as Calvin allowed us to get to know the island from a completely new perspective.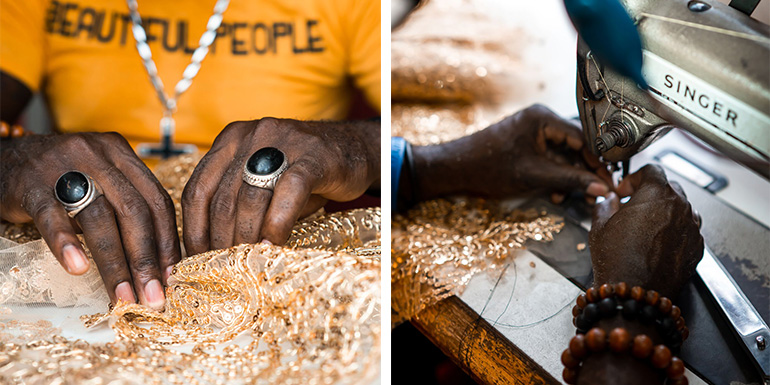 4 - Digging deep with a fresh fruit experience
At the side of many of Antigua's roads you will see beautifully bright, hand painted fresh fruit stalls selling some of Antigua's finest local fruit. However, eating at these stalls is not just about the fruit, it's about the people. On the south of the island we were lucky enough to meet a stall owner named Gina who took us to an Antiguan Black Pineapple farm to show us where the island's most famous fruit came from. This was the perfect example of the rewards that come about from digging a little deeper on the island.
Gina immediately took us off the beaten track, as we drove along the bumpy dirt roads of a local farm. We drove past fresh mangos, bananas, soursop and guinep whilst Gina explained exactly how each were farmed and harvested. Eventually we came to a vast field of Antiguan Black Pineapples, thousands upon thousands of them all sat neatly in rows. It was quite the sight. After a tour of the pineapple field, we picked a few ripe ones before Gina sliced them up for a fresh fruit feast, which we ate on the bonnet of our car under the shade of a mango tree.
Gina was a fountain of knowledge and a passionate Antiguan advocate, waxing lyrical about all of the delicious flavours the island offers. Once we had finished eating she took us back to her house to meet her family in a typically warm display of Antiguan hospitality.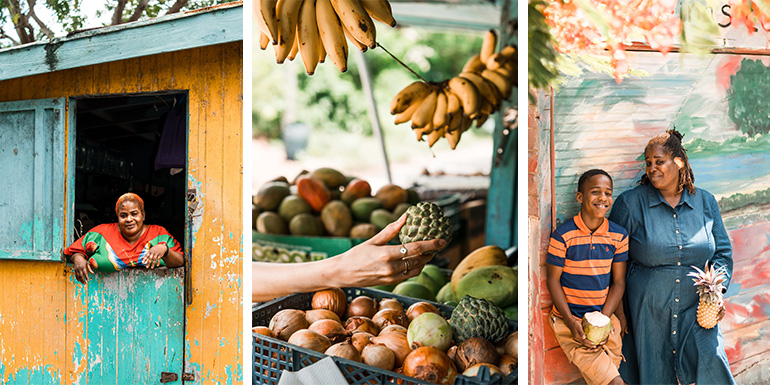 5 - Party with the locals at Shirley Heights
No trip to Antigua is complete without heading to Shirley Heights for the Sunday afternoon party. Every week locals and tourists alike gather at the top of the heights for a party like no other. The mix of ingredients is near perfect with a live steel band, dancing, people of all ages, delicious BBQ food, drinks flowing and all set to the stunning backdrop of a Caribbean sunset. This is a truly unique experience with an atmosphere unlike anywhere else in the world - if you want to feel a million miles from the day to day of back home, then don't miss this. We would recommend arriving around 5.30-6pm (it starts at 4pm) when the party is in full swing and staying right through until the sun has set.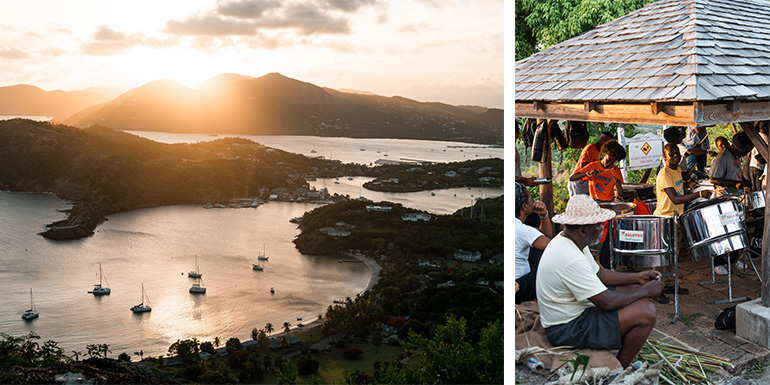 6 - Get adventurous and explore by kayak
If you really want to explore the island in a totally unique way and aren't afraid of a little sweat, then we recommend renting a kayak and setting off on an adventure! The freedom of this form of transport is awesome as you navigate your way around the coastline, discovering beaches that aren't accessible by foot. Gliding through the crystal clear water is very easy on the eye but tough on the arms, however once you have built up enough of a sweat you can jump overboard and into the perfect temperature water for a cool down!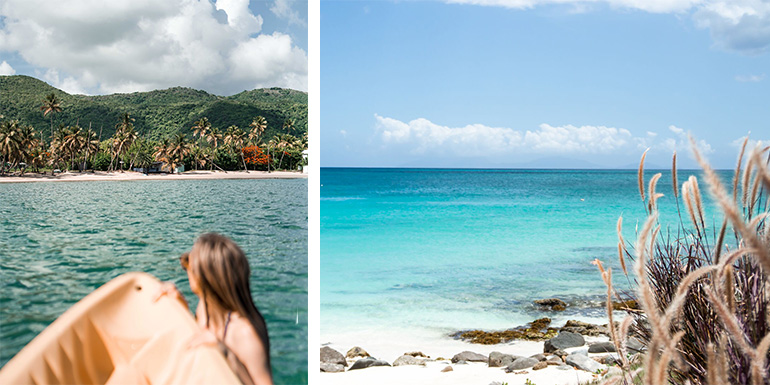 7 - Sample Saint John's market
If you are after a slice of real Antiguan life then a trip to the Saint John's Saturday market is a must. A sensory bombardment, this is not for the faint hearted: loud, busy and, of course, very hot, the market isn't designed for tourists. It is unapologetically local and that's what we enjoyed the most, it gives you a real snapshot into the day to day with no pomp or ceremony. We wandered around chatting to stall owners, comparing stories and buying fresh fruit.
Once we had finished pursuing the market we began to wander down the backstreets, intentionally getting lost in a maze of colourful houses. As we wound through the streets we stopped and chatted with passers-by, everyone wanting to share their little part of the town with us.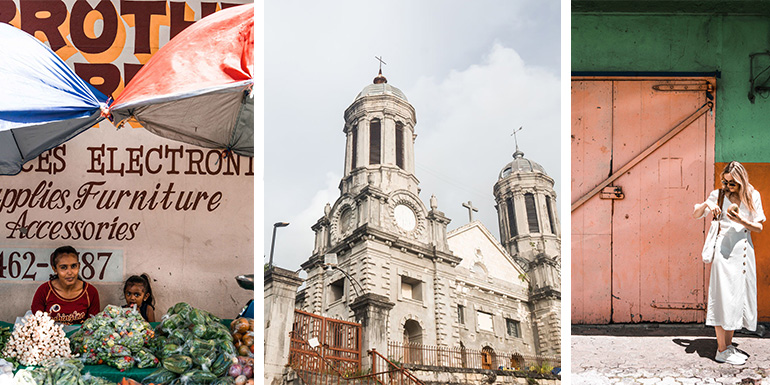 Where we stayed
We stayed at Carlisle Bay, one of the world's best hotels. We chose one of their beachside rooms, which felt like an apartment with a huge bedroom, living room, enormous bathroom and a balcony overlooking the beautiful private beach. We coupled this with a stay at Keyonna Beach Resort, a rustic boutique hotel which had a wonderful slow pace and a beautiful room with an outdoor shower and incredible sunset views over the ocean.