With 11 official languages and a melting pot of cultures, the Rainbow Nation brings us traditional braais, modern French cuisine, world-class wines, bunny chow and Nando's. Here's our guide to the best foods of South Africa.
Just like its landscapes and its people, South Africa's cuisine is wonderfully diverse. And compared to the UK, the food and drink here is astoundingly good value, even at the very top end.
Cape Town's Cape Malay and New Age cuisine
Cape Town's culinary scene is world class. On holidays here, we recommend booking your hotel on a room and breakfast basis, because dining out is a real highlight. The hub of Cape Town's eateries can be found down by the Victoria & Alfred Waterfront and along Kloof, Long & Bree streets, where restaurants serve everything from sweet Cape Malay curries to Michelin-starred seafood. One of the city's most popular restaurants is Nobu at One&Only in a prime location on the waterfront.
Meat plays a big part in meals all across South Africa, and in Cape Town you'll find some of the finest steakhouses, alongside street food favourites such as biltong (dried, salted strips of beef or game), boerewors (farmer's sausage) and braais (from 'braaivleis' meaning 'grilled meat'; like a barbecue).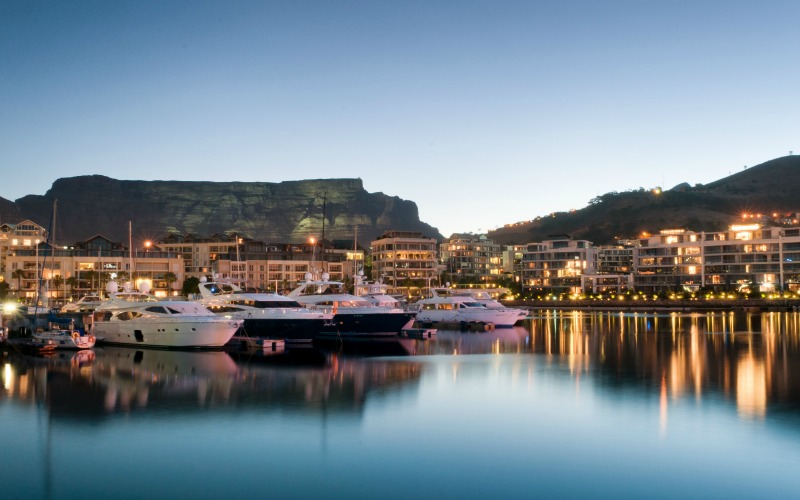 For some of the best eats in the city, head to the Old Biscuit Mill complex in Woodstock – a converted mill with charming architecture and a vibrant atmosphere. Here you'll find exceptional, innovative fine dining in Michelin-star-worthy restaurants. Early booking is essential.
For more relaxed dining, every Saturday at the Old Biscuit Mill, the buzzing Neighbourgoods Market features over 100 speciality street food stalls with local farmers, bakers, grocers and artisan producers all showcasing their top-quality goods. Seek out a spot on one of the long rustic tables, enjoy the live music, soak up the atmosphere and tuck into everything from Wagyu burgers and mushroom kebabs to Belgian waffles, washed down with a couple of craft beers or a glass of organic Cape wine.
For food with a history lesson on the side, the colourful Bo-Kaap neighbourhood, tucked away on the slopes of Signal Hill, is a Malay mecca. Formerly known as the Malay Quarter, this is the place to go in Cape Town for an authentic insight into traditional Cape cuisine. We can arrange cooking excursions to Bo-Kaap, where you can try your hand at dishes such as bobotie – a Cape Malay dish made with spiced, ground meat and raisins and topped with baked egg.
The Western Cape's modern French fare, organic produce and fine wines
Wine tasting is an excellent way to spend a weekend. Less than an hour's drive from Cape Town lies the Cape Winelands – a beautiful, tranquil region with French colonial-style towns and gently rolling vineyards. From classic chenin blancs to full-bodied pinotages, the wines here are seriously good and wineries range from boutique cellar doors to internationally-acclaimed large wine estates. If you're on a self-drive holiday, it's best to leave the car at your hotel and take a wine tasting tour or step aboard the hop-on-hop-off Franschhoek wine tram which travels between wine estates.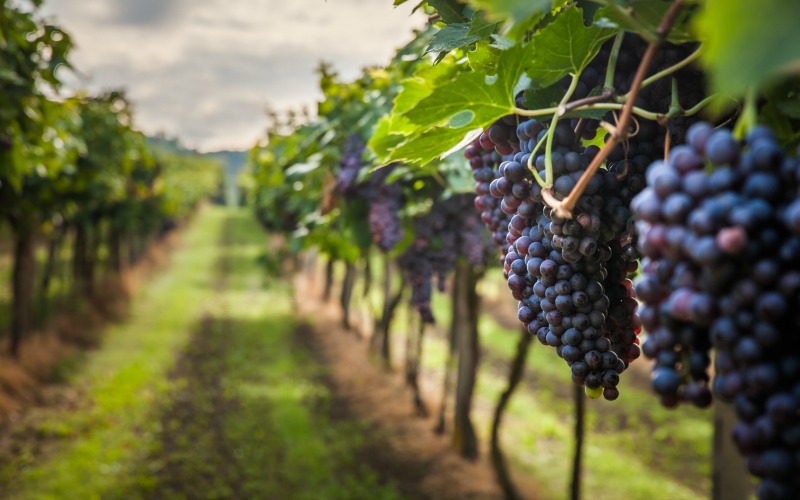 Wine tasting is centred around the towns of Franschhoek and Stellenbosch. Small, picturesque Franschhoek ('French corner') is South Africa's gourmet capital. It's known for producing hand-turned sparkling wines using a pioneering technique called Cap Classique and every December this heritage is celebrated during the Cap Classique and Champagne Festival. In recent years, Franschhoek has developed beyond its grapes and has seen the emergence of a fresh, fine dining scene. Leeu House – an exclusive retreat with just 12 rooms in the heart of Franschhoek – offers exceptional dining experiences, and there's a whole host of options throughout the village from a microbrewery to a top-notch Indian. It's worth booking ahead for the most popular restaurants.
Historic Stellenbosch is home to over 150 wine farms, with some of South Africa's most established estates set alongside up-and-coming experimental wineries. Many of the wine farms here have hotels nestled in the vineyards. The luxurious Lanzerac Hotel & Spa sits on a 300-year-old working wine estate and is one of the Winelands' most distinguished examples of Cape Dutch architecture, while the eco-friendly Spier Hotel is set on the Spier Wine Farm, which focuses on organic, local produce. Its signature farm-to-table restaurant, is one of South Africa's top restaurants. We love its Farm Cafe, where you can order a picnic packed with farmhouse cheeses, cold meats, fresh salads and home-baked treats for a long, laid-back afternoon out on the lawns, washed down with a bottle of local wine or two.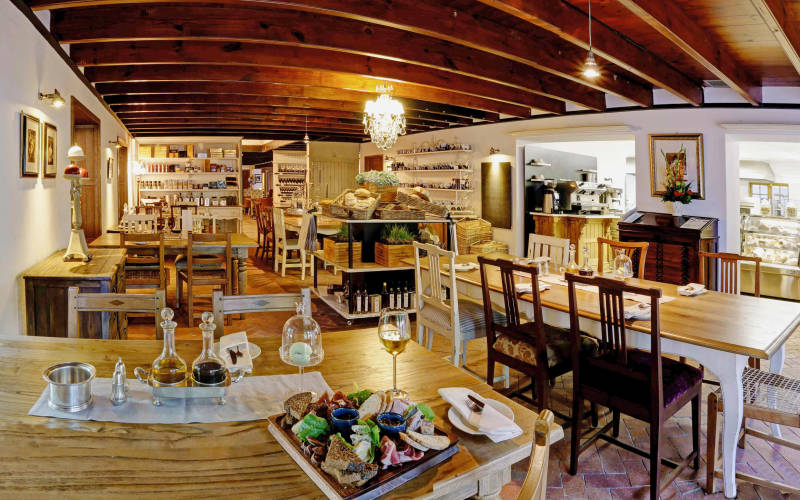 East of the Winelands, towards Hermanus, there are lesser-visited, quieter wine farms. This is also where you'll find the secluded Grootbos Nature Reserve – a one-of-a-kind eco-paradise with panoramic views of mountainous plains and Walker Bay. The way of life here is all about nature and sustainability and this ethos extends to the food, which is prepared with organic ingredients sourced from the lodge's 'Growing the Future' project. There's also a wine 'philosophy' with wines at the restaurant all sourced from the local Overberg region.
The current exchange rate is making the fine dining and quality wines of South Africa very affordable. If wine isn't your tipple of choice, Castle lager is South Africa's best-selling beer, while Amarula is a cream liqueur made from the fruit of the African marula tree. Teetotallers can opt for Rooibos, grown from a small shrub in the Western Cape's fynbos.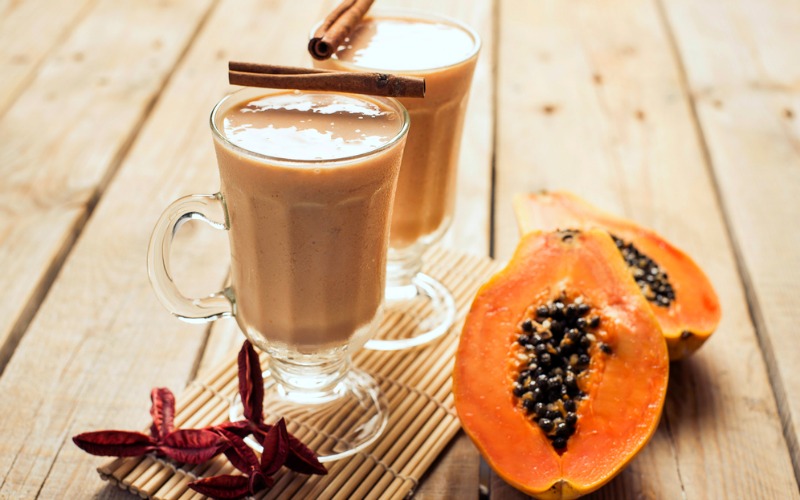 The Garden Route's fruits de mer
With a coastline stretching over 1500 miles, seafood is a big part of South Africa's food scene, where crayfish, prawns and fish feature heavily on restaurant menus. And there's nowhere better to sample fresh seafood than Knysna. Along the Garden Route, beside a vast lagoon, Knysna has an interesting oyster history; the country's first commercial oyster company was founded here in 1949. If you're a big fan of seafood, consider visiting in early July to coincide with the annual Knysna Oyster Festival.
KwaZulu-Natal's traditional dishes
While pap (ground maize) is South Africa's staple meal, bunny chow is one of its most traditional dishes. Originating in Kwa-Zulu-Natal, this is a hollowed-out half loaf of bread filled with curry. Bunny chow can be traced back to the 1930s when Indian labourers working on the sugar cane plantations near Durban needed a way to transport their lunch. An authentic 'bunny' uses a 'Government loaf' – an inexpensive white, flat-topped loaf – so it's easy enough to remove the 'lid' and fill to the brim with spicy veggie or meat curry.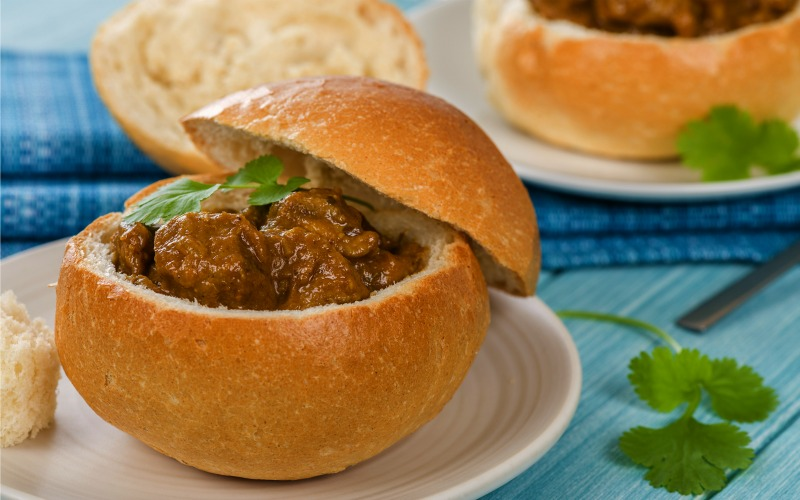 Nando's
You might think that Nando's presence in South Africa is due to the usual chain restaurant sprawl, but that's not the case here. Peri-peri found its way to South Africa via Portuguese settlers in Mozambique who added lemon and garlic to the fiery African Bird's Eye Chilli, and the fast food favourite was born in Johannesburg in 1987. So next time you're in your local Nando's, look out for the South African art on the walls along with Spier's Chenin Blanc on the winelist.
Suggested itinerary
Our Cape Town, Wine & Whales itinerary is a nine-night self-drive that gives you the freedom to enjoy the culinary delights of Cape Town, Stellenbosch and Hermanus.
Try it at home
We've got together with the head chef at Leeu House, Oliver Cattermole, who has shared one of his favourite dishes, Butternut Salad. Discover the recipe here.
Inspired?
---
So are your taste buds ready to be tested? Create your culinary journey with one of our South Africa experts today.