The rich aroma of a spicy broth, the pink flash of a neon sign, the expressive bartering of a market trader; walking the streets of South East Asia's most beloved cities is a treat for the senses.
Welcome to a place where the sights, sounds and smells are often overshadowed by the wonderful and eclectic flavours on offer by the knowledgeable street food vendors.
From fiery noodle soups to freshly grilled meats, we give you a street tour unlike any before and share some of our Travel Expert's favourite Far-East fast foods:
This beautiful island, often subtitled 'The Pearl of the Orient', offers guests palm-tree lined beaches and wildlife filled jungles. But it's the diverse food culture that brings people back here again and again. The intriguing mix of Chinese, Malay and Indian cultures have helped create some of the best and most unique food in Malaysia.
Assam Laksa – Mackerel noodle soup
A laksa is a spicy noodle soup found all around Malaysia and Indonesia in a multitude of variations. However, it's this hot and sour variety that's synonymous with this island, so much so it's often referred to as Penang Laksa, locally. Mackerel is poached until tender then flaked into a rich broth made from chilli, lemongrass and the main ingredient tamarind that gives the soup its sourness. Added to noodles, it's completed by being topped with fresh mint, coriander and cucumber.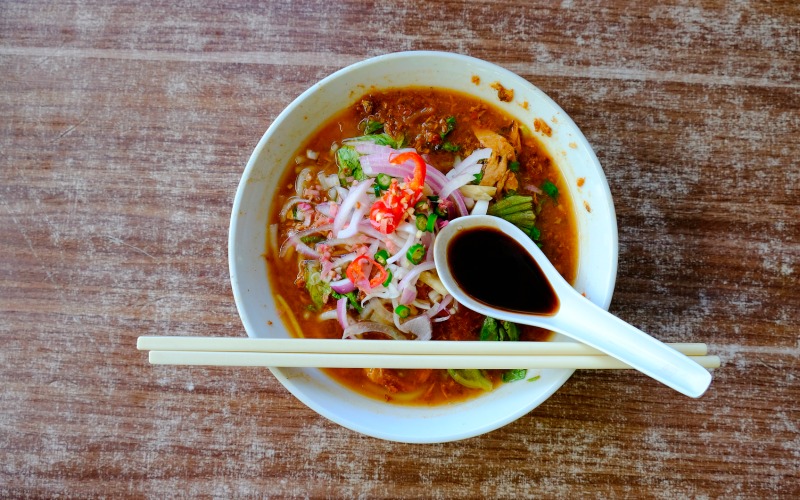 Char kway teow - Stir-fried rice noodles
A plate of wok-fried noodles will be on offer in perhaps every city in South East Asia; the flavours and ingredients vary massively. The fried noodle dish most often served on the streets of Penang is this rich and tasty Malaysian icon. Prawns and cockles are flash fried with chilli, Chinese chives and soy sauce before noodles and bean sprouts are added. Recipes differ across the island, with fish cakes, Chinese sausage and fried duck egg often added at the end of cooking.
Where to look…
Penang capital Georgetown is the perfect place to get lost and graze amongst food stalls of every kind. Wherever you are in this town, you'll be spoilt for choice. Head to centrally located Penang Road (Jalan Penang) as its Chinese-style food stalls are a good place to start your foodie exploration.
The street food of Bangkok is not hard to find. Whether you're outside a tourist hotspot or in a quiet residential road, you're not going to be far from somebody cooking something delicious at a cart or stall. The cuisine of Thailand is now common across the world but you're sure to find something you've never tried before on the bustling streets of Bangkok.
Mu Ping/Kai Yang – Pork/Chicken skewers
These meaty snacks are perhaps the most commonly found food on the streets of Bangkok. Pork or chicken are marinated in a mild mix of soy and fish sauces, skewered with a bamboo stick and freshly grilled. Have one as an appetiser or enjoy a few with sticky rice and chilli sauce. Either way, the smell of the barbecue is a tempting delight as you wander down the roads of Thailand.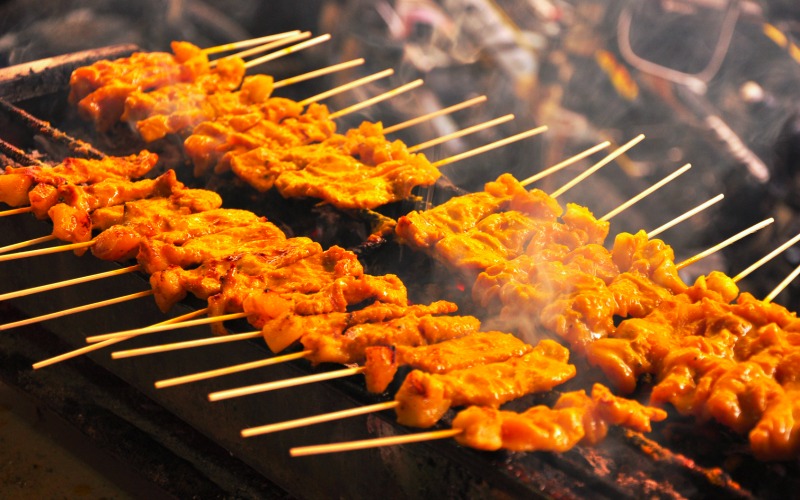 Pad Thai – Fried noodle stir fry
We couldn't discuss the food of Thailand without bringing up perhaps its most famous dish. Some of the tastiest Pad Thai you can find are cooked in front of you by street vendors or at food markets. Traditionally, prawns and noodles are quickly cooked in a mix of fish sauce, tamarind, chilli and palm sugar to give that celebrated sweet-n-sour flavour. How you finish your Pad Thai is down to personal taste; top with lime, peanuts, sugar or chilli – or maybe add them all!
Where to look…
You'd be hard pressed to find a Bangkok street corner without a food vendor as it's still the most popular way to eat. Centrally located Sukhumvit Road is a great place to start then maybe get the subway to Bangkok's Chinatown - perhaps the birthplace of Thai streetfood.
Vietnam's historic and lively capital is a city with thousands of years of history and cultural influences ranging from French to Chinese. Like that of Thailand, Vietnamese food has deservedly spread across the globe but it is right here on the cobbled streets of the old town where the origins of these famous dishes lie. Houses literally open out onto the street turning into makeshift restaurants, each with its own speciality.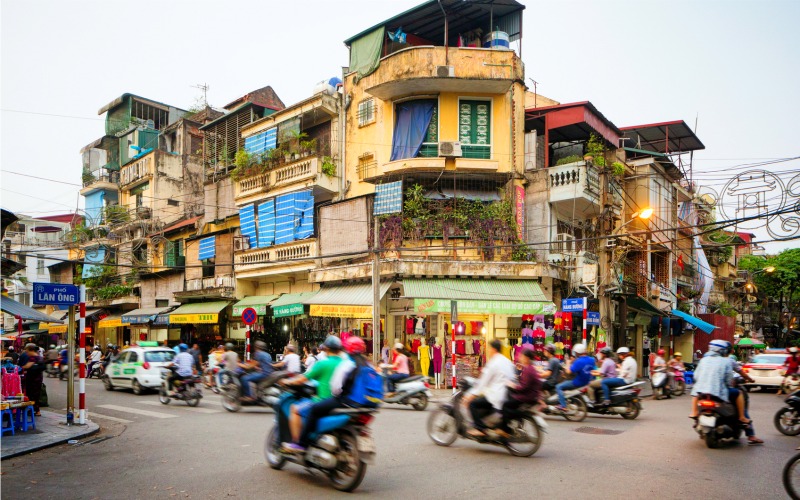 Banh Mi – Vietmanese sandwich
During the colonial days of the 19th century, the French introduced their baguettes to Vietnam. Over 150 years on and the Banh Mi, a delicious fusion of western and eastern influences, has become one of the countries favourite fast foods. There are a number of meats used as the filling, with favourites being roast pork belly and minced beef. Pickles, coriander, cucumber and fresh chillies are a vital part of every sandwich however.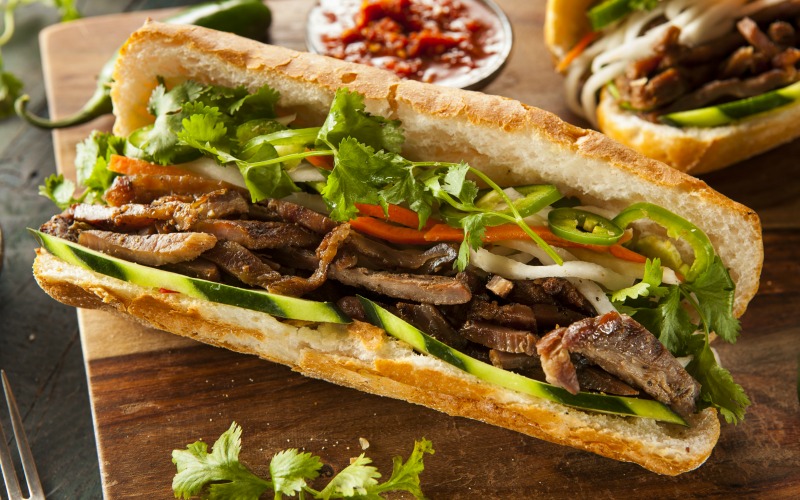 Pho – Beef noodle soup
Many streets of old Hanoi have vendors serving steaming bowls of this tasty broth to hungry locals from morning to night. This renowned soup often varies in recipe depending on where you try it; needless to say it always has a rich, slow-cooked meaty stock at its core. The broth is poured over rice noodles and thinly sliced steak. Whilst the meat cooks in the hot liquid, garnishes of spring onions, chillies and Thai basil are liberally added to the bowl; it's comfort food at its best.
Where to look…
The alleyways of the old-town come to life in the evening and all types of stalls can be found around this incredibly eclectic part of the city. The impressive Đồng Xuân market and the cobbled streets to the north of it are the perfect beginning for a food tour here.


One of the world's smallest nations is also one of its most multicultural… and hungry. With Malaysian, Chinese, Thai and even British influences, the young city-state of Singapore has built a reputation for its uniquely diverse food culture. Fine dining restaurants are, of course, in abundance but it's the street level cooking that really impresses.
Bah Kut The – Pork rib soup
The literal translation of this local favourite, Meat Bone Tea, may not be instantly appealing but look past this deceiving name and you'll be entranced by the rich and complex flavour of this slow-cooked broth. Pork ribs are braised in a stock made up of star anise, cinnamon, fennel and garlic to create a hearty, and some say medicinal, meal. Bah Kut The is traditionally served with a cup of Oolong tea, from which the soup gets its name.
Hainanese Chicken Rice
Perhaps the most ubiquitous dish in Singapore, Chicken Rice is also possibly the most modest. Fresh chicken is poached in a rich meaty stock before being sliced and added to rice, cooked in the same way. Some soy and chili sauces are often served alongside but that's it. It's available across the city in various forms, from a fried version to duck being substituted for chicken, but this humble version is still the most popular way to eat it - simple and delicious.
Where to look…
No food adventure in Singapore would be complete without a tasty trip around Maxwell Hawker Food centre. A plethora of stalls serve a host of local favourites and it's perfectly located downtown so you can continue exploring the city to walk-off all that food!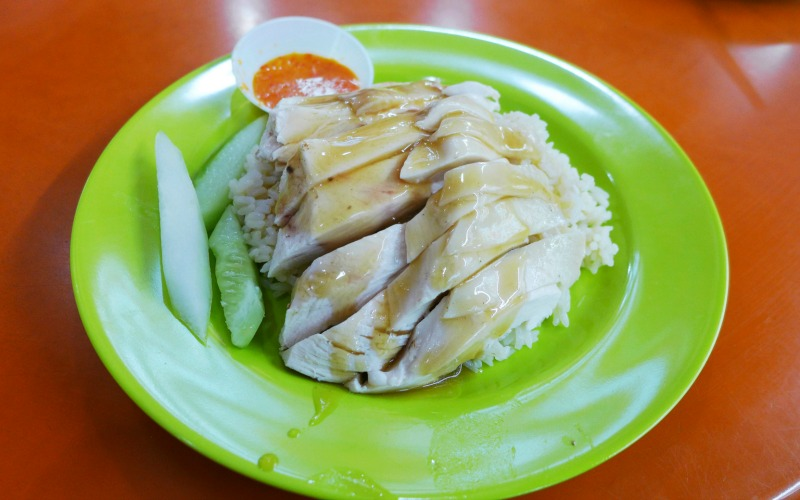 Inspired?
---
If your tastesbuds are tempted by the exotic streetfoods on offer in Asia, then discover them for yourself.