Nestled between Madagascar and Mauritius, the relatively unknown La Réunion Island has jaw-dropping scenery that could turn your next Indian Ocean holiday into a pre-historic style adventure.
It's the nature of the activities available on La Réunion that draws visitors from Mauritius as part of a twin centre holiday. The language is French, the currency is the euro and this exotic, volcanic island is actually a region of France. From there though, the European similarities end. This island is one of the most unique places on Earth…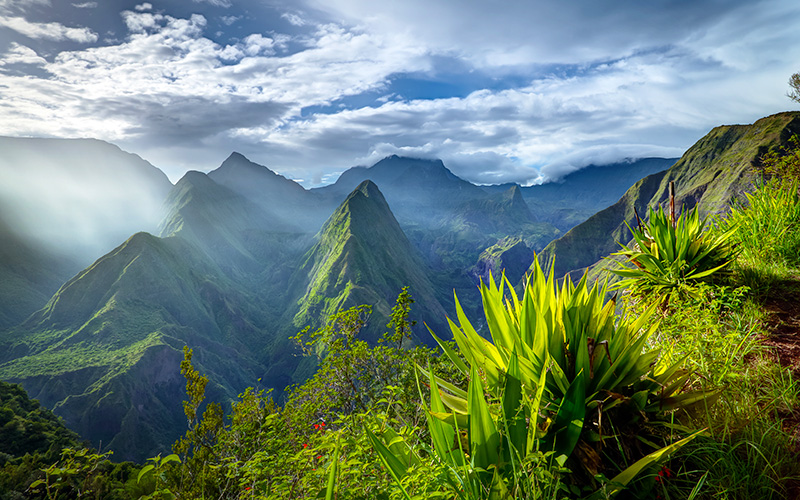 Startling scenery
Set above a hot-spot in the Earth's crust, La Réunion was given life in a volcanic eruption over 3 million years ago, the same one thought to have created nearby Mauritius. Set in the UNESCO heritage site of La Réunion National Park, the towering Piton de la Fournaise is the island's most famous volcano and one of the world's most active. Don't fear though, the volcanic activity is carefully monitored by local experts to keep the public safe. After millions of years of fiery activity, there are now three extinct volcanoes which have evolved into what are now known as the Cirques. These green, cavernous craters have taken advantage of their fertile volcanic soil and become lush, beautiful landscapes of dense forest, cascading waterfalls and endemic flora and fauna that will take your breath away.
Witness from the skies
The best way to see this 'Jurassic Park' like- landscape is by helicopter - soaring over the volcanic peaks, gazing down at the forested cirques below; feel the exhilaration as you glide into canyons, skimming over the treetops. It's an early start in the morning (before the clouds descend and cover the dramatic scenery), but worth it as you fly over the isolated Cirque de Mafate, a rugged crater not reachable by road or Cirque de Salazie, the largest of the Cirques that is blanketed in emerald-green forest with over 100 waterfalls. The thrilling climax is a flight over the Fournaise volcano caldera, with its lunar landscape and plumes of steam rising from the centre. Make sure you book this adventure for your first day so you can reschedule if the weather turns.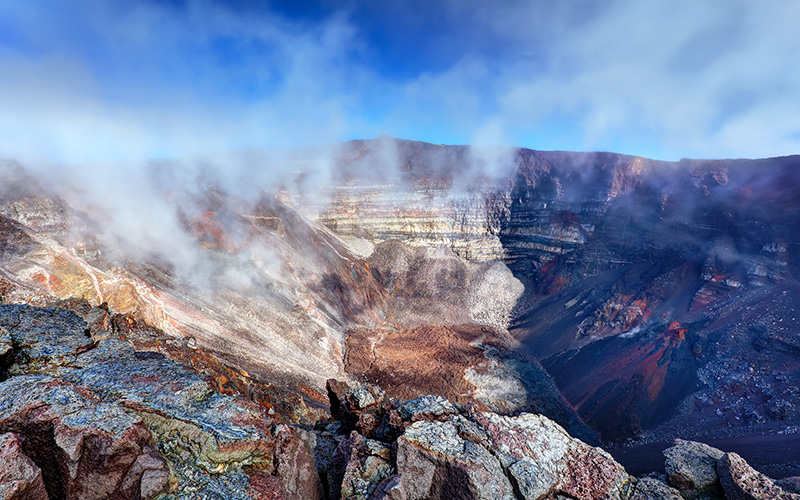 Keeping grounded
If you prefer to keep your feet firmly on the ground there are still plenty of opportunities to see the incredible wilderness of this island. You can hire a car and make your own discoveries but we think one of the most fun ways to explore La Réunion is a 4x4 adventure. Your guide tells you all you need to know about the fascinating history and geology that created the land. It's a nail-biting drive on a twisting road snaking across the landscape to Cirque de Cilaos. At the top, gaze out over colourful fields of flowers and soaring rock walls and waterfalls.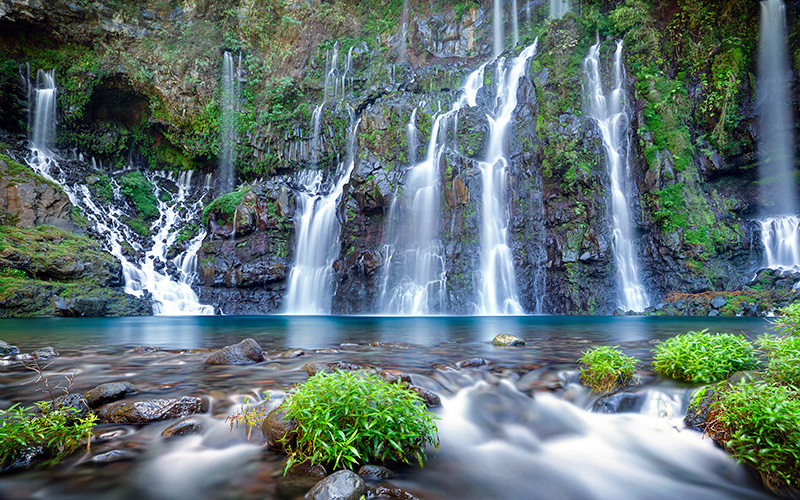 Rock climbing and mountain biking are popular activities and there are a range of biking trails all over the island. You can't reach Cirque de Mafate by road, but you can get your hiking shoes on and go explore on one of our organised treks. A favourite is the 16 mile journey from the coast to Maido's Peak which, at an altitude of 2200 metres, has incredible views to the crater floor below. You pass through the only village in the area, La Nouvelle and visit a geranium essence oil producer. Visit on a Friday and you can see a local market selling traditional Réunionese produce.
Réunion Island's largest export is its sugarcane; it's distilled into rum of course and you can visit a local distillery or the rum museum to taste the delicious various flavours on offer. Another famous, flavoursome export is Bourbon Vanilla. Titled after La Réunion's original name, Île Bourbon, this renowned spice was first produced here almost 200 years ago when Réunion became the world's biggest exporter and now you can see vanilla orchid fields across the island.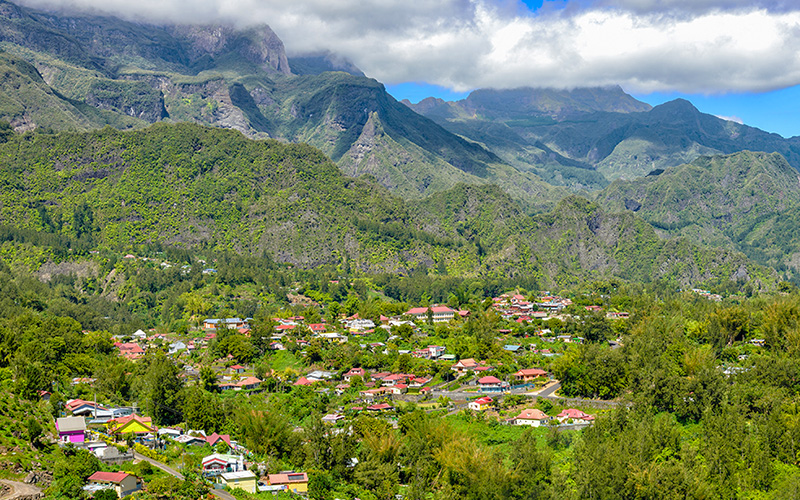 …and relax
We have hand-picked hotels on La Réunion to make sure you can unwind after a challenging hike or an exciting helicopter ride.
LUX* Saint Gilles is a luxurious resort set on a natural lagoon formed by coral reefs (which provides a safe place to swim away from the sharks that inhabit the deeper waters). The food here is fantastic and it's known for its fabulous seafood and authentic local cuisine. This resort is also one of the best for whale watching. The astonishing humpback whale migrates north during the months of June to October and it's not uncommon to see these marine giants from the land. The charming Iloha Seaview Hotel has a wonderful hillside location perfect for this; they even provide binoculars in the bar and restaurant so you can have the best view of this incredible natural phenomenon.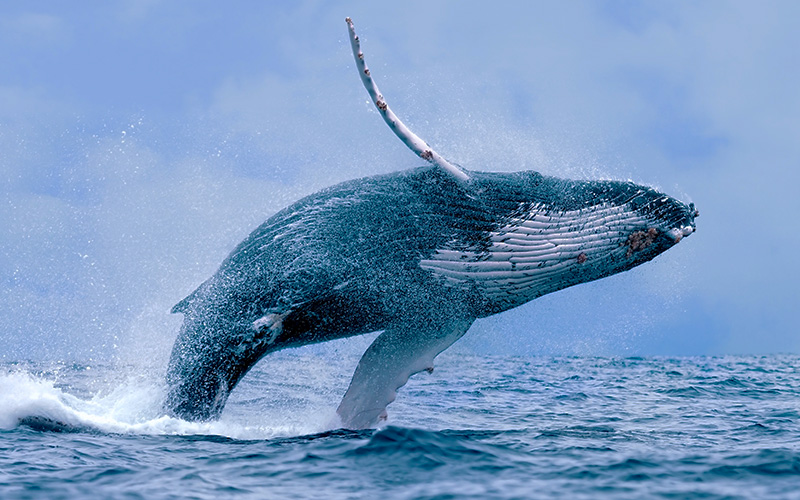 La Réunion is the perfect, adventurous addition to a relaxed beach holiday in nearby Mauritius and many visitors tend to spend 3-5 nights here before or after hopping across to its Indian Ocean neighbour as it's only a short 30-45 minute flight. Temperatures can exceed 30°C in summer (January to March) but if you're looking to get out and explore, you may want to consider a visit in its winter, over July and August, when the cooler climate is perhaps more suitable for an adventure.