Experience a taste of Italy with these amazing tomato recipes...
Biting into a gorgeously ripe, sun-warmed tomato can instantly transport you to Italy, whether you picture yourself on a sunny terrace in the heart of Sorrento enjoying a lunch of tomatoes, fresh basil and mozzarella, or imagine yourself enjoying an Aperol Spritz in the Italian Lakes with a tantalising "spaghetti" dish right in-front of you. Tomatoes evoke the spirit of Italian cuisine, simple yet delicious.
To recreate your favourite Italian holiday moments in the kitchen, we've collaborated with acclaimed Italian food bloggers Deborah Mele and Valeria Necchio to provide you with some delicious tomato-based recipe ideas:
Roasted Summer Tomatoes with Beans - Deborah Meme

Roasted Summer Tomatoes with Beans - Deborah Meme
There is nothing like fresh picked ripe tomatoes warm off the vine, and we usually have abundant tomato harvests each summer here in Umbria. This is a dish that I make when our tomatoes are flourishing as it is so versatile. It can be a great side dish for grilled or roasted meats and fish, used to top bruschetta, or even served as a vegetarian option. The combination of the creamy beans and sweet tomatoes is delicious, and I enjoy this dish best served warm from the oven served simply alongside a loaf of crusty Italian bread. You can either use canned beans or use cooked dried beans if you prefer. Any variety of tomato can be used, just ensure that the tomatoes used are very ripe and flavorful.
Serves: 4
Preparation time: 10 minutes
Cooking time: 40 minutes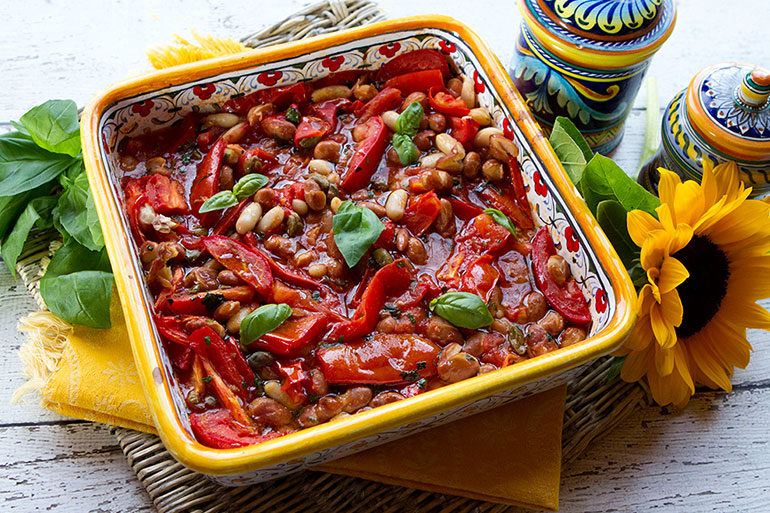 Ingredients

1 1/2 pounds very ripe tomatoes cut into wedges

2 tbsps extra virgin olive oil

1 can drained & rinsed cannellini or borlotti beans (or 2 cups cooked)

2 tbsps fresh parsley, chopped

2 tbsps drained and chopped capers

Salt & pepper

Pinch of red pepper flakes

Recipe

1. Preheat oven to 200C or 400F.

2. Place the tomatoes in a large ovenproof casserole dish and drizzle the olive oil on top.

3. Roast for 25 minutes then remove from the oven.

4. Add the remaining ingredients, stir to mix well and return to the oven.

5. Bake for another 15 minutes until everything has heated through and is bubbling.

6. Taste and adjust seasonings as needed and serve warm or at room temperature.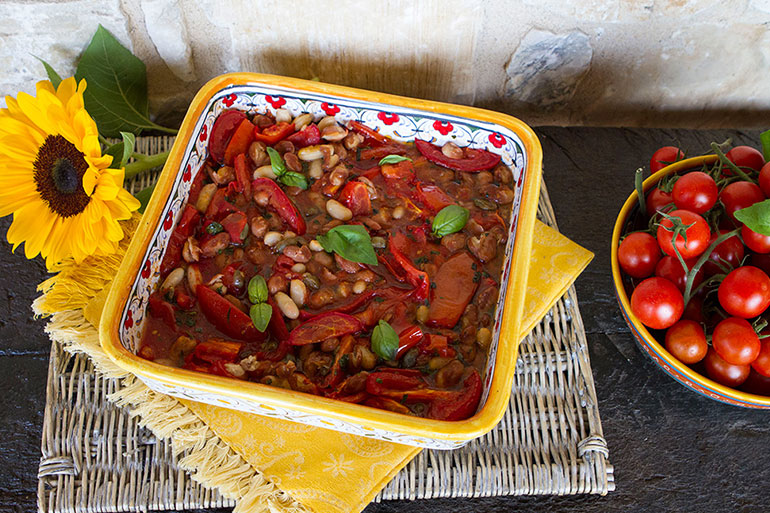 Bass Fillet with Datterini Tomatoes - Valeria Necchio

Bass Fillet with Datterini Tomatoes - Valeria Necchio
Baked fish with tomatoes and olives is an Italian favourite. The parchment cooking technique of this recipe, known in Italian as al cartoccio, encourages the bass to take on the character of the super sweet datterini tomatoes and the mild and fruity taggiasche olives – a delicious flavour twist.
Serves: 4
Preparation time: 5 minutes
Cooking time: 15 minutes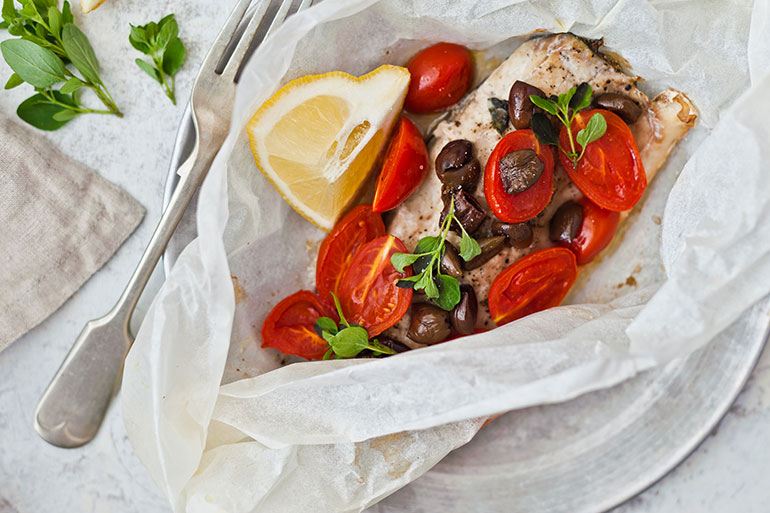 Ingredients

250g datterini tomatoes, quartered

4 tbsps extra virgin olive oil

Fine grain sea salt

Freshly ground black pepper

4 bass fillets (about 150g each)

2 tbsps taggiasche olives

4 sprigs fresh oregano (or marjoram)

1 unwaxed lemon

Recipe

1. Preheat the oven to 220°C/425°F/gas mark 7.

2. In a bowl, toss the tomatoes with oil and season with a generous pinch of salt and freshly ground pepper. Set aside.

3. Cut four large squares of parchment paper.

4. Place the fillets on top, skin side down. Distribute the cut tomatoes and scatter half a tablespoon of olives over each fillet.

5. Place a sprig of oregano on top and finish with some grated lemon zest.

6. Fold the pieces of parchment to form four closed pockets (papillotte), tucking the edges underneath so seal them.

7. Bake for 10-13 minutes, until the fish is cooked through but still supple.

8. Open the pockets to release the steam and serve immediately with lemon slices.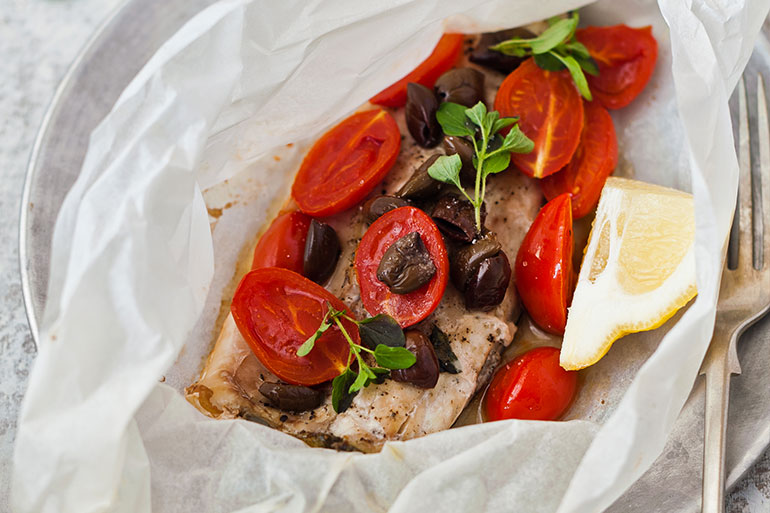 Inspired?
---
If you've been inspired by our Italian food bloggers and you want to find out more about Italian tomatoes and their origins, then look no further.