Belmond offers world-renowned rail experience across the globe, travelling to destinations such as Venice or Peru. One of our favourite luxury train journeys is the Eastern & Oriental Express, a fascinating train journey between Bangkok and Singapore. We've experienced this route, so read on to find out more…

Where modern luxury and nostalgic old-world glamour meet, there's a certain magic to travelling on board the Eastern & Oriental Express. Beautifully revived to capture the art of slowing down, to experience the train is to experience the golden age of rail travel at its most classic and cutting-edge. From the vintage elegance to the iconic insignia of the gold and green carriages, the train is an extraordinary hallmark of distinction that sits right at the heart of romantic rail travel. Join this timeless train as it embarks on its epic multi-country adventure, travelling from the bright lights of Bangkok to the sophisticated cityscape of Singapore. Indulgently spanning three different countries in just three days, you'll experience the enigmatic East in style as you join this classic journey across South East Asia on one of the most stunning rail routes in the world.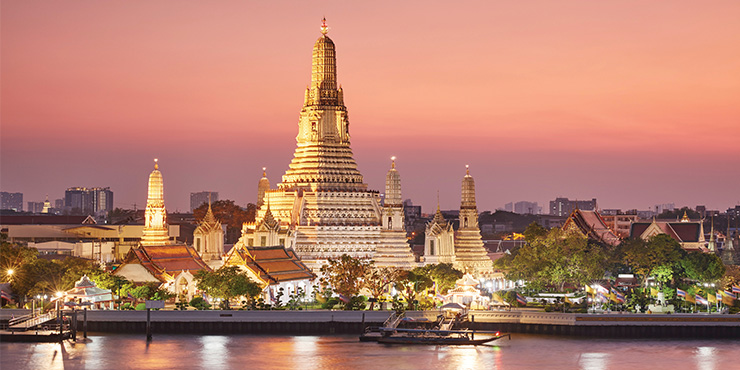 Onboard
Beyond the glamorous carriages and world-renowned luxury service, it's the insanely gorgeous views and on-board experiences that draw us to this classic journey. The train is the perfect vantage point to see the unfiltered natural beauty of South East Asia up close; from mist-shrouded junglescapes and age-old villages isolated on the banks of a forgotten river, to endless rainforests and panoramas of emerald tea and rice plantations, the ever-changing scenic dimensions here are just extraordinary.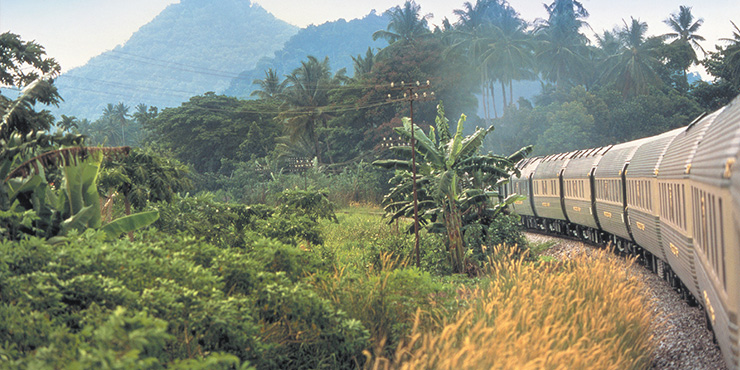 "The entire experience of the train, from the exquisite food and world-class service to sharing our highlights with other passengers in the Piano Bar at the end of the day, made this a very unique experience. The organised tours are led by professional guides and local experts at a relaxed pace, and it's a great way to see the different landscapes as you travel between Bangkok and Singapore. The lead-in cabins are converted into upper and lower beds by your steward but, if you would like more space, I'd highly recommend upgrading your cabin to a Presidential Cabin"
Duncan Scott, Kuoni's Air Product Manager
You'll have the perfect balance between relaxation and adventure while on board the train. Central to your journey are the signature experiences included each day – while you may actually prefer a leisurely time-out on board, there is the chance to join the fantastic selection of carefully timed excursions so you don't have the chance to get itchy feet. Both experiential and immersive, you'll have plenty of chances to taste the delicious local food and regional delicacies. For something a little different, more unique experiences include the opportunity to meet local village communities in rural Malaysia, joining a raft cruise on the River Kwai for an authentic Thai cooking lesson, or visiting storied sites like the historic Death Railway Bridge in the legendary province of Kanchanaburi.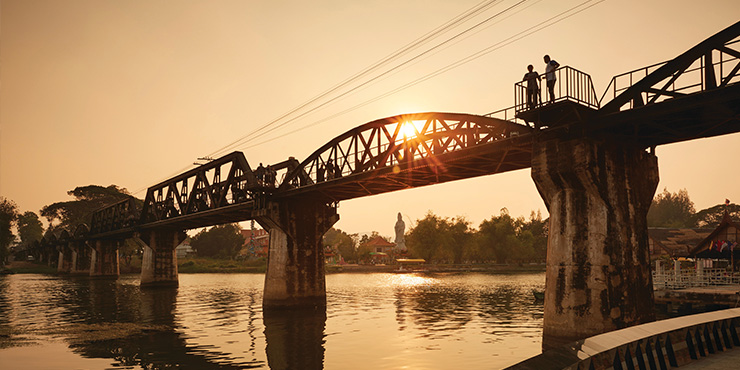 Cabins
We love the indulgent comfort in the gorgeous Oriental-style private en-suite cabins. They're full of classic and exotic touches, like the hand-tufted carpets and cherrywood panelling, complemented with shimmering fine Thai silks and intricate Malaysian embroideries. Designed as a private lounge in the day, complete with a plush window seat and bathroom, at night they elegantly transform into your very own private sleeper suite.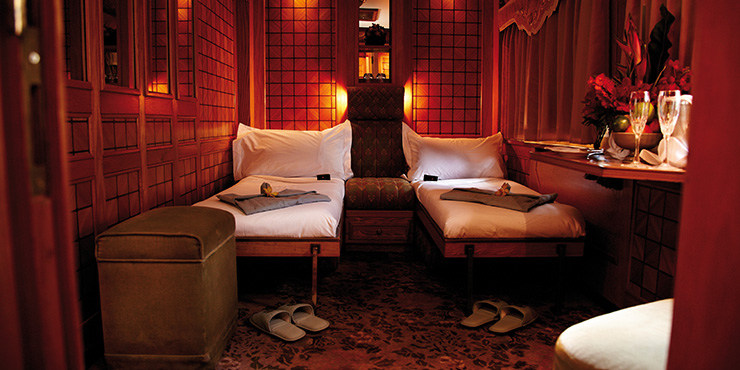 "I had always dreamt of travelling on the Eastern & Oriental Express and chose it for a big birthday celebration. I'd recommend packing a soft light holdall, as the rest of your luggage will be stowed away until Singapore; and the experiences en route were unforgettable – the River Kwai trip was very moving as we had a talk from a war veteran. In the evening, the stunning dining room is laid with white tablecloths and crystal glasses for an incredible fine dining experience and we really enjoyed relaxing in the piano bar, where everyone joined in with a sing-along!"
Tracy Bullen, Kuoni Staff Travel Advisor
To add to the sophisticated indulgence, each sleeping carriage is appointed with a dedicated steward. You can choose to stay in a choice of three cabin categories; Pullman Cabins are snug with upper and lower berths, while State Cabins are more spacious with two single beds at ground level. Upgrade to a Presidential Suite to wake to awe-inspiring views from your panoramic windows and enjoy the added luxuries of a complimentary minibar and personal music player.
Dining
Easy socialising and elegance are at the heart of the dining facilities on board the train. Table d'hote meals are all included in your journey, and you can enjoy a decadent afternoon tea each day in your cabin. Complimentary tea and coffee are available at all times – and you can even make the most of house wines, house spirits and local beers throughout the day.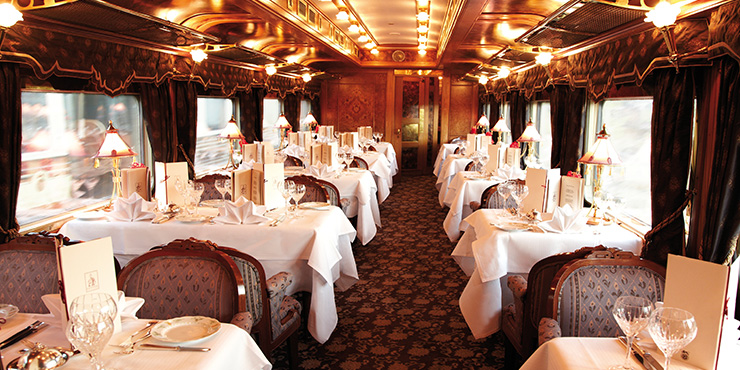 As you lazily awake to views gliding past the colourful landscapes of South East Asia, you'll start each day with a light breakfast served in the privacy of your cabin – delivered at whatever time you prefer. Lunch and dinner are served in one of the two beautifully decorated restaurant cars; each one unique in character but styled with a sophisticated flair reminiscent of a chic restaurant in Paris. Each evening you can recollect the day's extraordinary adventures over a fusion feast of contemporary cuisine created by the Executive chef and his team. One thing to note is that you'll need to dress to impress here. This is a setting defined, and refined, by its glamour; where silk wall coverings and hand-cut crystal glassware set the evening's classy tone.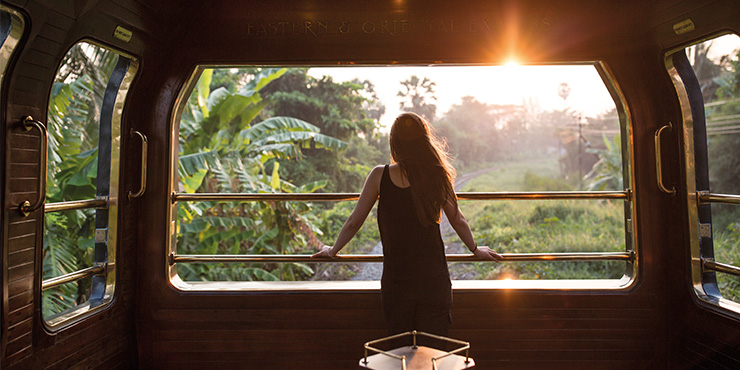 After dinner, you can take to the panoramic views of the Observation Car – an open-sided carriage at the rear of the train where classic spirits and cocktails meet a rich colonial ambiance. Or you can find sociable after-dinner entertainment in the Piano Bar, complete with a resident pianist and a fabulous drinks menu.
Inspired?
---
Learn more about the Eastern & Oriental Express by booking an appointment in your local Kuoni store. This two or three-night experience can be part of a tailor-made holiday, so talk to us about exploring Bangkok and Thailand's beaches; or spending time in Singapore before catching a luxurious cruise. You can talk to someone who has been there by searching for one of our Thailand experts.
This feature was published on 8 March 2019. The information within this feature is correct to the best of our knowledge at the time of print. Feature by Anna Hunt.