The golden beach of Praia da Falésia in Portugal is a seemingly endless stretch of sand backed by impressive cliffs. It's also the setting of the stylish Epic Sana resort.
Laura May, Kuoni Magazine's editor, tells

us of her recent visit and explains why it changed her view of the Algarve.

Portugal has never been on my travel wish list. I recall someone jetting off on a stag do to Albufeira once and obviously pushed the whole of the Algarve coastline into a dark corner of my subconscious labelled 'places to avoid', fearing a glut of all-day English breakfasts and happy hours. So I was surprised to hear that the Algarve has been voted Europe's Leading Beach Destination at the World Travel Awards 2019.

I obviously needed enlightening. One suitcase-packing session and a two-hour 50-minute EasyJet flight later, I am in Faro getting into a luxury private car and making my way to the five-star Epic Sana Algarve in Olhos de Água.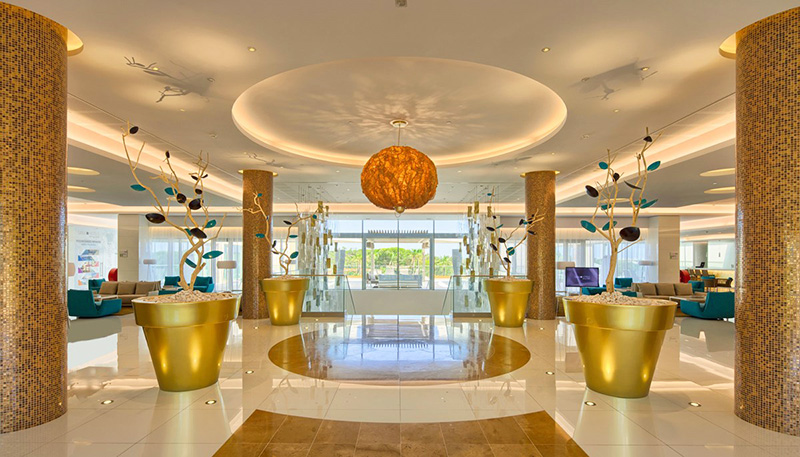 As the sliding doors gently open, the lobby's seaside tones are complemented by enormous gold flower pots and gigantic round seats that resemble stepping stones leading up to the reception desk. I'm led to my Ocean-facing Room so I can check in there, and I'm treated to freshly-baked macaroons that distractingly melt in my mouth while a friendly member of staff explains the room to me – from using the Nespresso machine to syncing my phone's playlist to the in-room speakers.
I've chosen this hotel because it overlooks one of the longest and best beaches in the Algarve, stretching from Albufeira to Vilamoura. It's time to see what all the fuss is about. Passing three pools surrounded by loungers and cabanas, I make my way to a small wooden gate that opens with a tap of my electronic key card. I follow the decking that zig-zags through the pine trees and down the steps edging the orange sandstone cliff face, which looks like it's been sliced open with a giant-sized cake knife. Purple flowers resembling tiny tulips cling to the rust-coloured outcrops leading down to Praia da Falésia's golden sand.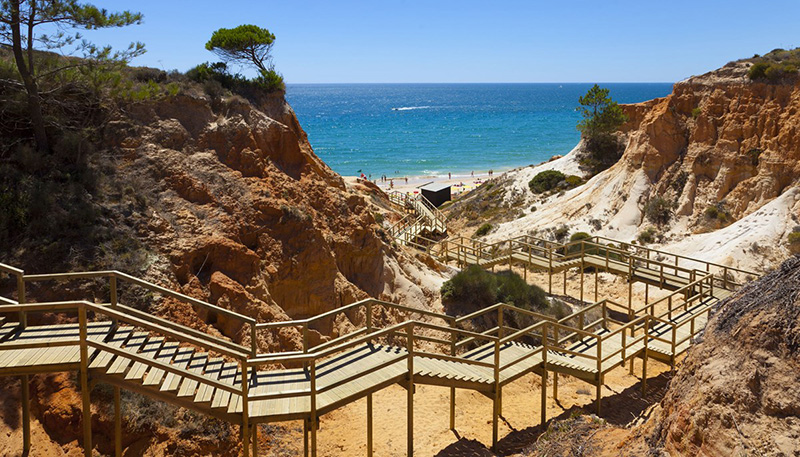 The beach is astoundingly unspoilt. The gigantic cliffs have held back an onslaught of bars, beachside hotels and commercialism. This is raw beauty the way it should be and I feel like I've been let in on a hidden secret at last. I'm here at the end of April, so there is not a sunbed in sight on the wide expanse of sand, but the weather is in the low twenties and the soft sunshine is casting shadows on the beach from the joggers taking advantage of low tide.
Bootcamp holidays are popular at this hotel and, instead of opting for a run up and down the cliffside steps twice (part of the health programme), I opt for a leisurely hour-long walk along the beach to Vilamoura. The buzzing marina is packed with bars and restaurants overlooking the luxurious yachts. White sofas, bottles of Champagne chilling in buckets of ice and funky house music create a stylish place to sit waterside and people-watch.
Back at Epic Sana Algarve, I book a Gold Facial in the spa and take a look at the endless list of free classes you can join in with each day. I'm led into a treatment room that looks out over a walled courtyard and during the 50- minutes of pampering, I'm slathered with a cold collagen mask and a selection of thick and slippery creams that are worked into my skin. The 15-minute head massage is bliss and the final layer of gold filaments leaves my face shimmering like a disco ball.
The relaxation room has the feel of a Japanese ryokan and the walls feature huge images of a forest, so you feel like you are looking up into the treetops. If you're opting for one of the couples' treatments, request the private room on the roof-top, which has its own outside Jacuzzi with a view out to sea. After your treatment you can have an hour to yourselves in the bubbles while enjoying Champagne and strawberries. Time it with the sunset for optimum romance.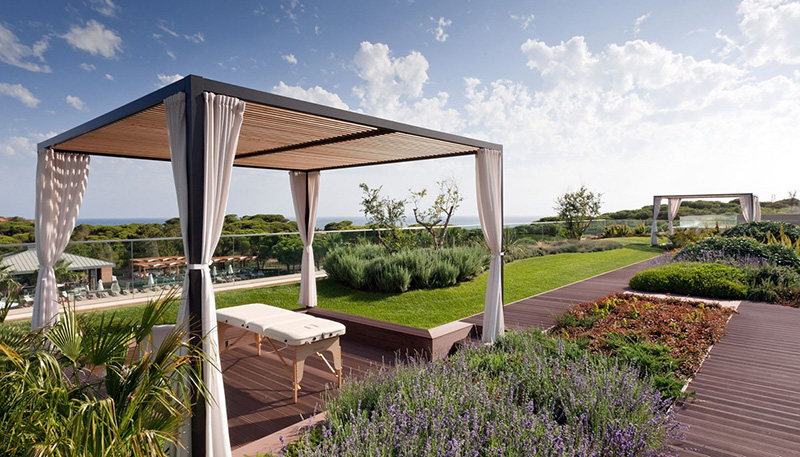 I'm impressed with the number of people who have signed up to one of the SAYANNA Retreats. Before you arrive, you can choose from programmes such as Insane Fitness, Ultimate Reshape or De-Stress. All include exercise, workshops, relaxation time, treatments and a balanced meal plan specially created by the chefs. The food in the three restaurants here is divine and Al Quimia is one of the region's best places to eat. The modern and creative menu uses the freshest and best Portuguese produce, which results in dishes that take you on a journey through the flavours of Portuguese cuisine.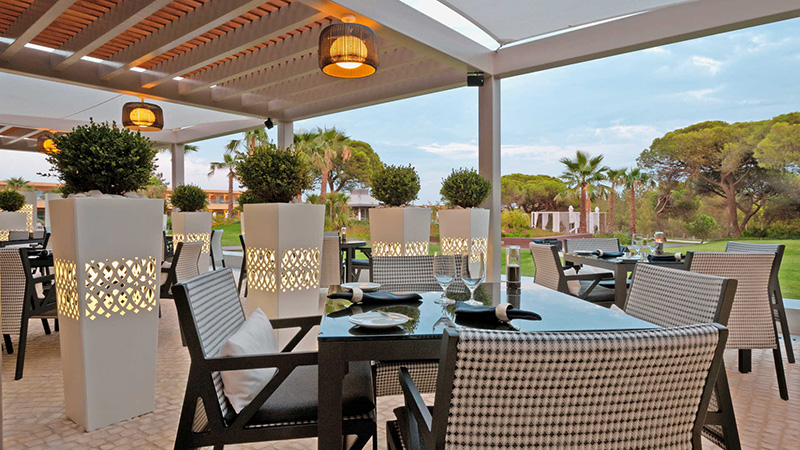 Just outside of the hotel is a selection of pizza and Portuguese restaurants surrounding a square right on the doorstep. I get chatting to some locals and they urge me to visit the historic town of Loulé, so I take their advice and hire a car in Vilamoura the next day. Loulé is not centred around tourism, so when I arrive it feels like a real flavour of Portuguese life here. I head inside the Arabian-style municipal market and find rows of fig cakes, mounds of giant tomatoes and bottles of Vida Nova wine surrounded by pictures of Cliff Richard, which makes more sense when I'm told he owns one of the vineyards nearby.
Stepping back out into the sunshine, I wander down little alleyways and past carved wooden doors with peeling paintwork, the old stone walls of the castle and traditional pottery shops at every turn. After getting lost, it is time to find a café and treat myself to a strong coffee and a Portuguese custard tart. These freshly-made delicate pastries have a crisp sugary crust and creamy vanilla-infused custard centre, far from any stodgy mass-produced alternative I've tried before. They are, admittedly, my new weakness. I kick myself. How have I been overlooking these at the hotel's breakfast buffet each morning?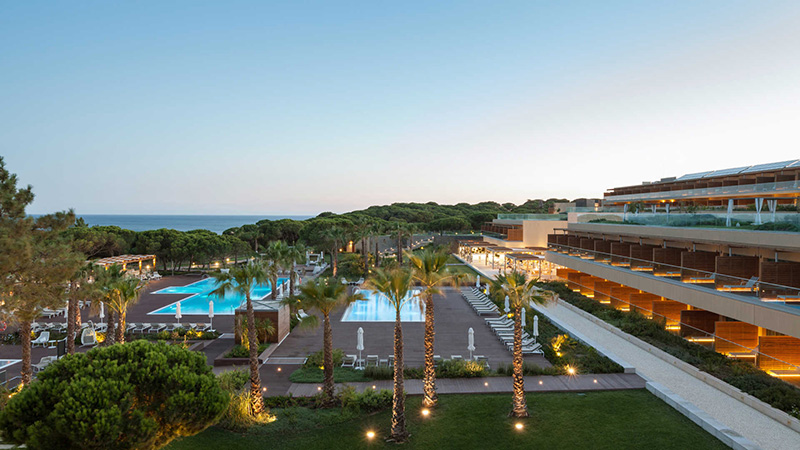 It's mild all-year round in the Algarve, with the best of the weather between April and October, and July highs can reach a whopping 40 degrees. Yes, Albufeira is only 20 minutes away and is a hotspot for hen and stag dos (complete with bucking broncos in bars and barely-there fancy dress) but this area feels a million miles away.
Portugal may not have been on my travel wish list but, now I've experienced Europe's Leading Beach Destination, it firmly has a place on the list of places I want to return to. Even if it is mainly for the Portuguese custard tarts…
Inspired?
---
The Algarve has over 100 miles of beautiful coastline and we can help you plan the perfect Portugal holiday.
If you're inspired, browse our Mediterranean brochure, or chat to one of our Portugal experts who can share their first-hand experience and honest recommendations with you.