As with many coastal resorts, the plan on the agenda is relaxation and in Bodrum, that sense of being seems to flow through the very bones of the local fishermen, the shop-keepers and even the bar-tenders, such as those of Gumbet's vibrant Bar Street. Although many live by this sense of well-being, hoteliers and their staff ensure the highest in standards of service, as competition is getting fierce!
Situated on Turkey's southwest coast, Bodrum resides in the district of Mugla, along the turquoise waters of the Aegean Sea, where you can dive amongst sunken shipwrecks, kayak, wake board or Jet Ski along the lapping waters, hold on for dear life on banana boats or simply relax in the sun on a pedalo: the choice is yours. Stay at the Rixos Premium Bodrum, one of the region's most popular hotels for luxurious and spacious accommodation, a fantastic range of watersports to include many of the above, as well as wonderful collection of restaurants and bars.
For the sun, sea and sand worshipers, Türkbükü offers uninterrupted views of verdant rolling hillsides, passing yachts on the azure waters and an array of high-end beach resorts, offering impeccable levels of service throughout your stay. Enjoy the Macakizi for barefoot beach house luxury or the Divan Bodrum Luxury Hotel for a private beach with jetty and peaceful views over Türkbükü.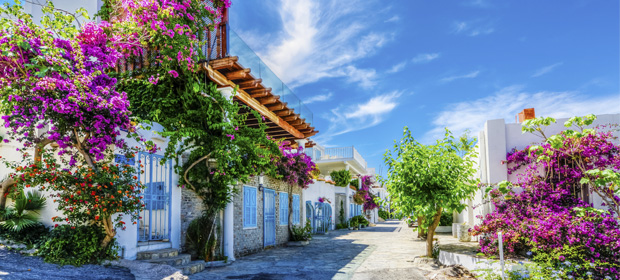 Turkey itself is bursting with history, culture and a deep sense of pride as traditions pass freely through generations.
The remains of Bodrum's history can be seen in Bodrum Marina, where you will find the Castle of the Knights of St. John, built with the stones that were once a part of The Mausoleum of Halicarnasus, known as one of the seven wonders of the ancient world. The Marina is also home to a collection of quaint cobbled streets, each leading to a string of contemporary café's, where you can stop to watch the world go by, alongside small shops selling a range of leather goods, silver and clothing: an ideal spot to practice your haggling skills, but don't be offended if some shopkeepers won't play along! Tourism is Bodrum's main source of income, and our disposable cash is an important part of the Turkish economy. Be sure to visit the Marina on a clear night, where you can see the lights on the Greek Island of Kos flickering in the distance. Stay at the Marmara for spectacular views over the Marina.
Architectural characteristics of Bodrum are part of its rich history: no building can exceed two floors in height, nor should it be any other colour than white, taking great influence from Greece. Because of this, the area is expanding, allowing the larger hotels to cover more ground, making the region seem a lot bigger than it really is.The Aegean Sea is the source of Bodrum's main ingredient in local cuisine: seafood. Prepared in both traditional and contemporary dishes, the amazing tastes and textures from the variety of dishes that Bodrum has to offer will never disappoint. The Kempinski Hotel Barbaros Bay offers a cool sea breeze in their al fresco restaurant offering a fantastic variety of Mezes, followed by delicious locally sourced produce.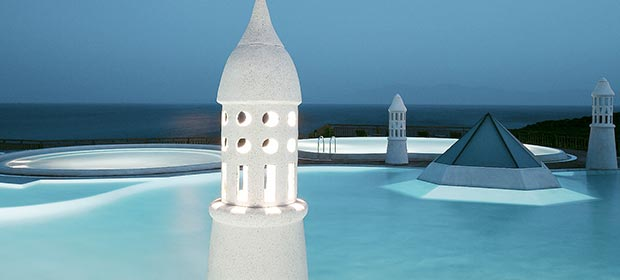 Travel a short distance to the fishing village of Gümüşlük to get a true taste of Turkish cuisine.
Not only popular for its cooking skills, Gümüşlük is also known for its handicrafts, in particular, intricately decorated lanterns made from the hollowed skin of a butternut squash. Listen out for the locals describing these novelties as decorated cucumbers! So when you're struggling for an all-round destination for couples, friends and family, think beautiful Bodrum: one of Turkey's few remaining resorts to maintain its traditional history, beauty and golden sands.
Inspired?
---
Labelled the 'Land of the Eternal Blue' by Homer, Bodrum has had famous fans since the days of Cleopatra and Mark Anthony. Warm turquoise waters are a heavenly swimming arena, with a seabed brimming with marine life and shipwrecks.