There are so many cultures influencing Singapore's food scene that you can find almost any style of cuisine in the city. Ow Yong Kit Fun, a local and one of the Kuoni team, tells us food is so important here that the local greeting is not 'hello' but 'have you eaten?' From hawker stalls through to the city's finest restaurants, Ow shares her guide to food in Singapore.
How would you describe the Singapore food scene?
With a multi-racial population of Chinese, Malay, Indian, Eurasian and Peranakan, our food is truly diverse and we're really spoilt for choice. With an Asian culture, we are never far from our noodles or rice, but the local food scene is borrowed from centuries of recipes and it has now evolved into a unique Singaporean cuisine.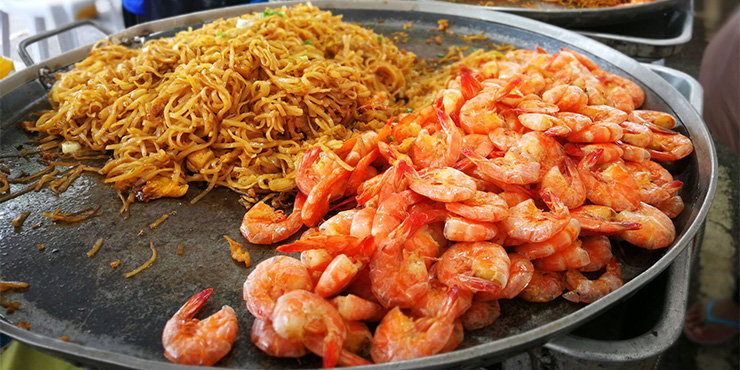 Tell us about three local dishes we should try and why…
For breakfast, try kaya toast with a hot coffee or tea. This is a classic Singaporean breakfast. Kaya is a sweet pandan-flavoured coconut milk cooked slowly with eggs and sugar to create a jam. Spread between two pieces of toast with a slice of cold butter. It is so good with a hot coffee and two soft boiled eggs with dark soya sauce. You can eat this at any hawker centre or food court in the morning for about £2. This is popular with the young and the old in the city.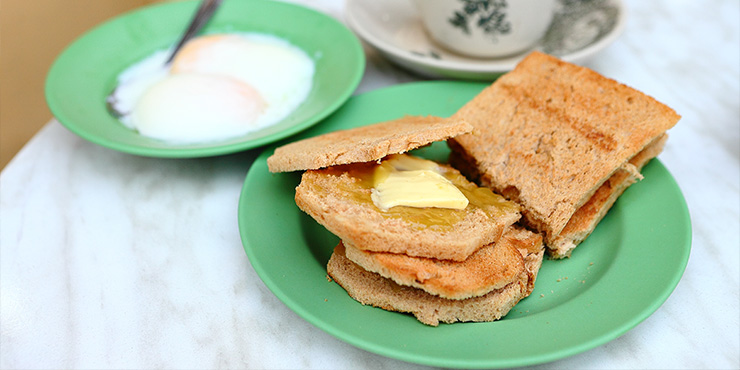 Another breakfast contender is roti prata. This is a south Indian flatbread made by frying stretched dough, flavoured with ghee (Indian clarified butter). It's served at any time of the day but mostly we eat it in the mornings. It is savoury but, nowadays, it is also made into desserts by adding chocolate or ice cream, much like a waffle served with a dollop of ice cream. The best part is watching it being made – the prata-maker will throw, whirl and twirl the dough until it is paper thin and fold this into a round or rectangle before cooking it on an oiled griddle. If you are watching your diet, you may not want to try it!
Most locals have an hour's lunch break, so we look for something quick to eat before we head back to work. Most gravitate towards noodles. Try laksa, a spicy noodle soup from the Peranakan culture, which is a blend of Chinese and Malay elements found in Malaysia and Singapore. Its broth is coconut milk based, flavoured with dried shrimp and sambal chilli, and topped with ingredients like cockles, prawns and fish cake. If you don't like it too spicy, ask the hawker to hold the extra chilli sauce.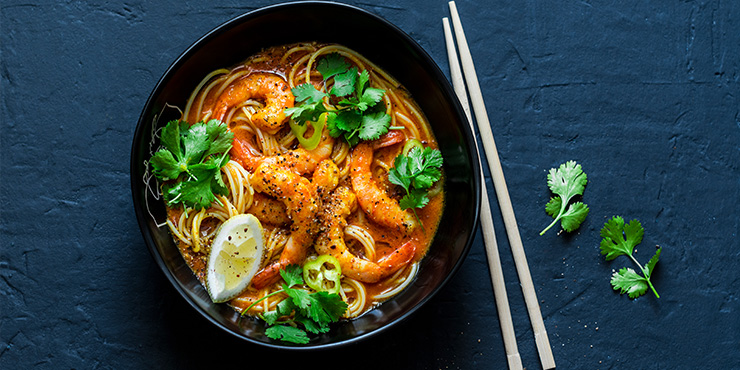 Hainanese chicken rice is the most iconic Singapore dish. It originates from Hainan Island in China, but I would say the Singaporean version is the best. The chicken is poached in a broth with garlic and ginger. The stock with the chicken fat is used to cook the rice along with pandan leaves, producing oily and flavourful rice. The boiled chicken is then dunked in cold water to create a smooth, gelatinous skin and melt-in-the-mouth chicken meat. You must eat chicken rice with dark soya sauce, chilli sauce and pounded ginger as it is heaven. This is considered a national dish of Singapore and is a must try! Char kway teow is also a popular hawker dish for lunch, combining rice noodles, seafood, Chinese sausage and lard into one sinfully savoury dish.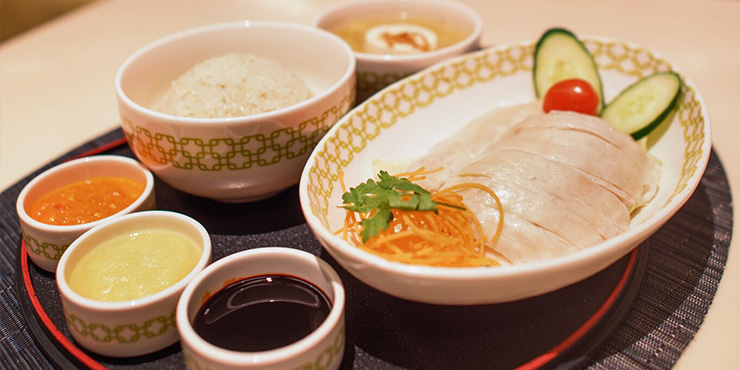 Dinner is the main meal of the day. Fresh seafood is easily available in Singapore, so is recommended, especially chilli crab! This is Singapore's number one culinary export to the world. The sauce consists of chilli paste, vinegar, tomato paste, eggs and a little sugar to balance it out. The crab is divine but the sauce is the star – sweet, yet savoury, slightly spicy but so yummy that you will want to scoop it up with your fried mantou, a bun that is fried like a doughnut without the sugar or hole in the middle.
Chilli crab is among Singapore's greatest culinary inventions, the king of all crab dishes and easily available in most seafood restaurants or Zi Char stalls (small, locally owned dining outlets). You can't go home without trying it.
What are your tips for eating in the city?
Join the queue if you see one – this will be where you'll find the best food. You can still eat good and cheap food in the big and shiny shopping malls, just look for the signs as many of the food halls are found in the basement.
Should we dine at food courts in Singapore?
That is a yes! The Singapore government prides itself on the cleanliness and hygienic conditions of its food courts and hawker centres, so much so that they are graded. Hawkers are graded A, B, C or D. The grades have to be prominently displayed so customers can make an informed decision in deciding whether or not to buy from a stall.
Can you recommend any hawker centres?
I'd recommend Maxwell Road Hawker Centre and a stall called Tian Tian Chicken Rice, though the queue is usually a 30 to 45-minute wait. The late American celebrity chef, Anthony Bourdain, once commented that the rice from Tian Tian is 'so fragrant and delicious it can be eaten on its own'.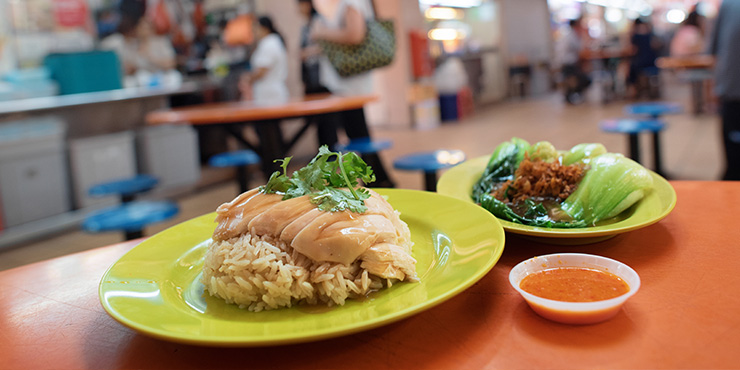 Chinatown Complex Food Centre has a Michelin-star hawker stall called Hong Kong Soya Sauce Chicken Rice and Noodle. There is usually a queue of around an hour to try hawker Chan's food; or you could try his new outlet at 78 Smith Street, which is a shophouse in more comfortable surroundings.
Tiong Bahru Market Hawker Centre offers many of the favourite dishes loved by most Singaporeans. A trip to Tiong Bahru is a weekly affair for many locals, as they shop in the wet market for fresh produce and eat at the hawker centre above the market.
Where can we find Michelin-starred cuisine in Singapore?
Here is my list of where to find some of the best Michelin-starred cuisine in the city:
Two-star Michelin restaurants (S$150 – S$300 per person), without wine pairing.
Odette: located at the iconic National Gallery Singapore, this 40-seater restaurant opened in 2015 and has already earned a reputation for its hard-to-secure tables with its modern French cuisine.
Shisen Hanten: located on level 35 of the Mandarin Orchard Singapore hotel, Shisen Hanten is Japan's best loved chain of Szechwan restaurants and it opened here in Singapore in 2014. The culinary legacy began in 1958 when Chinese immigrant Chen Kenmin founded Japan's first Szechwan restaurant. At the helm now is 3rd generation Chen Kentaro and he brings his grandfather's vision to promote greater appreciation of Szechuan cuisine through their signature dishes.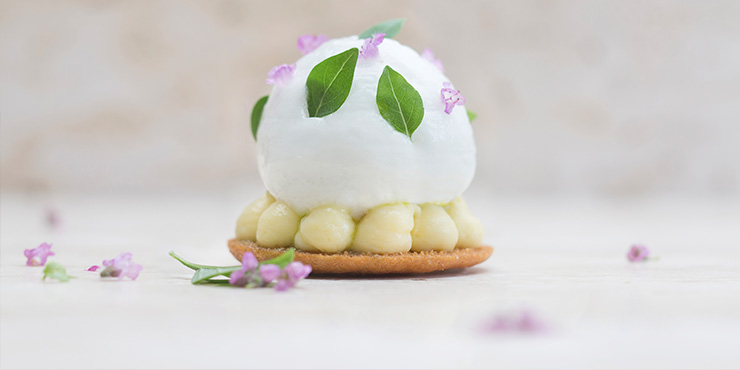 One-star Michelin restaurants (S$120 – S150 per person)
Candlenut: located at 17 Dempsey Road, this restaurant combines modern and traditional techniques to reinvent Peranakan cuisine. I mentioned the Peranakans earlier – these are Straits born Chinese of early Chinese immigrants who left China to South East Asia during the Straits Settlement period between 1826 and 1867. Peranakan cuisine combines Malay and Indonesian cooking techniques with Chinese ingredients and aromatic spices.
Cut: this steakhouse at Marina Bay Sands serves up all things meat, grilled over hardwood and charcoal. Choose from a fine range of beef selections such as Australian Angus; Wagyu from USA, Australia and Japan; and Japanese A5 Kobe beef.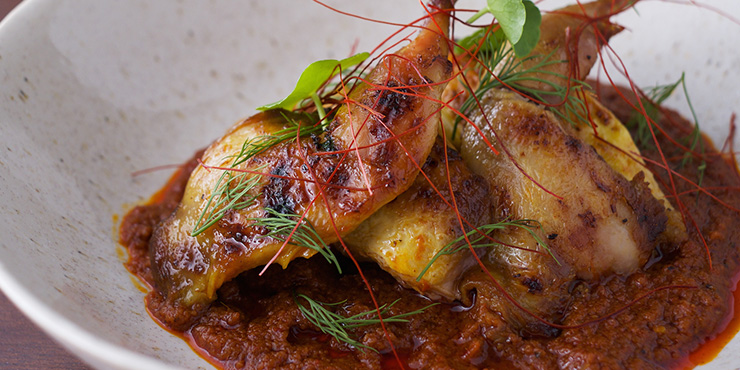 Michelin and Bib Gourmand Hawker Stalls (S$3 – S$10). Bib Gourmands are little restaurants selected by MICHELIN guide inspectors for their very good value for money.
Liao Fan Soya Sauce Chicken Rice/Noodle – Chinatown Complex Food Centre
Tai Wah Pork Noodle – Hong Lim Market, Chinatown
Outram Park Fried Kway Teow Mee (Char Kway Teow) – Chinatown Complex Food Centre
Muthu's Curry – Race Course Road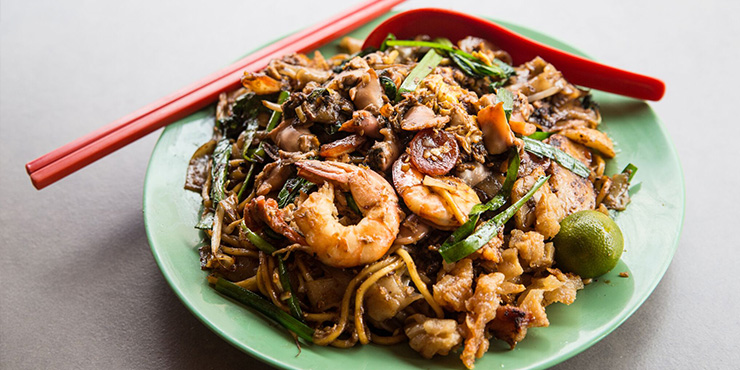 There is a lot more amazing food to be found in the city, so it's a good excuse to make more than one trip to Singapore to try it!
Inspired?
---
We can help you create a holiday to Singapore, combining the city with a cruise, one of our escorted small group tours or a stay in destinations such as Bali or Australia. To talk to someone who has been there, search for one of our Singapore experts or book an appointment in your local Kuoni store.
This feature was published on 16 November 2018. The information within this feature is correct to the best of our knowledge at the time of print.