Manta rays are some of the most charismatic creatures in our oceans and have the largest brain of all fish. Their intelligence and curiosity makes an underwater encounter an incredible experience – but they still remain a mystery in many ways. Kuoni's Laura May talks to Flossy Barraud, Education and Outreach Officer for the Maldivian Manta Ray Project, to find out why they are one of the most threatened fish in our seas.
The Maldivian Manta Ray Project was established back in 2005 by Guy Stevens. He had just landed a job as a marine biologist in the Maldives and, at the time, very little was known about manta rays – not just in the Maldives, but globally. The project needed to fill-in essential knowledge gaps – how long do they live? How do they reproduce? His studies revealed that they are one of the most threatened fish in our seas. A coordinated approach to global research was needed and the Manta Trust was created. Science needed to become the tool to inform conservation action and direct real, measurable change.
Flossy Barraud works as one of the Manta Trust's team in the Maldives and explains the greatest threat to the species. "It is due to excessive targeted and incidental catch in fisheries. The demand is driven by an international trade in gill plates that are used in an Asian health tonic, which is having a devastating impact on the population. Thanks to pressure from the Manta Trust and other NGOs, mantas have now been listed on the Convention on International Trade in Endangered Species. This legislation means countries must prove that any international trade in manta gill plates is sustainable, essentially impossible given the detriment to their survival." Despite this, they are still being killed in their thousands.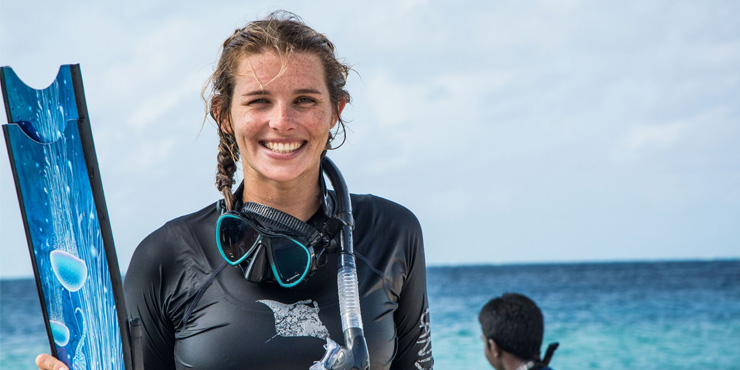 The Maldives is lucky enough to have the largest known population of reef manta rays, which have never been fished, meaning it's the prime spot to observe them in their natural state. This long-term study has been going for 15 years and, given the climate debate, will be essential to monitor the impact of ocean warming, acidification and pollution. So how can locals – and guests in the Maldives – help? "We've created IDtheManta to utilise people power in aiding the research and conservation of manta rays. We received over 100,000 photos of mantas from over 70 countries so far and have identified over 10,000 individual reef (Mobula alfredi) and oceanic (Mobula birostris) mantas."
I wonder how involved local communities get in the project, given this is essentially their ocean back garden. "We created the Baa Atoll Manta Festival to raise awareness of the issues, marine ecosystems and marine conservation among local students and communities. There are stalls, educational talks and we partner with island resorts that have been generous with donating over 200 sets of snorkelling equipment," says Flossy. The equipment means young Maldivians can go snorkelling whenever they want, with the hope it instils a desire to protect the ocean better. "The resorts also helped us take over 200 students and teachers to Hanifaru Bay to swim with manta rays – it's what the Baa Atoll is world famous for."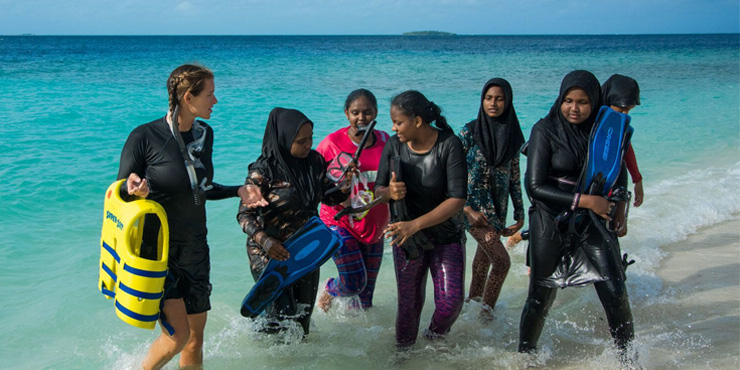 Hanifaru Bay is truly unique; and its shape and position functions as a 'zooplankton reservoir', so when the lunar tide and monsoonal currents align, the zooplankton becomes trapped and creates an incredible feeding ground for a huge number of manta rays and whale sharks. The team has seen over 200 manta rays during just one feeding event. "Manta rays follow zooplankton, which is driven by the monsoon winds and currents. During the Southwest Monsoon, from May-November, they are concentrated on the east coast of all of the atolls in the central Maldives. During the Northeast Monsoon, from December-April, the productivity shifts to the west of the atolls. During the period of change between monsoons, it is common to have fewer sightings of mantas on either side of the atoll as the rays move between seasonal foraging grounds. Since Hanifaru Bay is located on the northeast corner of the Baa Atoll, this site is only active between the months of May-November."
So what's it like to dive among these incredible creatures? "Manta rays are completely harmless. They have no stingers or barbs at the base of their tails and have no sharp teeth. They are incredibly agile in the water and are able to glide past and avoid snorkellers and divers with ease. They can reach a maximum wing width of seven metres for oceanic mantas (Mobula birostris), around 20 feet, although a more common size is three metres for an adult female reef manta (Mobula alfredi). This makes them by far the largest of all the rays.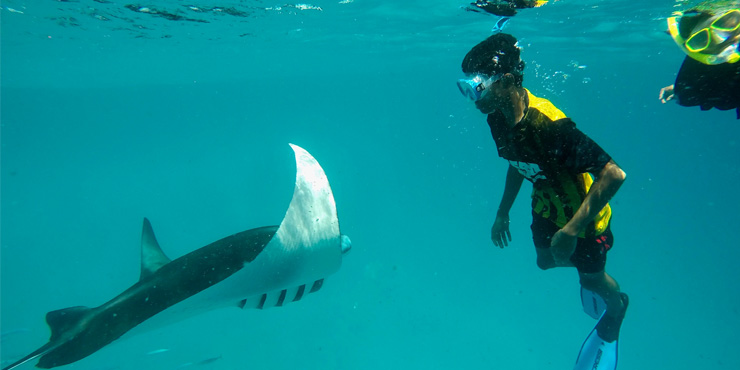 Despite the research, manta rays are still a mystery in many ways and I ask why they are often seen jumping out of the water. "We don't know 100%," says Flossy. "It could be that they are itchy, removing remoras and ectoparasites by slapping their bodies on the water. It could be a courtship dance or act of excitement; or it could be linked to sounding an alert to other manta rays nearby to come and feed, creating a vibration through the water."
So during a holiday to the Maldives, what is good manta ray etiquette if you encounter one during a snorkelling session or dive? "We have created a website with top tips at swimwithmantas.org and this includes an educational video on sustainable manta tourism. The guide will show you how to behave in the water, so as not to disturb them, and how best to observe their grace and agility during your encounter. They are truly amazing animals and any time spent with these magnificent creatures is a humbling experience, and one that you will never forget."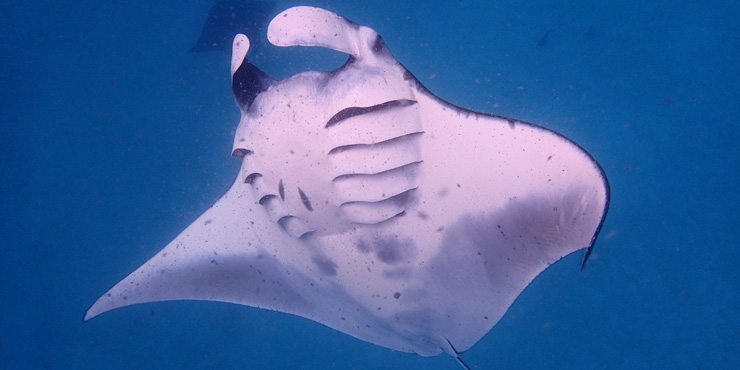 I ask Flossy what the future holds for manta rays. "Unfortunately, the pressures on our oceans and their inhabitants are not going to reduce in the foreseeable future. Indeed, at the current rate of overfishing, coupled with the increasing pressures of development and climate breakdown, the Manta Trust will have plenty of work to do if we are to conserve this charismatic species and their home for future generations. Although manta rays are not fished in the Maldives, the increasing pressures of tourism development mean our focus will be on providing the science and recommendations to the Maldives government to ensure effective conservation management decisions are made and implemented. Your readers can help by simply spreading the word about the threats they face; following our best codes of practice when snorkelling or diving with these animals; and submitting your encounter reports and photos to our IDtheManta database. It will help in all our efforts to learn more about these majestic creatures."
Inspired?
---
If you'd like to learn more about manta ray conservation, support the Manta Trust or submit your IDtheManta photos, you can visit www.mantatrust.org.
This feature was published on 11 March 2020. The information within this feature is correct to the best of our knowledge at the time of print. Feature by Laura May.