Find out where and what Rose Dykins, Independent Travel Journalist, recommends to eat in the Maldives.
Long before my first visit to the Maldives, I'd put the destination on a pedestal. I'd imagined it as the ultimate island escape, and the pinnacle of natural beauty – somewhere I needed to see while I still could. (FYI, it was everything I'd hoped it would be).
But I have to admit, I hadn't given much thought to what the food would be like… Some feel the Maldives lacks cultural experiences for visitors – stunningly beautiful, but perhaps the bubble-like resort islands are unlikely to satisfy travellers seeking to discover a new culture. I'd be inclined to agree, had I not found Maldivian food to be so interesting during my visit.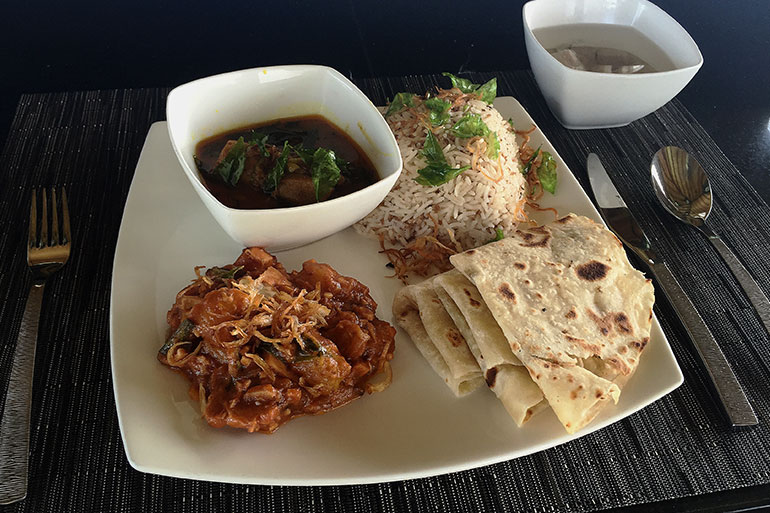 Photo credit: Chris Nairn
A Maldivian cooking lesson at Kurumba Maldives resort was a delicious introduction. We took a seat at Hamakaze, the resort's excellent overwater teppanyaki restaurant, and sipped fresh pineapple juice as we were led through a series of authentic recipes by a Maldivian chef.
We quickly noticed strong influences from nearby Sri Lanka and India in the dishes before us – the curries, the rice and the roshi (chapati). However, the island nation's food is crafted from a narrower spectrum of ingredients, as it doesn't have the space for large-scale agriculture or livestock production.
Two things that the archipelago has in abundance, are tuna and coconut. This duo forms the backbone of traditional Maldivian dishes – garudhiya, is a miso-like broth with chunks of smoked tuna, garlic, onion and chillies, served with roshi or plain rice, and it's a staple for locals' breakfast, lunch and dinner.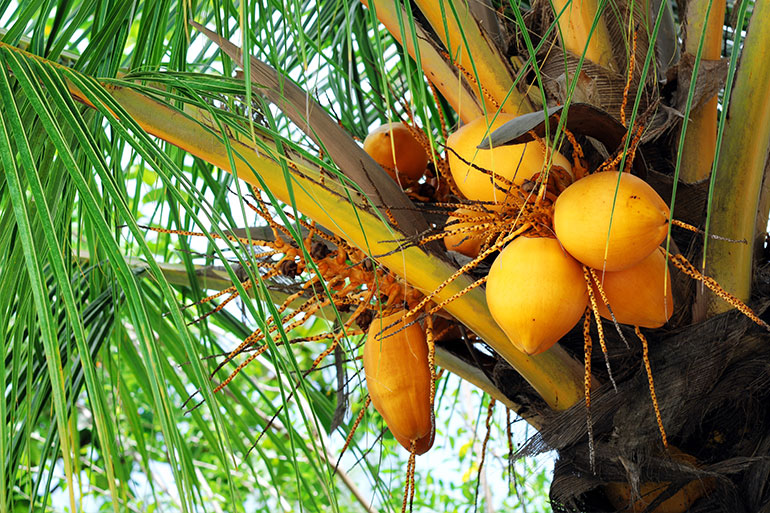 And kando kukulhu – where plump strips of tuna, marinaded with a harmonious blend of cumin, cinnamon cardamom, and pandan and curry leaves, is then stuffed with the same mixture, rolled, and tied into shape with (surprisingly sturdy) strips of coconut leaf. Simmered in a coconut broth to create a curry, and then served with crispy coconut rice, the succulent, creamy, and spicy dish was so delectable, I was already mentally preparing to try and recreate it at home – rather optimistically, perhaps.
In terms of heat, locally grown mirus chillies look fairly non-threatening (round, pale green and red, like baby peppers). However, when the chef egged us on to try just tiny pieces, the heat travelled all the way down my sternum. He kindly prepared the dishes to my wimpy taste, but Maldivians certainly have fiery palates.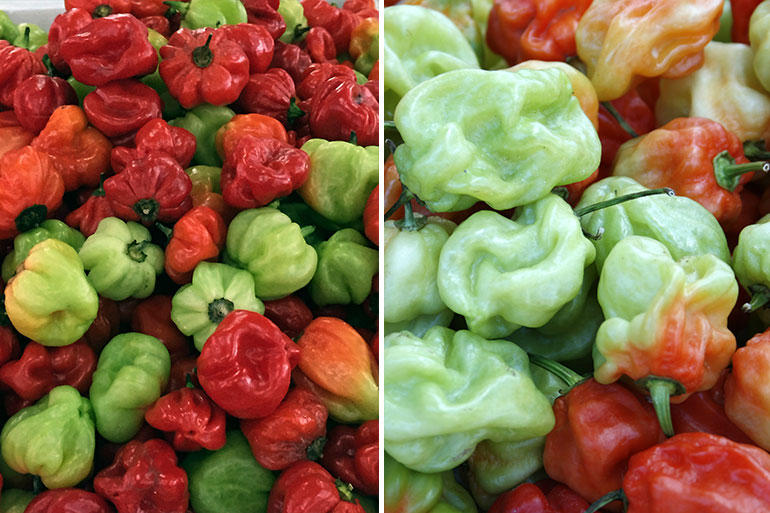 Photo credit: Chris Nairn
Kurumba Maldives is just a ten-minute speedboat ride away from Malé, and an excursion to the Maldivian capital is likely to be your only chance to experience the Maldives beyond its resorts (though there are a growing number of guesthouses on local islands, accessible by public ferry). Led by a guide, we strolled through the pungent fish market and the local market selling tiny bananas, jam jars of homemade fish sauce, and packets of dried yams. We then visited Jaway's Café to sample something close to our British hearts – tea and shorts. Traditionally, Maldivians take tea at around 4pm and, rather than dunking Hobnobs, they prepare an array of sweet and savoury treats.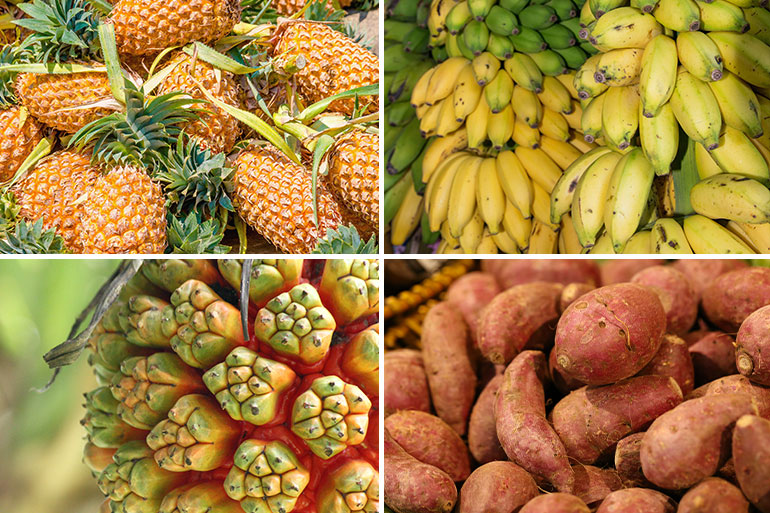 The cafe's award-winning chef and owner, Juwairiya Wajdy, is renowned internationally for her cooking, and has published almost 70 cookbooks. In a cool tiled dining room behind the main café, she served us a generous spread of her specialties – including kulfi boakiba, which had the appearance of a flapjack, but I bit into it and tasted fish. It's actually a savoury rice cake with smoked tuna and chillies, and was like nothing I'd ever tasted before.
Later in the week, a 30-minute seaplane ride from Malé carried us to Kandolhu Island, which had a definite back-to-nature feel, thanks to its verdant pathways and rich wildlife – during a scuba dive, I had never been so outnumbered by shoals of fish.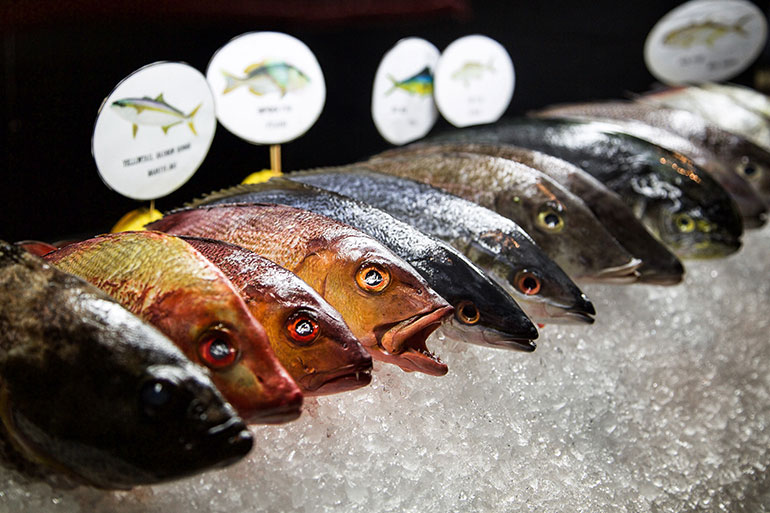 Dining at the island's Seagrill restaurant that evening, I felt slightly guilty when choosing my dinner from the line-up of wide-eyed, freshly-caught reef fish in the display cabinet – the feeling quickly passed when I began tucking into the tender white humpback, slathering on a tart lemongrass and black pepper chutney.
We topped our Maldivian food voyage with a visit to the uber-trendy Velassaru Maldives, arriving just in time for its weekly Maldivian BBQ night at its Sand restaurant.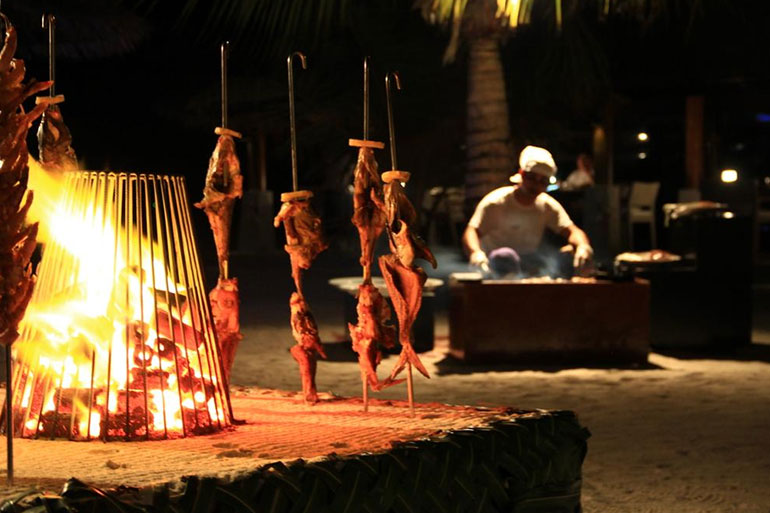 The magnificent beachside buffet spread offered mountains of grilled prawns and meat, reef fish steamed in banana leafs and a smorgasbord of flavoursome salads – I particularly enjoyed the breadfruit salad; like potato, only with a more substantial, slightly sweet taste.
The evening couldn't be dampened by the tropical rain that descended up on us, and sheltered in a candlelit thatched roof pagoda with our plates piled high with aromatic food, we agreed we should definitely attempt some of these dishes at home – perhaps the coconut rice was the most realistic?…Failing that, we'd just have to come back.
Inspired?
---
If you want to embark on your own culinary journey in the Maldives, as well as relax on its pristine beaches and dip your toes in its crystal clear waters, then look no further...