Remarkable wildlife, untouched natural beauty and unique adventures.
From the ever-expanding metropolis of Kuala Lumpur to rural villages and tea plantations, out-of-this-world beaches and tropical rainforests teeming with wildlife, you can experience the best of all worlds here. The variety of Southeast Asia is evident for all to see in the diverse nation of Malaysia, which acts a crossroads between the East and the West.
Malaysian Borneo offers unique wildlife, adventure activities and unique beach resorts
The capital Kuala Lumpur acts as the perfect stop-off to destinations further afield
In the hill station of the Cameron Highlands, rolling hills are home to tea plantations and farms
Complete seclusion and luxury are available at the nation's beach hideaways including the private island resort of Pangkor Laut
The mix of Hindu temples, Buddhist statues, colonial architecture and beach resorts of Penang
Best time to visit Malaysia
Malaysia experiences a tropical climate year round, but weather conditions can be very different between east and west. The capital Kuala Lumpur has warm temperatures throughout the year, with its driest months from June to August. The west coast beach resorts of Penang and Langkawi are best experienced from December-April. The east coast resorts can be rather wet in November and December, but will often experience lots of sunshine alongside some showers for the rest of the year. Borneo will be hot and sunny year-round and tends to have higher rainfall between November and January.
Malaysia holiday highlights
Malaysia presents an intriguing mix of the new and the old and it is a nation that boasts a unique and diverse culture. Malays, Chinese, Indian, Europeans and indigenous groups live in harmony throughout the Malay Peninsula and on the many islands of the Malay Archipelago. A relaxed and welcoming ambience permeates its way into vibrant cities, verdant highlands, wild forested landscapes and along flawless talcum-white beaches.
The magical states of Sarawak and Sabah in Malaysian Borneo are an adventurer's paradise, a naturalist's heaven and a beach lover's dream all wrapped up in package of a glorious lush green landscape bounded by an underwater world to rivals the earth's finest. Those with an adventurous spirit can climb to the summit of Mount Kinabalu on an intrepid expedition, stare into the big soulful eyes of an endangered orangutan, snorkel in search of hawksbill and green turtles or dive amongst spellbinding marine life including hammerhead sharks. If that sounds a little too strenuous then there is little else to do but unwind on unspoilt beaches or by your resort's refreshing pool or indulge in a spa treatment or two. . . sheer bliss.
Once just a small Chinese tin mining town, Kuala Lumpur has grown to become a major 21st Century Asian city and a popular destination for stopovers when travelling to and from Malaysia's exotic beach destinations. A city dominated by iconic skyscrapers and exquisite shopping malls that sit happily alongside Moorish buildings, colonial architecture and more traditional street markets, Kuala Lumpur is a city emerging gracefully into the modern world while holding true to its long held traditions.
The strikingly beautiful archipelago of Langkawi is made up of 99 islands situated off the west coast of mainland Malaysia and is blessed with sleepy fishing villages, pure white sand beaches and lush vegetation. Find yourself amidst clear, calm waters, with the opportunity to relax in total tranquillity. Surrounded by resplendent turquoise waters, Langkawi is ideal for either relaxing in luxurious spa resorts, exploring the lush jungle clad hills or diving and snorkelling in coral rich sea.
The popular island of Penang is rich in sightseeing opportunities from Hindu temples, Buddhist statues and colonial life in the capital of Georgetown, through to a myriad of watersports and exquisite luxuries provided by the hotels lining the famous Batu Ferringhi Beach. Dine on excellent regional cuisine, including sublime seafood, at local restaurants or from the numerous hawker stalls at the bustling night market.
Malaysia plays host to a number of tranquil and secluded beach hideaways and a handful have been chosen by us for their delightful locations, unique attributes and serene ideals. Marvel at the long sandy beaches of Malaysia's unspoilt East Coast lapped by the waters of the South China Sea; the underwater marine life around the Tioman islands; or the emerald rainforests on the private island of Pangkor Laut.
Good to know
Flying time to destination:
Varies between 12½ and 15 hours depending on the airport.
More facts
When to visit Malaysia
Jan

Recommended

Good time to escape

Feb

Highly Recommended

Perfect time to escape

Mar

Highly Recommended

Perfect time to escape

Apr

Highly Recommended

Perfect time to escape

May

Highly Recommended

Perfect time to escape

Jun

Highly Recommended

Perfect time to escape

Jul

Highly Recommended

Perfect time to escape

Aug

Highly Recommended

Perfect time to escape

Sep

Highly Recommended

Perfect time to escape

Oct

Recommended

Good time to escape

Nov

Recommended

Good time to escape

Dec

Recommended

Good time to escape
Further climate information
Kuoni Insider

There is something very special about Malaysia, something that crosses bridges of the old colonial empire and the modern vibrant spicy Asia of today. A destination unlike any other with so much to see and do, so much history and architecture.
Kuala Lumpur and its famous twin towers known the world over are the first thing you see on your way from the airport into the busy city. Clean, well-kept streets and a feeling of safety makes exploring easy and gives you a sense of independence and security. A small city by comparison to the world cities with green open spaces and quiet suburbs. The Cameron Highlands and the hills surrounding the city are home to rain forest and oragutangs. Penang, one of the thirteen states that make up modern day Malaysia just a short 50 minute flight from KL takes you to an old age of colonialism steeped in history dating back to the 18th century, set in the Malacca straights a key route between the China Sea and the Indian Ocean has played a strategic part in naval and world history. Georgetown the capital is named after King George 3rd and is made up of the Indian Quarter, the Chinese Quarter and one of four forts on the island. Great beaches, a night market from 7pm every night and food of such colour and tastes that is cheap and popular with all tourists.
Paul Liniker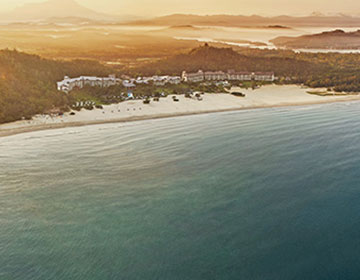 Incredible air fares available
Some of the best Malaysia Airlines fares that we've ever seen are available to Kuoni guests, so ask us for details.