Dolphin cruises
Dolphin Cruises are fast becoming one of the most popular activities for holidaymakers. And it's no wonder; the thrill of seeing these beautiful creatures swimming wild in their natural habitat can leave you entranced, enthralled and even humbled.
These large, gentle, intelligent creatures often swim in the wake of boats and seem to seek out human interaction. Good dolphin cruise operators take special care to ensure they aren't harmed or disturbed by the boat. Many cruise operators carry out field research on dolphin numbers and contribute part of the tour price to dolphin conservation. If you want to learn more just ask the crew, they are usually more than happy to talk about their favourite cetaceans.
If you are planning to include a dolphin cruise as part of your holiday itinerary then check out our guide to some of the best dolphin watching destinations in the world.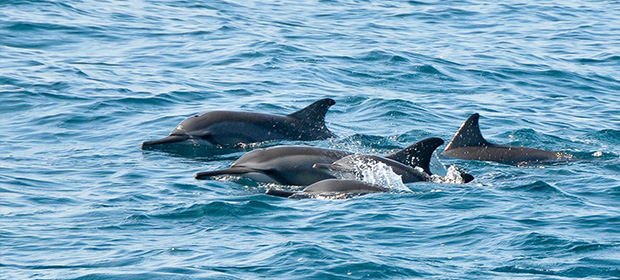 Dolphins in the Maldives
Going on a dolphin cruise in the pristine natural habitat around the Maldives could be the highlight of your holiday. Dolphins can be found in their hundreds around the shores of the Laamu Atoll enjoying the bountiful stocks of small fish and perfect water temperatures.
Sunset cruises set off at 6pm each day for a 90 minute dolphin cruise with a high chance of spotting not just one but several species. Look out for the Fraser's dolphin, stripped dolphin, Risso's dolphin, the sharp-toothed dolphin, spinner dolphin and of course everyone's favourite the bottlenose dolphin. There's a good chance you might also see sperm whales, blue whales and Bryde's whales passing by.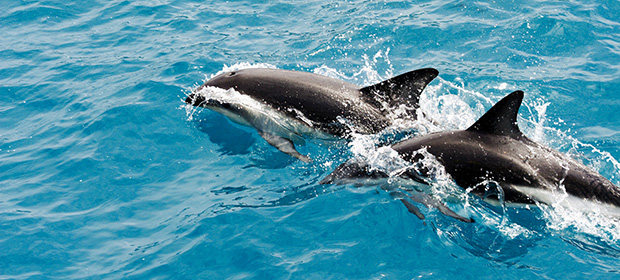 See dolphins in Oman
Oman is one of the world's most ancient romantic holiday destinations. But before you head off to spend the night in a Bedouin camp, take a dolphin cruise and there's a good chance you'll see spinner dolphins, bottlenose dolphins, common dolphins and Indo Pacific dolphins. Dolphins are drawn to the area to hunt huge 'fish balls' made up of shoals of tuna, mackerel and sardines. Pods of Orca are often spotted around the coast and if you are in Oman between December and February look out for migrating sperm and humpback whales. You can also spot dolphins while out on a traditional dhow sunset cruise along the coast of historic Muscat and Port Sultan Qaboos.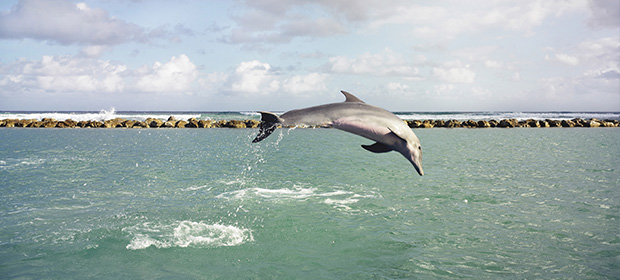 New Zealand's dolphins
New Zealand boasts not only the common dolphin and large bottle-nosed dolphin but also the Hector's dolphin. The Hector's dolphin is one of the world's smallest and rarest dolphins and is only found in the waters around New Zealand.
If you are looking for a dolphin cruise on New Zealand's North Island then head for the stunning Bay of Islands and Coromandel. Cruises venture out to Cape Brett Penninsula and the famous Hole in the Rock on Motukokako Island. Legend has it that Maori's would paddle through this arch hoping the water dripping down would bring luck in battle. These days you are more likely to see bottlenose dolphins, whales, seals and even penguins in the water rather than war canoes.
On the South Island wild dolphins and whales are often seen off the coast of Kaikoura. This region is one of the most scenic in New Zealand and is blessed with an amazing variety of wildlife including whales, albatross, penguins, fur seals and orca. Also, dusky dolphins, known for their acrobatic leaps and interactive behaviour, are resident in Kaikoura waters all year round. So whether you choose to watch from the boat, or join them in the ocean, you'll have an experience that will stay with you for a lifetime.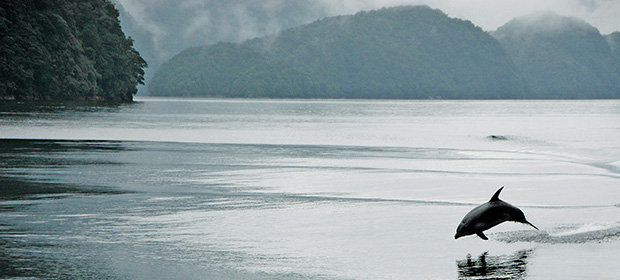 The dolphins of Western Australia
The warm waters of Western Australia are teeming with playful bottlenose dolphins. The best locations are Rockingham, Mandurah, Bunbury and Monkey Mia. Monkey Mia Dolphin Beach is one the world's most reliable dolphin watching spots and the only place in Australia you are guaranteed to see dolphins every day of the year. The bays and islands of Rockingham are home to over 260 wild dolphins. This location offers an exciting new type of underwater dolphin cruise – on aqua scooters.