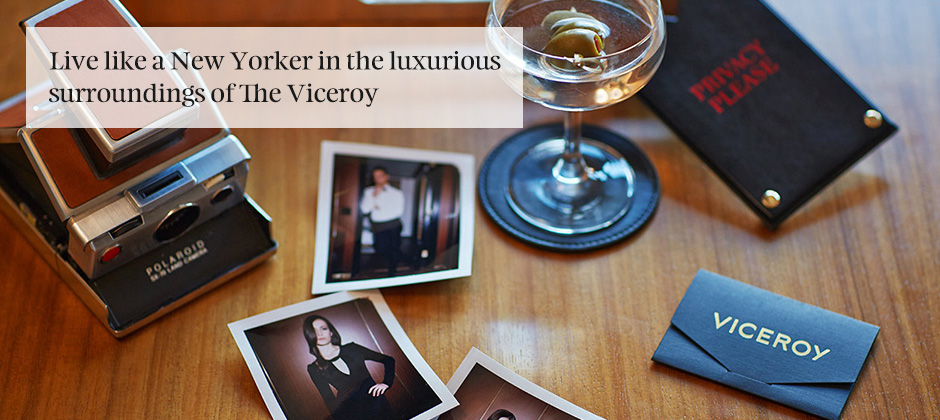 Spotlight on The Viceroy
A true reflection of New York's beating heart, the brand new The Viceroy is a chic, cosmopolitan start to your explorations of the Big Apple. Not only does this elegant hotel provide you with some of the most exceptional views of the city skyline, it also provides luxe living and unparalleled service.
In comparison, there's The Roof and its famed residents. An alluring outdoor terrace which feels more like a sophisticated lounge, you'll soon find a seat to take in the city's glistening skyline and electric atmosphere. In the style of a luxury airliner with surrounding images of the sky, clouds and sea by esteemed photographer Dalton Portella, you're invited to sip on global wine offerings, delectable craft beers and only the finest spirits. Fresh cocktails are complemented by the bar's signature burger, definitely worth a bite.
"New York's skyscrapers are best viewed from up high, the Empire State Building and Top of the Rock both have spectacular views – try one in the day and one at night for a contrasting spectacle."
Nicky Betts,


Kuoni HQ
Not only does Manhattan have these popular sights, it also has some of the best restaurants, bars and cafes in the world, each with their own flair for food and drink. From your morning cup of Joe to a sizeable slice of cheesy pizza, there's a variety of dining experiences to be had. Before you visit, take a look to see if there are any food or drinks festivals, like New York City Restaurant Week held twice a year in February and July – it'd be a shame to miss out.
If you'd like an expert opinion whilst you're out there, then ask the helpful concierge team who'll be happy to put together a custom itinerary for you and make reservations on your behalf.
"The subway is undoubtedly the best way to travel around New York. It's fast, cheap and incredibly easy to get a lot of sightseeing done in a single day."
Louise Collins, Kuoni HQ

Unwind
If walking around the streets of New York doesn't get your heart all of a flutter then there's always The Viceroy's Fitness Center. Whether you unwind with an invigorating workout or you prefer a stress-relieving session to yourself, The Viceroy focuses on breath, balance and beauty. The emphasis on holistic well-being, which means more than a visit to the gym perhaps, means you can take part in stress-relieving Yoga and Pilates sessions too during your stay. If you'd rather not leave your room, then the full-sized spa products by Neil George will come in rather handy.
If you'd like to gaze out onto 57th Street from your room, then opt for the Viceroy Terrace or if you want views of Central Park then choose the Viceroy Park View or Park Suite, where you'll have never-ending views Manhattan's largest green area after waking up in your comfy, king-sized bed.
Have a look for yourself...
Want to know more?
---
From delicious morsels of New American dining to delicious fresh cocktails and park views to relaxing Pilates sessions, the Viceroy New York has it all and it's waiting for you.