Our guide to Hawaii island hopping
Hawaii may be one of the USA's 50 states, but it totally stands out from the crowd. Every isle in this diverse archipelago has its own unique character, so we highly recommend a Hawaii island hopping escape. Take a look at our Hawaii experts' insider guide to inspire your tailor-made adventure on the shores that gave us the surf board.
Ride the waves in Oahu
Oahu is often nicknamed the 'Gathering Place', as it's Hawaii's busiest island. Honolulu is like most American cities, with big shopping malls and unlimited drive-throughs – except that no other American city has a Waikiki, the birthplace of surfing. Waikiki is an endlessly entertaining and sophisticated beachfront neighbourhood, where towering high-rises fringe sweeping golden sands. Here, spotless streets sparkle with designer boutiques sitting alongside kiosks selling local 'shave ice' – a famous Hawaiian dessert similar to a snow cone.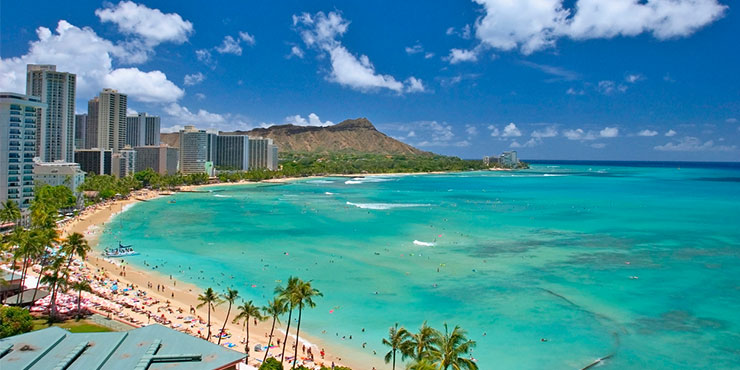 Beyond Waikiki, a more sombre yet essential experience is visiting nearby Pearl Harbour, and if you head north, you'll find an entirely different pace of life on Oahu's legendary North Shore. If Waikiki is the birthplace of surfing, then North Shore is where the sport first went 'big'. Picture hidden beaches, monstrous waves and a hip foodie culture – don't miss Ted's Bakery's coconut cream pie. You'll also find the exquisite botanical gardens of Waimea Valley here; and whale watching is a must.
Where to stay in Oahu
The renowned Moana Surfrider resort in Waikiki put Hawaii on the map, and has watched Waikiki grow up around it over the past 100 years.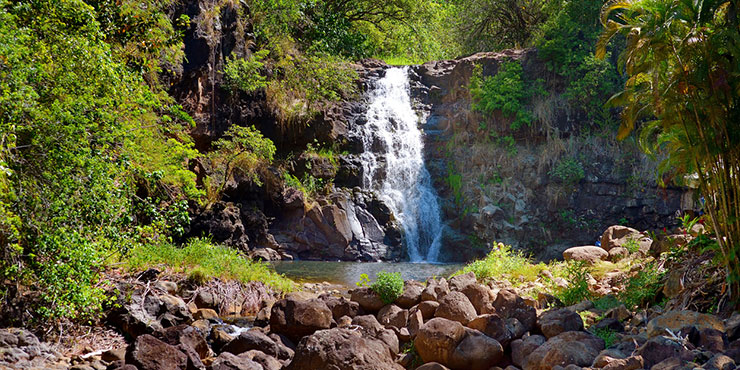 Watch the sunrise from Maui's tallest peak
As the second largest of Hawaii's four main islands, Maui is also the second most visited. When you think of Hawaii's emerald landscapes, white sandy beaches and lazy palms that lean over teal waters, Maui is the image that'll most likely come to mind. The 'Valley Isle' is more peaceful than vibrant Oahu and is a big favourite for honeymooners from around the world. A popular spot is the beach resort area of Ka'Anapali on the island's west coast. Here, you'll find a mile-long honey-coloured beach backed by a handful of resorts, with options for most budgets. Glamorous Wailea on the south west of the island has some of Hawaii's best beaches, as well as the most exclusive hotels on the entire archipelago. An isand hop here isn't complete without a visit toHaleakala National Park – its 10,000 foot summit is one of the world's finest spots for watching the sunrise. Access to Maui's tallest peak at this time is limited, so talk to us about making a reservation in advance.
Where to stay in Maui
Small, boutique retreats are a rare find in Hawaii, and The Plantation Inn is a true gem, with an old-world vibe and award-winning French restaurant.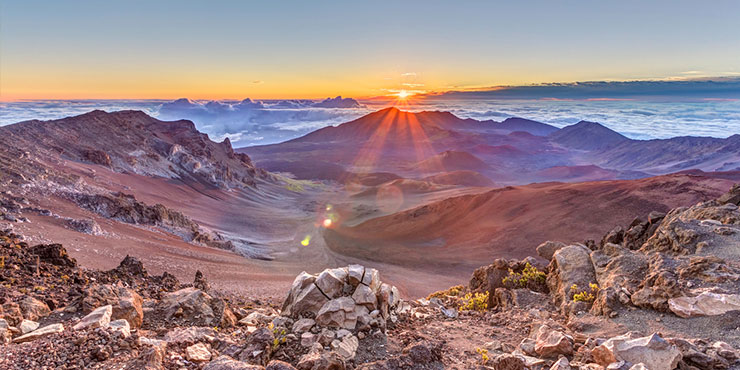 Get away from it all on Kauai, Hawaii's 'Garden Isle'
Less-populated Kauai is, for many, considered the most beautiful of Hawaii's islands. Laid back to the point of horizontal, Kauai is a place where you can escape the crowds and just switch off. Here lies a rugged landscape of deep green gorges, burnt orange canyons and thrashing waterfalls. The spectacular Na Pali Coast State Park is preserved by its inaccessibility; if you're feeling adventurous, you can have a Jurassic Park moment on a scenic helicopter flight or snorkel off the remote shores. Poipu on the southern shore is sheltered from a lot of the island's rainfall, but the wetter northern shores around Princeville are especially breathtaking – the downpours just add to the natural drama of the region.
Where to stay in Kauai
The St. Regis Princeville Resort is an exquisite five-star hotel overlooking Hanalei Bay, with a championship golf course and rainbow-coloured reefs for snorkelling.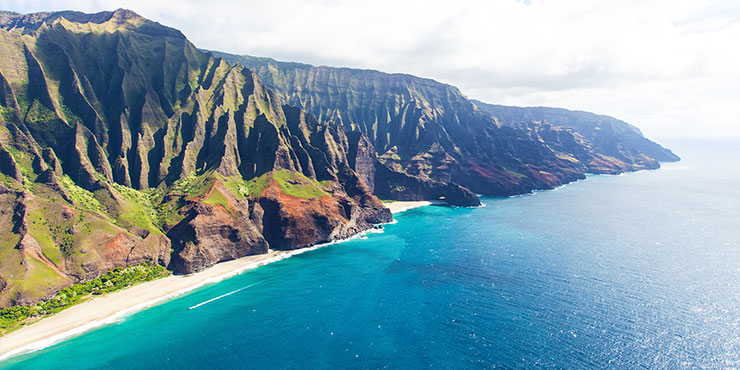 Discover active volcanoes on the 'Big Island' of Hawaii
The Island of Hawaii is the largest in the archipelago and fondly known as the 'Big Island'. Hawaii is an island of two halves, separated by two of the greatest mountains on earth – Mauna Loa and Mauna Kea. These mammoth 14,000 foot volcanoes are so enormous that the peaks often disappear into the clouds and haze. Fresh, tropical rains soak the eastern slopes, creating a wild and lush landscape of forests and waterfalls tamed into an agricultural paradise around the town of Hilo.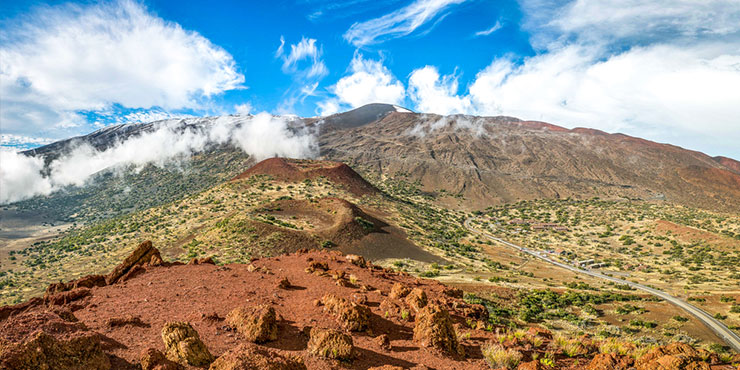 Hawaii's western half is where you'll find its caramel-sand beaches and stunning coastline. Hawaii's most active volcano, the giant Kilauea, sits in the heart of Hawaii Volcanoes National Park – the incredible lava flows are a real spectacle. The Island of Hawaii is also arguably the archipelago's historic heart, with the quaint, ancient streets of downtown Kona once home to King Kamehameha, the first ruler of the Kingdom of Hawaii. Kona is also famous around the world for its extraordinary coffee.
Where to stay on Hawaii
The relaxed and contemporary Waikoloa Beach Marriott Resort & Spa is a great base for exploring the island, with Anaehoomalu Beach on its doorstep.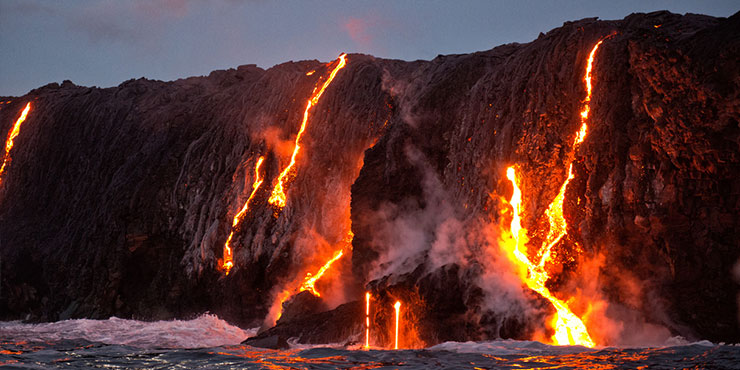 Inspired?
---
A Kuoni holiday is all about you, so tell us what you want from your Hawaii island hopping adventure and we'll tailor-make your escape from scratch. We've travelled all over this special archipelago and can help you decide which islands are right for you – just search for one of our Hawaii experts or order our USA brochure
This feature was published on 16 August 2018. The information within this feature is correct to the best of our knowledge at the time of print.