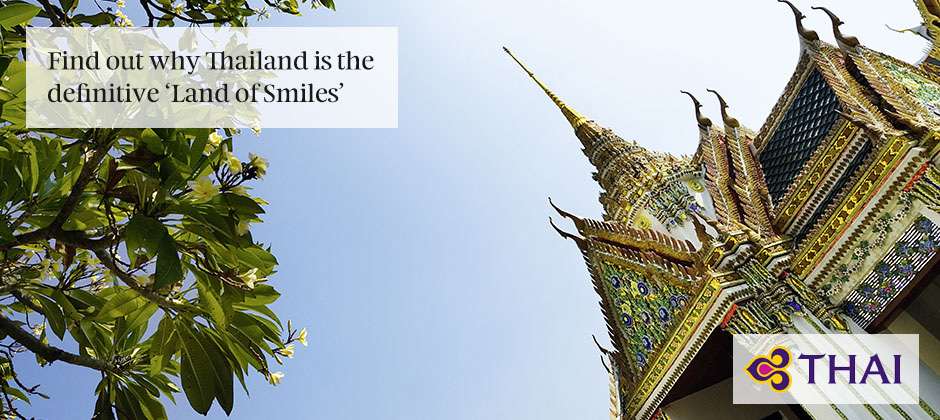 To Bangkok and back
From my arrival at London Heathrow to boarding my flight to Bangkok, my experience was nothing but splendid. After checking in, I was whisked away to Thai Airway's welcoming lounge where, as you can imagine, there was every kind of alcohol on offer for a relaxing tipple and all the free Wi-Fi I could use to contact friends and family.
Once aboard, I received a warm welcome from the immaculately dressed airline stewards, this was just the beginning of a trip filled with friendly Thai hospitality. I knew I was in safe hands. After a delicious meal of the finest Thai Green Curry I'd ever tasted, I drifted off, albeit full of excitement for my first trip to Thailand.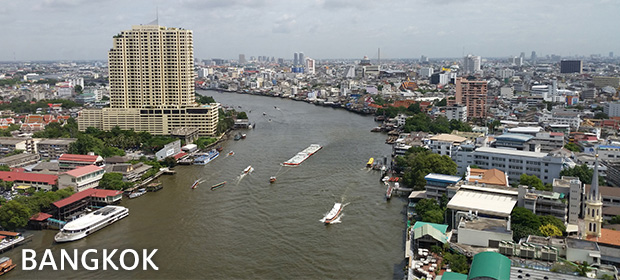 On my arrival into Bangkok, I noticed the heat and then I had the realisation that I might be in one of the happiest cities in the world. Everyone was smiling, no matter what they were doing, it was so refreshing. Making my way into the centre of the city, it was like being in another world. The traffic was like nothing I've ever experience, bustling but charming in its own way with everyone weaving in and out of one another. As I looked up, the sky was full with high rises but with the odd glint – 'hidden' temples - beautifully decorated amongst the backdrop of Bangkok's modernity.
But this view was nothing compared to that of the rooftop of the Rembrandt Hotel where dinner was to be at the famed Rang Mahal. I'd heard great things about this Indian restaurant, so I was already keen to try a dish (or two).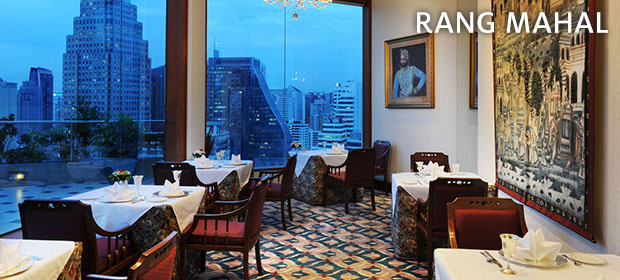 As soon as you enter, you're immediately hit with the grandeur and lavishness of Indian Maharajas. Decorated by intricate mirror work and paintings, the banquet hall is nothing short of impressive. The dishes, created by chefs flown in from India, are cooked with the freshest herbs and spices to ensure every mouthful is packed with a heavy aroma and flavour. I'd highly recommend the Tandoori Prawns, Murgh Tikka Masala and Gajjar Halwa, the most delicious combination of reduced milk and carrots, garnished with nuts. It was then that I was introduced to the view. Bangkok is a beautiful city and nothing confirmed this more than looking out across the night sky and seeing glistening lights all around me, and it wasn't even the stars.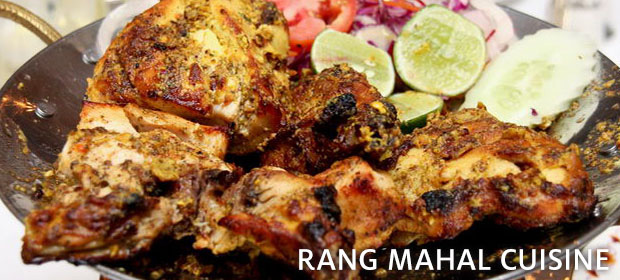 After an evening of Mekong whiskey and arguably, the best food I've ever eaten, today was filled with exploring the city. First stop was Bangkok's colourful flower market, Pak Klong Talad.
The biggest wholesale and retail fresh flower market in Bangkok, it had all kinds of flowers, including roses, forget me nots, orchids and lilies. But more beautiful than these flowers were the people themselves; they are genuinely the friendliest I've ever had the pleasure of meeting. It was apparent they'll do anything for you, just to make you happy and this made my experience here the best of my trip, even in comparison to Wat Arun.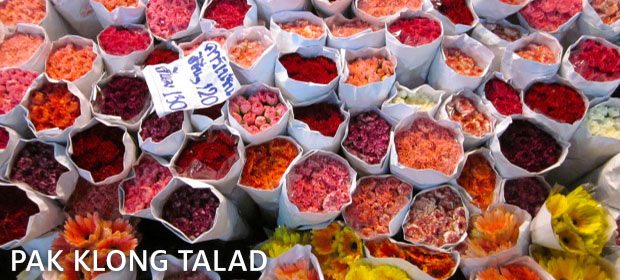 Sitting majestically on the Thonburi side of the Chao Phraya River, the legendary Wat Arun (Temple of Dawn) is one of the most striking riverside landmarks in Thailand – it really is a sight to be seen. It's a stunning architectural marvel made up of tiny pieces of crockery and a clear talent for craftsmanship. As I climbed the main temple, built as a representation of Mount Meru - the centre of the Buddhist cosmological world, I could see the Grand Palace sparkling across the river. It was then that I had to navigate my way back down the steep steps, to explore the rest of the site and take far too many photos but it was absolutely worth it. I'd encourage anyone who visits Bangkok to spend a few hours here, it's a haven amongst a bustling city.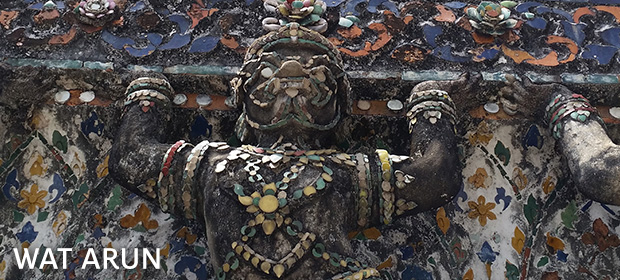 Then it was on to the Grand Palace via river boat, an experience not to be missed if you're looking to get around Bangkok quickly, just be prepared to get a little wet! You'll first notice the Palace from its domination of the skies with its fluted spires and golden domes. Upon entering, the beauty of the Palace grounds is only matched by its stately buildings; the ones to visit include the Throne Hall, State Reception Hall and Coronation Hall, each richly decorated in its own style. As I walked among the Palace grounds, it was hard not to notice the Buddhist architecture, from mythical giants, garudas and monkey warriors to magnificent murals around the outer walls depicting gallant deeds.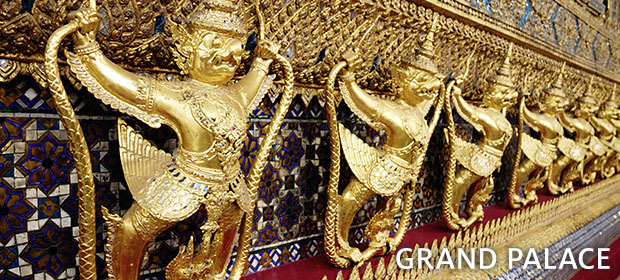 But if you do one thing among this glorious estate, visit Wat Phra Keo, the Chapel of the Emerald Buddha, which houses the highly revered green image of Lord Buddha. The 75cm high statue of translucent jade sits atop an 11 metre golden pedestal and it's unlike any other iconic statue I've seen. In all honesty, it's hard not to shed a tear. This is one place I'll never forget.
To finish my morning of sightseeing, I indulged a little with my first Thai massage at the Royal Orchid Sheraton Hotel & Tower's Mandara Spa. A centre of wellness and relaxation, this spa offers a range of the finest traditional and contemporary spa and beauty treatments but in an intimate, authentic Thai setting. My luxurious treatment room had an unsurpassed view of the Chao Phraya River and Bangkok's inspiring cityscape, perfect for reflecting on the day's sights.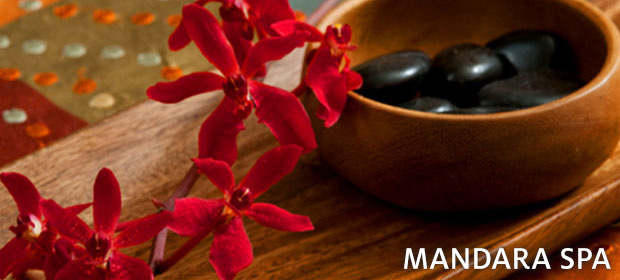 Feeling fully relaxed, I ventured to the well-known restaurant known as Cabbages and Condoms for my last meal. Definitely the most amusing dining experience of my life, you're welcomed by figures made out of condoms, even Santa! Then inside is nothing short of magical with fairy lights hanging from what seems like a lush rainforest. This place is interesting as it has a very unique message – to promote safe sex, you'd never guess from the name right!? Not something you'd normally read about with your evening meal, the food more than took centre stage with each dish being tastier than the last. I recommend trying the Thai cucumber salad packed with chillies, just be prepared for its kick!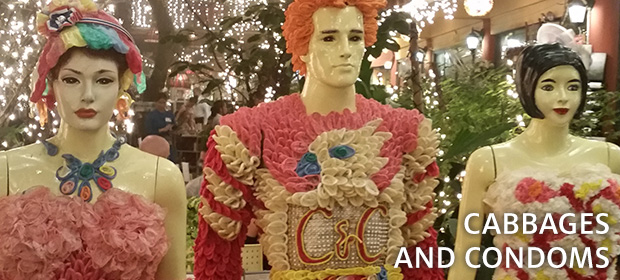 The next morning it was time to leave but I was ecstatic to see I had a seat in Thai Airways Royal Silk class (business). It couldn't have been a better way to end my journey. As I took my seat, I felt like royalty, presented with a three course dinner menu and a glass of champagne, it was clear this is how flying should feel. With my own lounge-office-bed set up, I could do anything I wanted from watching the many films on offer, to reading my book, to taking a comfortable kip, and it's fair to say, I enjoyed every minute.
Bangkok and my experience with Thai Airways was nothing short of magical, it felt like being enveloped in a world of smiles, colour and heritage. Simply unforgettable.
Inspired?
---
Charming people, exciting cities, beautiful beaches, flavoursome cuisine and fantastic value.