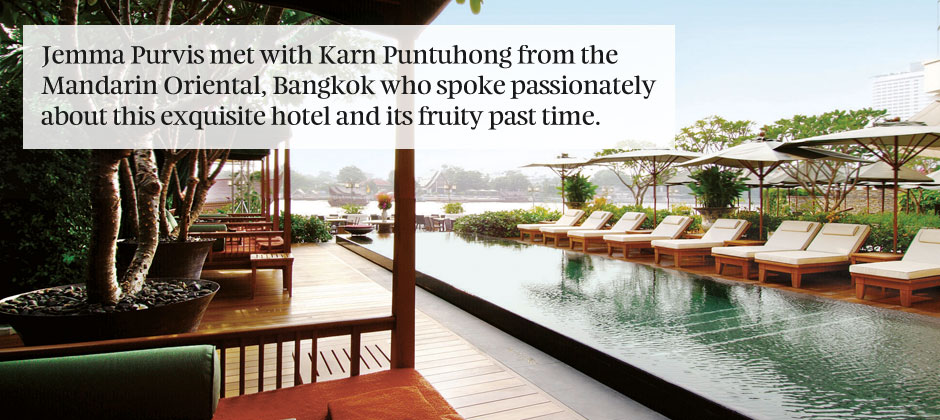 Get fruity in Bangkok
Jemma Purvis met with Karn Puntuhong from the Mandarin Oriental, Bangkok who spoke passionately about this exquisite hotel and its fruity past time, and here's what she discovered.

So, what's the weird link with fruit I hear you say? Take a look at this picture.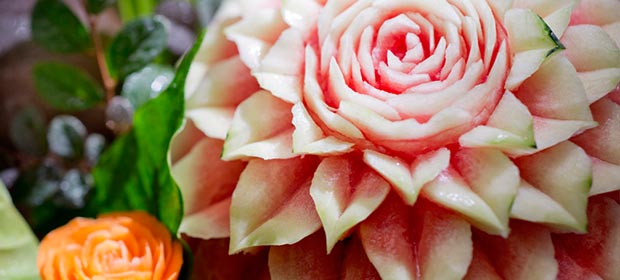 Fruit carving lessons are just one of the unique experiences guests can enjoy when staying at the hotel. Imagine learning this new skill – you could throw a dinner party and impress with your beautiful fruit carvings. This was just the start, there were many other aspects tempting me to stay.
Personally I'm a lover of books so the literary link was a big plus. The Mandarin Oriental, Bangkok, has a historical and traditional association with several world renowned authors, which is the reason why 10 out of the hotel's thirty-five suites are named after authors who have stayed at the hotel. To name drop a few, they have Joseph Conrad, Somerset Maugham, Noel Coward and Wilbur Smith suites, all built in 1876. Each suite is designed according to the author's personality within the written page or real life.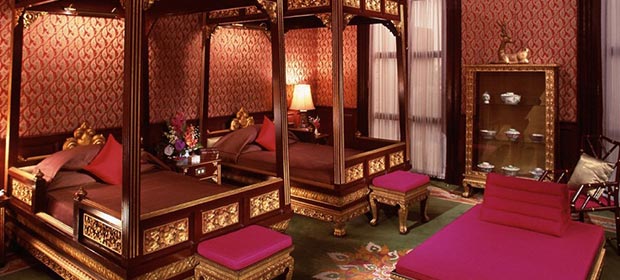 Food is another thing that captures my attention. I love good food. I have eaten in the Mandarin Oriental in London before so I have been lucky enough to taste the delights that this hotel group has to offer. So I was intrigued to hear how the hotel in Bangkok allows guests to get involved with a culinary experience. It starts with a guided trip to the Or Tor Kor market with celebrity chef Vichit, Executive Thai Chef of Sala Rim Naam, the hotel's fabulous Thai restaurant. Guests can buy the fresh ingredients from the market and then enjoy eating at the chef's table later that evening. For those who like to get stuck in, the hotel hosts the Thai Cooking School – one of the oldest Thai cooking schools in Thailand! Guests can learn to cook Thai dishes, followed by lunch with the chef.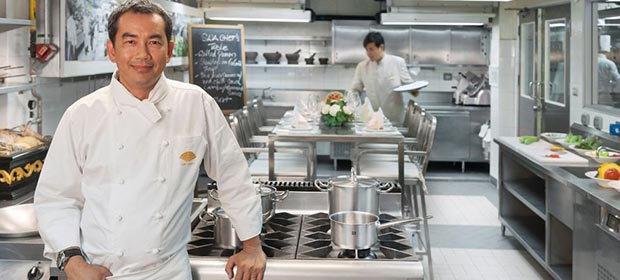 And finally, a fantastic way to get out and about is via the Chao Phraya river. The hotel can arrange tailored trips to suit guests on their private long tailed boat thanks to their ideal location by the riverside, taking in sights such as the Grand Palace, flower market, royal barge museum, Wat Po with the reclining Buddha and Temple of Dawn. A much more relaxed way to see the city in my opinion.
I came away from my time with Karn feeling inspired and wanting to return to Bangkok. Only next time I quite fancy adding on a fruit carving lesson or cookery course at the Mandarin Oriental, Bangkok.
Inspired?
---
Hemming the banks of the Chao Phraya River, Bangkok's most famous hotel has long been the choice for royalty, dignitaries and the most distinguished travellers seeking the ultimate in elegance and sophistication.
Share this on Facebook
Share on Facebook

Share this on Twitter
Share on Twitter