Climb Mount Kilimanjaro: Will Travers interview
As the son of Virginia McKenna and Bill Travers, famed for their roles as Joy and George Adamson in the classic wildlife film, Born Free, it was perhaps inevitable that Will Travers would become inherently linked with wildlife – and African wildlife in particular. After the destruction of Pole Pole, the elephant at London Zoo in 1983 (star of An Elephant Called Slowly, tragically never released back to the wild despite the Travers' campaign), Will helped form, with his parents, the charity Zoo Check. Dismissed as a 'nine day wonder' by the then director of London Zoo, they continued to gain support and in 1991 Zoo Check became the Born Free Foundation that we know today.
With a self-declared "huge affinity for the African continent and its people and, through its people, its wildlife", Will has visited Kenya more than 60 times, as well as other African countries from Zambia to Sudan, and works incredibly hard alongside a small team in Born Free's West Sussex office to help fight the plight of wild animal suffering worldwide.
Will, what was your experience like climbing Mount Kilimanjaro?
It was fantastic. You go through all these types of habitat: cultivation up to 2000m, forest to around 3000m, then the heather zone, moorland zone, alpine desert, and then finally, of course, the summit.
One of my favourite moments was actually the lower zones, where there are no trees but you have vegetation of up to ten feet high – so your sense of scale is incredibly distorted. The possibility that you may encounter wildlife there adds another level of excitement, but even if you don't the scenery is so spectacular you can't help but be blown away by it all. And then you stand there on what feels like the top of the world. We had a beautifully clear day so we could look out for miles. If you consider that the height of Ben Nevis is 4,406 feet, and the point we reached (Uhuru Peak) is 19,350 feet, it gives you some perspective! And you share it all with a group of people that become your pals as you go up. There were nine of us – some having never done a climb before – and all of us made it. The Kilimanjaro Climb is not a technical climb, more like a serious mountain walk, but there are moments where you have to pay attention, which is why you have expert guides with you.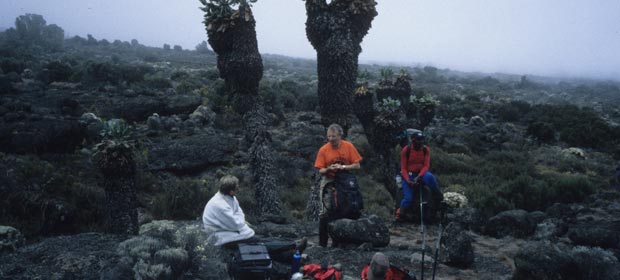 Do you have any tips for people doing the climb?
In terms of preparation – I did lots of walking. And we were advised to learn what I think is called the 'Kilimanjaro shuffle', where you take a step and then lock the knee, and then you take another step, so that your walk becomes very deliberate. It gives you a nice solid platform for the next step.
Once on the mountain – don't rush it! You need to take your time, see everything, and enjoy it. And be sure to take pictures. Sometimes people are so busy focusing on putting one foot in front of the other that they forget, and it's really important to remember that you can't think 'oh I'll get that next time'. The descent is quite fast compared to the climb up, so make sure that your boots aren't rubbing as you race down, and treat any blisters immediately.
There's also that added incentive when fundraising to push a little harder, and in return you get an extra great feeling at the top. I can't thank the people doing Kuoni's Mount Kilimanjaro Charity Challenge enough. It is a challenge but it's a great experience.
We hope that Kuoni Events' Mount Kilimanjaro Charity Challenge will raise as much as possible for Born Free. Can you tell us what the money might go towards?
An important project for us is helping to protect lions – the symbol of Born Free. The number of wild lions in Africa has fallen by more than 50% since 1980. The reasons for that are many, but one that we're focussed on is retribution killings; that is when a lion kills a goat or a cow and local people find
that lion – or any lion – to kill in return. Lions often kill livestock because they are so poorly protected at night time, contained in a circle of thorns which are very easy to penetrate. So we have developed a lion-proof boma or stockade. We add a circle of wire mesh which serves as a barrier and deterrent.
So far we have built over 50 lion-proof bomas, which cost just over £1,000 each. Some of these enclosures contain 300 livestock; the livelihood of 50 people. If a lion hasn't attacked, people are not going to kill unnecessarily, so these bomas help create more harmony between local people and predators.
We're also working on two projects in Ethiopia. We are in the process of building the country's first wildlife rescue centre, Ensessekotteh, which is going to have a very strong educational ethos as well as a veterinary clinic that we will share with the community and wildlife department. We are also the main supporter of the Ethiopian wolf conservation project which protects the rarest member of the wild dog family, as there are only 500 left in the world and they are only found in Ethiopia. Inevitably, we continue to fight the ivory trade, which remains a problem despite the international ivory trade ban. Legal one-off sales of ivory have stimulated demand and pushed up the price of ivory. This is a huge incentive to poachers and in Tanzania alone, some people estimate 10,000 elephants a year are being killed.
What are the main challenges that Born Free faces?
Every year we have to raise at least £3 million. We're always being asked to do more and we have to make some very hard choices because there is only so much we can say yes to, and I know that people out in the field rely on Born Free to fund them. We work in difficult environments, with challenging people and issues – for instance trying to reconcile local communities who see lions as a danger, whereas we see lions as a precious resource. We have to try and find the right language that works and then the best solution.
"The scenery is so spectacular you can't help but be blown away by it all"
Will Travers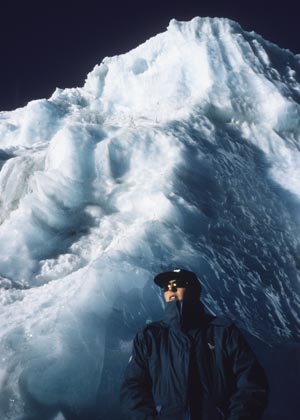 What's next on your agenda? Do you ever get time to go on holiday?
I visited Burkina Faso in September and I'll soon be travelling to the USA to take part in a series of fundraisers. I will be attending a UN meeting on great apes in Paris in November and am then hoping perhaps to go to Central African Republic over Christmas on vacation – well, a working vacation. I do try to have a proper holiday – I spent a few days on holiday in France with my mum and partner for a bit of a break. But I'm so lucky because I have the chance to go to a place like Central African Republic, which is not on the well-trodden path, but we know the director of wildlife so get a slightly behind the scenes experience. These areas of the world have incredibly small budgets – the former director of wildlife in Sierra Leone had no budget at all! If Kuoni's Mount Kilimanjaro Charity Challenge raised £30,000, in countries like Kenya it would make a huge difference – we could hopefully build 30 lion-proof bomas – but in some countries it could fund half the wildlife department for a year. People shouldn't be put off by thinking they are only raising a small amount of money, because a little truly goes such a long way.
Inspired?
---
With Kuoni, discover the delights of 'Kili', from the African wildlife on the forest-enclad lower slopes to views of icefields and complete wilderness up high. The Kilimanjaro Climb is a literally breathtaking camping trek.


We'd love to hear your feedback! Leave a comment on this article below: