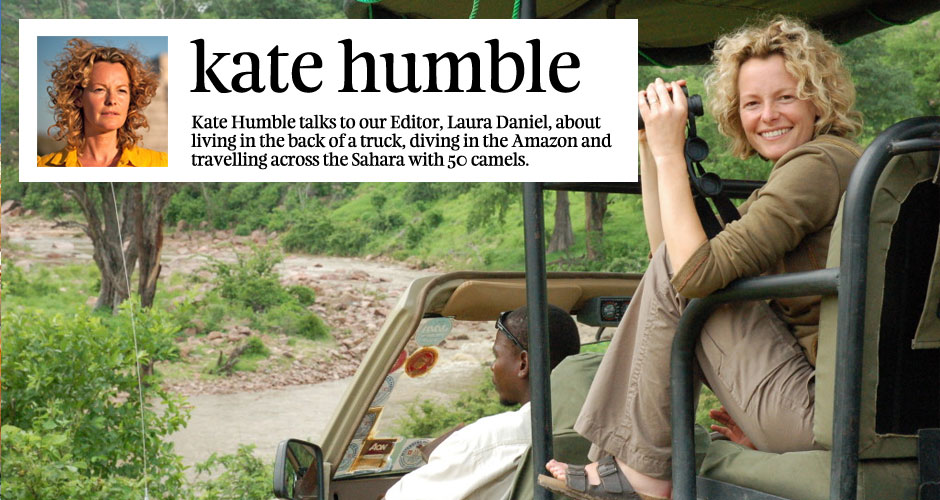 Interview: Kate Humble
When you left school, you travelled around Africa. What stands out from those years?
It felt like really travelling. There were no mobile phones, no internet and very few guide books. You went to a country and you explored. It was a real experience, a departure from your everyday life. It was much harder to keep in touch with friends, whereas nowadays you can visit internet cafes and update Facebook. Back then I was travelling on my own; it meant it was a much more immersive experience compared to what people have now. It really was like going to another world and it opened my eyes to what an extraordinary planet we live in.
"...it opened my eyes to what an extraordinary planet we live in."
Kate Humble

I hear you had some interesting jobs during your travels…
I did work on a crocodile farm hatching crocodiles! I was also a very bad waitress – I got sacked from that job. I was an equally bad model, too, who hated having her photo taken. The crocodile farm was fascinating and the other job I enjoyed was being a driver and a cook for a safari company. I did mobile safaris from Cape Town up to Victoria Falls, driving right the way through Botswana. The poor clients had the misfortune of having me as camp cook. I'd never cooked on a camp fire until that point.
Have you been back since?
I went back in 1994 just after the first democratic elections where Mandela became president. We actually went back with the intention of emigrating and we had applied for work permits, which were turned down the day that we were leaving which was a shock. But I suppose if Mandela had been handling out work permits to two white people who could do nothing more useful than make television programmes, it would have made a bit of a nonsense of his new South Africa.
So we thought we'd go for as long as our savings would last and it was a really fascinating year to be not just in South Africa but in southern Africa. To see new countries emerging, countries like Namibia which had just got its independence and Zimbabwe and Mozambique which were just emerging from civil wars. We bought an old 'bakkie' – a pick-up which had a curious habit of its gearstick becoming detached from the rest of the car while we were driving along, which was fairly hairy. We drove 30,000 kilometres around southern Africa, living in the back of the truck for three months. It was a pretty extraordinary journey.
What are the most memorable destinations that you've visited during your time presenting the Holiday programme?
I started my career at the BBC working on Animal Hospital. They asked if I would come back and work on the next series but I needed a job in between. The next day I got a call from the producers of the Holiday programme who had a vacancy available. So I went in as an assistant producer and on my second day in the office I was called into the boss's office and I thought, what have I done wrong, have I been sacked? She asked me if I'd ever presented before.
Were you horrified or were you up for the challenge?
I was terrified! I said I really didn't want to but she asked me to do a screen-test. In the end it was easier to do it than protest. I thought it would be rubbish and everyone would give up on the idea quite quickly – and that was the start of it all. I told them there was no point in sending me to smart beach resorts because I wasn't a smart beach resort type of person. I was much more interested in doing stuff in the UK or things that other people wouldn't be so happy to do, like camping. One episode involved cycling across northern England with Harry Enfield, which was really good fun. I ended up having my own slot called Humble Holidays – holidays that cost under £300. During my time on the show, I did a charity bike ride across the Himalayas in northern India, which was hard work but amazing; I went to Budapest, which was then emerging as a city destination and was a fascinating time to be there; and I went on holidays in the UK. I learnt to dive during that time in Cornwall, too.
You've got a real passion for diving. What are the most unusual dive spots you've tested?
I did a series called Amazon Abyss, which was an interesting diving expedition given the Amazon is a very big, brown river. I didanother in the Pacific, diving in places like Truck Lagoon, which is on a lot of divers'wish lists, as it was the scene of an amazing battle between the Americans and the Japanese. There's an enormous amount of ship and plane wrecks under the water. It's a war grave and quite spooky in a way. It is extraordinary diving. Diving is something that I absolutely love.
When you were diving in the Amazon, could you see clearly after a certain depth or is it very murky down there?
It is very, very murky. It is a deep river in places, 18 to 20 meters, and there were some alarming creatures such as piranhas and bull sharks. It takes a leap of faith to get in and there were times where we'd be in a lake or tributary and literally not be able to see a thing, just feel things bumping into us. It was quite scary.
What has been your biggest adventure so far?
I would say the biggest adventure, the most challenging journey, is one that I did at the beginning of 1999. It was something I'd wanted to do for probably a decade and it couldn't be undertaken lightly or sorted out quickly, it was always going to be a slow burner. I had heard that salt was still traded in a traditional way through the Sahara and I really didn't know any more than that. It was one of those mysterious bits of information that sticks in your head for no apparent reason. I started doing a little bit of research and found out that Timbuktu was the centre of this salt trade in Mali. Mali was at war in 1996 and that whole region was a no-go area, sadly like it's become now. The idea kept niggling away and I knew I had to cross the Sahara with these traders as they were the ones who were going to know the desert best. If you are going to do this sort of journey, it's got to be authentic and be done properly.
I ended up in Timbuktu with my husband and we got in touch with a local tribesman who wasn't trading anymore but his family was. We spent 35 days' travelling 1500 kilometres by camel up to the remote, very difficult to get to salt mines and back. We lived with our camels and did everything the tribespeople did. Just three men, 50 camels and me for 35 days. It was a journey I don't think I'll ever be able to replicate.
The most astonishing thing about this journey, which was astonishing every minute, was the extraordinary hospitality and care that we were given by people who we had just landed ourselves on. They didn't want us there particularly and the last thing they wanted was the responsibility of two foreigners, one of whom was a woman, neither Muslim and neither who had the slightest idea what to do with a camel. They were without doubt the most generous spirited and most hospitable people I've ever met. When I read about what's happening in Mali now, it just breaks my heart.
Your love of wildlife – and now camels – has led you to present programmes including Animal Park at Longleat Safari Park and Wild in Africa, filmed in Tanzania. What is your favourite destination for wildlife spotting?
Africa is obviously right up there on my list and what's so wonderful about Africa is that it is an extraordinarily diverse continent with a huge range of different habitats, including great marine life, particularly off the coast of southern Africa and Egypt. Africa has huge, vast plains, remarkable migrations and spectacle – seeing those wide open spaces interrupted by an acacia tree and a stalking lion is pretty special. You can go to all sorts of parts of the world and see fantastic wildlife if you know where to look and you give yourself time to find it.
You presented Springwatch for seven years. What was the highlight of presenting this long-running show?
The great luxury of doing Springwatch was having three weeks dedicated to a really exciting time in the natural world's year, at the peak of the breeding season when all the migrants are back and our native birds, like our blue tits and blackbirds, are on the second brood. I watched this incredibly dynamic and exciting part of the year unfold in front of my very eyes with the benefit of fantastic technology. To see them going through the real soap opera drama of the breeding season was the main highlight of doing Springwatch.
What are you working on now?
At the moment I've just finished filming three different projects, one about the sun, one called The Great Big Energy Saving Challenge, which will come out later this year on BBC One and a series called Wild Shepherdess which is looking at the history and the evolution of herding. I live on a small holding but we've got a farm just down the road from where we live in the Wye Valley in Wales. Ludo, my husband, and I also run courses for people who are interested in connecting back with the countryside, with nature and with farming, so we do a whole range of courses – from foraging and charcuterie right through to looking after pigs, sheep and poultry; and lovely rural skills such as hedge laying.