Interview: Charley Boorman
You rode your motorbike through Africa with Ewan McGregor during the Long Way Down, ending in Cape Town. Was this the series that inspired you to return to South Africa?
In between the Long Way Round and Long Way Down I'd filmed By Any Means where I travelled from Ireland to Sydney overland in any form of transport; but I also did the Dakar Rally in 2006. In each series we'd gone through countries relatively quickly. I wanted to travel through South Africa because it's somewhere I love but I've never really got the chance to have a good look around.
The idea was to show people there is so much more to South Africa than a safari. You can go shark cage diving, power motoring or walking up into the mountains. South Africa also has an amazing history and in one emotional episode we speak about the Boer War – there's a real mix. Everything that Ewan and I have done, from the Dakar Rally to these travel shows, is something you can go out and do yourself. All of these things are achievable – it's not like climbing Everest which is so extraordinary only a few people can do it. The Dakar Rally is bloody dangerous, though. The year I did it, 265 bikes started and only 60 bikes finished.
"There is so much more to South Africa than a safari."
Charley Boorman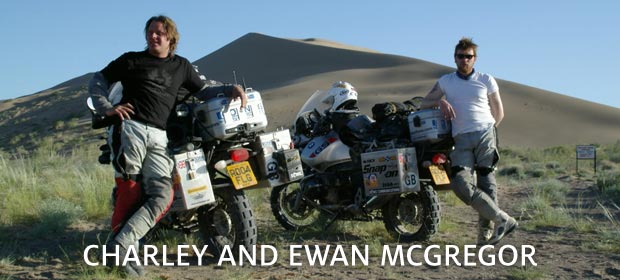 We can arrange for our customers to experience shark cage diving in South Africa. Would you recommend it?
Absolutely, 100 per cent. Although people do it all the time and people don't get hurt, it's still a terrifying thing to do, especially when you have a five-metre great white shark with its mouth open, its teeth projecting out, hitting the cage and you're only half a foot away – that's pretty awesome. But the cage does look like an oversized shopping trolley!
Did you visit the Born Free Shamwari project?
Yeah, it's lovely. We all grew up with tales of Elsa the lioness and the Born Free movie. I was a big fan. It was great to see these majestic lions, many from Europe or Eastern Europe; some from private collections in back gardens and another was a circus lion that's grown up its whole life in a cage. These animals have been rescued and some will never be released into the wild as they don't know how to survive so they would never make it. They are given these beautiful, really big enclosures, and sometimes they are teamed up with a female and put out to pasture so they can make whoopee for the rest of their lives. They get fed lovely meat and they are looked after so they can live their lives out.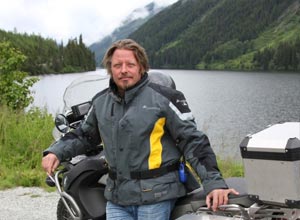 What was your impression of the Garden Route?
It's stunning. The whole coastline of South Africa is beautiful. The great thing about South Africa is there is a bit for everybody really. The Garden Route has amazing surfing spots up to Durban and there is the most wonderful food all the way along, with incredible wines. And it's cheap when you are there. Compared to European prices, it's a really good deal.
Where did you stay?
We did a bit of everything. Camping for two and half months wouldn't have been very fun so we picked our spots. I don't think there is anywhere else in the world where they have better lodges. There is one thing the South Africans know how to do and that is hospitality. It is incredible at some of these places, with breathtaking locations. Some have their own vineyards and are set in some of the most beautiful places in the world. You just think, oh my god, this really is phenomenal.
Does your family go with you?
The hardest thing in the world is leaving your kids and wife behind and it's often for long periods of time. When I'm on one of these big trips, I try to finish at the beginning of the summer holidays so they can come out and meet me. I can choose all the really nice bits and I try to go back a little of the way I came so the kids get a taste of what I've been through.
"This mega pod of dolphins came along... We slipped into the water and they swam around us and past us... Incredible."
Charley Boorman

What's been the most memorable moment of the trip?
For me it was the sardine run, off Port St Johns in the Eastern Cape. Sharks, dolphins, whales – anything that eats fish – is there to try and get a meal. We were out on this incredible coastline with dramatic cliffs and chasing after these sardines. At one point we were going along and this mega pod of dolphins came along, there must have been over 500 of them. We slipped into the water and they swam around us and past us. That was something pretty special, it really was. Incredible.
Is there anywhere left on your wishlist?
Oh yes! The whole rest of the world, including the whole of South America.
Will there be a Long Way Up through South America then?
Yeah, I think so. It depends as they take a long time to do. Ewan is really busy these days being this A-class actor and has just got a Golden Globe nomination for Salmon Fishing in the Yemen, which is amazing. That's his first love, so for him that goes before anything. But there is plenty of time, I'm still young!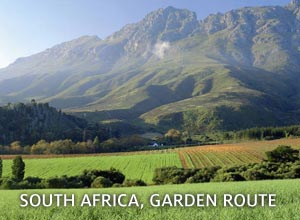 Planning a holiday must be easy in comparison!
I think it's lovely that adventure holidays have become so popular. As a family, we love an adventure holiday. My perfect holiday would be to go somewhere like Bali because I like to think I'm a surfer but I'm really not. I almost die every time I go surfing. When I did it in South Africa they said, 'oh you'll be fine, Charley' but did you see how big the waves were? Ten foot bloody waves! With somewhere like Bali, we spend the first few days together exploring the island, finding out what you can do and then, when you feel like you've earnt it, you can spend the final few last days hanging out on the beach. Those kinds of family holidays are perfect for us.
Inspired?
---
Explore this extraordinary and diverse land with our South Africa holidays.