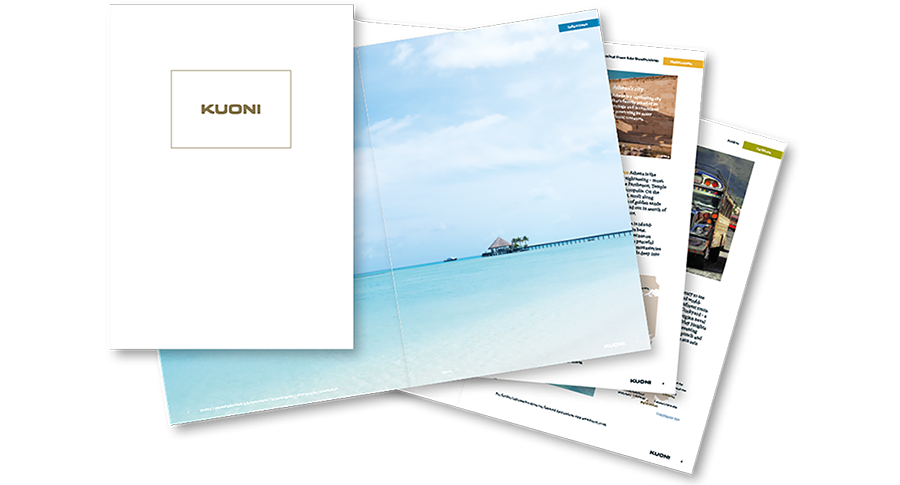 Kuoni launches new 'design-your-own' ultimate holiday brochure
A new way to create personalised holiday brochures launches this week
Less waste and more relevant content will trigger revival of the holiday brochure
An innovative new way to create and order a holiday brochure has just been launched by Kuoni.
The new concept enables customers to bring together the different regions of the world they are considering into one place. For example, they could combine the Amalfi Coast in Italy with the Maldives and Saint Lucia in the Caribbean.
The tailored brochure is then produced and personalised with the customer's name. It can be downloaded in digital form or printed and sent to their home.
Despite the growth of online, for many people, holiday brochures are still central to the planning, decision-making and excitement of a trip.
Claire Ross, product director, said: "Although the volume of printed brochures has declined over the years, many customers still like having something tangible when considering a special trip, particularly honeymoons. This new approach will be much more personal, designed as an exciting way to start the journey, and supports our sustainable business approach with less wasted paper."
The bespoke brochures can be ordered online at www.kuoni.co.uk/our-brochures
About Kuoni
Kuoni Travel UK is part of DER Touristik, one of Europe's leading travel groups. Kuoni has continued to set the pace in luxury worldwide travel in the UK market for the past 55 years and is regularly voted one of the best holiday companies in the country by readers of national newspapers and travel industry titles. The company excels in creating tailor-made holidays and honeymoons to more than 90 destinations around the world. Since 2008 Kuoni has grown its retail network across the UK and can be found on premium high streets and in selected John Lewis department stores. Each store is unique in design and showcases Kuoni's Personal Travel Experts and personalised customer service.