What to expect on a Maldives holiday
Deserted islands, blue lagoons, tranquillity and a true sense of romance. This is just a sample of what to expect in The Maldives.
This Indian Ocean archipelago of islands is one of the most popular exotic travel destinations in the world, and a place that many of us all dream of seeing. But what is it about this island nation that gives it such an idyllic reputation? We delve into a few typical Maldivian experiences to give you a taste of what The Maldives are truly like.
Rise and shine
Open your eyes, and awake to the warming sun streaming through the large floor-to-ceiling windows of your luxury Water Villa, offering glimpses of the deep turquoise waters of the Indian Ocean. Perhaps take an early morning dip in your private plunge pool before breakfast. If you're an early riser, what better way to start the day than with an invigorating yoga session on an overwater jetty?
After your perfect morning feast – whether you dined on a bountiful buffet of fruit, pancakes and pastries or perhaps treated yourself to a Champagne breakfast – now is a perfect time to explore the sandy pathways of your dream island, before the sun reaches its hottest. Seek out the best shady spots, take a look at the different restaurant menus, or maybe just chill out on your deck.
In the heat of the day
When you're in The Maldives, it is difficult not to feel the urge to just relax. One of the biggest decisions you'll need to make is where to do the relaxing – Is it on your private deck? On a sun-lounger by the infinity pool? Or is it on a beach, in a hammock, overlooking the ocean? Remember to not stay too long under the sun's dazzling rays, make sure you cool off taking regular dips in the pool or in the spa's bathing facilities.
As lovely as it is relaxing, now may be a good time to plan your afternoon. With its incredible coral reefs – some just a few steps from the shore - The Maldives is one of the planet's top diving and snorkelling sites so getting into the ocean should be high on your list. Or how about a treatment? Some of the world's best spas are on these islands; tucked away in a secluded palm-shaded corner, on a private island, and even, like at PER AQUUM Huvafen Fushi, deep under the sea. Oh, and don't worry, you can just stay where you are and do nothing if you'd prefer.
As the stars come out
The setting of the sun is a powerful image and perhaps the most photographed view on a romantic holiday in The Maldives. A perfect way to experience this beautiful daily sight is to take a relaxing sunset cruise on board the traditional Maldivian boat, the Dhoni. Lay back with your partner, sip champagne and watch as the day draws to a close.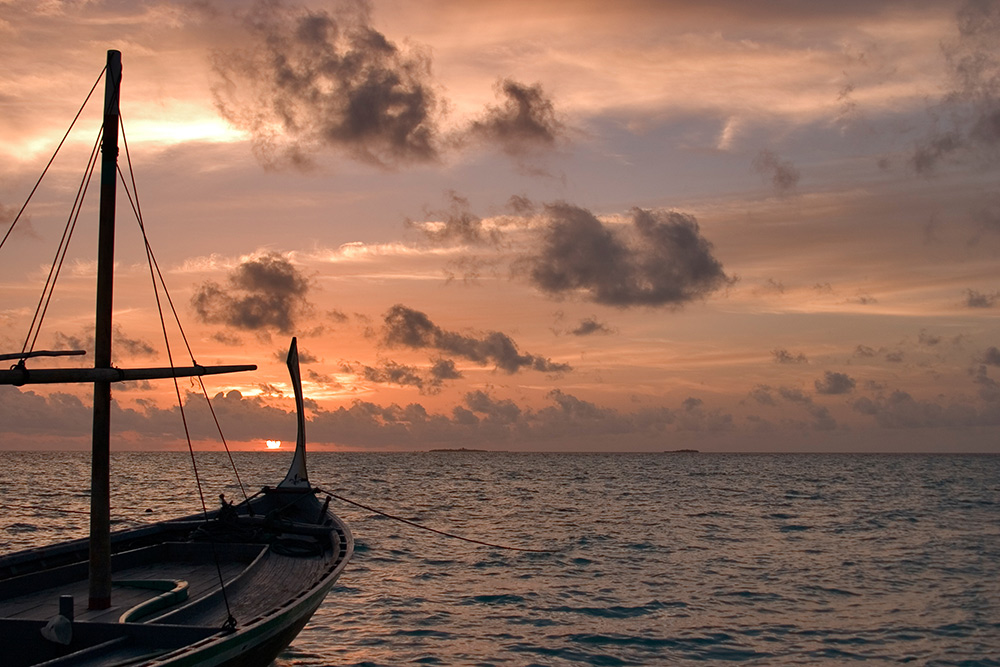 By now, you're probably getting hungry, and there is a vast choice of options depending on which island you choose. Enjoy a private barbecue on a deserted island at Maafushivaru or dine at one of the Indian Oceans finest restaurants, the Lighthouse on Baros. Marvel at the world's first ever underwater restaurant, Ithaa, on Conrad Rangali; or perhaps taste Asian delicacies at Nest, a tree-house restaurant high above the palms of Niyama.
And now to bed, perchance to dream. But why not perhaps stop off at a bar first for a late cocktail or two; gaze at the stars as you wander down the moonlit beach; or enjoy a nightcap on your deck as the waves crash in the distance. What on Earth are you going to do tomorrow?
Inspired?
---
So does it sound like your kind of experience? This is just a scratch on the surface of what you could experience in The Maldives.