Going green: eco-friendly islands in the Maldives
With the introduction of a 'green tax' planned for the Maldives in November, we take a look at some of the resorts leading the way in sustainability and environmental initiatives.
With its reputation as an exclusive destination, guests to the Maldives have come to expect a lot. Pristine islands, colourful coral reefs, the finest food and drink, air-conditioned rooms, private pools and Jacuzzis. With limited access to fresh water, electricity and waste management services, this creates certain challenges for the resorts, and on top of that much of the effort is expected to take place behind-the-scenes.
But it can be done, and done well. Here are four resorts that impress in their environmental efforts:
Reethi Beach Resort
Reethi Beach founded the Baa Atoll Project, which is working towards a ban on shark fishing and shark product trade in this unspoilt atoll, and encourages the protection of dive sites and the support of local communities. On the island, take a guided tour of the 'back of house' and you'll be given an interesting insight into how the resort operates and shown some of the applications that help make it 'green'. Reethi Beach has also taken action on World Environment Day and Earth Day, hosting a clean-up and tree planting with guests on a local uninhabited island, and each year takes part in Earth Hour led by the World Wildlife Fund.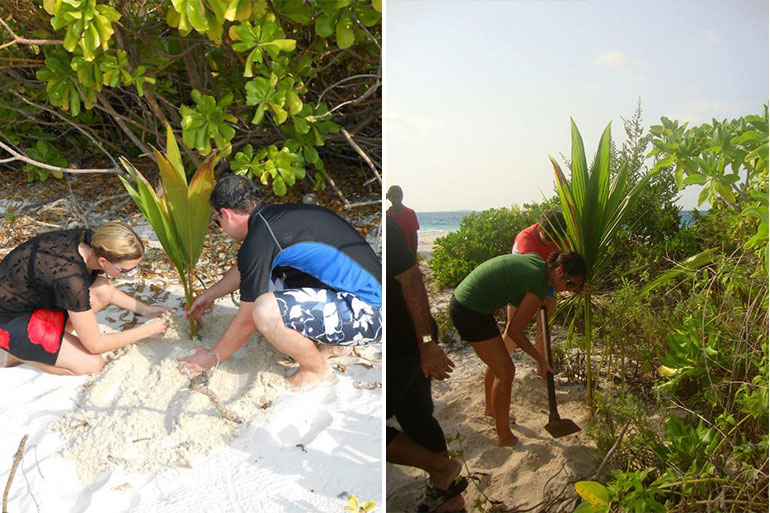 Eco efforts
• Resort buildings take up just over 16% of the island, with 20% set as the national standard
• The energy recovery system at the resort's desalination plant almost doubles output at marginal increase of power consumption
• Underground tanks harvest rain water
• Hot water is produced through heat exchange, reducing the need for big commercial dryers –previously the most power-consuming machines on the island
• The resort is mapping the entire reef-system to monitor marine life, coral growth and bleaching
• Drinking water is produced on the island and bottled in reusable glass bottles
• No plastic bags, plastic straws, disposable paper towels, or single-use drinks coasters are used
• There are plans for the resort to be involved in a pilot project of bio-gas production.
Coco Palm, Dhuni Kolhu
Coco Palm, Dhuni Kolhu is a natural island with lush jungle-like flora, sand paths and a focus on sustainable tourism. Like Soneva Fushi and Reethi Beach Resort, it sits in the Baa Atoll – designated a UNESCO World Biosphere Reserve and where the luxury resorts of the region work together to help conserve this special area that's home to manta rays, whale sharks and dolphins.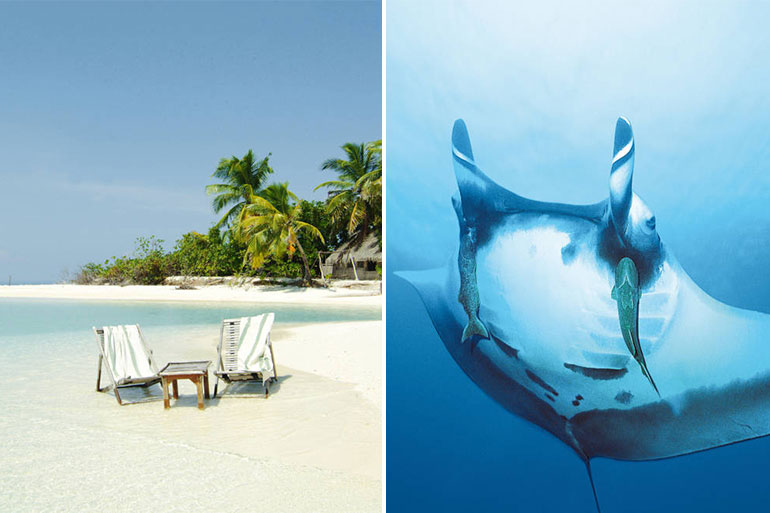 Eco efforts
• An efficient sewage plant treats all used water, and desalinated and treated water is used for watering plants and in toilet flush tanks
• Biodegradable cleaning products are used
• Cans are compacted and glasses are crushed
• Guests can help play their part and are encouraged to limit their use of air-conditioning, turn off lights when not needed, and practise correct snorkelling and diving etiquette.
Kuramathi Island Resort
One of the Maldives' largest and most popular islands, Kuramathi has a lot to sustain, and it places a huge emphasis on environmental protection policies. One of its most interesting eco facilities is the hydroponics garden, requiring full-time staff and comprising 20 greenhouses. It's definitely worth a look around to appreciate how hydroponics works.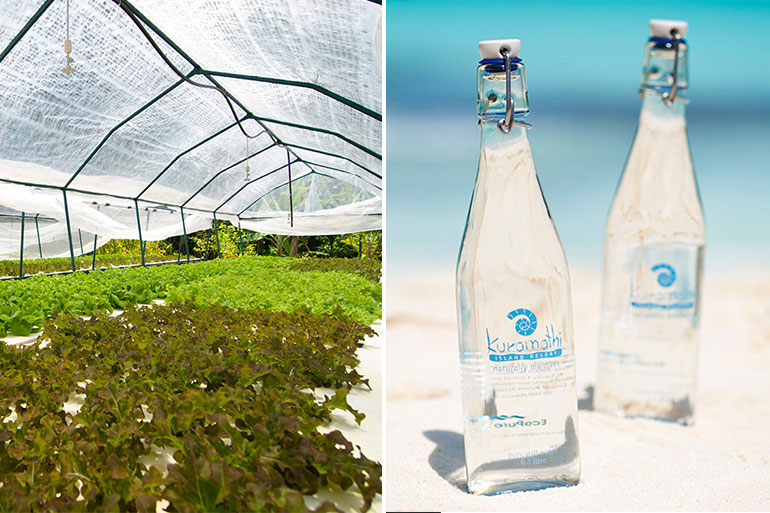 Eco efforts
• A water desalination plant prevents the need to import bottled water
• Grey water is recycled – water is treated, purified and reused in the gardens and in toilet flush tanks
• Newer villas have energy saving air-conditioning units
• Modern Jacuzzis have filters and ozonators to save on water
• Snorkelling channels are mapped out and accompanied by signs detailing correct snorkelling etiquette
• There's an educational eco centre and persistent monitoring of the marine ecosystem
• A hydroponics garden provides 70% of herbs and salads to the restaurants on the island, resulting in the freshest of salads and a reduced carbon footprint.
You can watch Kuramathi's animated environment video here:
Practices like the above will only become more commonplace – particularly since the president of the Maldives announced his plans to introduce a small daily charge for resort island guests in order to promote environmental management best practice in this unique region. While this will make little difference to holidaymakers' overall costs, the hope is that it will help with the challenges that these remote islands face.
Inspired?
---
We've been offering holidays to the Maldives for over 20 years, and there's a reason that it's our most popular destination.