The best suites at sea
We've said it before – and we'll probably mention it again – but cruises are one of the best ways for LGBT travellers to see the world.
Cruises are sociable and incredibly welcoming, and you get to see those parts of the world that might not be as accessible to same sex visitors. You may wonder however, if you can experience the same level of luxury as you can on land when it comes to accommodation. Thomas Ricketts – Assistant Manager at Kuoni John Lewis Welwyn, LGBT travel expert and cruise enthusiast – takes us through some of the most spectacular suites at sea.
Celebrity are my first choice cruise line for gay customers as they are very forward-thinking and their ships are more chic and modern than you perhaps would expect from a cruise line. The Refection Suite would probably make this list on its own merits, however the real scene-stealer certainly has to be the suite's bathroom. And in particular, the shower which is surrounded on three sides by glass (one way glass that is) and is actually suspended out over the edge of the ship's 14th deck. If you would rather take a soak the view from the bath tub is not too bad either!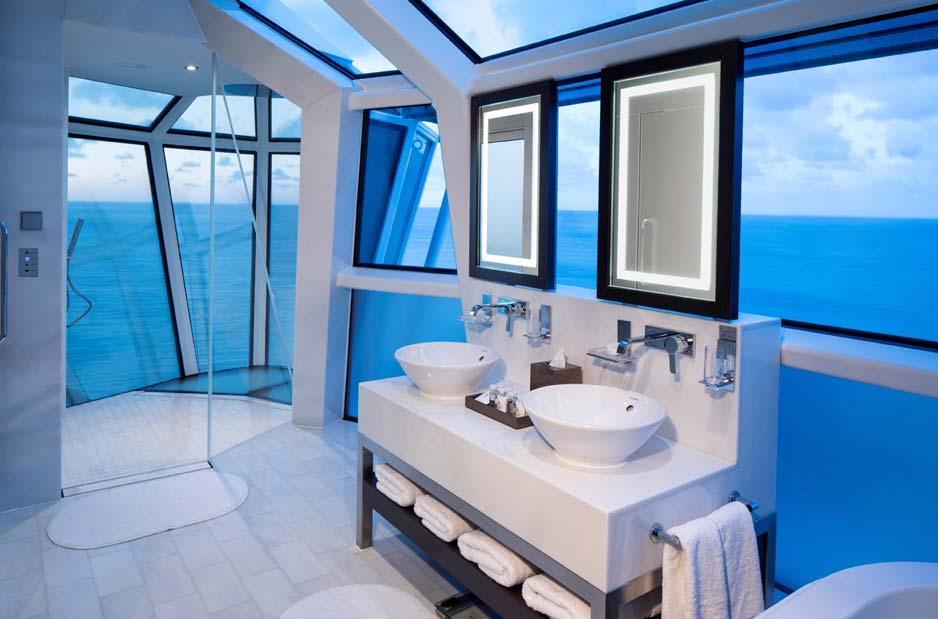 The Royal Loft Suites on board Oasis of the Seas and Allure of the Seas, Royal Caribbean
Here at Kuoni we love a duplex suite, whether we're on land or at sea. Royal Caribbean's feature a range of two-storey loft suites but it's the Royal Loft Suites, which can be found on the world's largest cruise ships – the Allure, Oasis, Quantum, Anthem, Harmony and Ovation of the Seas – that really stand out. Royal Caribbean offer one of the most fun, sociable and facility-filled ships at sea, yet the opportunity to retire to this spacious, open-plan retreat is very welcome!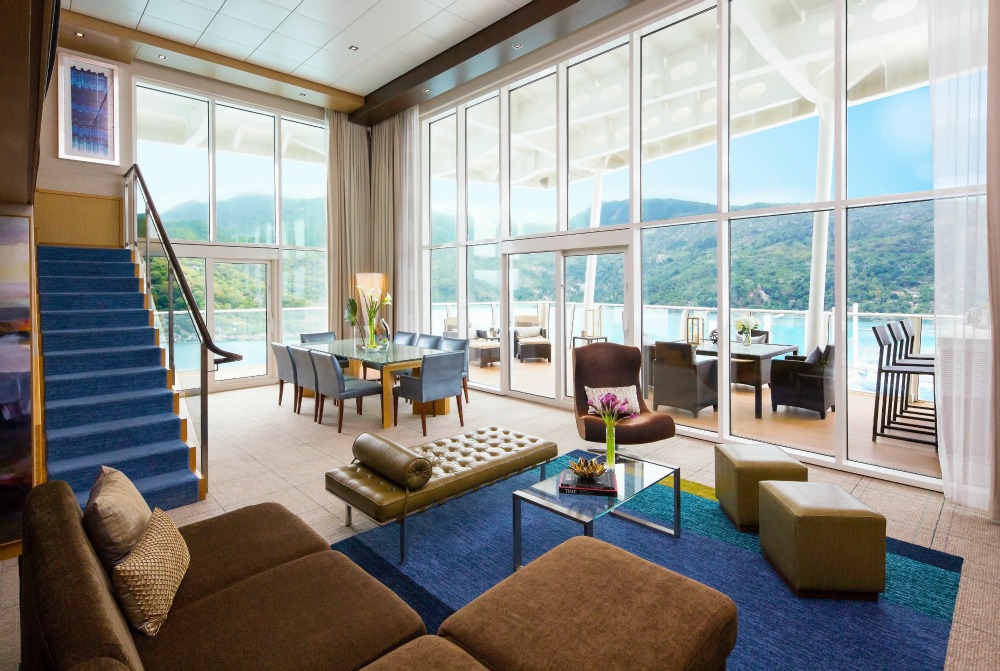 Grand Duplex on board Queen Mary 2, Cunard
Cunard are my go-to cruise line for anyone looking for couples or groups looking for a more traditional cruise experience. It's all about style and grace, and you can expect to receive the renowned White Star Service whichever stateroom or suite you choose. The pinnacle of Cunard's luxury has to be the two-storey Duplex Suite. The grandiose tone is set by the sweeping staircase which connects the two floors, and continues with the interior design, which is inspired the art deco heyday of transatlantic travel. Add in butler service, complimentary in-suite Champaign as the Queen Mary embarks and in-suite dining and you have one of the most sophisticated suites imaginable.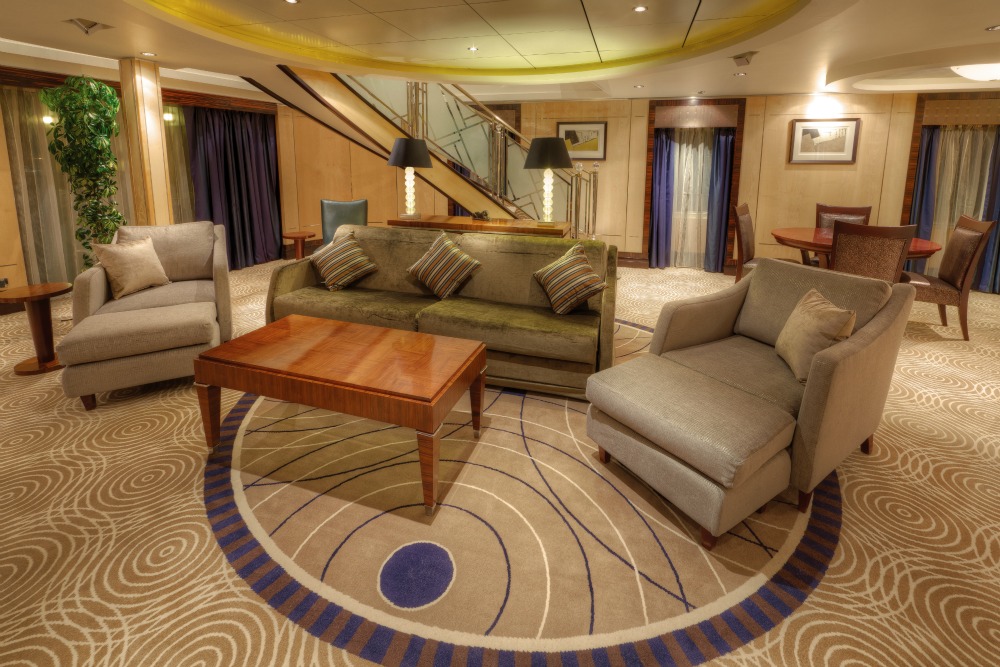 The Wintergarden Suites on board Seabourn Odyssey, Sojourn and Quest
On days at sea I would find it quite hard to tear ourselves away from the day bed or soaking tub in the Wintergarden Suites' solarium. And at Seabourn there's a real focus on service so if there's anything you need as you while away the day your butler will be on hand.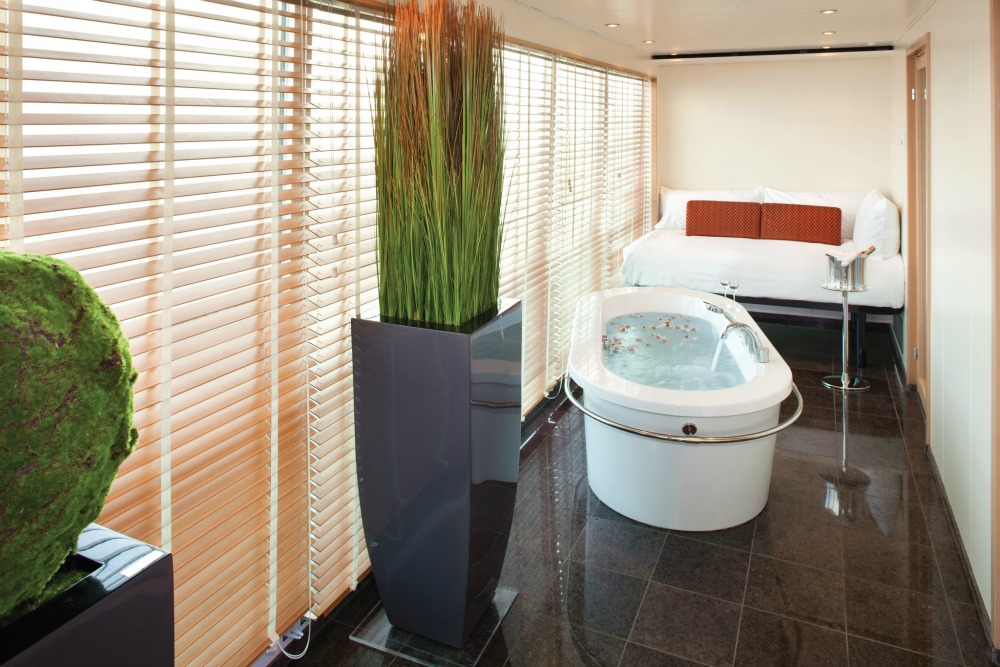 The Regent Suite on board Seven Seas Explorer, Regent Seven Seas
It should come as no surprise that the ship, which even before Regent launches it in mid-2016, is being hailed as the world's most luxurious cruise ship, will feature a range of beautifully-designed and spacious suites. There will be just the one Regent Suite, which is located front and centre on the top deck giving you a better view than the captain! In this vast suite – all 360m2 of it – there's two bedrooms, an in-suite spa (pictured) and a large open-plan living and dining area complete with grand piano.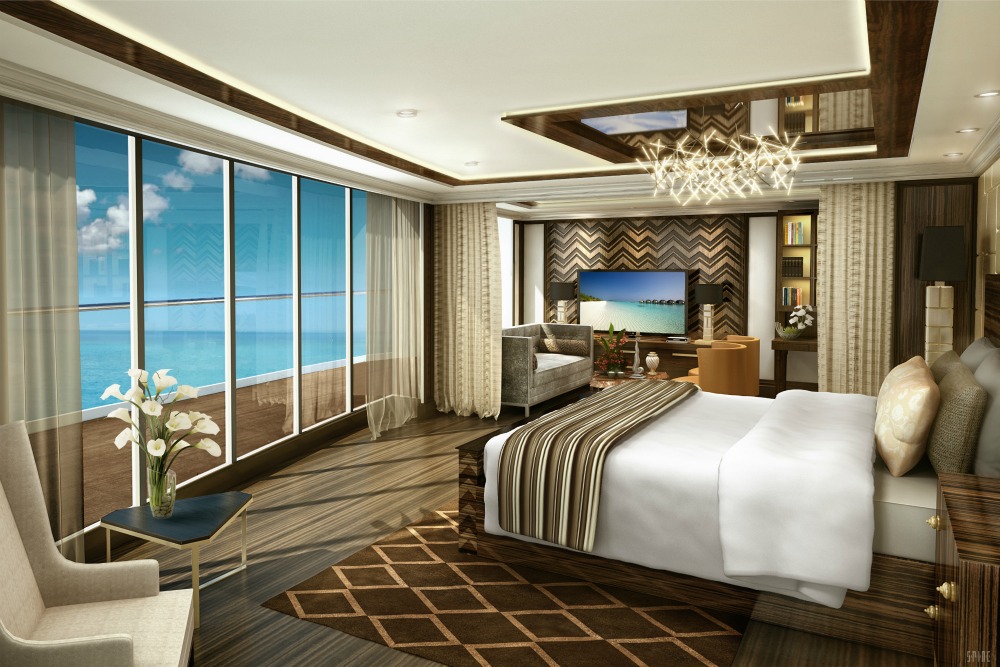 Inspired?
---
You can treat yourself to a stay and cruise holiday in some of the finest suites on the seven seas, and of course those on land too. Speak to one of our cruise or LGBT travel experts today.