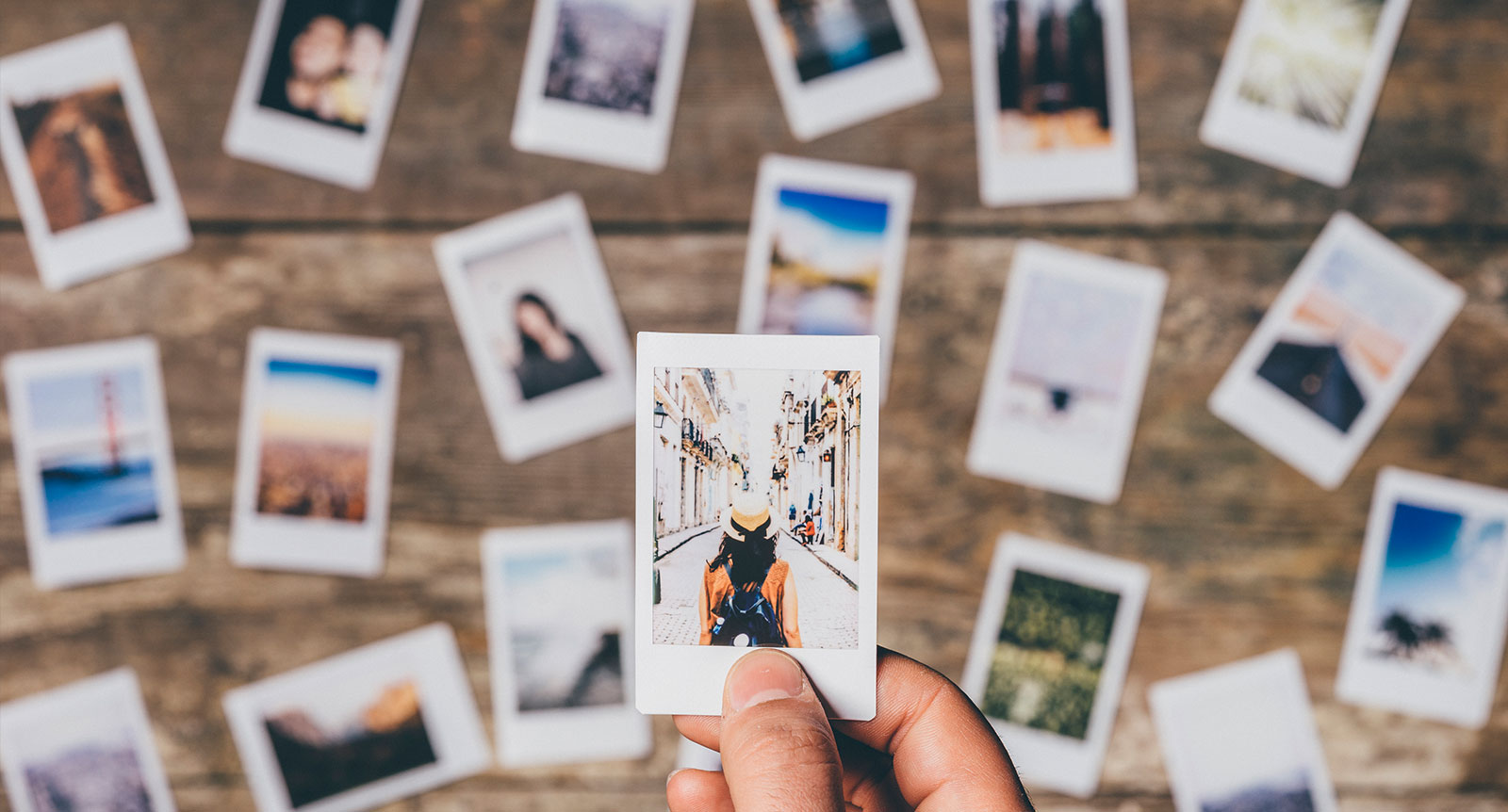 Our favourite travel memories
When you've had one too many zoom calls, or you're pounding the pavement on the familiar neighbourhood walk, your mind may wander back to that perfect holiday memory. Perhaps you think back to that spine-tingling moment when you caught a glimpse of the Maldives jewel-like atolls from the plane window, or that time on safari when you came across a pride of lions lounging lazily under acacia trees.
Travel is all about embracing extraordinary moments that take us away from the everyday. In celebration of new adventures on the horizon, we wanted to take a trip down memory lane and recall some of the incredible places we've travelled to over the years. We asked our experts to share their favourite travel memories.
Climbing the lion, Sri Lanka
"Not long ago, I went on an amazing trip to Sri Lanka. The highlight of my visit was climbing the almighty Sigiriya (meaning 'lion') Rock. To get to the top, you have to climb 1200 steps in the 30-degree heat – which is no easy feat! But the effort is well worth it. The feeling of achievement once you get to the top is exhilarating. The view from the summit is absolutely worth the hike."
Natasha Lambourne-Smith, Indian Ocean Destination Expert, Virtual Contact Centre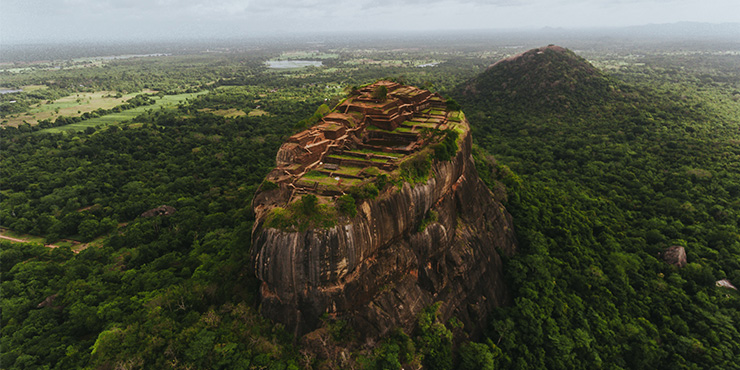 Make it your moment
If you'd like to take on this mighty king of the jungle, our experts can create a bespoke island itinerary with a personal driver/guide. A great place to stay while exploring the 'Cultural Triangle' is Water Garden Sigiriya, where you'll find just 30 spacious villas and spectacular views of the iconic rock. Or, about an hour's drive away, there's Cinnamon Lodge. This tranquil forest oasis is set around a lake that attracts various wildlife from monkeys to elephants. To get a different perspective on Sigiriya, we recommend a climb up the lesser-known Pidurangla Rock. Not only is it a little less touristy than its infamous counterpart, but you'll also be rewarded with a breathtaking vista of the acclaimed 'eighth wonder of the world'.
"One of my favourite memories of my trip to Sri Lanka was relaxing by the pool at Cinnamon Lodge. Suddenly, a herd of Elephants traipsed nonchalantly through the trees and began grazing on the leafy foliage. The sun was setting, and there was an ethereal glow cast over the scene; it was such an unforgettable moment."
Linda Taylor, Personal Travel Expert, Kuoni Metro Centre
Swimming with Sea Turtles, Maldives
"I was lucky enough to stay at Kandolhu in the Maldives, which has a marine-rich house reef. Our guide took us on a snorkelling safari around the pint-sized island and we got to swim alongside adorable turtles and neon-coloured fish; it was like being in a dream. I remember bobbing about in the sparkling ocean, looking back at the little Robinson Crusoe-esque island and thinking that this is paradise!"
Monique Williams, Assistant Store Manager, Kuoni Solihul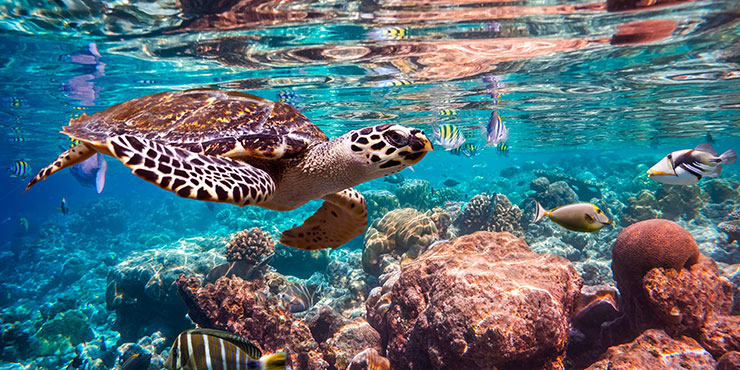 Make it your moment
Boutique Kandolhu may be tiny in size but it's big on luxury. There's a sprinkling of high-end villas and an impressive number of bijou eateries, along with one of the Maldives' best house reefs. As well as having the chance to encounter turtles you may spot reef sharks, squid and manta rays. Be sure to grab a complimentary GoPro to capture your memorable moments underwater.
Another island that's known for its excellent snorkelling and diving is the seriously swish Milaidhoo. Hidden in the heart of the remote Baa Atoll – the Maldives' only UNESCO World Biosphere Reserve –this castaway island is surrounded by a marine-protected reef that's inhabited by several resident turtles alongside a medley of aquatic wildlife. Beyond the house reef, you can take a trip to Hanifaru Bay where – in season –you'll have the opportunity to snorkel with magnificent whale sharks.
"Milaidhoo is out of this world, and the snorkelling was among the best I've experienced in the Maldives. The Shoreline Grill restaurant is phenomenal. We dined on the most delicious steaks while sitting under the stars with our feet in the sand. The spa creates a smoothie of the day that was delicious. During breakfast the following day, I told our villa host how much I loved it and she got the chef to make another one for me. I didn't even need to ask, the staff just really go above and beyond'
Alison Todd, Team Leader Indian Ocean, Virtual Contact Centre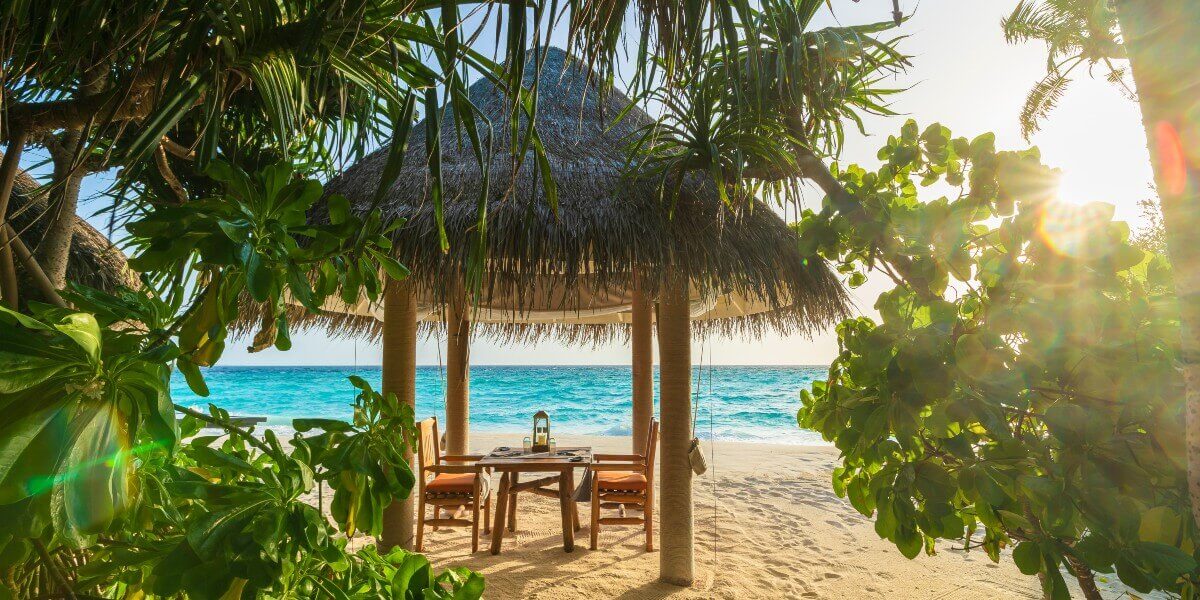 Life at the top, Antigua
"A must-do when in Antigua is a trip to the Shirley Heights Sunday beach party. Beforehand, we only knew it was a great place to watch the sunset and have some food but it was so much more. When you arrive, it looks like it is just a little shack, but then you walk through and discover a lively terrace perfumed with mouth-watering barbecue aromas – the smoky ribs were divine. The best part is when you walk outside and the view takes your breath away! English harbour is laid out below, with a golden sunset as the backdrop. The atmosphere is electric with the sounds of steel drums, singing and reggae bands. It's a great way to experience the colourful culture of Antigua."
Eve Jetten, Personal Travel Expert, Kuoni Metro Centre
Make it your moment
Antigua is one of the Caribbean's most laid-back islands and, aside from the Sunday soiree on Shirley Heights, you can expect a pretty relaxed vibe on holiday. We recommend a stay at Keyonna Beach, a boutique resort tucked away on a 305-metre beach. The cosy rooms have romantic four-poster beds and refreshing outdoor rain showers. We particularly love the pool cottages that are set right on the sand. For families, a great choice is St James Club & Villas, which has two-and-three bedroom villas, lip-smacking cuisine and an award-winning kids' club.
Searching for Shere Khan, India
"When I went to India, I'd arranged game drives at Ranthambore National Park in the hopes of seeing tigers. We spent a day darting around the jungle, seeing plenty of wildlife, but as the day drew in, it was looking unlikely that we'd find any of the most elusive residents. Then our driver got a radio call, and suddenly he sped up and hurtled around the park's vistas and viewpoints. A tiger had been spotted, and he was determined to find him! Eventually, we pulled up to a watering hole, and in the distance, we saw a flash of orange and black slink through the trees. We drove on and moments later, a magnificent tiger strode proudly across the road and stopped right in front of our jeep."
Richard Pearson, Destination Expert, Virtual Call Centre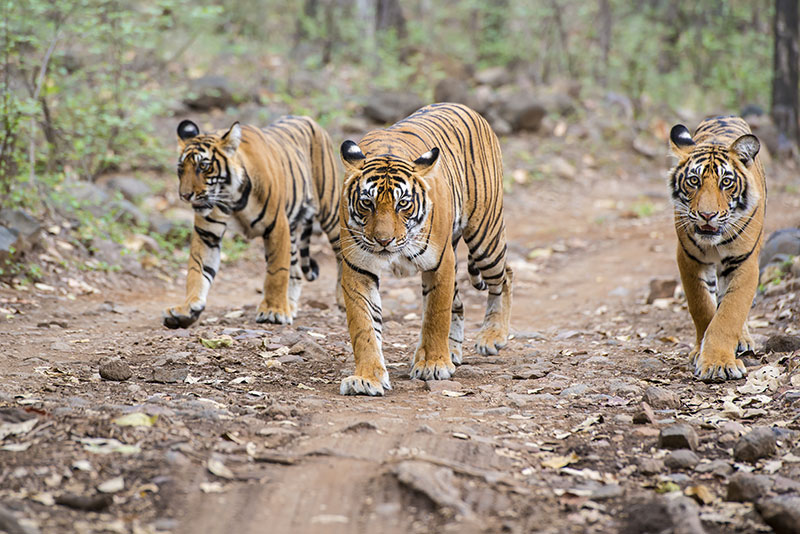 Make it your moment
Beyond India's iconic Taj Mahal and animated cities, wildlife lovers can embark on their very own Jungle Book adventure. A stay in Ranthambore National Park is a popular safari add-on to the classic Golden Triangle itinerary. And at just a three-hour drive from Jaipur, it's the most visited of all of India's wildlife parks.
Just outside Ranthambore National Park, the five-star Oberoi Vanyavilas is a luxurious sanctuary nestled in the Indian wilderness. Here you can have the 'perfect day in the jungle', with a morning game drive and breakfast under a canopy of mango trees, followed by an afternoon of pampering with personalised treatments in the spa.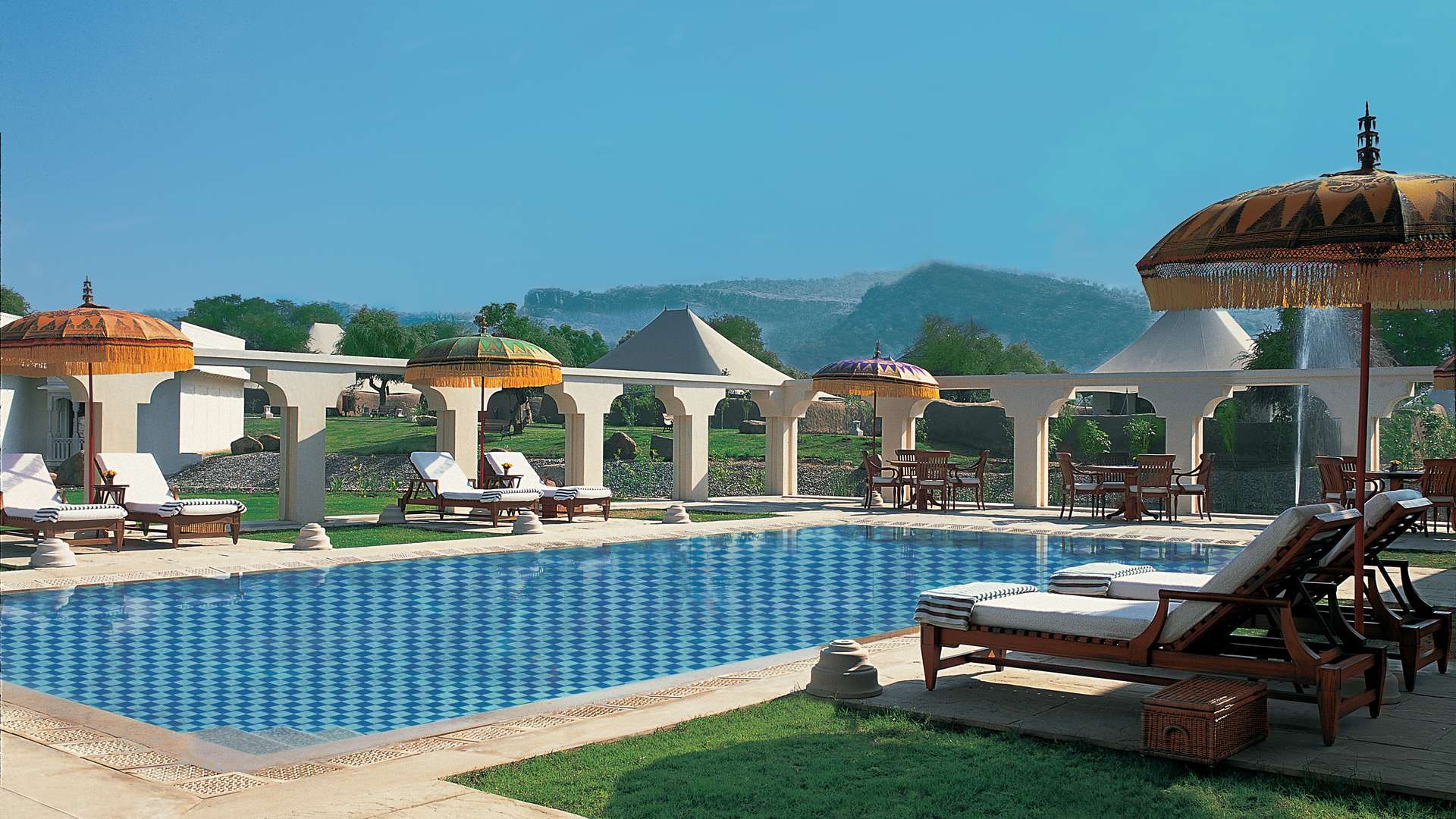 A little further off the beaten track is Kanha National Park which is home to striking landscapes that provided the inspiration for Rudyard Kipling's Jungle Book. One of our favourite hideaways is the eco-friendly Kanha Earth Lodge, where you'll find just 12 beautiful bungalows, meticulously designed with local materials such as recycled wood, terracotta tiles and timber beams. After a day of tracking tigers in the bamboo forest, relax on your terrace with a hot cup of chai or cool off in the infinity pool set among mahau trees.
Inspired?
---
If you're ready to create new holiday memories, browse our latest brochures or talk to one of our Personal Travel Experts who will help you plan an exciting escape to look forward to.