Australia's Blue Mountains after the bushfires
The bushfires that swept across Australia's landscapes earlier this year had devastating effects in many areas. But how are the local communities – and landscapes – bouncing back? We head to New South Wales to chat to the locals in the Blue Mountains.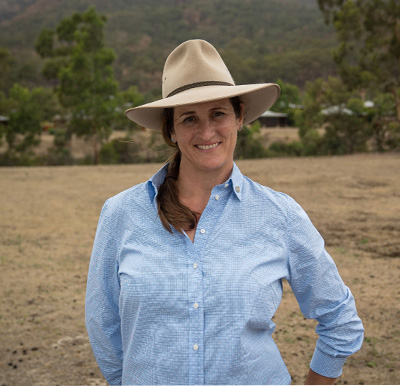 Simone Brooks
Activities and Conservation Manager at Emirates One&Only Wolgan Valley
How was Emirates One&Only Wolgan Valley and its surrounding area impacted by the bushfires?
When it became clear that the Gospers Mountain bushfire was heading towards Wolgan Valley, the safety of our guests and colleagues was our top priority, so the resort immediately activated the bushfire management plan. The team at our resort collaborated with the NSW Rural Fire Service, who worked tirelessly over several days to protect Emirates One&Only Wolgan Valley and the local community. We're thankful for their incredible efforts. The fire front passed through the region and, while there is some scarring in the surrounding bushland and National Parks, our resort structures were fortunately unaffected. With the recent rains, the resort is now seeing breathtaking natural regeneration of the landscape; and the native wildlife that calls our 7000-acre reserve home has already returned, with kangaroos and wallabies roaming abundantly.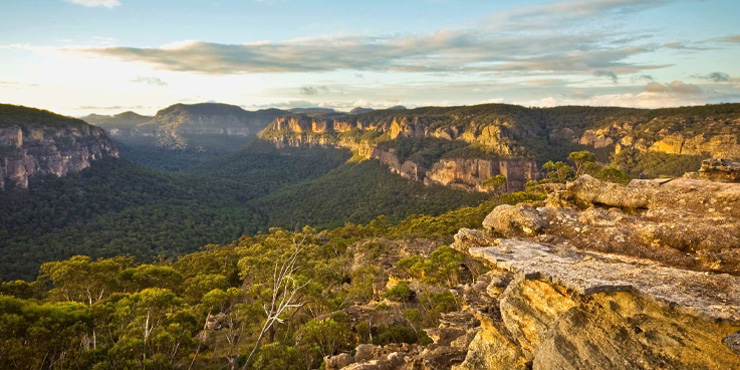 How can guests get involved with helping the landscape regenerate?
Many areas of bushland remain untouched, which is a true blessing for wildlife biodiversity. Habitat restoration work will support the impacted areas and, during your visit, we'll encourage you to participate in tree planting, seed collection and animal surveying. As a conservation resort, we have built a seedbank of more than one million seeds, representing 25 native species over the past 10 years. These seedlings are now playing a vital role in repopulating areas of damage during our daily Conservation Experience.
Why should we visit Emirates One&Only Wolgan Valley and what is there to do in the area?
You now have a rare opportunity to observe first-hand the resilience and extraordinary transformation of the Australian landscape. There has never been a better time to support Australia by travelling here and embarking on an epic outdoor nature adventure, participating in meaningful conservation work, enjoying wholesome dining and relaxing in the majesty of Australia's iconic Greater Blue Mountains.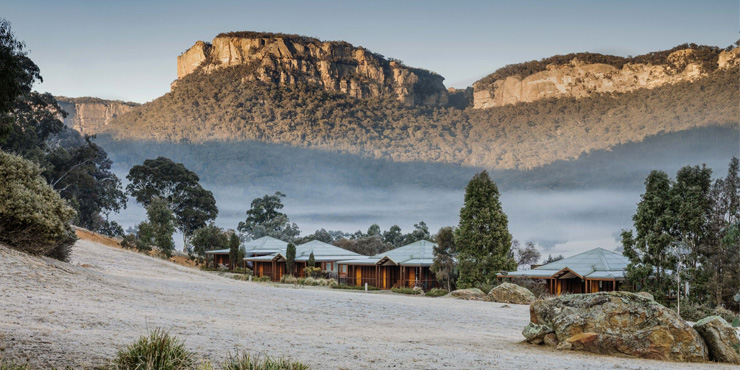 What do you love most about being a Field Guide?
I honestly have the best job in the world. It can be challenging, but it's a true privilege to be able to spend every day outdoors in the Australian landscape, learning from nature and sharing my experiences with guests. The area is home to several species of wallaby, Eastern Grey Kangaroos, wallaroos and, of course, wombats. You can also search for lesser-known species such as gliders, possums and large birds of prey like the wedge-tailed eagle, which has an impressive wing-span of up to two metres. If you're lucky, you might even see a platypus splashing around in the creek.
Days often start early with a birdwatching tour. We have recorded more than 150 bird species in Wolgan Valley, which is due to the wide range of available habitats for birds to create homes. I also love evenings, as the skies are almost completely free of pollution and stargazing is an extremely special experience to share with guests. There is always the chance of spotting a platypus, glider or owl with a spotlight and a mug of hot chocolate in hand.
When you're not working, what are your favourite things to do in the Greater Blue Mountains?
I enjoy hiking, so the Greater Blue Mountains World Heritage-listed area is perfect for this. Even a short hike can provide an amazing sense of peace and deep connection with nature. I am a fan of some of Australia's gliding marsupials, so I'm always on the lookout for yellow-bellied or greater gliders that may be in the area. Not many people have the chance to see them in the wild, but both species are facing habitat pressures and deserve special care and attention. Other than that, you can often find me somewhere near the water, usually with a good book.
If a visiting friend asked you to show them the best of the Blue Mountains region in 48 hours, what would your plan be?
I'd recommend travelling along Bells Line of Road to sample some of the region's fresh produce and idyllic scenery. Mt Tomah Botanic Gardens is one of my favourite attractions, as it provides an incredible insight into Australia's native flora, including the heritage of the Wollemi Pine. Above all, I would recommend some of the wilder places that are best explored on foot, starting with our very own backyard, the Wollemi National Park. It's such a beautiful part of the world, with amazing plant diversity, fabulous birding and provides protection to some of Australia's rarest wildlife, including the brush-tail rock wallaby and the spotted-tail quoll.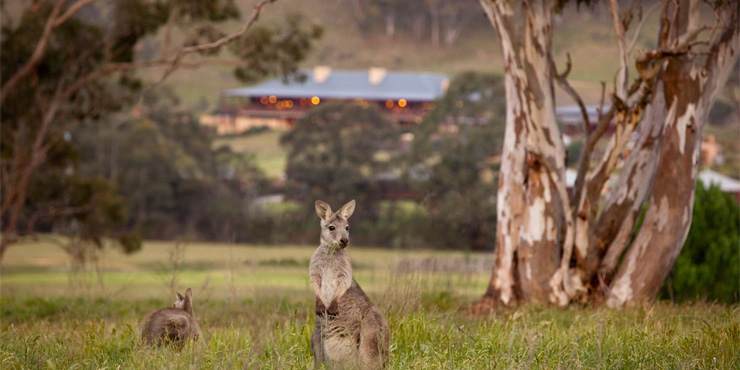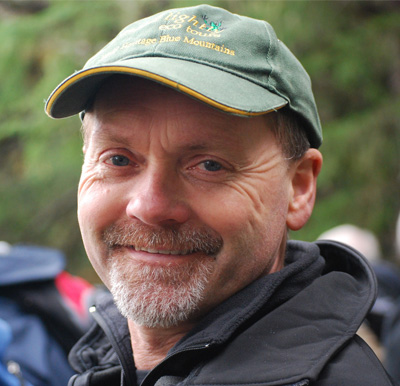 Tim Tranter
Head guide and owner of Tread Lightly Eco Tours
What advice would you give to those concerned about travelling to Australia right now?
Visitors are surprised how little damage is visible. Most of the fires in the Blue Mountains region were in remote wilderness and won't impact your experience. All areas in the region are open for business, so you can visit ancient rainforest, waterfalls, tall eucalyptus forests and enjoy wildlife tours to see kangaroos and birds. Visiting our region will help recovery and rehabilitation of the fire-affected areas.
Which tours and experiences generate the most 'wow' factor?
Our ecologist and culture guides are waiting to show you the best of the Blue Mountains World Heritage wilderness area. Our most popular tour is our 'rendezvous with a kangaroo' breakfast tour, where we wake up in the Blue Mountains and have breakfast among wild kangaroos. We travel by 4x4 through hidden valleys, accessing a remote part of the World Heritage area with a qualified ecological guide. Having fresh, locally-made scones and pastries with tea or coffee among the wildlife, with a backdrop of towering escarpments, really enhances the whole experience.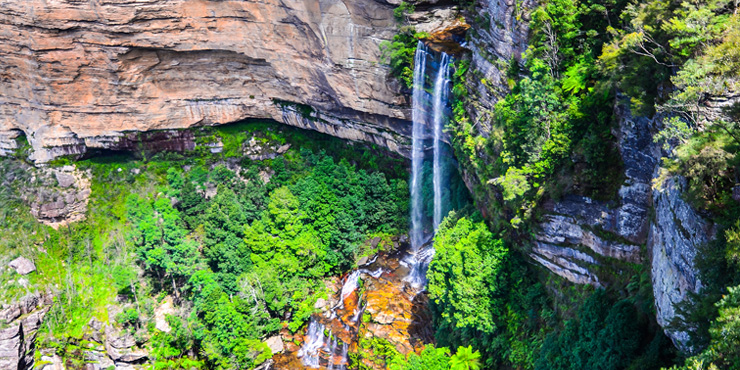 How did you become a guide?
I started our Advanced Ecotourism accredited guiding company 25 years ago as a sustainable minimal impact business after studying Aboriginal culture. I've lived in the Blue Mountains for more than 45 years and worked as a member of the bush fire and rescue team for over 30 years, so I really love showing visitors the amazing resilience of the Australian bush. I operate hiking and touring in the Blue Mountains in very small groups. We specialise in door-to-door private tours and offer fully tailored itineraries, so visitors experience the best areas away from typical tourist locations.
How easy is it to get from Sydney to the Blue Mountains?
It is a very easy two-hour high quality train ride or a 90-minute motorway drive if you book a hire car. We also have a luxury 4x4 vehicle based in Sydney, so can take you to the Blue Mountains. I love meeting visitors from the UK and showing them the unique ecology, ancient rainforest, 1000-foot waterfalls and sandstone escarpments that the Blue Mountains are famous for.
If a visiting friend asked you to show them the best of the Blue Mountains region in 48 hours, what would your plan be?
I would plan a hike or a bush walk in ancient rainforest, visiting huge waterfalls and 200ft-tall eucalyptus forest, taking time to sit and experience the total silence of the wilderness. Very few people get to experience the natural sound of the bush. It's an unforgettable experience that will undoubtedly be a highlight of your trip to Australia.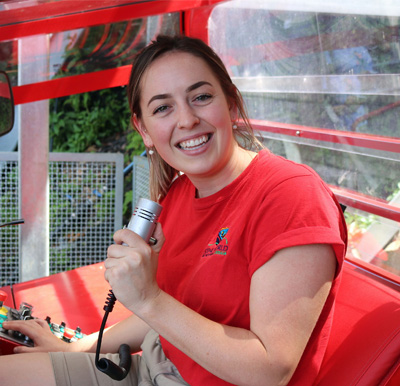 Beth Seaman
Scenic Railway operator
What sort of impact have the bush fires had on the Blue Mountains World Heritage area?
The community in the Blue Mountains is so grateful to our local Rural Fire Service. It's thanks to their amazing efforts that many of the major tourist attractions in the Blue Mountains, including Scenic World, were unaffected by the bushfires and remain safe and open. The Scenic Railway stayed open, taking guests down into the Jamison Valley to our beautiful ancient rainforest, which was thankfully untouched by the fires.
Talk us through the recovery efforts in the Blue Mountains region and the resilience of the local Katoomba community.
The Blue Mountains community has really come together after the bush fires, with a strong passion and spirit of mateship to show the world that our beautiful backyard is still here and waiting for you. The awareness and concern for the environment is palpable here. My colleague ran a medical supply drive by asking everyone to go through old first aid kits, to see what items could be donated to carers for local wildlife that had been injured in the bush fires.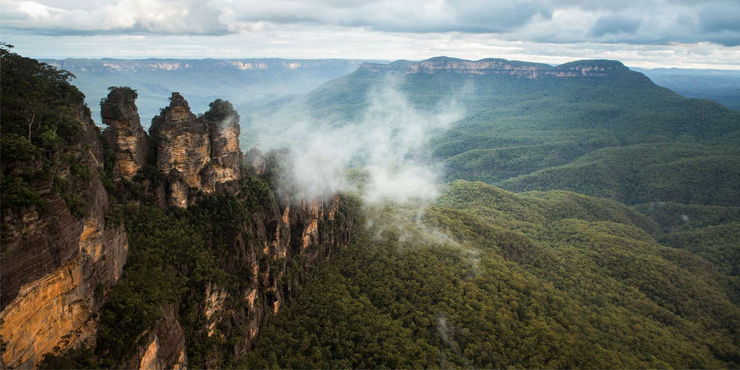 How can we help the Blue Mountains region?
Come and visit! Our gorgeous villages are surrounded by stunning national park with amazing natural landscapes, which can be explored via many walking tracks and lookouts. The Greater Blue Mountains World Heritage area is vast – more than a million hectares.
Can you describe the Scenic Railway experience?
Well, for starters, it's the world's steepest train! You'll journey through an almost pitch black cave and come out the other side surrounded by the native vegetation on the cliff face. As you continue down, this incredible view of the Jamison Valley and Mount Solitary opens up right in front of you. Once you arrive at the bottom railway station, you've got one of the best views of the Three Sisters, Jamison Valley rainforest canopy and Mount Solitary.
When you first get on board, you can select the angle of your seat for the journey down. There's the 'Cliffhanger' option, which puts you at a steep 64-degree angle; the 'Original' option, which is set at the traditional 52-degrees; or the 'Laid Back' choice, which allows you to really soak up the experience and the views.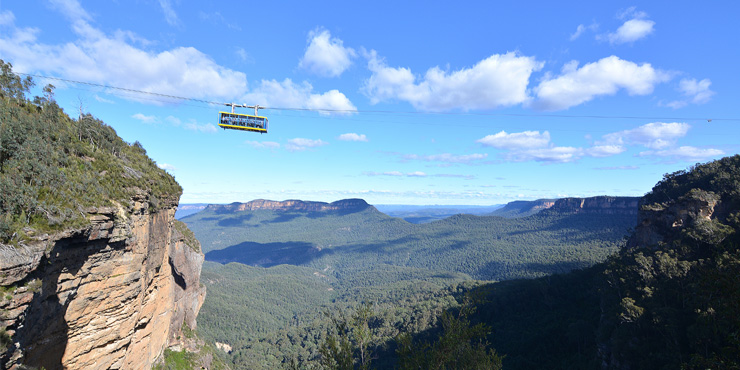 What else can we do at Scenic World?
Our other world-renowned rides include the Scenic Skyway, Scenic Cableway and Scenic Walkway. The Scenic Skyway is Australia's highest suspended cable car and takes visitors 270 metres above the Jamison Valley, providing 360-degree views of the whole area. The coolest feature is the electro-glass cabin floor that lets you look directly down onto the rainforest below. It looks like broccoli from that height!
I usually recommend people take the 30 or 50-minute boardwalk on the Scenic Walkway. The boardwalks really immerse you in the rainforest. If you're lucky you'll spot a lyrebird scratching around on the rainforest floor. They are regular visitors and renowned for their remarkable mimicking abilities.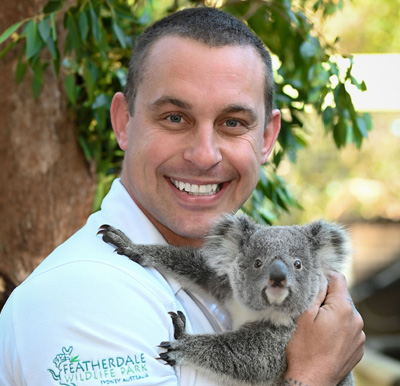 Chad Staples
Director of Life Sciences at Featherdale Sydney Wildlife Park
Was Featherdale Sydney Wildlife Park affected by the recent bushfires?
As Sydney sat in the plume of smoke during the bushfires, Featherdale Sydney Wildlife Park wasn't immune to this. Thankfully, that was the extent of the worry for Featherdale and we were lucky enough to help take in animals affected by the fires. Our sister site, Mogo Wildlife Park, was hit directly and the team and I were fighting that fire on all fronts and angles. We had a fire plan and we stuck to it. Because of that and the team's amazing effort, we were lucky enough not to lose a single animal. It's still an incredibly surreal experience. The images seen around the world show how badly Australia and its wildlife were affected by the fires. Today, there is so much Australian wildlife thriving and regenerating.
What is Featherdale doing to care for Australian animals injured or displaced by fires?
We've helped care for a number of animals from other parks affected by the fires. Down in Mogo, we've been lucky enough to receive support to build a new vet block and surgery, so we can continue to help animals affected by the fires and destruction on the south coast of New South Wales.
Why should every trip to the Blue Mountains include a visit to Featherdale Sydney Wildlife Park? Featherdale has the largest collection of native Australian animals in the world. During your visit you can feed a kangaroo and a wallaby, meet our koalas and chat with our keepers. We have more than 1700 native animals for you to encounter.
How did you come to work at the park?
I have always had a passion and love for animals. I was lucky enough to get my start in the industry straight after high school and I've pursued this career ever since. I've travelled within Australia and around the globe to continue learning and to ensure that we're delivering the best for our animals at Featherdale and Mogo Wildlife Park.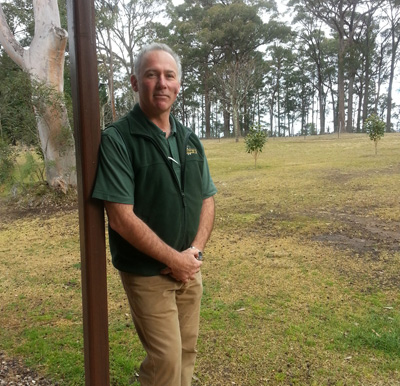 Michael Sperling
Executive Officer Blue Mountains Tourism
Why should we visit the Blue Mountains?
At the beginning of March 2020, New South Wales was declared 100% free of bushfires and all areas are open to enjoy. The burnt-out areas of Blue Mountains National Park are now sprouting new life, with reds and greens everywhere on the trees as the eucalyptus trees regrow.
What are your must-see places in the region?
I enjoy bushwalks at Govetts Leap, near Blackheath, to see Bridal Veil Falls and Horseshoe Falls above the Grose Valley. The views (and scones) are fabulous from the Blue Mountains Botanic Garden in Mount Tomah, and Euroka clearing at Glenbrook is a great place to see Eastern Grey kangaroos in the wild. There are also rock pools for cooling off on a hot day. The view from Scenic World across to the Three Sisters is outstanding; and Jenolan Caves on the western edge of the Blue Mountains are a must-do, as they are some of the world's oldest caves.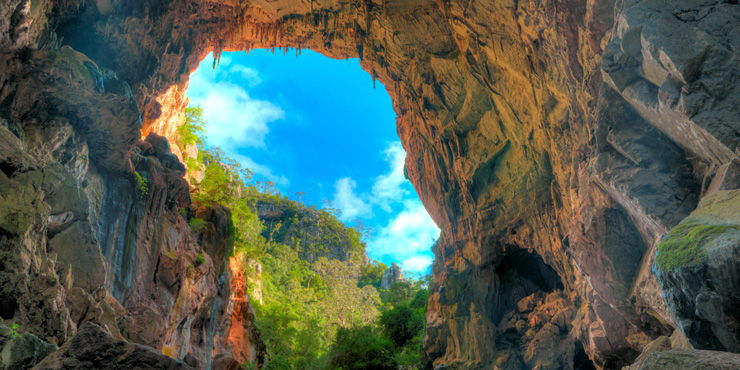 If a visiting friend asked you to show them the best of the Blue Mountains region in 48 hours, what would your plan be?
Glenbrook is a great place to start, seeing the wild kangaroos at the Euroka Clearing. We could head to Leura at the 'top' of the Blue Mountains to go shopping, including the famous 'lolly shop', an old-fashioned confectioners. We'd then head for Echo Point to see the Three Sisters rock formation; and walk the Prince Henry Cliff Walk to Scenic World for a trip on the world's steepest scenic railway. Scenic World also gives us the chance to walk through the rainforest on the boardwalk to the Skyway over Katoomba waterfall.
There are lots of great places to eat in Katoomba: there's a cool 1970s retro restaurant called Aunty Eds that's a favourite of mine; or the chance to buy some pies and have a picnic in the park. I'd also recommend a hot chocolate at The Gingerbread House, set in an old church. There are lots of sweet treats to take away. I'd pencil in a stop at Govetts Leap and take the short and spectacular walk to Horseshoe Falls before a stay in the Blue Mountains.
The region is known for its farmland, as well as its National Park. Around Bilpin there are lots of pick-your-own apple and peach orchards and roadside stalls selling locally-made apple pies, honey and other produce. My favourites are The Hive roadside stall for a coffee and Bilpin Fruit Bowl for an amazing apple pie fresh out of the oven. The area is also home to cider tasting cellars such as Hillbilly Cider and Bilpin Cider – great places to taste and buy. If you're still hungry, a late lunch stop at Pie in the Sky is great for delicious meat pies and milkshakes. The perfect end to a few days in the Blue Mountains.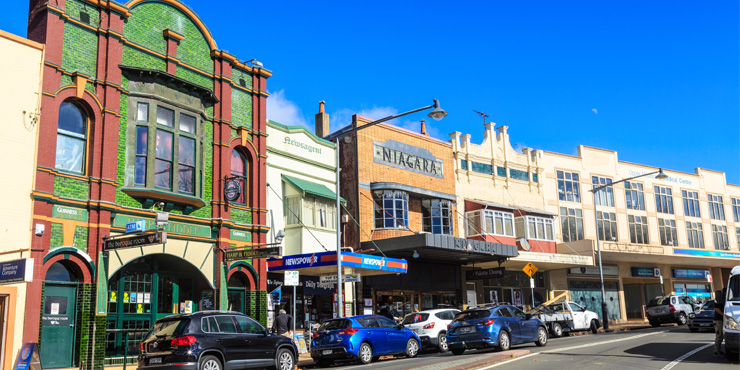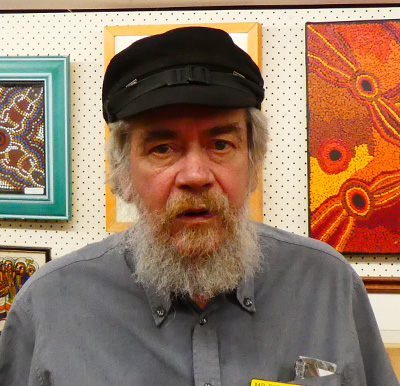 Guy Weller
Owner of Mr Pickwick's Fine Old Books in Katoomba
How would you describe Mr Pickwick's Fine Old Books?
One of Australia's, if not the world's, finest second hand and antiquarian bookstores, if we say so ourselves! There are about 50,000 books in store, a further 16,000 for our eBay offering, and 10,000 or so awaiting processing. The atmosphere is pleasant and welcoming, with comfy chairs spread around the large bookshop floor.
In this online age, what do you think it is about books that people still love?
The smell of books is always a warm and comforting thing. The tactile pages are so much nicer than holding an iPad or tablet. One thing people say when they walk into the bookshop is "oh, this place smells amazing". It's apparently the lining that gives old books that faint vanilla scent: as the materials slowly break down they release their compounds.
Have you always been interested in antiques and second-hand books?
This is a family business and we are a family of bibliophiles. We are all big readers and book collectors. Our matriarch has been buying antiques since the early 1970s, when antiques were cheap and plentiful. Now we have moved on to a higher calibre of antiques and, while they are all interesting, they will not all fit in our house. There is a romance in fine items from other eras and other countries.
If a visiting friend asked you to show them the best of Katoomba in 48 hours, what would your plan be?
I'd welcome them into our huge bookshop and antiques centre for a look around the displays of fine silver, antiquarian books, vintage clothes and strange items. Next up is mandatory for Katoomba visitors: the Three Sisters lookout and bushwalk. Photos just can't do the views justice here. I'd also take them to Dan Murphy's, as it has the most awe-inspiring collection of Single Malt whisky I have ever seen, including Scotland. Continuing on this theme, I'd also recommend cocktails at the grand Carrington Hotel; or surrounded by the vintage décor of the Avalon. Both are amazing cocktail bars to toast a drink to your time in the Blue Mountains.
Inspired?
---
We can create an Australia holiday from scratch just for you. Find out more about holidays in the Blue Mountains by booking an appointment in your local store or searching for one of our Australia experts to get the best advice from someone who has been there.
This feature was published on 11 March 2020. The information within this feature is correct to the best of our knowledge at the time of print.