India rail holidays
Just about every corner of India can be reached by train. Shatabdi trains are the most common trains used by tourists and operate as a day service, connecting many important destinations. Alternatively, you can explore India in refined luxury aboard one of the great rail journeys.
Luxury train journeys
Maharajas' Express
Step aboard one of India's most luxurious trains – the sublime Maharajas' Express – which offers a seductive combination of age-old quality and refinement blended with modern engineering. Each elegant passenger carriage has a dedicated butler and cabins with large panoramic windows, air-conditioning, flat-screen television, en suite bathrooms and a host of luxury touches. On the 'Indian Panorama' seven-night itinerary you will travel from Delhi to Jaipur, Agra, Ranthambore National Park, Gwalior, Orchha Khajuraho, Varanasi and Lucknow.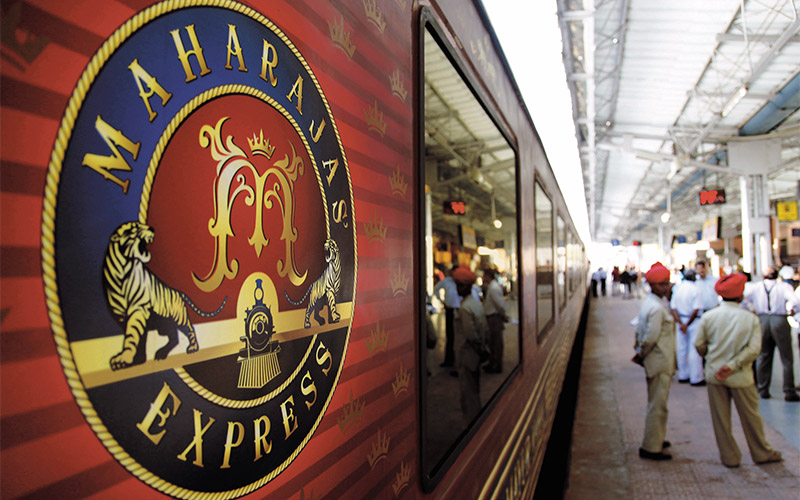 Deccan Odyssey
Enjoy the romance of luxury rail travel on board the elegant Deccan Odyssey train. Although providing guests with an old-world atmosphere, this is actually a modern, purpose-built train which made its maiden journey back in 2004. As well as 13 accommodation coaches featuring 40 Deluxe Cabins and four Presidential Suites, there are two restaurant coaches, a lounge and bar car and even a spa car in which you can enjoy Ayurvedic treatments as you travel. There are six seven-night itineraries available on the Deccan Odyssey including the Indian Sojourn from Mumbai to Delhi, taking in the highlights in the states of Maharashtra and Rajasthan.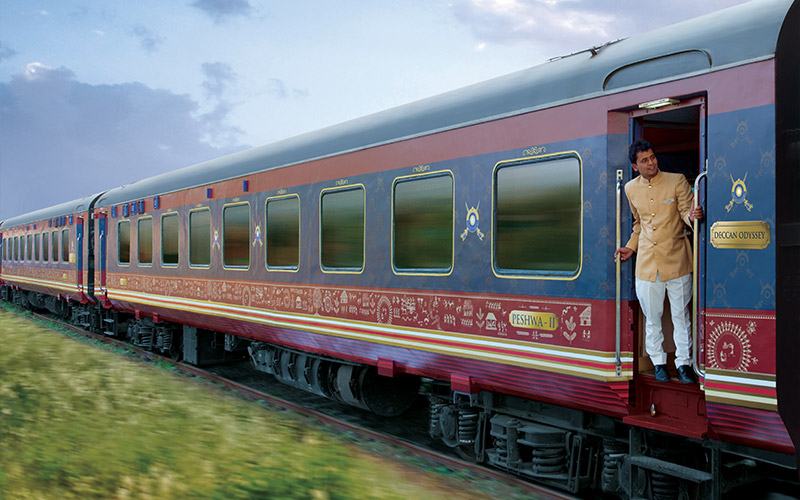 Indian Railways
Gatimaan Express
Launched in 2016, the Gatimaan Express – India's first semi-high speed train – takes you from Delhi to Agra in just over an hour and a half. Travelling at a maximum speed of 100mph, you can travel from the capital to the home of the Taj Mahal almost an hour quicker than the Shatabdi Express train. The train will leave Delhi at approximately 8:10am (excluding Friday) and arrive in Agra at 9:50am (timings subject to change); the return train departs at 5:30pm, meaning it will be possible to take a day trip to see one of the world's most iconic monument and be back at your Delhi hotel in time for a late dinner. There are two classes on board – Standard (AC Chair) and Executive (AC Executive Chair) – with food and drinks served to your seat and free Wi-Fi available.
Shatabdi Express
The trains operate day services between important commercial and cultural centres – the Delhi to Agra and Jaipur routes are particularly popular with tourists. Two classes operate: Standard and Executive Class.
Jan Shatabdi Express
Jan Shatabdi ('People's Shatabdi') trains are much like the Shatabdi Express, but typically only one carriage is air-conditioned, no meals are included and there is no Executive Class. A popular Jan Shatabdi route is Delhi to Ranthambore National Park.
Classes on Shatabdi trains
Standard Class (AC Chair Car) is air-conditioned with seating typically in a 2x3 arrangement. Services, such as meals, water, tea and coffee, are included (except on Jan Shatabdi routes) and normally ordered from and served to your seat.
Executive Class (AC Executive Chair – only available on Shatabdi Express routes) is normally restricted to one carriage and offers more spacious 2x2 seating. Services are premium compared to Standard Class and typically feature an upgraded dining experience and increased leg room.