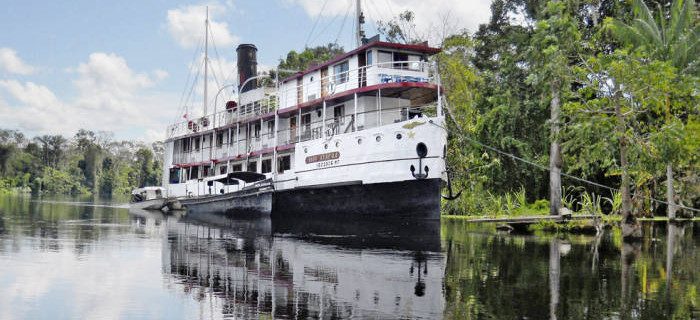 Amazon Riverboat Exploration - Peru
Husband and wife, Ben Clarke and Stacy Young travel with Kuoni and Earthwatch to Amazonian Peru this August, to help with teams of researchers and conservationists aboard the Amazon Riverboat Exploration which starts its journey in Iquitos and travels to the Samiria River basin which has some of the greatest diversities of animals and plants on Earth.
Read more about Amazon River Exploration.
Stacy
"I'm originally from Barnsley and over the years have lived in Sheffield, Salisbury and Cambridge, before moving to Derbyshire two years ago as a halfway point between where my husband and I now work.
My career to date has been in clinical research. I've been working at the University of Sheffield for the last 4 years and before this I worked for the Medical Research Council in Cambridge.
Outside of work, I'm totally addicted to Formula 1 (and Jenson Button!), I love going to Iyenga Yoga classes and horse-riding, and try to get out for a few runs when I have a bit of spare energy to burn off.
Ben and I got married in September last year. We've got a long wish-list of places we'd love to visit and are trying to get through as many of them as possible in the next few years – well, as much as money and annual-leave constraints will allow us to!
South America is high up on our list but I didn't think it was going to become a reality until we were selected for the Kuoni Holiday Health Experiment. To be going to the middle of the Amazon basin - in an area tourists don't normally get the chance to visit - to see the unique wildlife, and feel I'm able to contribute to Earthwatch's really important conservation project is incredible. As anybody who knows me will testify, I am passionate about animals and wildlife – this is a dream opportunity!"
Ben
"I'm 30 years old and am originally from High Wycombe in Buckinghamshire. I live in the Peak District with my wife Stacy. We met five years ago when we were both working in Cambridge, and got married last September at St Mawes castle in Cornwall.
I currently work for a medical communications agency as a medical writer. I graduated from Warwick University in 2000 with a degree in virology and, after spending a few years working in a lab just outside Oxford, I then moved into writing and editing.
I like pretty much all kinds of sports and enjoy playing squash. I also have an interest in wildlife, in particular fish and other aquatic animals. I have a fish tank that I probably spend a bit too much time looking after, and love snorkelling and, more recently, diving."