Sailing The French Riviera
• Saint Tropez
• Cannes
• Nice
• Monaco
• Antibes
• Saint Raphael
• Saint Tropez
HIGHLIGHTS
Itinerary highlights
Cannes is most famous for the international film festival that takes place here each year. The town is glitzy, glamorous and elegant as well as being a top-class seaside resort, complete with enchanting beaches, great restaurants and a lively nightlife.
Nice is the most important and historic town on the French Riviera and the Old Town is stunning. Millions of people flock here each year to enjoy the immense buildings, sea views, luxury shops and galleries crammed with fine art.
The city state of Monaco attracts the rich and famous with its decadent streets, great views and fine weather. Home of the iconic Monte Carlo Casino and the annual Formula 1® Grand Prix, Monaco is the place to come and live the high life. 
The private yacht experience
Chartering a private catamaran or yacht for a week is an exclusive and unforgettable experience. With a skipper to show you the ropes and make sure everything runs smoothly, and a hostess to sort out breakfast and lunch each day, this holiday is a  relaxing but memorable experience. You'll hop from island to island visiting secluded beaches and bays, and seeing places that can only be reached by boat. There's a very laid-back and informal approach to time – as long as you make it to your next destination by sunset, you can take your time. Enjoy some time to explore your overnight stop in a bit more depth before departing or stop off in a hidden spot on the way to your next destination. The skipper will sail the boat and you can get involved with the process as much or as little as you like; this is a fantastic way of learning a new skill whether it's steering the boat, tweaking the sails or navigating from bay to bay. Or just relax on deck, watch the world go by and enjoy the ever-changing landscapes.
CRUISE INFORMATION
Is this for you?
Sailing holidays are incredibly versatile and suit multigenerational families or groups of friends of all ages. All you need is a sense of adventure, a desire to explore new destinations and a love of the sea. Private yacht and catamaran holidays are great if you like to be active and learn a new skill, do nothing more than relaxing in the sunshine or find hidden coves and bays that other people you know are unlikely to have visited. While we have set itineraries, no two sailing holidays will ever by the same.
What to expect
All charters run from Saturday to Saturday. After arriving and completing the paperwork, you'll spend the night aboard the boat to find your sea legs before setting sail on Sunday morning. As it's your own private boat, you can set off whenever suits you. A typical day will include four to six hours sailing so there will be plenty of time to explore your overnight destination in a little more depth, or leave a little earlier and have more time to anchor off secluded beaches or bays as you sail by. When the boat is underway, you can sit and relax with a book, soak up the sun on deck or get involved with the sailing. Breakfast and lunch are served on board and will be prepared by your hostess using the food that is bought by you. At dinner, the boat will be in a marina or anchored a short tendering distance offshore and you can choose between dining at a local taverna or restaurant, or making your own meal in the onboard kitchen (known as a galley).
Skipper and hostess
The skipper and hostess will be on board throughout your charter. They are responsible for the safety and steering the ship between marinas, and keeping things clean and tidy, doing the shopping, and preparing breakfast and a light lunch each day.
Day-by-day itinerary
Our recommended itinerary is a one-week sailing itinerary from Saint Tropez:
Saturday: On arrival at the airport, you'll be taken by private transfer to the marina in Cogolin, just two miles from Saint Tropez. With the VIP check-in service you should be on the boat before 2pm, which will give you plenty of time to get used to life on board a boat, meet your skipper and hostess, listen to a safety briefing, and, of course, relax and enjoy the sunshine.
Sunday: After a night on board, it's time to get out to sea. On day one, you'll get to grips with the boat as you sail to the first destination of Cannes, a glamorous and elegant seaside resort which gets the attention of the world during its annual film festival. Check out the buildings, beautiful beaches and the fine coastal promenades and soak up the joie de vivre.
Monday: Today, the wind will take you to wonderful Nice, the most important and historic town in the region. People flock here all year long for the impressive architecture, the delicious food, fine art galleries, stunning beaches and all-round stylish lifestyle.
Tuesday: The most memorable port of call on this itinerary is Monaco, home of the Monte Carlo Casino, and the sort of palaces you can imagine James Bond living in. The city-state is popular with the rich and famous and it almost feels like people live in another world here. While other towns have carnivals and parades, Monaco has its own Formula 1® Grand Prix racing through the streets.
Wednesday: On day four, head back south along the Cote d'Azur to Antibes which is best known for its amazing beaches and for the museum dedicated to the works of Picasso, who lived and painted in the area.
Thursday: Continuing southwards past an array of irresistible beaches, the destination of the fifth day is the historic Saint Raphael, one of the oldest settlements on the French Riviera. It's another impressive town with grand architecture, a café culture and nightlife. There's also a waterpark and a lot of superyachts to admire in the harbour.
DATES AND INCLUSIONS
Cruise dates
The sailing season runs from April to October, with charters typically booked for one week or more, from Saturday to Saturday. Prices vary throughout the season with peak prices in August, and the best-value sailing available in May and October.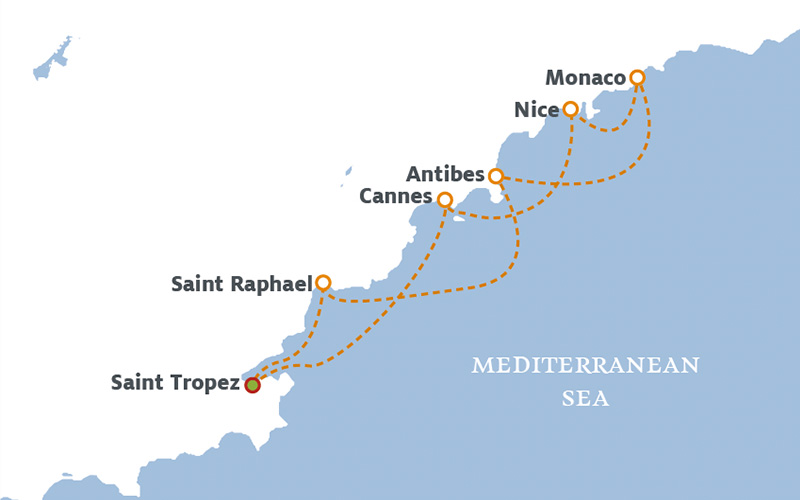 Tailor made cruises
These sailing holidays can easily be added to a land-based holiday at one of our featured hotels or resorts. Speak to your Personal Travel Expert to find out more.