Cathay Pacific
Cathay Pacific offers four daily flights from London-Heathrow to Hong Kong International Airport. From its home & hub in Hong Kong, Cathay Pacific's international network to over 140 worldwide destinations includes 40 in Asia, 7 in Australia & New Zealand and unrivalled connections to 22 cities in China. In the air, you can enjoy superb in-flight service in comfort. With more than 140 destinations in 36 countries across the globe to choose from, Cathay Pacific is the airline to bear in mind when looking for a great value deal.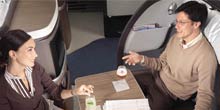 Just the right amount of personal attention, interaction and privacy, whenever you want.
Converts into flat bed
81" bed length
36" seat width
17" PTV
Completely electronic
In-seat power
Spacious suite complete with guest seating & personal closet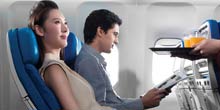 Better than ever experience beginning with the seat.
Bigger cabin compared to current long-haul economy
32" seat pitch
18.1-18.5" seat width
6" recline
9" touch screen TV
In-seat power supply outlet
phone/ iPod connector
USB port
Voted World's best Business class 2012 by Skytrax and designed for a perfect balance of privacy and openness
Converts into fully flat bed
82" bed length
6.5" bed width extension
15" PTV
Completely electronic
In-seat power
Multi-port connector (iPod/ phone)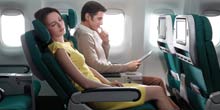 A total enhancement of Economy Class experience
Separate cabin with 26-34 seats
38" seat pitch
19.5" seat width
8" recline
10.6" widescreen TV
In-seat universal power supply outlet
phone/ iPod connector
USB port
*The new cabins are being progressively introduced on our Boeing 777-300ER, Boeing 747-400, selected Airbus A330-300 and Airbus A340-300 aircraft.
Aircraft deployment varies and availability is subject to operational requirements.
StudioCX provides an AVOD (Audio/Video On Demand) entertainment system, offering up to 100 movies, 350 TV programmes, 888 CDs, 22 radio channels and up to 96 games to all passengers on the aircraft.
We rigorously check the flight information provided by the airlines on our web site, to ensure it is correct at the time of being added. However, please bear in mind that suppliers may wish to amend or improve their facilities. When we are told of any significant or long term changes we will always endeavor to update the web site immediately.