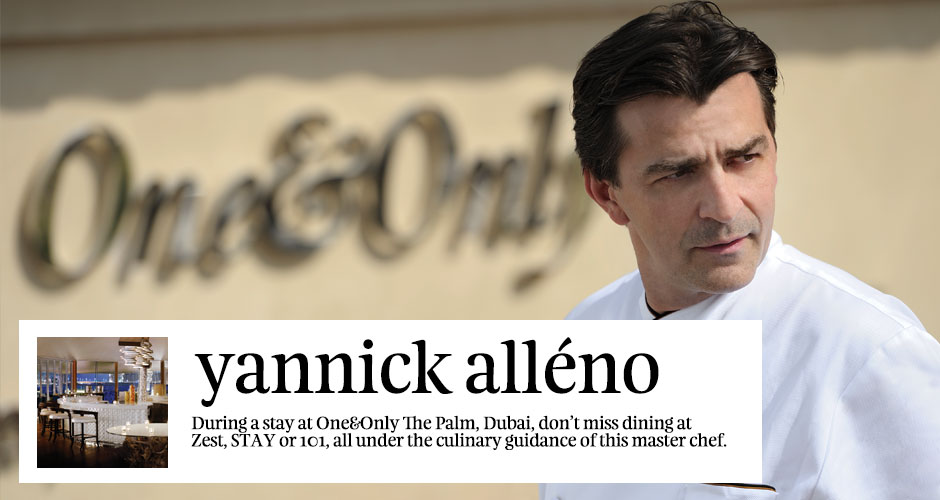 Culinary Star: Interview with Michelin star chef Yannick Alleno
Yannick Alléno is one of the greatest chefs in the world and has been awarded five Michelin stars. During a stay at One&Only The Palm, Dubai, don't miss dining at Zest, STAY or 101, all under the culinary guidance of this master chef.
How did you become a Michelin-starred chef?
I always wanted to cook; being a chef arrived once I'd realised that I wanted to dedicate my entire life to cuisine. I never expected to be a Michelin starred chef. Of course, I wanted to be a great chef, but I was not cooking to reach stars, I was cooking, as I still do, to bring pleasure to guests and freely express my creativity. Now, having five MIchelin stars is a real recognition, but also it's a duty in order to reach, on a daily basis, the expectations customers have coming to our restaurants.
Describe your restaurant and team...
My team in Dubai is composed of cooks, pastry chefs and service people. Managing the entire food and beverage at the One&Only The Palm was really challenging, as the level of quality in Dubai is very high.
When we worked on the concept, years ago now, after the Managing Director of the hotel, Olivier Louis, asked me to come on board, we thought of creating different outlets each with a specific culinary identity - 101, Zest and STAY restaurant. In order to produce these cuisines, my team is composed of colleagues who have worked with me for years, such as David Hemmerlé, the Executive Chef.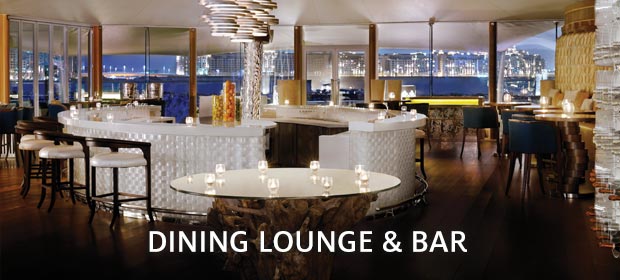 What are the restaurants' most popular dishes?
At STAY, the fragola pasta is clearly a signature dish, but I also have to say that the famous pastry library is also now a 'must see' in Dubai.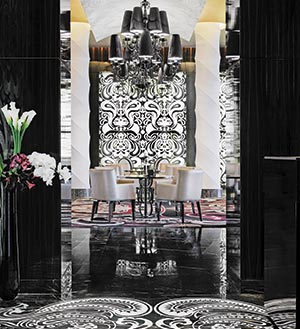 "I am lucky enough to travel around the world each year...all of the people I've met, the products and recipes I've tried, the cities I've visited - each one of them represents a true travel moment"
Yannick Alléno

Have you ever had a perfect travel moment?
I am lucky enough to travel around the world each year and I must say that all of the people I've met, the products and recipes I've tried, the cities I've visited - each one of them represents a true travel moment. If I have to select one, I would prefer to imagine that I still have to live it, the best is yet to come.
Yannick Alléno shares one of his signature dishes with us...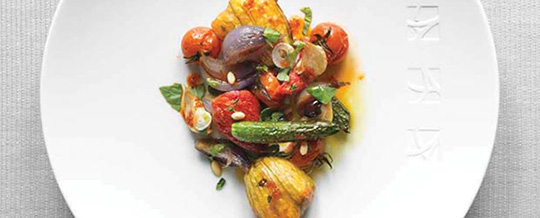 INGREDIENTS

Tomato jus

5 tomatoes
50ml olive oil
Salt & pepper to taste

Tomato & onion confits

12 cherry tomatoes
8 garlic cloves
200ml olive oil
2 red onions

Zucchini flower blossom

8 zucchini flower blossoms
100g short-grain rice
20g black olives
1/3 of onion confit
20ml rice vinegar
1/2 lemon
Olive oil

Garnish

10g pine nuts
2 spring onions
8 basil leaves
Tomato jus
Score the tomatoes and place in a bowl of boiling water. Leave until the water is tepid then peel and chop the tomatoes and pass them through a sieve. For a richer jus, place in a muslin bag and leave to drain through overnight. Heat the olive oil in a pan, add the drained puree of tomatoes and cook slowly for 15 minutes. Season to taste.
Tomato & onion confits
On a baking tray, place the cherry tomatoes and peeled garlic gloves. Peel and chop the red onions into 12 pieces and place on a small baking tray. Pour over 200ml olive oil on the tomatoes and onions. Cook both in the oven for one hour at 90 degrees centigrade, until they reduce to a confit. Set aside 1/3 of the onion confit.
Zucchini flower blossom
In a pan, boil rice and water then slowly cook it covered for 12 minutes. Remove from the heat and drain. Finely chop the olives. In a bowl, mis together the rice, olives, tomato and 2/3 of the onion confit, rice vinegar and lemon zest. Stuff the zucchini flower blossoms with the mixture and sauté in olive oil until lightly golden.
Plate up
Arrange the zucchini flower blossom on a plate and surround with the tomato and red onion confit. Add a few slices of spring onion, pine nuts and basil leaves, then a few drops of tomato jus.
Inspired?
---
This intimate hotel is a secluded haven of complete luxury, cosseted by lush gardens and dotted with fountains and sparkling pools with stunning views of the Dubai skyline in the distance.