The foodie guide to Caribbean cuisine
With flavoursome spices and fresh, local ingredients, these island resorts serve up some of the most tantalising Caribbean cuisine in the world.
For years, Caribbean resorts have served up popular European buffet-style food whilst local cuisine has been left by the way side. But in recent years there's been a revolution and Caribbean cuisine is making a comeback...
With Spanish, French, Swedish, Dutch and American influences, a new wave of chefs focusing on fusion dishes are competing with local, traditional cooks for prominence – creating a trade off in skills on most islands, meaning you get the best flavours of the Caribbean.
With this in mind, we asked our Travel Experts to hand-pick their favourite dining experiences in the Caribbean across a number of well-known islands, with the aim of inspiring your next escape…
Directly on the water's edge, the Fish Pot at the Little Good Harbour in Barbados is one gourmet experience you shouldn't pass up. With uninterrupted views of the Caribbean Sea and a relaxed, laid-back atmosphere that you come to expect in the Caribbean, you can dine here for breakfast, lunch or dinner. Opting for fresh ingredients and local seasonings, the menu here has a modern take on Caribbean cuisine, with a firm focus on seafood.
Dish to try: Begin with the Cajun Fried Calamari, end with either the Jerk Skirt Steak or the Grilled Caribbean Lobster.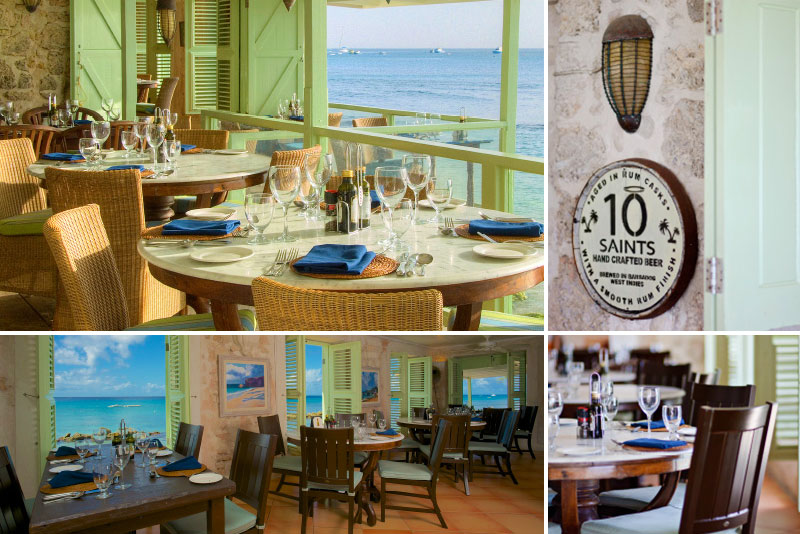 At The BodyHoliday, the focus is on good living, including exercise, relaxation and rejuvenation. All menus at this luxurious resort have fresh, locally-sourced ingredients from the resort's organic garden and all restaurants can provide a specialised diet just for you, depending on your lifestyle, from a nutritionist or dietary specialist. In Cariblue Windows, the resort's evening-only eatery, chefs showcase their talents at their own stations, with tasting menus and wine pairings.
Dish to try: You can't go wrong by opting for the renowned Catch of the Day.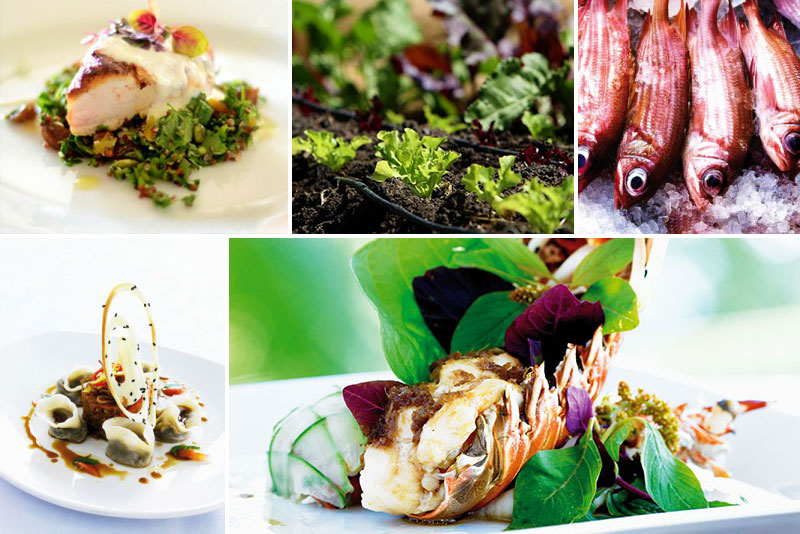 The resort's restaurant, Ismays Restaurant and Bar, offers a 5-course fine dining menu in a beautiful location at the end of a three-quarter mile white-sand beach. You'll be treated to some of the best fusion Caribbean cuisine in the world, using local and indigenous recipes that have been around for decades. For a surcharge, you can even upgrade to a special occasion evening that takes in views of the glistening Caribbean Sea.
Dish to try: Start with the Slow-roasted Belly and Ham Wrapped Medallion with juicy Black Eyed Peas, coupled with the Hot Chocolate and Stem Ginger Lava Cake - you'll leave satisfied.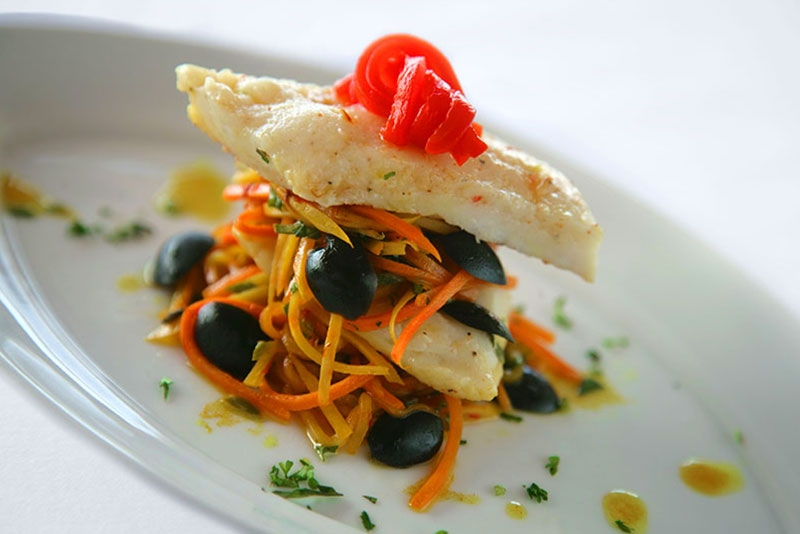 The hotel's à la carte experience, the Merlot Restaurant & Bar, overlooks the infinity pool and serves a wide range of international high-cuisine dishes, prepared by the Executive Chef. All dishes are made with exotic spices and fresh, local produce to enhance each mouthful. Dining here does not have to be restricted to the restaurant; special occasions may call for a romantic dinner on the beach, cookery class or wine tasting session in one of the Caribbean's best cellars.
Dish to try: Opt for the Mexican Mixed Grill infused with Mexico's local spices. Dine on grilled chicken and shrimps topped off with a spicy lemon sauce.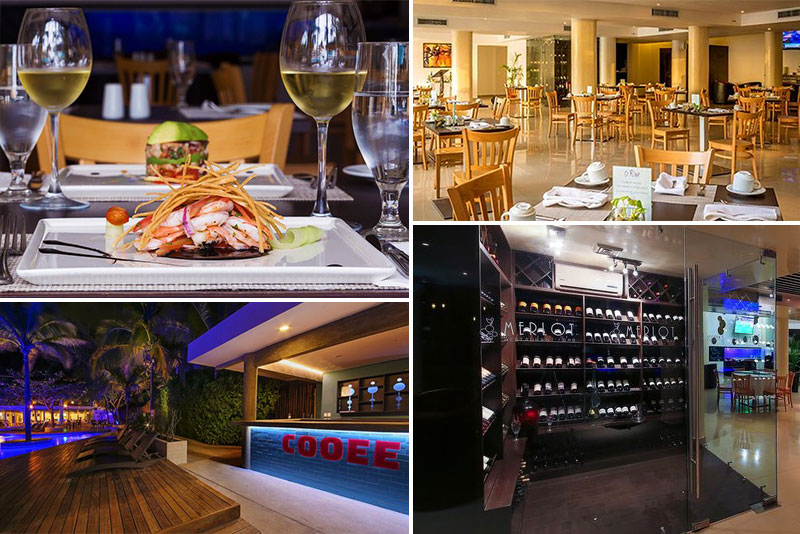 Set on Providenciales' beautiful Grace Bay, Beaches Turks & Caicos Resort has the complete package with an amazing choice of 16 restaurants, although we'd opt for the traditional Caribbean, Sapodilla's or The Jerk Shack. Tinged with the right amount of spice, you'll find many local favourites on the menu. Don't miss the nearby "Da Conch Hut" too for a taste of the authentic island conch fritters.
Dish to try: Definitely the Jerk Chicken with roasted sweet potatoes but also the Conch and King Crab Angallati, if you get the chance.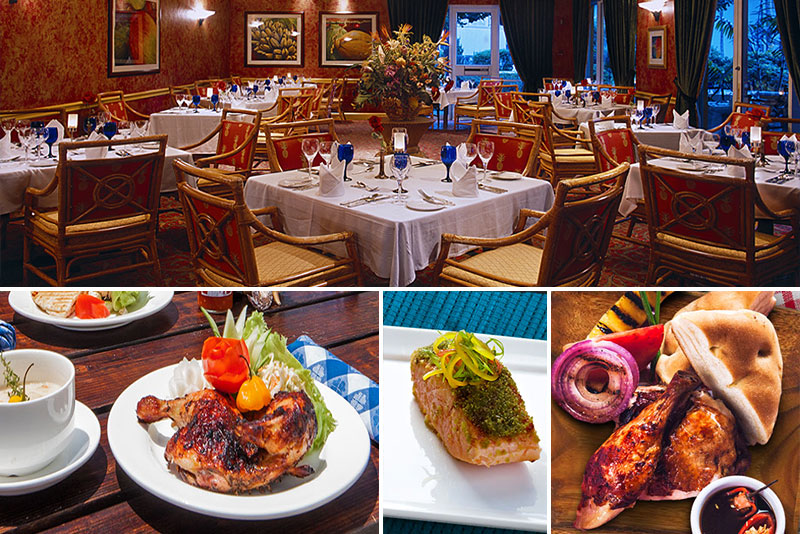 Discover the spice of life at this elegant and forward-thinking Caribbean favourite. Dine at Spice's for a taste of authentic cooking, with an incredible array of Jerki-infused meat options. In the evening, experience a taste explosion with unexpected spices, like nutmeg and cinnamon, included in the majority of dishes. The other thing we have to mention is this resort's Signature Cocktail – a grilled pineapple and ginger martini – its flavour is something you won't forget in a hurry.
Dish to try: Choose the flavoursome Island Style Jerk Pork Chop, with traditional rice 'n' peas, and top off with the delightful Baked Coconut Cream Pie.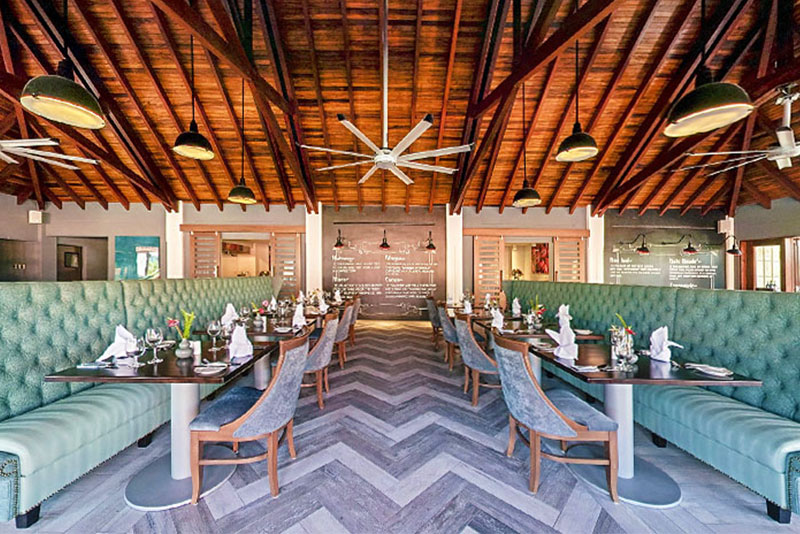 With Craig Jones, former protégé of Marco Pierre White at the helm at this luxury resort's kitchens, you'll have rarely tasted any dish better than at Cap Maison. Reserve a table at the resort's fine-dining restaurant, the 'Cliff at Cap', for unobstructed views of this island's vibrant sunsets. A fusion of Caribbean and French cuisine, Chef Jones has won many awards for his innovative menu. Also available are couples' cooking classes, rum tasting sessions and market tours!
Dish to try: Dine on the Ceviche of Reef Conch, Ahi Tuna with a Mango Balsamic Glaze, coupled with a glass of the South African Sauvignon Blanc.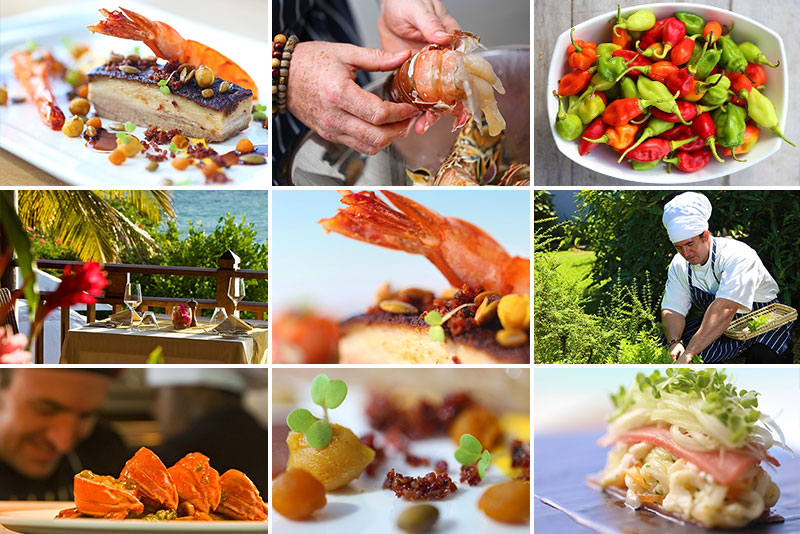 Offering secluded beachfront dining, a range of fresh seafood (as recommended by the local fishermen), and locally grown vegetables from the nearby farmers' market, you know you're in safe hands. Prepared and elegantly presented by visiting chefs from around the world, with no buffets in sight, you'll be spoilt for choice. Make use of the resort's wine steward, Raoul, who'll be happy to pair your meal with a glass.
Dish to try: Try the Lightly-spiced Shrimps and King Prawns, with a serving of the Basil-tinged Rice 'n' Peas.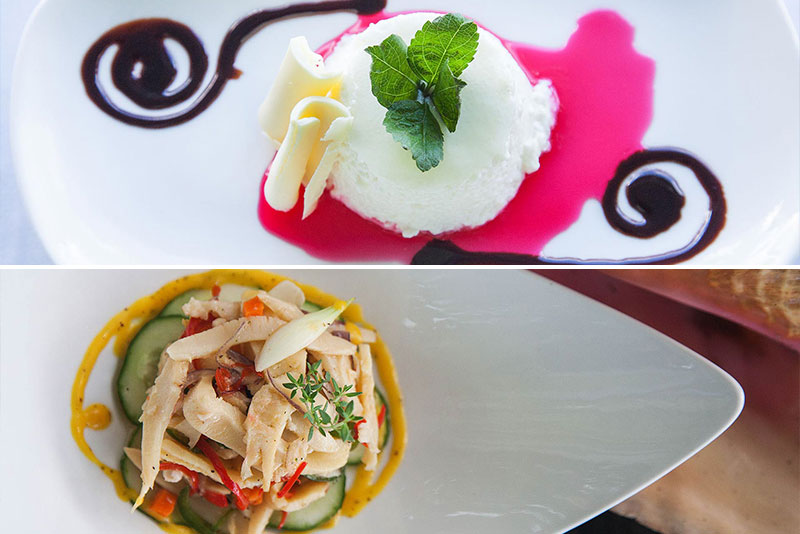 With a multitude of tastes, textures and sensations, you'll discover an unforgettable dining experience in bohemian Negril. Professional Chefs in-resort use the finest, local, sustainably-sourced ingredients to create delectable dishes to suit every palate. You could opt for Patois Patio to dine with an Ocean view, the Cabana Grill right by the pool or at Feathers, a 5-star fine-dining experience with Caribbean flair.
Dish to try: Start your day with breakfast at Patois Patio with Banana Stuffed French Toast served with Cinnamon Sugar, when the sun is at its highest, enjoy the Pan-friend Snapper Sandwich, then enjoy the Coconut Dusted Jumbo Shrimp for afters. Pure foodie bliss!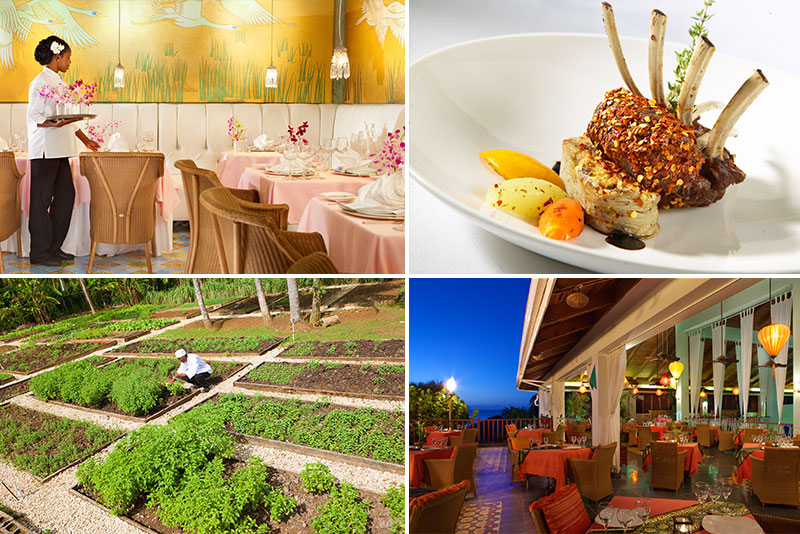 Savour an extensive range of rich, smoked, seared or grilled fare at this resort's restaurant, the Seafire Steakhouse, for exceptional Bahamian flavours. Including coriander, lemon-pepper and paprika in the majority of its dishes, each can be tempered to just how you like it, so nothing will ever be too 'spicy' – a common concern with Caribbean cuisine.
Dish to try: Begin your experience with the Andros Crab & Lobster Cake, with a side of grapefruit salsa, then feast on the Surf & Turf – Wagyu short rib and Bahamian lobster tail.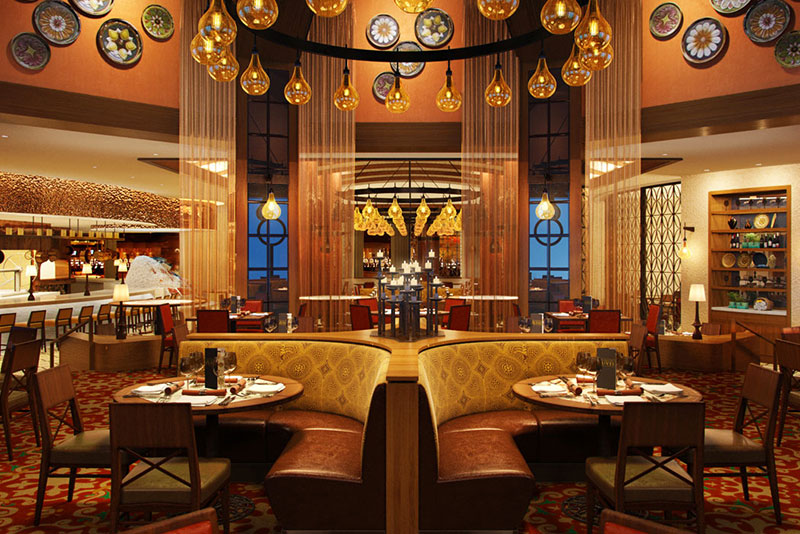 Nisbet Planatation Beach Club, Nevis
Bringing to life local flavours and innovative fusion cuisine by the hotel's talented chefs, there's 3 incredible restaurants to choose from; we'd recommend Coconuts for its views over the beach and island favourite, delicious Mango Pancakes. Another delight at this hotel is Nevis Night; held every Monday, you can expect an evening of cocktails, a delicious surf-and-turgf grilled steak or lobster with a three-piece steel band, ready to dance the night away in the sand!
Dish to try: Definitely try the Nevisian Fish Soup, before moving on to the Island Spiny Lobster and Banana Bread Pudding. The desserts here are divine!
With so many restaurants to choose from, you won't be left disappointed as the quality of each dish continues to surpass well-known gastronomic delights from around the world.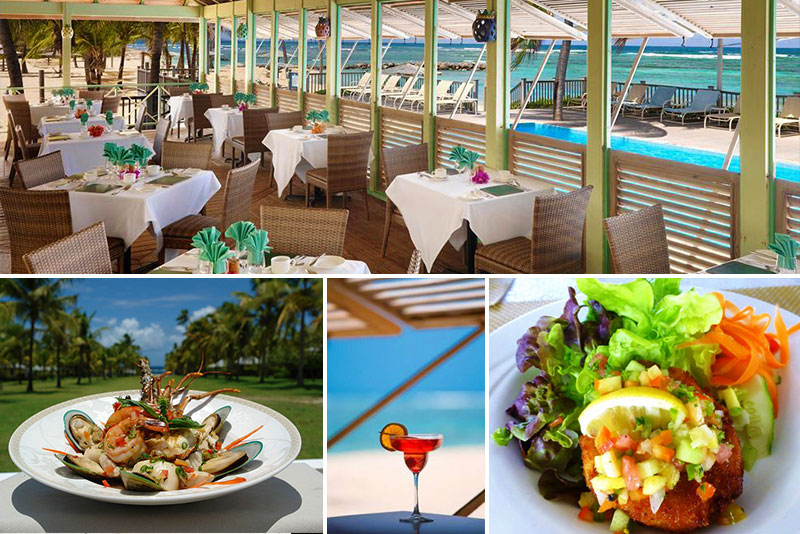 Inspired?
---
If your tummy is rumbling and you're ready to explore more of the Caribbean, then take a look at our collection of paradisical islands that are ready and waiting for your arrival.