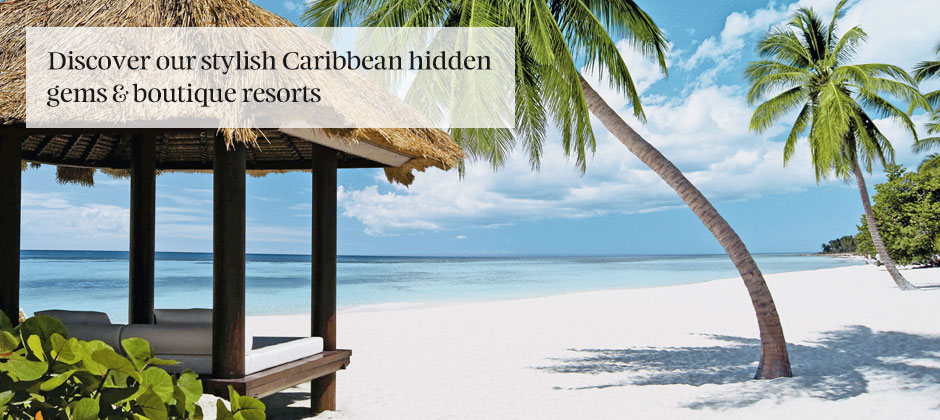 Hidden gems of the Caribbean
If you're looking for total escapism in the Caribbean, we know how to make it happen in style.
Our favourite boutique resorts make you feel like family rather than one of the masses and are often romantic retreats with top-notch personalised service. If it's a remote island paradise you're after, you're in luck. By boat or helicopter, we can whisk you away to the dramatic scenery of the British Virgin Islands; or how about a private island in the Grenadines, where the most strenuous thing you have to do is swing in your hammock under a palm tree? The Caribbean's lesser-known islands are waiting to be discovered…
Private Grenadines
If you're looking for a secret hide-away, the Grenadines is a 'must' on your holiday wish list. From private secluded beaches to unspoilt landscapes, the Grenadines are perfect to hike, swim or explore at your leisure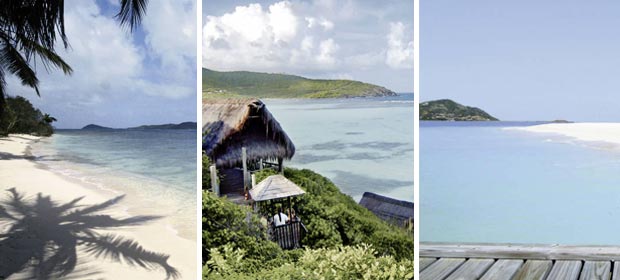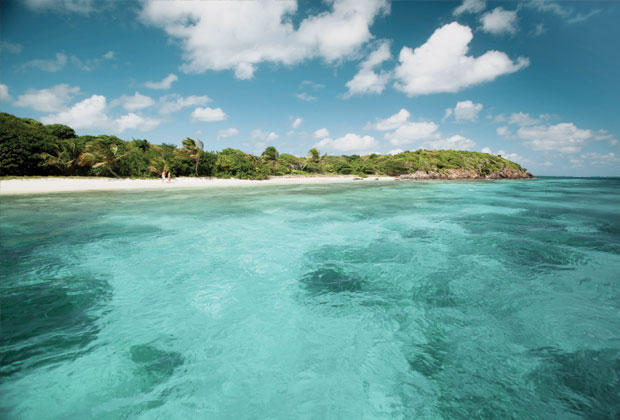 ---
Set on a private island with 5 white sand beaches, Palm Island Resort offers many cycling and walking trails or you could head down to the ocean for swimming, snorkelling, diving or a whole array of other water sports including kayaking, ideal for finding a quiet beach or bay. If you would rather spend the day on the beach, how does sipping a cocktail whilst lying on the swinging hammocks beneath palm trees sound? Booking yourself a spa treatment is the ideal way to finish off a lazy day in the sun.
Boutique Grenada
With Grenada better known as "Spice Island" your taste buds are sure to experience incredible Caribbean cuisine. Not only is Grenada famous for it's cuisine, it's beaches and scenery are absolutely breathtaking.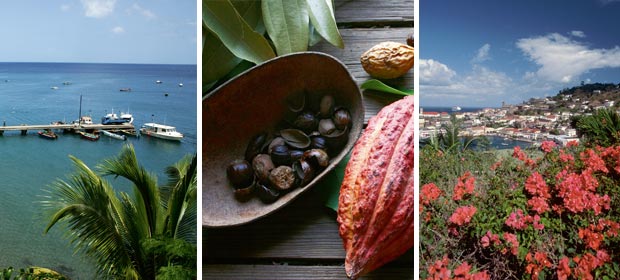 "

Imagine this,

Friday night at a lively restaurant set on Grand Anse, the most beautiful beach, wind blowing through your hair while you sip on your

favourite exotic cocktail
and listen to the
sweet sounds of a live local band.
Can life get any better? It's the perfect setting for some weekend wind down and a good way to
'full your belly'
as the locals say.
"
Marielle Alexander,
Kuoni Personal Travel Expert on Grenada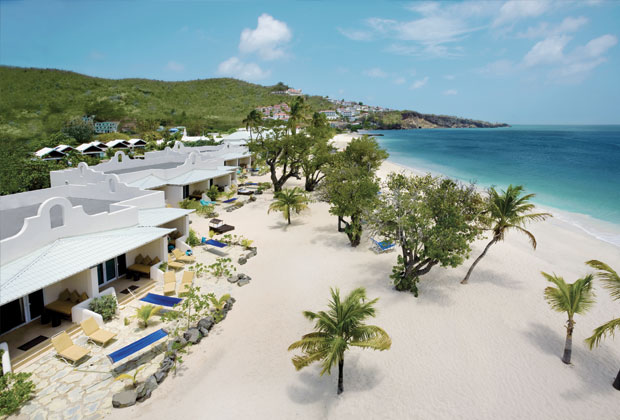 ---
Set on the beautiful Grand Anse Beach, just three miles from St George's, Spice Island Beach Resort caters for all requirements. Not only is it a all-inclusive resort with it's own golf course, there are many activities to keep you entertained such as tennis, cycling and non-motorised watersports including snorkelling, kayaking and hobie cat sailing. This family run boutique hotel really makes you feel at home, and hosts a restaurant and bar offering authentic local cuisine, calypso, reggae and steel bands.
Secluded Tobago
This laid back island, said to inspire Robinson Crusoe, is a truly relaxed secluded getaway. Aside from winning prestigious awards for its remarkable eco-credentials, Tobago's locals are very relaxed, warm and welcoming. Tobago is a fantastic tropical island to escape our hectic lifestyles, so put your feet up and enjoy the picturesque beaches.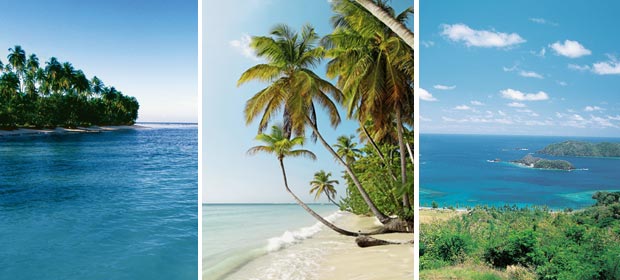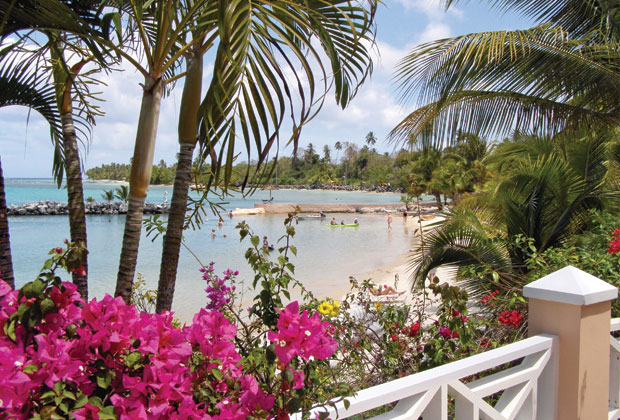 ---
One of Kuoni's guests favourite island escapes, award winning Coco Reef Resort & Spa is renowned for it's golden private beaches edging calm ocean. This resort is perfect for couples wanting to combine a relaxing escape with a little exploration of this lush island and enjoy superb dining and service.
Chic Aruba
Aruba is a small Dutch Caribbean island lying just 18 miles off the coast of Venezuela in the azure blue waters of the Caribbean Sea. A land of perpetual sunshine and a melting pot of cultures, Aruba is an exotic paradise, with beaches that can quite rightly be described as heavenly.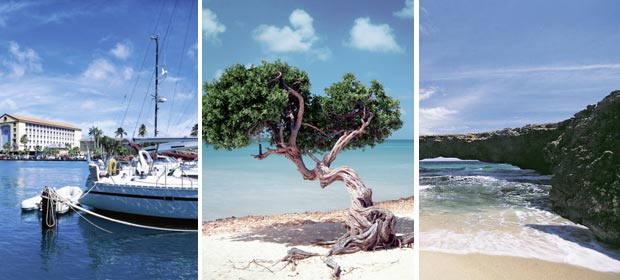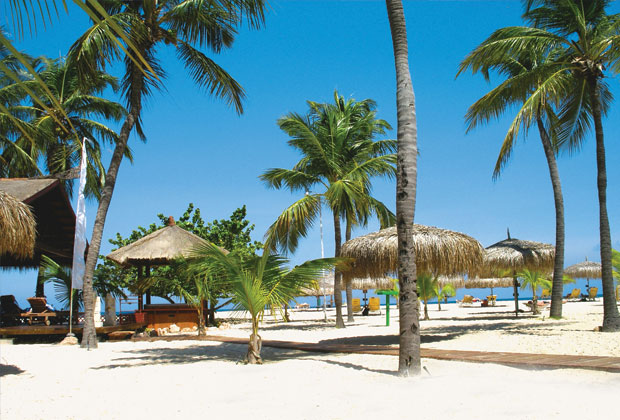 ---
This resort is well known for romance and rejuvenation. The resort lies on the white sands of Aruba's widest beach, and has three á la carte restaurants. The Manager's cocktail party provides a lively Tuesday (late afternoon) by the beach. The beach-side exotic Caribbean-Balinese style spa offers a variety of massages, body treatments and yoga classes.
Exceptional Nevis
Nevis lies opposite St Kitts, just 2 miles across the water, and makes St Kitts seem like a bustling city in comparison. In the centre of the island lies a 3,600ft volcanic peak, which makes for exceptional exploring around the island, with breathtaking scenery.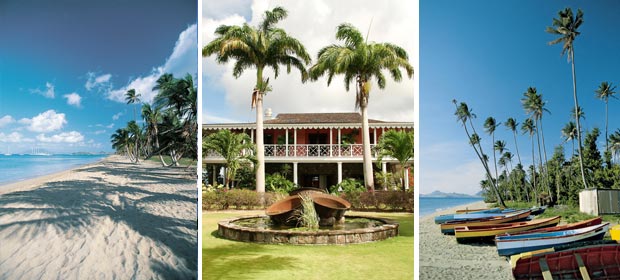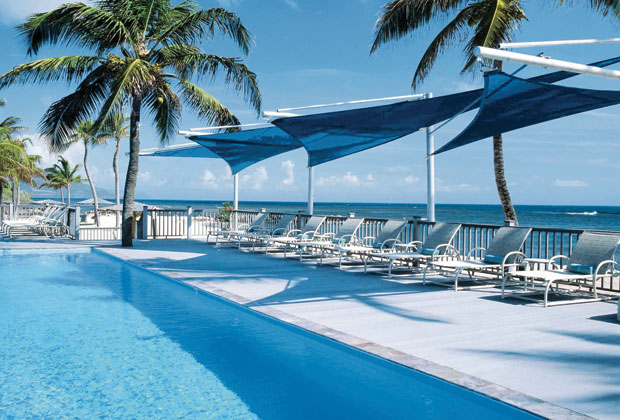 ---
Set amid coconut groves on a white sand beach, this inimitable beachfront plantation house is the island's only resort plantation located directly on the beach. This boutique resport offers exceptional service and has been voted one of the Top Hotels in the Caribbean by TripAdvisor.
Inspired?
---
Want to find out more about our other Caribbean holidays and resorts...