Your British Columbia bucket list – meet the friendly locals
A grizzly bear feeding on salmon in the wild; a whale breaching just off a kayak's bow, eagles gathered in their thousands: these images are the stuff of life lists, but they're surprisingly accessible in British Columbia.
Top of most visitors' wildlife wish lists is the grizzly bear, best sighted in northern British Columbia's Great Bear Rainforest, the largest intact temperate rainforest in the world. Floating lodges, Knight Inlet Lodge and Great Bear Lodge, offer wildlife viewing tours from spring through to autumn when the bears gather to feed on salmon runs as does Spirit Bear Lodge, located on the ancestral lands and traditional territory of the Kitasoo/Xai'xais First Nations. Some lucky visitors to these remote lodge locations will also see the mystical Spirit Bear, a subspecies of black bear found on Princess Royal Island that has a recessive gene that gives it a naturally white coat.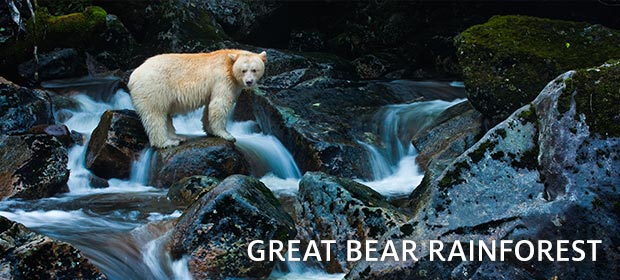 No visit to British Columbia is complete without a whale watching trip. In spring, about 20,000 Pacific grey whales migrate along the west coast of Vancouver Island, while in British Colombia's richest orca habitat, the Johnstone Strait and Broughton Archipelago off Vancouver Island's northeast coast, 250 resident orcas live, while minke and humpback whales, porpoises, harbour seals and sea lions also thrive in these waters. Departures with Stubbs Island whale watching from Telegraph Cove, a historic fishing village built on stilts along the ocean's edge on the northern tip of Vancouver Island and Victoria's Prince of Whales, offer expert guided tours operating from open-air high-speed zodiacs or comfortable cruisers.
Or why not cast your rod? With 468 species of fish, 100 river systems, and over 25,000 kilometres of coastline, freshwater and saltwater fishing options abound in British Colombia. Relax in unique lodges such as Langara Island Lodge, explore the Fraser River, famous for huge salmon runs, or discover the famed steelhead fishing of the Skeena River and its tributaries.
Inspired?
---
Vast and epic, an ideal self-drive or touring destination.