Why Aruba should be your next Caribbean holiday
In a region that offers a huge choice of paradise islands, Aruba is an example of a smaller island that is often overshadowed for being off the 'popular' beaten path - and we think it's one of the most beautiful to visit.
Along with its sister islands of Bonaire and Curacao, Aruba is one of the less well-known islands, hidden in the heart of the southern Caribbean just 15 miles from the Venezuelan coast. A tiny gem with jaw-dropping beaches and unbeatable, sunny weather, this is an island that ticks all of the typical Caribbean boxes and offers so much more. Modern yet timeless, cosmopolitan yet untouched, Aruba is an enchanting and unique country.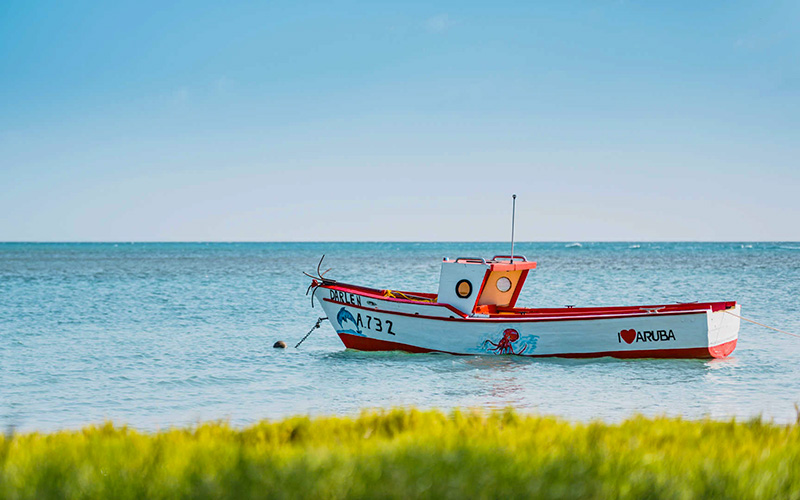 The unbeatable weather
First things first, if you hunger for the sun and serene warm weather, Aruba is renowned for having the most sunny days out of all the Caribbean islands. Sat below the hurricane belt, the island's great location means that Aruba has virtually no rainy season, making it a fantastic year-round destination. With an amazing climate that rarely falls below 27°C, you'll enjoy countless sunny days, consistently high temperatures and warm and enjoyable seawaters at pretty much any time of the year.
A country of contrasts
A spectacular island of complete contrasts, Aruba is an unusually flat island which shies away from the typical rainforests and tropical greenery that are so often expected on a Caribbean island. If you venture inland and to the south, Aruba's landscape is strikingly barren, dominated with giant cacti, stunning wind-shaped divi-divi trees, and arid vegetation almost reminiscent of a desert-like environment. However, if you head to the north of the island, this is where you'll find most of the resorts and retreats, scattered along miles of pristine coastline and idyllic white-sand beaches, so pure and fine that they look virtually untouched! A haven for beach lovers, Aruba offers a huge number of beautiful beaches for you to explore; visit Baby Beach for some of the softest sand on the island, or venture to Manchebo Beach for a particularly pretty sunrise or sunset. The most spectacular beach on the island that you have to visit is Eagle Beach, a sweeping stretch of pure white sand that is regularly voted as one of the most beautiful beaches in the world.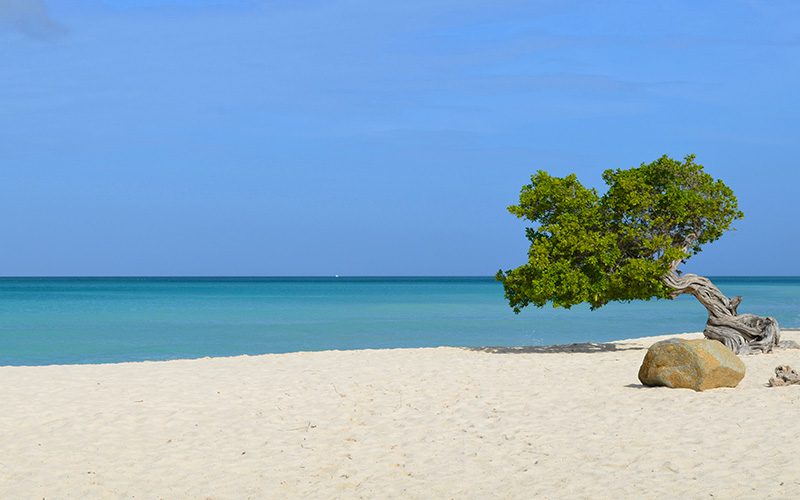 Fantastic for romance
One of the best islands for honeymooners, the enchanting beauty and serenity of Aruba make it a prime territory for relaxation and romance. Though the opulent, high-rise resorts are found mostly in the busier Palm Beach area, a romantic break can be enjoyed in the uncrowded and low-rise area near to Eagle Beach, a perfect setting for an intimate Caribbean getaway. The Bucuti & Tara Beach Resort is an adults-only tropical hideaway, nestled on a secluded 14-acre stretch of Eagle Beach. A leading hotel for sustainability, the Bucuti & Tara hotel is a resort which truly respects its environment, and is the perfect place to visit and do nothing but relax – as guests of the resort you'll enjoy pristine white sands without the crowds, as well as movie evenings on the beach and an exclusive 16-seat Carte Blanche chef's table. Just along the coast, the Manchebo Beach Resort & Spa is also a popular haunt with honeymooners. Boasting one of the best spots on the island, set right on the edge of the trendy Manchebo Beach, this hotel is renowned for its romance and exclusivity, as well as for its fantastic facilities. Ideal for a lazy day, you'll love the beach waiter service that goes straight to your sun lounger, and the hotel's excellent spa where you can enjoy a range of treatments and rejuvenating massages, or a tranquil morning session of Pilates on the beach.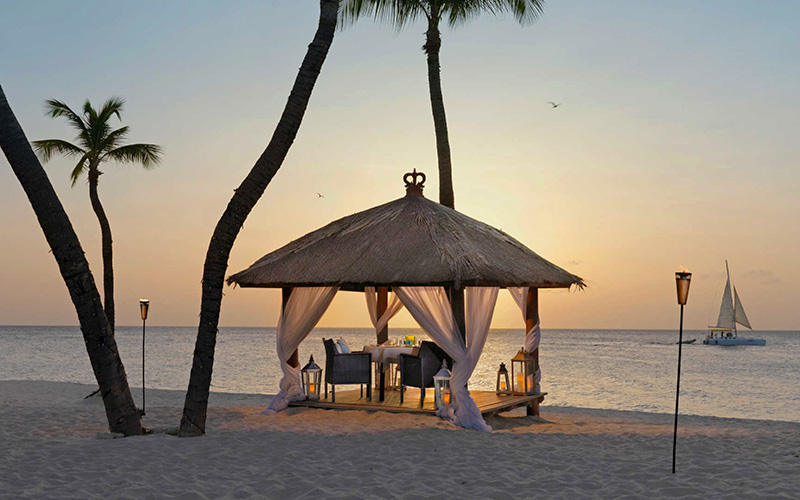 A melting pot of cultures
Aruba has an incredibly rich heritage and diverse population. A melting pot of different cultures and colonial influences, you'll find that Arubans are an incredibly welcoming community, made up of more than 90 different nationalities. Much of Aruba showcases its cultural heritage – you'll notice a Dutch feel in the capital, Oranjestad, where pretty gabled houses are painted in all different colours, as well as a strong Latin influence throughout the whole island, a result of Aruba's proximity to South America. You'll also notice that Aruba's diverse culture contributes to a delicious menu of flavour fusions in the island's cuisine; with a heavy influence emanating from the Netherlands, Indonesia, Europe, as well as other Caribbean islands, Aruban cuisine covers a little bit of everything, and dishes are usually bursting with flavour and vibrant in colour.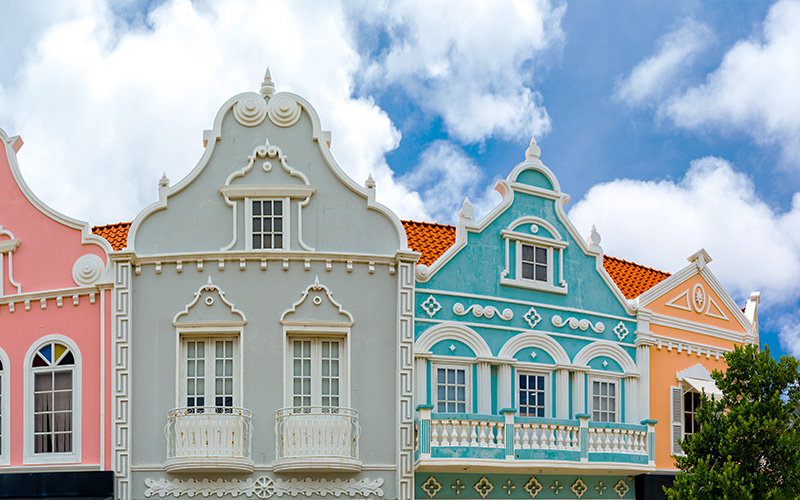 One of the best wreck diving destinations in the Caribbean
Full of surprises, Aruba is one of the best islands to visit for its underwater treasures. Peppered with stunning coral reefs and an intensity of tropical sea life, it is not only a great destination for snorkelling and swimming, but with over half a dozen wreck sites submerged in the Aruban waters, it is also the perfect place to experience an array of beautiful diving sites. The largest wreck, and often the signature to see, is the SS Antilla, a German Freighter 400 foot in length and one of the largest wrecks to be found in the entire Caribbean!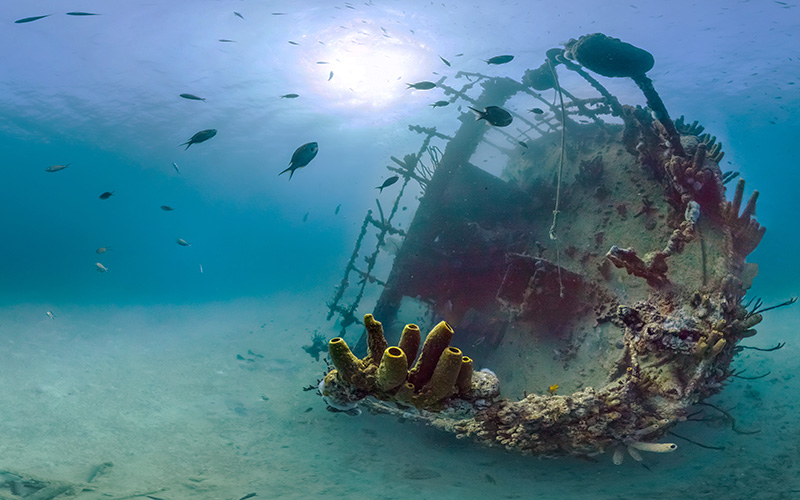 It has a desert national park
Be sure to visit Arikok National Park, the country's only protected reserve that covers almost 18% of the entire island. This is not a tropical rainforest but an area of stark natural beauty, full of unusual rock formations, rugged hiking trails, caverns, grottos, and even an abundance of preserved historical sites. Particularly popular with birds and reptiles, indigenous wildlife include the Aruban whiptail lizard and the Aruban burrowing owl – you might also spot several rare Cascabel rattlesnakes or a Baker's cat-eyed snake during a visit. Some of the most stunning sites to see in the park include the Caquetio Indian rock paintings in the Fontein and Guadirikiri caves, and the gold mining ruins at Miralmar that attest to the island's rich history. There's also an extremely pristine natural 'Conchi' pool, which is so secluded, it's only reachable by foot or horseback.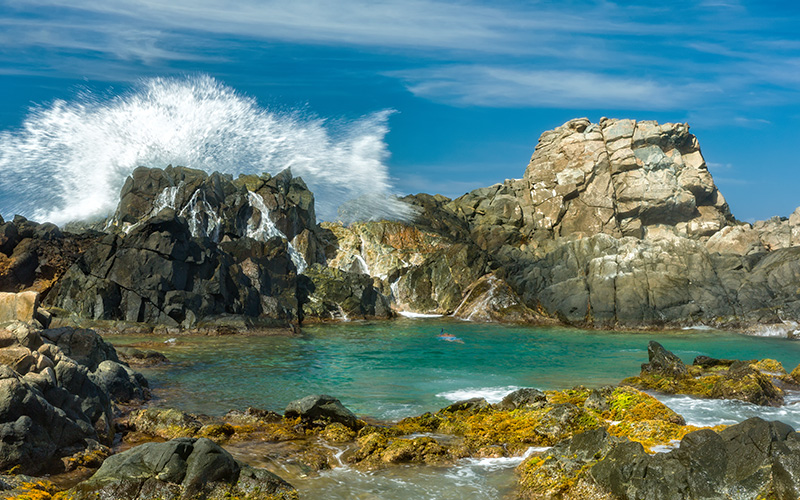 Inspired?
---
If you're inspired by Aruba, browse our Caribbean brochure or chat to one of our Aruba experts who can share their first-hand experiences and recommendations.
This feature was published on 13 October 2017. The information within this feature is correct to the best of our knowledge at the time of print. Feature by Anna Hunt.