No.1 Traveller
We've partnered with No.1 Traveller, the airport lounge specialist, so that you can start your holiday experience before your flight from Gatwick, Heathrow Terminal 3, Birmingham and Stansted. Your entry includes a complimentary cold buffet selection and hot food from the kitchen as well as complimentary juices and soft drinks, specialty teas and coffee, wine, beer and spirits. You can also take advantage of the free Wi-Fi, newspapers and magazines while you enjoy the runways views.
All lounges include TVs and at the larger lounges you can take advantage of other areas, such as the cinema, library and quiet room. If you're travelling from Gatwick South Terminal or Heathrow Terminal 3 there is a Travel Spa so that you can have a massage or get your nails done before you fly.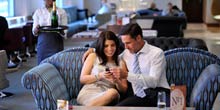 Bistro; choose from a menu of freshly-prepared hot and cold light dishes made to order.

Fully-tended bar; comfortable seating and a relaxing ambience in the bar area, the welcoming staff are ready to take your order (champagne and cocktails at an additional charge)

Travel Spa; offering a range of treatments from massages to facials and manicures to pedicures. Add something extra to your pre-flight experience and leave for your destination feeling great.

Keep up to date; complimentary Wi-Fi and a wide selection of newspapers and magazines will keep you up to speed with the latest news and events around the world.

Foreign Exchange; available at Birmingham, Heathrow and Gatwick at your convenience – the best currency exchange rates in the airport from the comfort of your seat.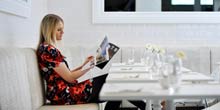 Kuoni can offer you a range of lounge experiences to suit your requirements. Why not treat yourself just because you are going on holiday or if you are travelling for a special occasion upgrade to the Wedding or Celebration package?
Standard Lounge Pass (from £20) includes access to the lounge, complimentary food and drink, Wi-Fi, Cinema* area and a selection of daily newspapers.
Kuoni Exclusive Offer, pre-book your spa treatment and receive a £5 discount. Call 08442 64 64 40 and quote your Kuoni booking reference.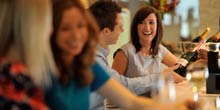 The Wedding and Celebration Packages (from £90)** will provide standard pass plus, reserved seating, a bottle of champagne, two 15 minute spa treatments and a tailored sweet treat gift. To guarantee space in the spa, pre-book your treatments by calling 08442 64 64 40 and quote 'Platinum Kuoni Package' with your booking reference.
* Lounge features and spa treatments may differ slightly between terminals.
**package prices are quoted per couple.